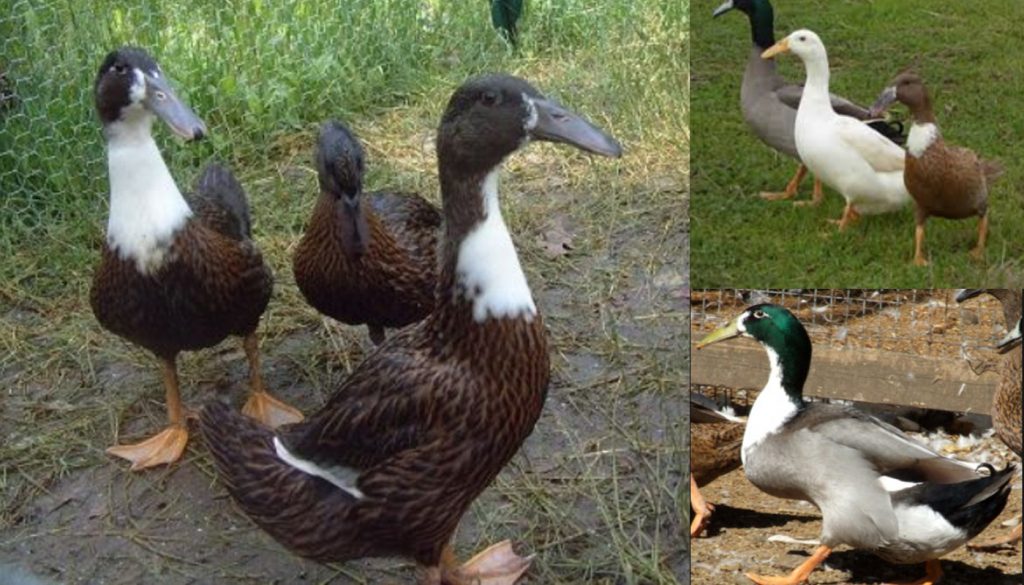 Not only is the Hookbill one of the oldest breeds of ducks in the Netherlands but it is also having a very unique appearance.
The bill of the Hookbill is slightly curved making it a great forager.
It also has quite a unique S-shaped body appearance with its legs placed a further back to balance its long body.
The female has straight tail feathers whilst the male has some cute curly ones.
Historically they were a good dual-purpose utility bird raised for their meat and egg laying ability. Today they are primarily kept as pets, for ornamental or show purposes.
They are, however, really good foragers and a low maintenance breed that are quite excellent as a starter duck for first-time chicken owners.
GENERAL INFORMATION

Country of Origin:
Netherlands
American Poultry Association:
No Recognized by the American Poultry Association
Duck Category:
Not Categorized
Duck Class:
Not Classified
Colors:
Dusky, White-bibbed dusky, White
Good starter duck?
Yes
You may Also Like:
TOP 10 GOOD STARTER DUCK BREEDS
Bantam Variety Available?
No
You may Also Like:
10 BEST BANTAM DUCK BREEDS
APPEARANCE / IDENTIFICATION
DUCK BITS
DESCRIPTION
COLOR
EYES⇒
Same for M & F
Dark Brown/Blue
BILL⇒
Same for M & F
Olive Green/Brown
White Variety has a yellow bill

*

Black bean tipped
CRESTED?
No
LEGS⇒
Same for M & F
Long Legs
Bright Orange
Wide apart and further back on their S Shaped-body
FEET⇒
Same for M & F
Medium Sized
Bright Orange
They have small claws at the end of their webbed toes
WINGS⇒
Same for M & F
Depends on the color variety of the duck
White variety has white wings with a cream patch at the end.
Dusky varieties have a dusky grey with dark tips
FEATHERS⇒
Same for M & F
Depends on the color variety of the duck
Dusky variety has a dark head and dusky feathers
The white variety is pure white
White-Bibbed-Dusky is similar to the Dusky variety but has a white bib
SKIN COLOR⇒
Same for M & F
White
AVERAGE WEIGHT⇒

Adult Female:
5 lbs.
Adult Male:
6 lbs.
Mature:

**

6 lbs. @ 16 weeks old

*

Bean: This is also called the nail. It is a small round bump found at the end of the duck's bill. It is used for defence and to catch insects. It is almost like a fingernail and is damaged can grow back. It can also get overgrown much like fingernails if they do not have something to grind it down on.

**

Note: This is an average weight for the male duck and not a guaranteed weight
USE/PURPOSE

Females/Hens

⇒

Eggs, pets and ornamental

Eggs⇒
Color:
Blue or Green-blue
Qty/Yr:
110 – 200
Size:
Large
They will start to try hatch eggs from their first lay
Start to lay around 25 to 30 weeks old. They lay consistently through the year
You may Also Like:
10 BEST DUCK BREEDS FOR EGG PRODUCTION

| | | |
| --- | --- | --- |
| Broody: | Yes | They are quite broody |
| Mothers: | Yes | They make good mothers |
| Meat: | Yes | They used to be used for their meat |
| You may Also Like: | | 10 BEST DUCK BREEDS FOR MEAT PRODUCTION |
| Pets: | Yes | They are quite docile birds |
| Show: | Yes | They can be shown but are not recognized by the APA |
| Prime: | 7 yrs | They lay right up to between 8 to 9 years of age if they stay healthy |
Males/Drakes

⇒

Breed, pet and meat

| | | |
| --- | --- | --- |
| Breed: | Yes | Should only start to breed them at 6 months old |
| Start: | – | Start to get fertile at around 3 – 4 months |
| No. Females | 5 | For every 1 drake in a flock |
| Aggressive | No | |
| Meat | Yes | |
| You may Also Like: | | 10 BEST DUCK BREEDS FOR MEAT PRODUCTION |
| Pets: | Yes | – |
| Show: | No | |
| Prime: | 4 yrs | It is best to mate the younger drakes of up to about 4 years old |
TEMPERAMENT

"They are docile, active and inquisitive birds"
Good with Kids?
They are okay around supervised kids
You may Also Like:
10 BEST DUCK BREEDS TO KEEP AS FAMILY PET
Flyers?
They are excellent flyers that will fly
Noisy Birds?
They can be noisy
Interact with other ducks?
They will socialize easily
Best duck breeds to mix them with:
Any domesticated duck breed .
Other animals?
They tend to ignore or avoid other domestic animals
IDEAL ENVIRONMENT

"As they were bred to fend for themselves they do like a bit of independence and lots of place to forage"
Ideal Garden Size?
Medium to large
Can be Confined?
No
Free-Range
Yes
Penned Free-Ranging?
Yes
Foragers
Yes
Endures heat well
Yes
Endures cold well
Yes
Special Requirements?
No
Ideal Duck House:
A well ventilated and insulated secure hutch of adequate size to house all the ducks comfortably
Ideal Duck Pond:
Any splash pool or small pond that is not too deep
Flock/Paddling Size:
Two or more ducks in the flock
You may Also Like:
22 Best DOMESTIC DUCK BREEDS
GOOD TO KNOW

Special Care/Attention Requirements?
They have no special needs
Known Predators:
Check with animal control in your area for known predators
Conservations Status:
Not Listed For more information on poultry, conservation status, check the American Livestock Conservancy Website
Breeders Clubs:
It is best to check with the American Poultry Association for various clubs and or organizations.
Where to buy them:
Metzer Farms, Omlet US or check with poultry outlets or farms in your area, the APA
or check with the American Livestock Conservancy
Other:
If you do not want to risk having your ducks shipped check with your local poultry farms for advice on your nearest supplier.
HISTORY
The Hookbill is one of the oldest European duck breeds that are still around today. This breed can be traced as far back as the seventeenth century in the Netherlands. The Netherlands is where this breed is thought to have originated from.
The Hookbill was a very popular breed in the Netherlands for laying eggs as it was quite the prolific layer of large duck eggs.
Hookbills were raised along the canals in the Netherlands with the name "Hookbill" referring to its long curved/hooked beak.
The beak of the Hookbill was said to be useful to hunters in distinguishing them from the other wild breeds that would live in close proximity to the domestic ones.
These ducks are great foragers as historically where they were raised in Holland they were not fed like other domestic animals. Instead, they would have to forage for their own food along the canal waterways.
They are still one of the best foragers of the domestic breed and are popular ornaments and exhibition bird in our times.
The Hookbill was first imported to America by Dave Holderread in 2000. Dave Holderread discovered that the breed had three different hookbill types. Some had no curve it was straight, then there was the average curve and those with an extreme curve almost like a Sicle.
He also found that the ducks with the extreme hook curve were not very fertile with a result there are no many with this feature in the USA. They are not listed in the Standard of Perfection by the American Poultry Association.
Health
They are not as susceptible to disease as most other birds and as such have no known health issues
Ducks need water to ensure they do not get "wet feather" disease. This is where the preening gland dries out. Water also stops them from getting pests such as mites, fleas, ticks, lice, etc.
Well, fed ducks should hardly have any health issues.
Any birds kept in a flock need to be dewormed. Although ducks are not as prone as other poultry they should still have a de-worming regime. Speak to a local vet or poultry experts for advice. Our article on Healthy Ducks has some great tips and advice on de-worming ducks.
Video
USEFUL LINKS