Just like chickens, duck breeds also come in miniature or rather Bantam sized ducks. There are also some larger sized breeds of ducks that have miniaturized versions.
They come in many beautiful and varied splashes of color and character traits just like their larger counterparts.
Bantam vs miniature Ducks
When you think of the Bantam variety of ducks you right away think of it is the miniature version of a larger breed. That is not exactly true as a Bantam breed actually refers to a breed that is specifically bred or comes as a small breed. In chickens, these are called True Bantams as they have no larger counterparts.
A miniature duck breed is a breed that has a larger counterpart and has been bred to be a lot smaller.
Both Bantams and miniatures are great to have as pets and are usually the duck breeds of choice for the Urban style homestead. They do not need as much space and usually need smaller pools than the larger ducks.
There are even some Bantams and miniature varieties that are great for egg and meat production.
The only trouble with miniature or Bantam sized ducks is that they are usually more susceptible to predators and even some larger vermin may attack them.
Due to their smaller size and most of them have tended meaty bodies they are really good prey animals for hawks and eagles.
If you are going to be keeping Bantams or miniatures it may be worth looking into penned-free-ranging for them. This will ensure their safety and still give them some freedom to forage and waddle about in the open air and fresh grass during the day.
Bantam Duck Breeds
Call Duck
Country of Origin:
Netherlands
Color(s):
Blue bibbed, buff, Butterscotch, Chocolate, Gray, Pastel, Snowy and White
Weight:
1.30 to 1.37 lbs.
Characteristics:
The Call duck is very loud for their size. They were used as decoy ducks for hunting for many years. They would be set down and their call would attract the wild ducks to them.
These days they are mainly raised as pets, ornamental and for exhibition purposes.
Temperament:
Sweet, friendly, inquisitive and very chatty.
East Indie Duck
Country of Origin:
North America
Color(s):
Black
Weight:
1.3 to 1.6 lbs.
Characteristics:
These little black ducks are one of my most favorite of Bantam breeds.
They are not nearly as loud as the call duck and not as skittish as some of the other Bantam breeds.
They also lay a decent amount of small grey eggs. Around 100 or so a year.
Temperament:
Quiet, friendly, calm and alert
Mallard
Country of Origin:
Central and South America
Color(s):
Brightly colored that is referred to a mallard
Weight:
2 to 2.5 lbs.
Characteristics:
Most duck breeds are said to have descended from the Mallard except for the Muscovy duck.
There are a great number of Mallards throughout the world and they are the most popular hunting duck.
Temperament:
Wild, flighty and skittish
Wood Duck
Wood Duck

Country of Origin:
America
Color(s):
Brown and grey with white eye rings. In the summer months, the male becomes brighter and flashier in coloring.
Weight:
23 to 25 ounces
Characteristics:
They are closely related to the Mandarin duck. They prefer the wooded and marshy areas of tree-lined forests and swamps.
They are also popular for hunting in America.
They are becoming very popular aviary ducks in America due to their beauty.
Temperament:
They can be tamed if raised from young, but they will maintain their wild nature. They tend to be very wary of humans and flighty.
Mandarin Duck
Mandarin Duck

Country of Origin:
Eastern Asia
Color(s):
Dull brown until mating season when the male's plumage becomes brightly colored
Weight:
22 to 24 ounces
Characteristics:
They once used to be in abundance through Asia and China. As they prefer wooded areas their population has declined as these regions have been ploughed down. There are, however, quite a healthy population of them in captivity these days
They are a wild duck but take well to living in captivity. They do need to be caged or pinioned. As these ducks are exceptional flyers and able to cover over 500 miles in 24 hours.
Temperament:
Do not like being handled and shy away from humans
Miniature Duck Breeds
Miniature Appleyard Duck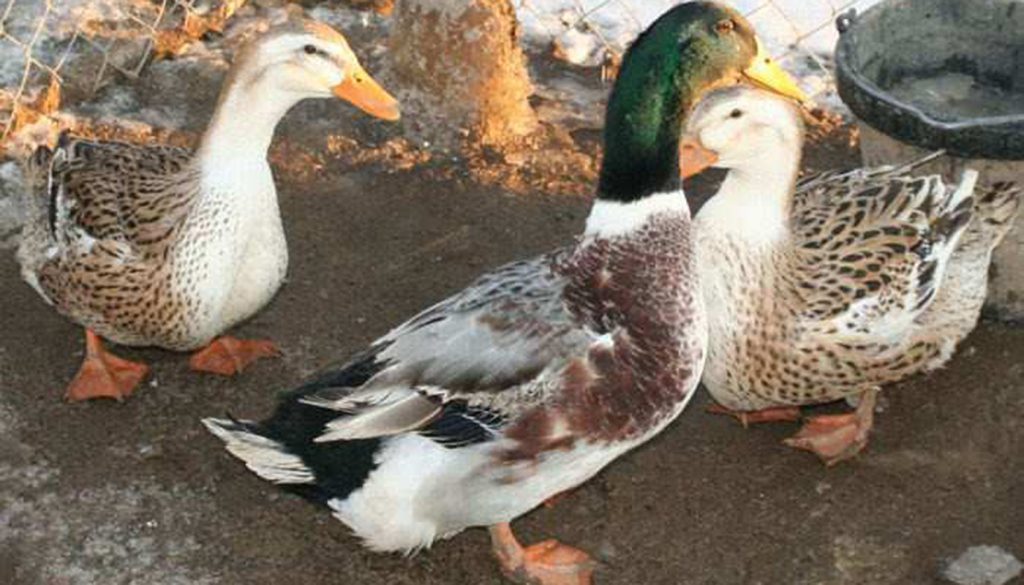 Country of Origin:
United Kingdom
Color(s):
Silver
Weight:
38 to 49 ounces
Characteristics:
These little guys are quite rare ducks. They have very soft lacy feathers that are similar to that of the silky dove.
They are great foragers and a good starter duck for first-time duck owners.
The great things about these little ducks are that they are non-fliers.
They are also great setters and mothers
Temperament:
Friendly chatty little ducks
Miniature Australian Spotted Duck
Country of Origin:
America
Color(s):
Bluehead, Silverhead and Greenhead varieties
Weight:
2 to 2.2 lbs.
Characteristics:
They are very critically endangered. These are really beautiful little ducks with a lot of mystery over the breeds that were used to develop them.
They lay a decent amount of small to medium sized eggs. Usually around 50 to 125 blue, green or cream eggs. They fly really well and also make great mothers and setters as they are good broody ducks.
Temperament:
They are calm and friendly but quite noisy.
Miniature Crested Duck
Country of Origin:
United Kingdom
Color(s):
White
Weight:
30 to 35 ounces
Characteristics:
The Crested miniature is an exact miniature replica of its larger Crested counterpart.
The breed is not as old as its larger counterpart that dates back to around the 1600's.
The Crested miniature was created in the late 1980's.
Temperament:
Cute and friendly little ducks
Miniature Overberg Ducks
Miniature Overberg Ducks

Country of Origin:
Netherlands
Color(s):
Silver Buff
Weight:
30 to 36 ounces
Characteristics:
They are a new breed to the US and there are not many of these delightful ducks.
Temperament:
Calm and friendly
Silky Ducks
Silky Ducks

Country of Origin:
America
Color(s):
White, Black, Gray, Dusky, Mallard and Snowy varieties
Weight:
28 to 36 ounces
Characteristics:
These little guys are quite rare ducks. They have very soft lacy feathers that are similar to that of the silky dove.
They are great foragers and a good starter duck for first-time duck owners.
The great things about these little ducks are that they are non-fliers.
They are also great setters and mothers
Temperament:
Friendly, alert, inquisitive and make a delightful pet