More people in suburbia are finding the value in keeping a few ducks in the back garden.
They can be quite soothing to watch as they waddle around foraging and quacking.
Besides their ornamental value they also work for their supper!
Why Keep Ducks
They make a great addition to the garden
Ducks are quite amazing creatures and each one has its own beauty.
They can be quite a showpiece in the garden and their antics will bring hours of entertainment.
They are great at cleaning up the garden
Ducks love to forage through newly harvested or tilled soil. They dig up any old roots, forgotten seeds that did not sprout and bugs that are just waiting to dig into the next things you are going to plant.
For the organic garden, this is ideal. Once you have pulled up all your veggies, herbs, etc. let the ducks loose on the plot. They will make sure it is ready for the next plantation.
Organic duck fertilizer
Ducks do not have very good sphincter muscles. This means that they have no control over their bowel movements. Hence the reason they tend to poop – a lot.
But this is rather good news for the grass and soil as their manure is high potassium, phosphorus and nitrogen which is vital for healthy plants and vegetables.
Pest control
They love their bugs and snails are like chocolate to them. They will even control mosquito's, spiders, small reptiles, snails and any other insect that takes their fancy.
Great Egg production
Ducks will lay eggs the whole year around. The eggs are also bigger, hardier and stay freshers for longer than chicken eggs.
They have a great nutritional value and have been said to be a lot better to cook with in cakes, pastries, etc.
They also lay their eggs bright and early in the morning before the sun comes up.
Duck Meat
They have protein and nutrition rich tasty red meat.
Duck fat is really great to cook with.
More adaptive to their environment
Ducks are tough little creatures and readily adapt to most environments. They are very hardy and can withstand most temperatures both hot and cold.
Less prone to diseases
They still need their regular check-ups and vaccinations but generally, they are a lot less prone to diseases than most other bird or animal breeds.
You are less likely to get pecked
Ducks generally have a better temperament than chickens, turkeys or geese. They are calmer and less likely to peck out your eye or fingers if you are not vigilant enough around them.
This makes them a lot safer for being around kids even the males are calmer.
Not as aggressive and do not bully each other
A lot of bird breeds will attach each other at the first sign of weakness. For instance, if a chicken has a small bloody scratch the other chickens will peck at it with potentially fatal results for the injured chicken. They eat their own and each other eggs and even the females will fight for dominance.
Ducks, well they do not eat their eggs, nor are they as aggressive as other breeds. Even the male ducks are more relaxed than roosters are.
Some Tips for Keeping Ducks in Backyard
Ensure you choose the right duck for your garden
There are many different breeds of duck and they tend to fall into two different types of duck
Domestic ducks and Wild ducks.
Unless you have a lot of ground that is big enough for a pond or lake the domestic duck is the best duck to keep. Not a lot of urban houses have gardens big enough to keep wild ducks.
Decide what you are wanting to get out of keeping ducks
Before choosing the breed of duck think of what you would like to get out of keeping ducks
Do you want them for:
Egg production – look for breeds that produce the most eggs, size of eggs and color of eggs that you require.
Meat production – look for breeds that produce the best meat to bone ratio and have a good quality tasty meat. Some ducks have more fat than others do, or you may want a leaner meat duck.
Pets – choose a duck with an easy temperament. Some ducks are also easily trained and if you have children make sure that the duck is easy to handle calm and friendly.
Exhibition – some ducks are better exhibition ducks than others. There are various associations you have to register with. Breed compliances, etc. find the best breed of show duck to interest you.
Ornamental – these would basically be the same as keeping them as pets but there are some ornamental ducks that are not easy to handle or good around humans.
 
Housing
Ducks love to waddle and paddle around during the daylight. Digging and hunting in the garden but when the sun starts to go down, they want a cozy safe and secure hutch that can be locked up tight and snug for when they bed down.
Do not get a fright when they do not go home the first few times because they can actually see quite well at night and may want to just carry on their day.
You will have to herd them in until they get into their routine and will soon learn when it is time to go home and sleep.
Ensure their hutch is well ventilated, insulated and big enough for all of them to bed down in quite comfortably without any overcrowding.
Ducks do not need perches they prefer to snuggle up and nestle down in a comfy nest on the ground.
You may want to make the hutch door a little wider than usual and big enough to allow two duck bodies to go through at once. You will notice that they tend to do things in pairs and this include entering and exiting through doorways.
They also like their hutch to be dark as they can spook easily by shadows or lights.
Make sure the hutch is turned away from the moon and any garden lights.
They need fresh water to both drink and swim in daily
Unless there is a large duck pond or pool for them to swim in you will need a shallow splash pool or small pond type structure.
Make sure that their drinking water cannot be stepped in or sat. Try a large drinking tube like the ones put into a bird cage. Because if it's a body of open water you can guarantee a duck will try and wade in it.
Wading in water means poop in the water too. So wading pools will need to be cleaned out nearly every day when the ducks are put to bed.
Domestic ducks are more paddling ducks and just require enough water to dip into and out of when they need to during the day.
Duck feeding
It is best to check at the local farms and poultry stalls and get your duck quality feed.
Laying ducks especially need the extra calcium.
There is a way to ensure that crows and other birds do not invite themselves over for a free meal.
This is a potential for the spreading of disease as wild birds carry all sorts of nasty critters and ills.
Fencing
If you are going to keep ducks your garden should have an electric outer fence. This will keep away predators.
Parts of the garden you do not want the duck wondering into you should fence off too.
Top 10 Domestic Ducks for the backyard that also Make Good Starter Ducks
Welsh Harlequin

These Welsh ducks are beautiful, calm and friendly. They lay a good amount of eggs all year round, are gentle and great foragers.
They will keep your garden pest free and they a relatively low maintenance which makes them great as a starter duck.
A medium sized duck so they do not take up a lot of room and they are also an exceptionally good exhibition duck.Read More
Crested Duck

The Crested duck always makes me smile and think of Donald Duck. In particular, those old cartoons where you see the little white sailor ducks with their colors and hats.
The Crested duck's white pompom style crest makes it a truly unique duck.
They are not the best ducks to try and breed if you are novice breeder but as a pet, for eggs, ornamental or exhibition they are a top breed.Read More
Muscovy

These are crazy looking ducks with the male of the species having a fleshy patch over his eyes and the center of his face. These are called caruncles and most of the domesticated Muscovy ducks are either black mixed with white or a dark brown in color.
They are the only breed of duck that does not descend from the mallard. They do not quack either the male has a throaty call and the females almost coo. This is ideal for suburbia as they are not at all noisy ducks.
The nest-like other ducks do but the also like to roost as chickens do at night time.
They lay a decent amount of eggs and have a good quality of meat.Read More
Cayuga

The All-America duck – the Cayuga is the only duck breed to be developed in America.
They are black feather with a green sheen the encases their heads. Their beak, feet and legs are also black as is their skin.
These birds a good layer of eggs that are charcoal colored and are excellent exhibition birds. They make a great backyard addition as they have a soft, gentle, calm nature.
The Cayuga is also a threatened species of duck listed by the American Livestock conservation as threatened.Read More
Buff

The Buff duck is another duck species that are listed by the American Livestock conservation as being threatened.
These beautiful buff ducks have the sweetest of temperaments and lay a good amount of eggs. They are also said to be a great table duck with the most delectably soft and juicy meat.
They make great pets and are really good foragers that enjoy working in the garden controlling pests.Read More
Swedish Blue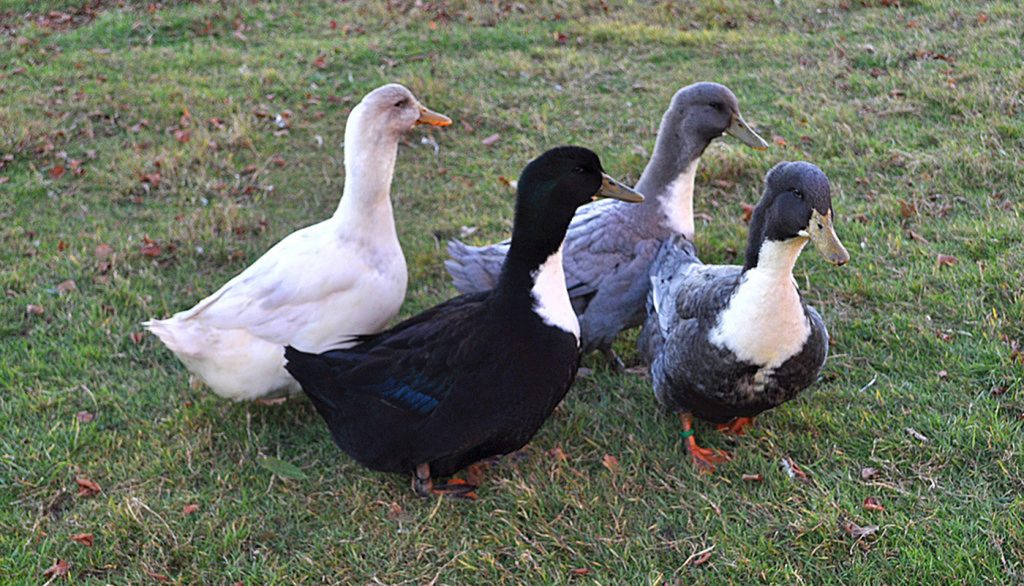 The Swedish Blue is a beautiful calm and friendly breed of duck. Their beautiful plumage makes then a really great feature for the garden. And their natures make them a wonderful pet to have. In fact, they can get rather attached to their human and will come to greet you.
They also lay a decent number of nutritious eggs for the table.Read More
Rouen

They are one of the top dual-purpose duck breeds. They have sought after meat and lay quite a few pale blue/green eggs. They cannot fly and have such a calm soothing disposition that they are rather tranquil to watch paddling and gently quacking in the garden.
They are also not a high maintenance duck, so they are really easy to care for making them a good starter duck.Read More
Saxony

The Saxony duck is a dual-purpose duck and is a large breed. They are listed on the American Livestock Conservancy list as threatened. These lovely ducks are always up to some fun antics as they are rather inquisitive and want to know what is going on. They will follow you around the garden like little puppies just to make sure they do not miss out on anything.
They also lay a lot of eggs per year for the table and their foraging skills are more than adequate for critter control.Read More
Khaki Campbell

These ducks were bred to have superior egg laying skills and as such lay around 6 creamy colored eggs a week.
They can fly for limited periods of time and not very high, so their wings will need to be clipped for the back garden. Especially if they are going to be free-ranged as they can fly just high enough to clear a decent sized garden wall.
They are also an exceptionally good table bird having a larger body for better meat production.Read More
Magpie

The Magpie is a black and white duck. Unlike the Ancona duck through this breeds black patches on their pure white feathers are more patterned and uniform on each duck.
They have black caps on their head and the top of their wings and tail feathers are black.
They lay a great number of colorful eggs that are either cream, blue, green or white.
As they are hardy eggs, they make great Easter eggs and will survive a raucous Easter egg hunt.
They make a great addition to any backyard as a showpiece, eggs, meat, pet or for exhibition purposes.Read More
Appleyard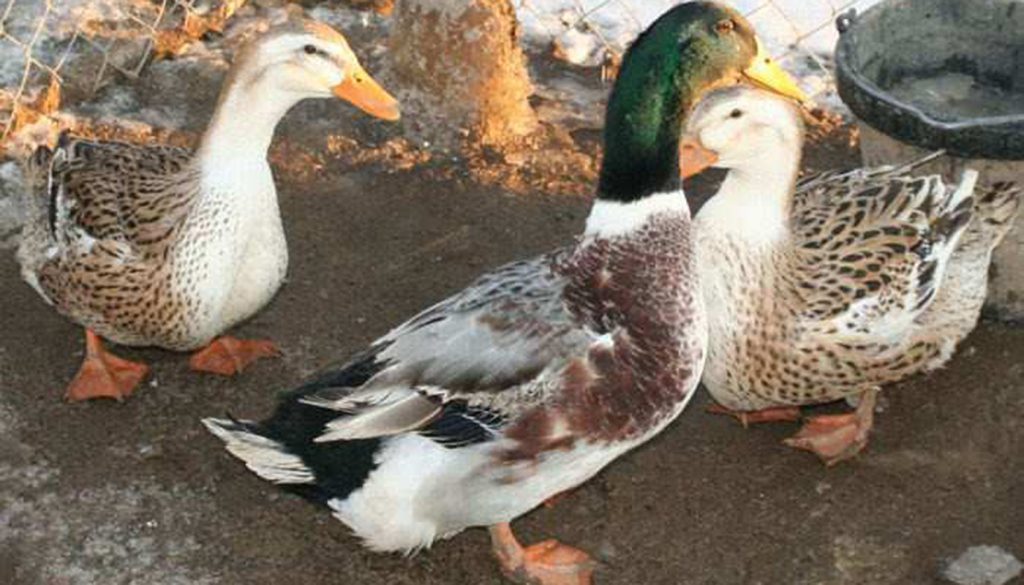 To me, the Appleyard is one of the best backyard duck breeds. They are critically endangered though and quite rare to come by. But there breeders out there that do sell ducklings or eggs to hatch.
These ducks are friendly, calm and ever so loyal to their humans. They have beautifully colored plumage, therefore make a great ornamental piece for the garden. They love to forage and are rather good at keeping the garden pest free.
Appleyard ducks an also a very good dual-purpose breed laying a lot of healthy eggs and have lean tender juicy meat. You will not find a more loyal pet than an Appleyard duck! Read More