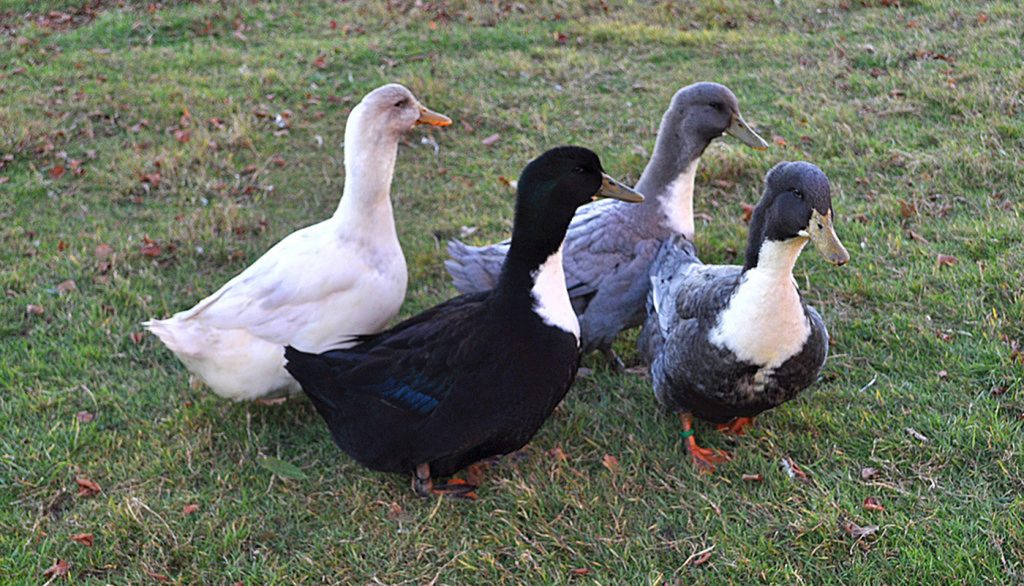 This beautiful duck breed with its black head and a white bib is a great addition to any back-garden duck flock.
As it is a medium sized duck that is an excellent forager it is a low maintenance breed. Easy to feed with a good disposition and full of quirky antics. The Swedish Blue with it's beautiful feathering, calm, friendly even temperament that does mind being handled is a great starter duck.
It is also a good duck to have around children as it is really easy to handle and quite docile.
They lay a good number of eggs and they have the most amazing tasting lean meat if you are looking for a meat duck.
GENERAL INFORMATION

Country of Origin:
Germany
American Poultry Association:
yes Recognized by the American Poultry Association
Duck Category:
Medium
Duck Class:
German
Colors:
Blue, Date of acceptance: 1904
Other known colors :
Black, Chocolate, Rust and Splash
Other names known by:
Blue Swedish or Swedish Duck
Good starter duck?
Yes
You may Also Like:
TOP 10 GOOD STARTER DUCK BREEDS
Bantam Variety Available?
No
You may Also Like:
10 BEST BANTAM DUCK BREEDS
APPEARANCE / IDENTIFICATION
DUCK BITS
DESCRIPTION
COLOR
EYES⇒
Same for M & F
Dark
BILL⇒
Same for M & F
Slate Blue
Straight with a

*

Black bean tipped
CRESTED?
No
LEGS⇒
Same for M & F
Slate blue
Legs are medium length, well positioned on the body much like the Campbell duck. They have irregular splotches of darker patches on them
FEET⇒
Same for M & F
Slate Blue
Splotches of darker blue on them
WINGS⇒
Same for M & F
Slate Blue
Wings have a deep purple sheen to them and are usually tipped with white
FEATHERS⇒
Same for M & F
Slate Blue
The male has a darker head with it almost having a green sheen to it.
SKIN COLOR⇒
Same for M & F
White
AVERAGE WEIGHT⇒

Adult Female:
6 – 7 lbs.
Adult Male:
8.8 lbs.
Mature:

**

6.5 lbs. @ 16 weeks old

*

Bean: This is also called the nail. It is a small round bump found at the end of the duck's bill. It is used for defence and to catch insects. It is almost like a fingernail and is damaged can grow back. It can also get overgrown much like fingernails if they do not have something to grind it down on.

**

Note: This is an average weight for the male duck and not a guaranteed weight
USE/PURPOSE

Females/Hens

⇒

Eggs, Breeding, Show and Meat. They make a good starter duck and pet

Eggs⇒
Color:
White, green or bluish-green
Qty/Yr:
180
Size:
Large
They will start to try hatch eggs from their first lay
Start to lay around 25 to 30 weeks old. They lay consistently through the year
You may Also Like:
10 BEST DUCK BREEDS FOR EGG PRODUCTION

| | | |
| --- | --- | --- |
| Broody: | Yes | They do get broody. It is good to note that Blue Swedish do not breed true |
| Mothers: | Yes | They make good mothers |
| Meat: | Yes | A nice tasty meat with birds maturing at 16 weeks |
| You may Also Like: | | 10 BEST DUCK BREEDS FOR MEAT PRODUCTION |
| Pets: | Yes | They calm friendly natures make them a really nice pet |
| Show: | Yes | They make for a good show bird |
| Prime: | 7 yrs | They lay right up to between 8 to 9 years of age if they stay healthy |
Males/Drakes

⇒

Meat, Breeding, Show and pets

| | | |
| --- | --- | --- |
| Breed: | Yes | Should only start to breed them at 6 months old |
| Start: | – | Start to get fertile at around 3 – 4 months |
| No. Females | 5 | For every 1 drake in a flock |
| Aggressive | No | They are not very aggressive ducks at all. They have calm demeaner |
| Meat | Yes | A nice tasting meat |
| You may Also Like: | | 10 BEST DUCK BREEDS FOR MEAT PRODUCTION |
| Pets: | Yes | They are calm and docile and do not mind being around humans |
| Show: | Yes | They are show worthy birds with their great posture and beautiful plumage |
| Prime: | 4 yrs | It is best to mate the younger drakes of up to about 4 years old |
TEMPERAMENT

"They are calm, sweet a docile bird that is rather friendly"
Good with Kids?
They can be good around supervised children
You may Also Like:
10 BEST DUCK BREEDS TO KEEP AS FAMILY PET
Flyers?
They are not very good flyers and seldom even try to fly
Noisy Birds?
They are not that noisy they prefer to calmly sail around the place
Interact with other ducks?
They do not mind socializing with other duck friends
Best duck breeds to mix them with:
Any domesticated breed with mix nicely with the Swedish Blue
Other animals?
They are not too fussed about other domestic animals. But it is good to keep a close eye on dogs and cats. Especially dogs that are a hunting breed.
IDEAL ENVIRONMENT

"They are quite acceptable ducks and will readily adapt to their environment"
Ideal Garden Size?
Medium to large
Can be Confined?
But they do not like it
Free-Range
All ducks like to have the rule of the back garden
Penned Free-Ranging?
As long as there is fresh ground for finding new juicy treats
Foragers
They love to hunt for slugs and snails
Endures heat well
Yes
Endures cold well
Yes
Special Requirements?
No
Ideal Duck House:
Duck hutches should always be roomy enough to comfortably accommodate all your ducks without overcrowding. There must be good ventilation and insulation as well as the ability to make it safe and sound for them at night
Ideal Duck Pond:
They like a small shallow pond or splash pool to wade in
Flock/Paddling Size:
Always have at least two ducks. They do like to have duck friends to waddle about with
You may Also Like:
22 Best DOMESTIC DUCK BREEDS
GOOD TO KNOW

Special Care/Attention Requirements?
They have no special needs
Known Predators:
Check with animal control in your area for known predators
Conservations Status:
Not Listed For more information on poultry, conservation status, check the American Livestock Conservancy Website
Breeders Clubs:
It is best to check with the American Poultry Association for various clubs and or organizations.
Where to buy them:
Metzer Farms, Purely Poultry and check with your local poultry farms, the APA
or check with the American Livestock Conservancy
Other:
If you do not want to risk having your ducks shipped check with your local poultry farms for advice on your nearest supplier.
HISTORY
The blue ducks that are the foundation of the Blue Swedish duck were known to have existed in Pomerania in the early 1800's. The Swedish duck came to light in around 1835 in Pomerania which in those years was part of the Kingdom of Sweden.
Blue ducks were said to be especially hardy with a superior meat quality. They were also less visible to predators as their colors made them harder to see.
This made the Blue duck varieties really popular in Europe for centuries.
The first Swedish Blue ducks were imported to America in 1884. They were included in the Standards of Perfection by the American Poultry Association in 1884.
They have since been quite a popular farm duck and dual-purpose utility bird although they tend to mature rather slowly.
Their fine quality of lean meat with its delectable flavor makes is a good meat bird. The duck lays around 150 large white or sometimes bluish-green tinted eggs per year.
It also makes quite a good pet as it is calm, friendly and can fend for itself pretty well with its love of foraging.
Swedish Blue ducks are one of the best breeds to have for a first-time duck owner as well as a good teaching duck for children. This is quite an old breed that has been around for a long time and is listed in the American Livestock Conservancy.
Health
No known health issues. They are also one of the hardiest of duck breeds
Ducks need water to ensure they do not get "wet feather" disease. This is where the preening gland dries out. Water also stops them from getting pests such as mites, fleas, ticks, lice, etc.
Well, fed ducks should hardly have any health issues.
Any birds kept in a flock need to be dewormed. Although ducks are not as prone as other poultry they should still have a de-worming regime. Speak to a local vet or poultry experts for advice. Our article on Healthy Ducks has some great tips and advice on de-worming ducks.
Video
USEFUL LINKS