Part 2 of the "Getting your ducks in a row" series is a quick overview of some of the most common duck breeds. These breeds are kept as backyard duck for pets, show, eggs and or meat.
There are also some that are recognized by the American Standards of Perfection and some that will not be. This is important if you are going to be breeding ducks to sell or for poultry shows.
DOMESTIC DUCKS
Domestic ducks are broken down into different classes throughout the world. A lot of countries has their own classes for instance in America we recognize Heavy, Medium, Light and Bantam class.
The breed is then categorized by their size, weight, etc.
DOMESTIC DUCK FACTS
Ducks typically start to lay eggs between the ages of 20 to 30 weeks of age
Ducks like to lay their eggs before the sun rises in the morning
They will have to be trained where to lay their eggs as you may find them all over the garden when the duck starts to lay her eggs
Duck eggs are richer in Omega-3 fatty acid than chicken eggs
Some people with a chicken egg allergy can usually eat duck eggs (always check with your doctor first)
Duck eggs stay fresher for longer than chicken eggs do
Duck eggs are better for backing due to their rich albumen content
Duck meat is a red meat and is leaner than skinless chicken or turkey meat
It is higher in iron content than other poultry meat
Duck fat is a healthier cooking choose than most oils and fats (it is also more favorable)
Domestic ducks spend around 10% of their day on the water and do not need overly large bodies of water to float in
Domestic ducks do not tend to smell as much as chickens can
Ducks do not get parasites as chickens do
Ducks are not as prone to disease as chickens are
Ducks are intelligent and can follow commands, they will even learn how to play
They are also very emotional creatures that do not do well on their own. There needs to be at least two
Ducks do not fight with each other as much as chickens do
Ducks do not need the kind of shelter chickens to do
Duck do tend to defecate a LOT, so they do require quite a bit of clean up around the yard
Ducks do need to get vaccinated against various diseases as they can spread Avian flu and Salmonellas to other birds and humans.
DOMESTIC DUCK BREEDS
Heavy breeds
Appleyard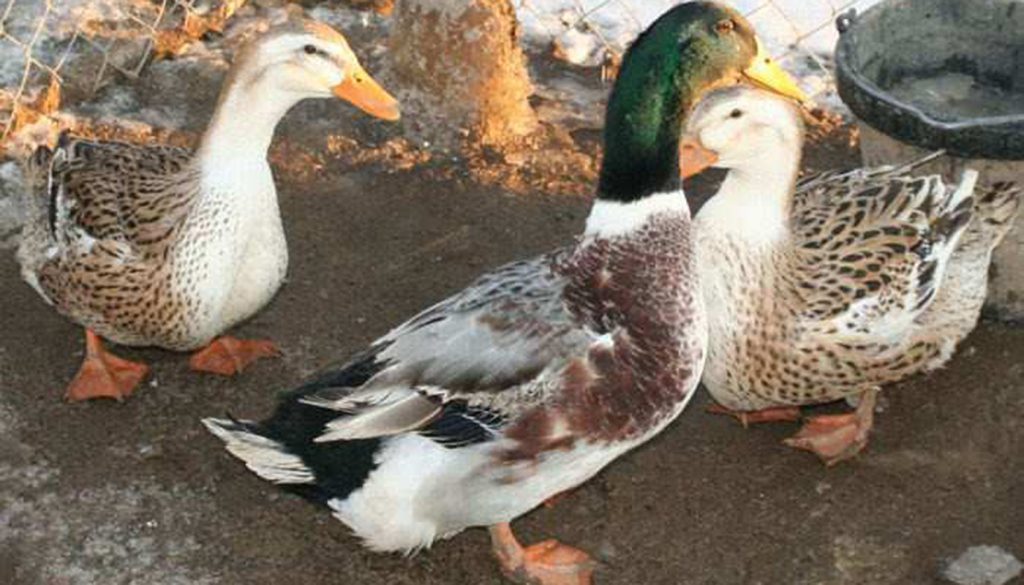 These beautiful ducks have become quite the popular show birds over the last few decades. They are a great addition to any backyard duck flock with their great egg laying, foraging abilities. Appleyard ducks have a calm, even friendly temperament making them a great pet.
Read More
Aylesbury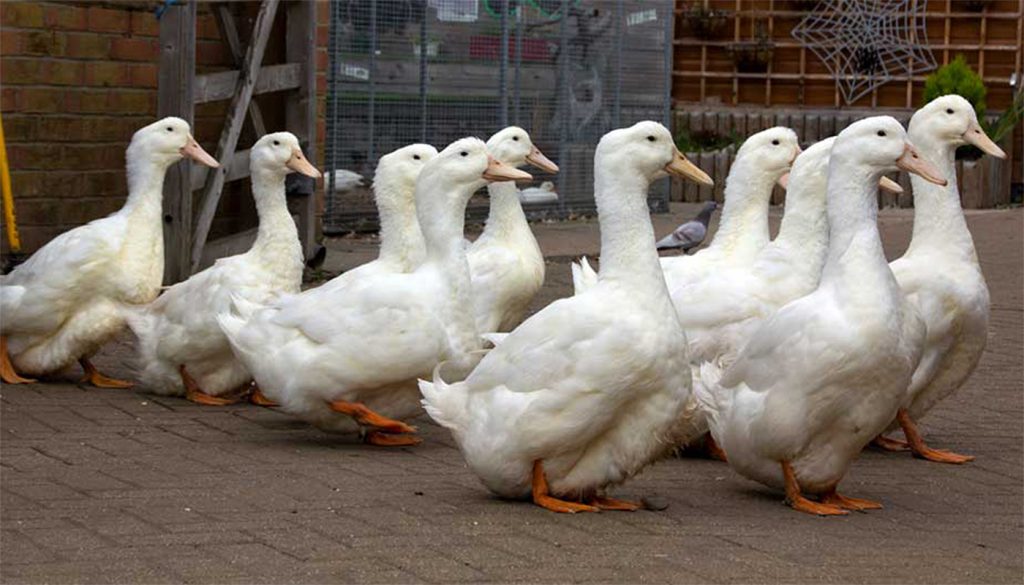 The Aylesbury duck has a unique pink bill and stands as the symbol for the town of Aylesbury in Buckinghamshire England. This pure white duck has breweries, pubs and various cottage industries in the town named after it. Even the football club is known as the ducks whereby both it and the town's coat of arms sport the image of the Aylesbury duck.
Read More
Muscovy (Domesticated)

Muscovy ducks are very quiet ducks and hardy make a noise although the male will hiss if threatened. They do make good pets if tamed correctly but they never really overcome their wild side as they do not like to be handled. They are also very independent, like to fend for themselves and are very good guard ducks!
Read More
Pekin

Pekin ducks are also not very noisy birds but do get up to some crazy antics. Most owners of these ducks say how delightfully entertaining they are. Their body shape and positioning of their legs give them the authentic duck waddle associated with ducks.
Read More
Rouen

These calm, graceful birds have a majestic air about them and are a great starter duck. They also make good pets especially for those with a family. As they are quite a heavy duck they cannot fly very well, in fact, they usually do not even try to. So, there is no chance of them trying to fly off for the winter or to visit the neighbors. For people who are looking for a show bird, you cannot go wrong with the Rouen.
Read More
Saxony

The Saxony duck is a relatively new addition to the domestic duck breed. Bred primarily from the wild-type of Mallard ducks. Their coloring is very similar to that of the muted Mallards and they have the same smooth, tight feathering in light colors. These ducks are prime egg layers as well as excellent meat ducks.
Read More
Medium breeds
Buff

The Buff or Buff Orpington is a great meat duck as well as a prolific egg layer. These beautiful ducks with their pretty plumage and great characters are in need of more breeders. They were once a sought-after breed for both their meat and eggs but due to large commercial breeders seeking cheaper alternative meat their numbers began to drop. The American Livestock Conservancy has them listed as a "threatened" breed.
Read More
Cayuga

This beautiful ducks' origins are from the United States. The Cayuga is a very popular exhibition, egg and meat bird. They have a wonderful character and very calm docile birds that lay a good number of black or grey shelled eggs. Their beautiful plumage makes them great ornamental birds that are quite prized poultry shows.
Read More
Crested

In the older Disney cartoons, the ducks that were depicted as sailor ducks were white with a cute bobble on their head for their hats. The Crested duck reminds me so much of the Disney depiction of those cute sailor ducks. There are a few colors, but the APA only recognizes the black and white variety of the breed.
Read More
Swedish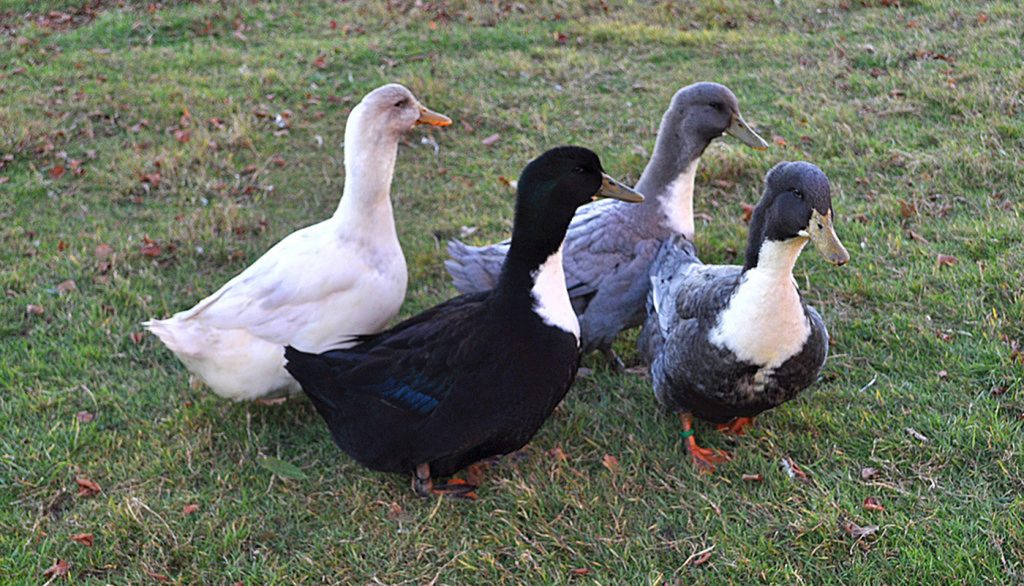 As it is a medium sized duck that is an excellent forager it is a low maintenance breed. Easy to feed with a good disposition and full of quirky antics. The Swedish Blue with it's beautiful feathering, calm, friendly even temperament that does mind being handled is a great starter duck.
Read More
Light Breeds
Campbell

Not only are they prolific layers that have tasty meat, but they are exceptionally adaptive to various climates. They can withstand dessert temperatures to the English cold winter chills. They are excellent foragers that are independent, and they actually prefer to find their own food.
Read More
Magpie

The Magpie looks like they are wearing little flat caps on their heads. The spot of black feathers that sit on their heads looks like a little cap.These ducks have a very upright carriage similar to that of the Runner duck which is why they are believed to have Runner duck in their lineage.
Read More
Runner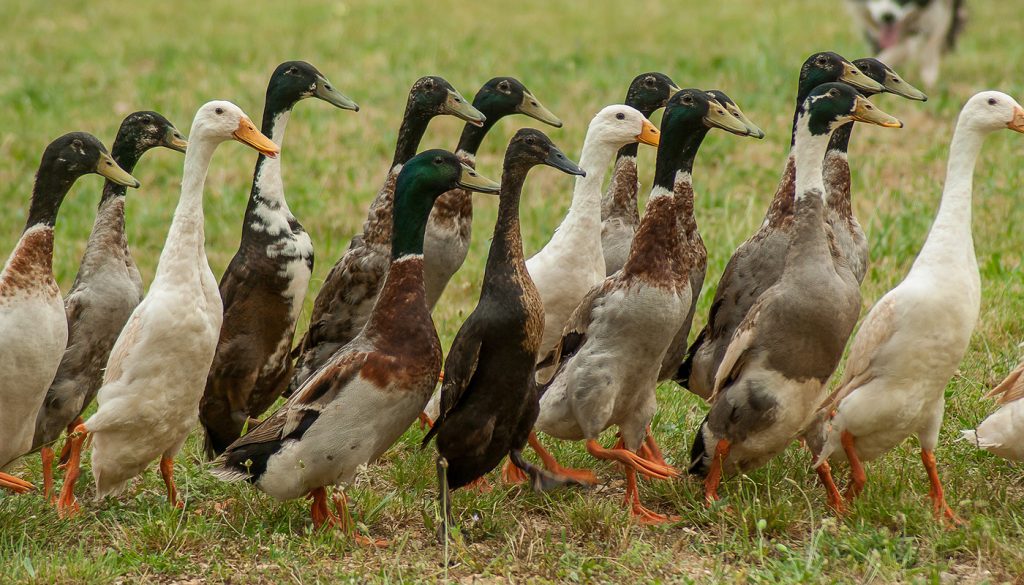 The Indian Runner duck has a very upright posture as such it looks quite tall. It has an elegant long neck and slim body. They are quite an ancient breed of duck with a long history as being a domestic utility breed. Mainly kept these days for their exceptional egg laying abilities and their dynamic garden pest control. Although they can be a bit skittish they are actually quite a pleasant bird to have around.
Read More
Welsh Harlequin

Welsh Harlequin ducks are one of the most gorgeous breeds of ducks. Not only are they a nice medium sized breed that is good for most gardens. They are also a good allrounder being good egg layers and have excellent quality lean meat.Read More
Bantam Breeds
Call

The Call Duck is a Bantam breed of duck that comes in a number of beautiful colors.As a Bantam breed, they tend to be a lot smaller than other ducks with shorter, bills, legs, body and smaller feet.These little ducks make excellent pets and add a bit of fun and color to the back garden.They are excellent show birds and they have a really fun character. They love to explore and can be quite inquisitive and entertaining to watch.
Read More
East Indie

The East Indie duck is a Bantam duck breed that is believed to have originated in the USA.The hens have been known to lay black to dark gray medium sized eggs. These will become lights depending on the season they start at a black/dark gray and will eventually become a light gray near the end of the laying season. They do not lay many eggs in a year though.
Read More
Mallard

The Mallard duck is said to be one of the most abundant duck breeds in the world. It is found nearly all the world too. In some countries it is said to be an invasive species there are so many of them.They are the most common ducks that are often seen in waterways, ponds and other smaller bodies of water. They are dabbling ducks that although are generally wild they can easily be tamed and domesticated.
Read More
Not Classed
Ancona

The Ancona is one of my favorite breeds of duck. They have beautiful white feathers splashed with various black patterns on them. There are no two ducks that have the exact same markings. Their coloring has been likened to that of the Holstein cattle as there are no set patterns or design to their markings.
Read More
Pomeranian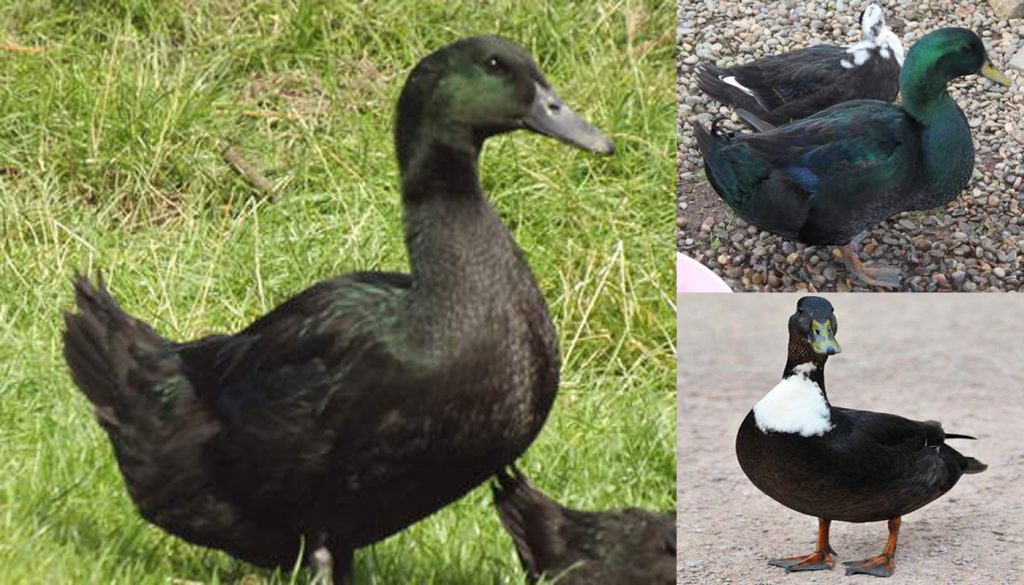 The Pomeranian ducks are either black with a green sheen or blue with a deep purple sheen.They have a white bib on their breast which along with their black beaks and legs make them quite unique.It has a long full body with the females looking much like the males except the males tend to be a bit shinier with curled tail feathers.
Read More
Duclair

Even the name of this pretty birds makes it a great bird to own. The Duclair duck is a great egg layer, meat and show bird (although it is not a recognized standard by the APA). The Duclair duck is said to be the best duck around for roast duck with an outstanding flavor and meat quality.
Read More
Dutch Hookbill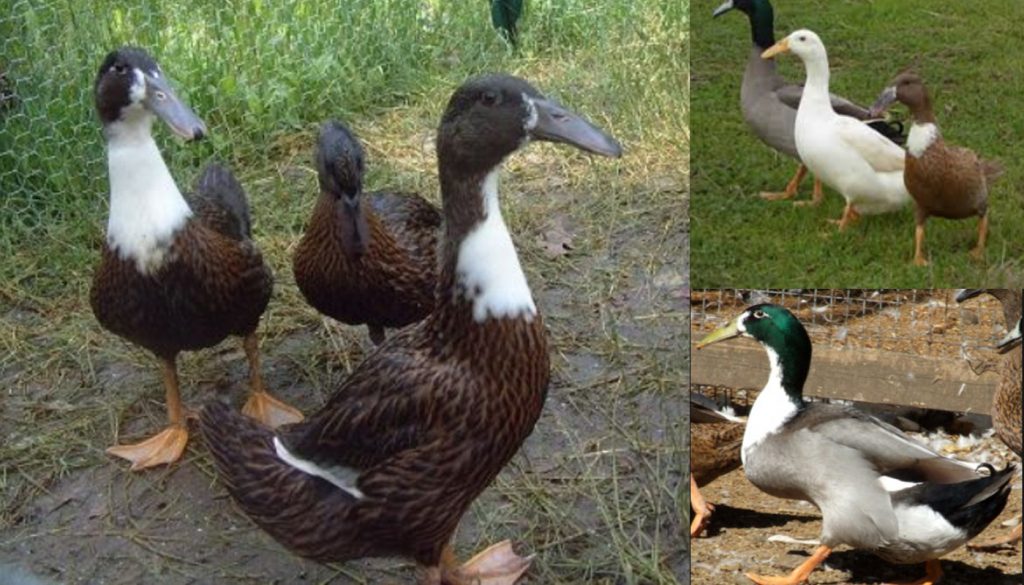 Not only is the Hookbill one of the oldest breeds of ducks in the Netherlands but it is also having a very unique appearance.The bill of the Hookbill is slightly curved making it a great forager.It also has quite a unique S-shaped body appearance with its legs placed a further back to balance its long body.The female has straight tail feathers whilst the male has some cute curly ones.
Read More
Australian Spotted

Don't be mislead by this Bantam duck's name. It may be called an Australian Spotted duck, but the breed was actually developed in America.They may also be smaller than standard sized ducks but that does not mean they are not mighty little creatures. They have an exceptionally sweet character and are quite friendly. They are also very hardy little ducks that will keep your garden free of pests such as beetles, slugs, snails and other insects. They are really good at eliminating mosquito larvae from various ponds, pools and puddles around the garden.
Read More
This is the end of Part 2 of our "Getting your ducks in a row" series.
In Part 3 of the series, we will take a look the various dabbling duck breeds with an overview of their temperament, egg, meat, down and pet qualities.
If you are really serious about keeping duck, then stick with us as we delve into the rewarding world of becoming a duck keeper! I hope you get to read some more of our helpful articles.
Be sure to read Part 1 of our "Getting your ducks in a row" series.