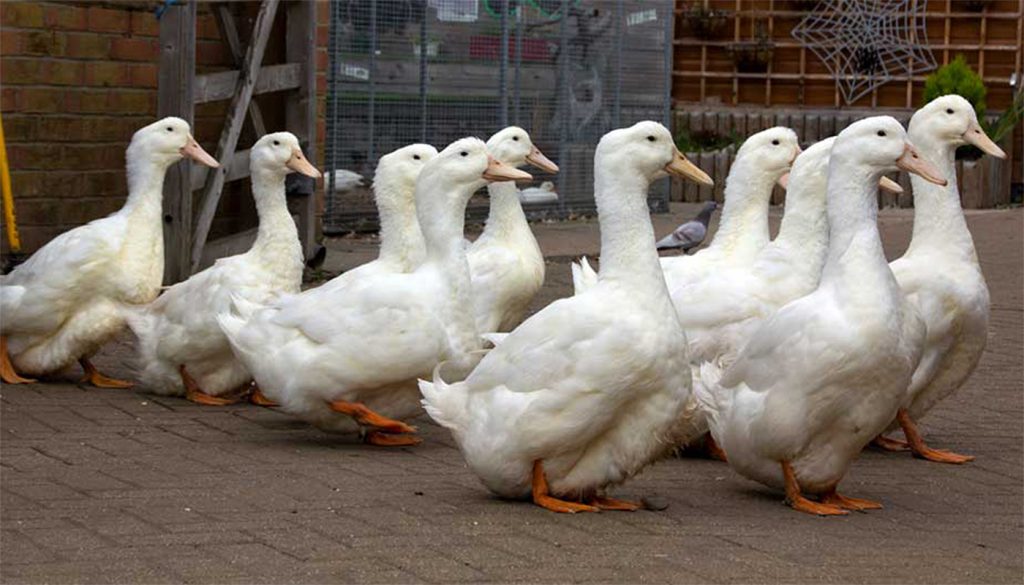 The Aylesbury duck has a unique pink bill and stands as the symbol for the town of Aylesbury in Buckinghamshire England. This pure white duck has breweries, pubs and various cottage industries in the town named after it. Even the football club is known as the ducks whereby both it and the town's coat of arms sport the image of the Aylesbury duck.
Said to have superior meat quality this calm friendly waterfowl is an excellent addition to any backyard flock. They are especially great for first-time duck owners and people with kids as they make great pets.
GENERAL INFORMATION

Country of Origin:
England
American Poultry Association:
yes Recognized by the American Poultry Association
Duck Category:
Heavy Breed
Duck Class:
English
Colors:
White, Date of acceptance: 1874
Good starter duck?
Yes
You may Also Like:
TOP 10 GOOD STARTER DUCK BREEDS
Other names known by:
White English
Bantam Variety Available?
No
You may Also Like:
10 BEST BANTAM DUCK BREEDS
APPEARANCE / IDENTIFICATION
DUCK BITS
DESCRIPTION
COLOR
EYES⇒
Dark Brown
BILL⇒
Long
Light pink
Straight out from its head.

*

Black bean tipped
CRESTED?
No
EAR LOBES⇒
Normal
Same as Feathers
Small, feather-covered holes behind the eyes
LEGS⇒
Bright Orange
Mid-way on the body giving it a boat like shape
FEET⇒
Medium Sized
Bright Orange
Thin membrane webbed feet
WINGS⇒
Normal
Pure white
Do not fly
FEATHERS⇒
Excellent down
Pure white
Were used for quilts, pillows, mattresses in 18th Century
SKIN COLOR⇒
White
AVERAGE WEIGHT⇒

Adult Female:
8 lbs.
Adult Male:
7 lbs.
Mature:

**

8 lbs. @ 8 weeks old

*

Bean: This is also called the nail. It is a small round bump found at the end of the duck's bill. It is used for defence and to catch insects. It is almost like a fingernail and is damaged can grow back. It can also get overgrown much like fingernails if they do not have something to grind it down on.

**

Note: This is an average weight for the male duck and not a guaranteed weight
USE/PURPOSE

Females/Hens

⇒

Dual Purpose, exhibition + Breeding. Pure white Plumage. Their legs are position wide apart and in the middle of their body giving them a boat like shape

Eggs⇒
Color:
White
Qty/Yr:
80 – 125
Size:
XL to Jumbo
They will start to try hatch eggs from their first lay
Start to lay around 25 to 30 weeks old.
They lay consistently through the year
You may Also Like:
10 BEST DUCK BREEDS FOR EGG PRODUCTION

| | | |
| --- | --- | --- |
| Broody: | Yes | They do get broody |
| Mothers: | Yes | Good mothers and will foster other ducklings |
| Meat: | Yes | A superior quality of white meat |
| You may Also Like: | | 10 BEST DUCK BREEDS FOR MEAT PRODUCTION |
| Pets: | Yes | Calm, friendly, active and curious birds |
| Show: | Yes | Kept as prized exhibition birds |
| Prime: | 7 yrs | They lay right up to between 8 to 9 years of age if they stay healthy |
Males/Drakes

⇒

Meat, exhibition + Breeding. Pure white Plumage just like the females. Their legs are position wide apart and in the middle of their body giving them a boat like shape

| | | |
| --- | --- | --- |
| Breed: | Yes | Should only start to breed them at 6 months old |
| Start: | – | Start to get fertile at around 3 – 4 months |
| No. Females | 5 | For every 1 drake in a flock |
| Aggressive | No | Laid back, calm and friendly that do not mind sitting the eggs for the hen |
| Meat | Yes | A superior quality of meat |
| You may Also Like: | | 10 BEST DUCK BREEDS FOR MEAT PRODUCTION |
| Pets: | Yes | They make great pets that can be trained quite easily |
| Show: | No | Prized exhibition birds |
| Prime: | 4 yrs | It is best to mate the younger drakes of up to about 4 years old |
TEMPERAMENT

"Aylesbury ducks are known for their calm even temperament. They are also active and quite friendly making them really great pets."
Good with Kids?
Yes. But as with any animal young kids should be supervised around them.
You may Also Like:
10 BEST DUCK BREEDS TO KEEP AS FAMILY PET
Flyers?
They do not fly
Noisy Birds?
Both the male and females like to have a quack. But they are not too noisy
Interact with other ducks?
Most ducks' breeds do not mind interacting with other breeds.
If you are breeding them it is best to keep them apart as male ducks will breed with any breed.
Best duck breeds to mix them with:
They do well in a mixed flock with any other duck breed. It is advisable though not to mix them with the wild waterfowl breeds.
Other animals?
Most ducks are not too fussed with other animals. I would watch dogs and cats around them though.
IDEAL ENVIRONMENT

"They are adaptable and hardy breed. As with any animal, they do require a comfy place to go to for warmth and protection from predators and the elements."
Ideal Garden Size?
They can be kept in most garden sizes.
Can be Confined?
This breed much prefers to be able to wander around and forage
Free-Range
Good free-rangers but do like to stay close to their home
Penned Free-Ranging?
I think it is best to have penned free-ranging especially if your area has predators.
Foragers
Good strong foragers
Endures heat well
Most ducks will take the heat as long as they have a cool clean dipping pond
Endures cold well
They do, do very well in the cold
Special Requirements?
These ducks are quite happy as long as they have food, shelter, fresh drinking water and a splash pond
Ideal Duck House:
Depending on the size of the flock a normal duck house with bedding and security from predators.
Ideal Duck Pond:
A small home-made pond or kiddies plastic pool that is not too deep
Flock/Paddling Size:
There must always be a pair of ducks they do not do well on their own.
You may Also Like:
22 Best DOMESTIC DUCK BREEDS
GOOD TO KNOW

"This is such a lovely friendly breed of duck. They are great for any backyard duck flock no matter what level of duck owner a person is."
Special Care/Attention Requirements?
Most heavy breed ducks tend to get feet problems. Regular foot checks with their health checks will help to detect any problems early.
Known Predators:
Check with animal control in your area for known predators
Conservations Status:
Critical For more information on poultry, conservation status, check the American Livestock Conservancy Website
Breeders Clubs:
It is best to check with the American Poultry Association for various clubs and or organizations.
Where to buy them:
Check with Omlet US, the APA
or check with the American Livestock Conservancy
Other:
If you do not want to risk having your ducks shipped check with your local poultry farms for advice on your nearest supplier.
HISTORY
The actual origins of the Aylesbury duck because there were not many, if any, records of duck breeds in England before the 18th century.
The Aylesbury became a popular cottage industry around the 1690's when white ducks were prized for their feathers. These were used for various fillers such as pillows and quilts.
Aylesbury ducks were bred in the poorer part of the town of Aylesbury which came to be known as "Duck End". Here they owners would sometimes even have their prized Aylesbury ducks live inside their homes. Which, as one can imagine, was not at all sanitary.
As the Aylesbury had a white carcass it was known for its superior quality and exceptionally tasty meat.
In order to ensure the ducks were in good quality. The owners would protect the duck's feet were protected by a cold tar solution. The ducks were then walked through sawdust, this, in turn, stuck to the tar. Then they would walk the ducks often some 40 odd miles to the London markets for sale. The owners of the ducks would have to break their long journeys by stopping overnight at inns that could cater for the ducks as well.
It was not until 1839 the Aylesbury duck industry flourished when the railway line, Cheddington to Aylesbury, became available to transport the ducks. This made getting the ducks to the markets a lot easier for the breeders/duck farmers.
For many years it was thought that the White Aylesbury could only be raised in the town due to the white gravel that was in ample supply in that part of the river Thame. The locals believed that the ducks got the color of their feathers and skin from digging their bills into this.
But in the mid-19th century, this myth was soon discarded when it was discovered the birds could, in fact, be bred anywhere and retain their white skin and feathers.
By 1873 large industries were breeding white ducks and the industry in Aylesbury has all but shut down. With the introduction of the Pekin duck and the by the Second World War, the town of Aylesbury's duck industry had completely come to an end.
The Aylesbury is listed on the American Livestock Conservancy as Critical!
Health
Prone to Bumblefoot or Staph infections as many of the heavier breeds are inclined to. They will need regular foot checks.
Ducks need water to ensure they do not get "wet feather" disease. This is where the preening gland dries out. Water also stops them from getting pests such as mites, fleas, ticks, lice, etc.
Well, fed ducks should hardly have any health issues.
Any birds kept in a flock need to be dewormed. Although ducks are not as prone as other poultry they should still have a de-worming regime. Speak to a local vet or poultry experts for advice. Our article on Healthy Ducks has some great tips and advice on de-worming ducks.
Video
USEFUL LINKS