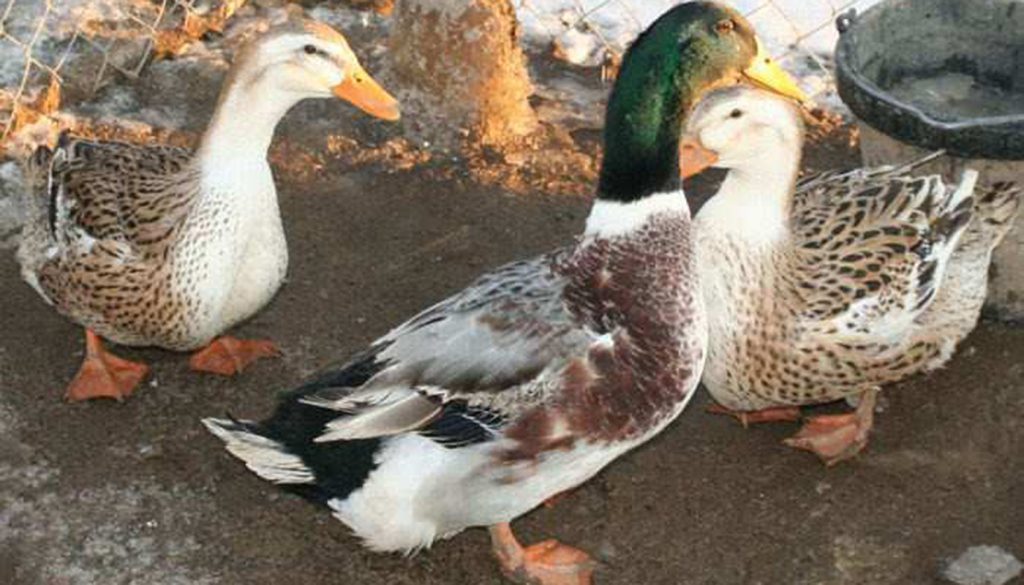 These beautiful ducks have become quite the popular show birds over the last few decades. They are a great addition to any backyard duck flock with their great egg laying, foraging abilities. Appleyard ducks have a calm, even friendly temperament making them a great pet.
As long as they have the normal feed, clean water to drink and another source to splash in they are fairly low maintenance. An excellent choice for a family and or first-time duck owner flock!
A dual-purpose breed which is known for its lean good meat quality and nutritious eggs!
GENERAL INFORMATION

Country of Origin:
England
American Poultry Association:
Recognized by the American Poultry Association
Duck Category:
Heavy Breed
Duck Class:
English
Colors:
Silver, Date of acceptance: 2000
Good starter duck?
Yes
Other names known by:
Silver Appleyard
Bantam Variety Available?
Yes
You may Also Like:
10 BEST BANTAM DUCK BREEDS
Good starter duck?:
Yes
You may Also Like:
TOP 10 GOOD STARTER DUCK BREEDS
APPEARANCE / IDENTIFICATION
DUCK BITS
DESCRIPTION
COLOR
EYES⇒
Dark Brown
BILL⇒
Medium Length
Yellow/Orange
Not wedged shape. Gently curved to the brow.

*

Black bean
CRESTED?
No
EAR LOBES⇒
Normal Same for M & f
Same as Feathers
Small, feather-covered holes behind the eyes
LEGS⇒
Well Apart Same for M & f
Yellow/Orange
Slightly back on the body
FEET⇒
Medium Sized Same for M & F
Yellow/Orange
WINGS⇒
Normal
Differ on M & F
Do not fly due to their weight. Do flap a lot
FEATHERS⇒
Differ on M & F
Good down feathers
SKIN COLOR⇒
White
AVERAGE WEIGHT⇒

Adult Female:
7.9 lbs.
Adult Male:
9.00 lbs.
Mature:

**

6.6 lbs. @ 9 weeks old

*

Bean: This is also called the nail. It is a small round bump found at the end of the duck's bill. It is used for defence and to catch insects. It is almost like a fingernail and is damaged can grow back. It can also get overgrown much like fingernails if they do not have something to grind it down on.

**

Note: This is an average weight for the male duck and not a guaranteed weight
USE/PURPOSE

Females/Hens

⇒

Dual Purpose + Breeding. White Plumage with different shades of grey and brown markings.
The hen has wings with white markings that have a "blue cross-stripe". Her head is white with the same color marking as on her body.

Eggs⇒
Color:
White
Qty/Yr:
200 – 270
Size:
Large
They will start to try hatch eggs from their first lay
Start to lay around 30 to 30 weeks old. They lay consistently through the year
You may Also Like:
10 BEST DUCK BREEDS FOR EGG PRODUCTION

| | | |
| --- | --- | --- |
| Broody: | Yes | They are known to go broody often |
| Mothers: | Yes | They do make good mothers and are very protective over their young |
| Meat: | Yes | One of the best for meat. Good quality lean favorable meat |
| You may Also Like: | | 10 BEST DUCK BREEDS FOR MEAT PRODUCTION |
| Pets: | Yes | They are generally calm curious waterfowl |
| Show: | Yes | They are kept as show birds |
| Prime: | 8 yrs | They lay right up to between 8 to 9 years of age if they stay healthy |
Males/Drakes

⇒

Breeding, Show, Pets and Meat. Males have a deep green head and neck feathers with the breast, flank, sides and shoulders a chestnut red with white feathers underneath the body.

| | | |
| --- | --- | --- |
| Breed: | Yes | Should only start to breed them at 6 months old |
| Start: | – | Start to get fertile at around 3 – 4 months |
| No. Females | 5 | For every 1 drake in a flock |
| Aggressive | No | Drakes can be protective, but they are generally calm & gentle will sit eggs when required. |
| Meat | Yes | Excellent quality, lean meat duck |
| You may Also Like: | | 10 BEST DUCK BREEDS FOR MEAT PRODUCTION |
| Pets: | Yes | They are quiet and intelligent |
| Show: | Yes | They make beautiful show birds |
| Prime: | 4 yrs | It is best to mate the younger drakes of up to about 4 years old |
TEMPERAMENT

"They are calm even-tempered birds. They like to keep close to home. Are ideal for a backyard flock and first-time duck keepers."
Good with Kids?
Yes. But as with any animal young kids should be supervised around them.
You may Also Like:
10 BEST DUCK BREEDS TO KEEP AS FAMILY PET
Flyers?
No, they are too heavy to fly. They do like to flap a lot though!
Noisy Birds?
Yes, the females can be quite quacky! They like to chat, but the males are quieter.
Interact with other ducks?
Yes, they like to socialize, and most ducks just calmly get along with each other.
Some younger drakes can try to challenge the older one to mates though. You will have to watch this at mating season. The hens can be a bit bossy especially the older ones in the flock.
Best duck breeds to mix them with:
The breeds have no problem mixing. As long as they are with other domestic breeds. I would not try to mix any wild waterfowl breeds with domestic ones.
Other animals?
They will eventually get used to other animals. It is best to keep an eye on cats and dogs though they may try and attack your ducks.
IDEAL ENVIRONMENT

"They are hardy birds that will easily adapt to most environments as long as they have a decent sized pond to splash in and a good sturdy warm house to sleep in at night."
Ideal Garden Size?
They adapt well to any garden size
Can be Confined?
They can be confined but it is never an ideal situation for a duck. They need grass to move around on and fresh water to splash in.
Free-Range
They do enjoy free-ranging as long as it is not too far from their home
Penned Free-Ranging?
They will do well in a penned area for free-ranging if garden size permits/td>

Foragers
They are excellent foragers and will supplement their feed with juicy pests they find around the garden.
Endures heat well
They do need shady spots and lots of cool water to splash in and drink
Endures cold well
They are cold hardy but will still need some shelter to keep them cozy when required
Special Requirements?
A low maintenance duck breed
Ideal Duck House:
Depending on the size of the flock a normal duck house with bedding and security from predators.
Ideal Duck Pond:
A medium-sized plastic kiddies pool that is not too deep.
Flock/Paddling Size:
2 ducks or more. Ducks are sociable and do not like being alone.
You may Also Like:
22 Best DOMESTIC DUCK BREEDS
GOOD TO KNOW

"They are low maintenance and friendly. The love to play and are quite inquisitive."
Special Care/Attention Requirements?
Keep an eye on their feet as the heavier breeds can get foot diseases
Known Predators:
Check with animal control in your area for known predators
Conservations Status:
Threatened For more information on poultry, conservation status, check the American Livestock Conservancy Website
Breeders Clubs:
It is best to check with the American Poultry Association for various clubs and or organizations.
Where to buy them:
Purely Poultry, Metzer Farms, Cackle Hatchery and Omlet US
Other:
If you do not want to risk having your ducks shipped check with your local poultry farms for advice on your nearest supplier.
HISTORY
Reginald Appleyard set out to create a dual-purpose breed of duck that was also a top class show bird. He developed the breed to be hardy, sturdy, lay lots of eggs and have an excellent full-flavored quality of meat. that would have a high quality of lean full-flavored meat.
The Appleyard duck, named after him, was a breed that he believed to be the ultimate duck.
They were developed on Reginald Appleyard's farm, The Priory Waterfowl Farm in the 1940's and were accepted into the American Standard of Perfection by the American Poultry Association in 2000. There is only one variety of the Appleyard duck and that is the Silver variety.
The Miniature Appleyard Duck was developed by Tom Bartlett, a waterfowl breeder, in 1980. The Miniature Appleyard Duck is stunningly beautiful and kept purely for ornamental reasons. It has a lot of the characteristics of the original full-sized waterfowl variety. Only the miniature variety weighs nearly one-third of its larger counterparts' weight.
Health
Prone to Bumblefoot or Staph infections
Ducks need water to ensure they do not get "wet feather" disease. This is where the preening gland dries out. Water also stops them from getting pests such as mites, fleas, ticks, lice, etc.
Well, fed ducks should hardly have any health issues.
Any birds kept in a flock need to be dewormed. Although ducks are not as prone as other poultry they should still have a de-worming regime. Speak to a local vet or poultry experts for advice. Our article on Healthy Ducks has some great tips and advice on de-worming ducks.
Video
USEFUL LINKS