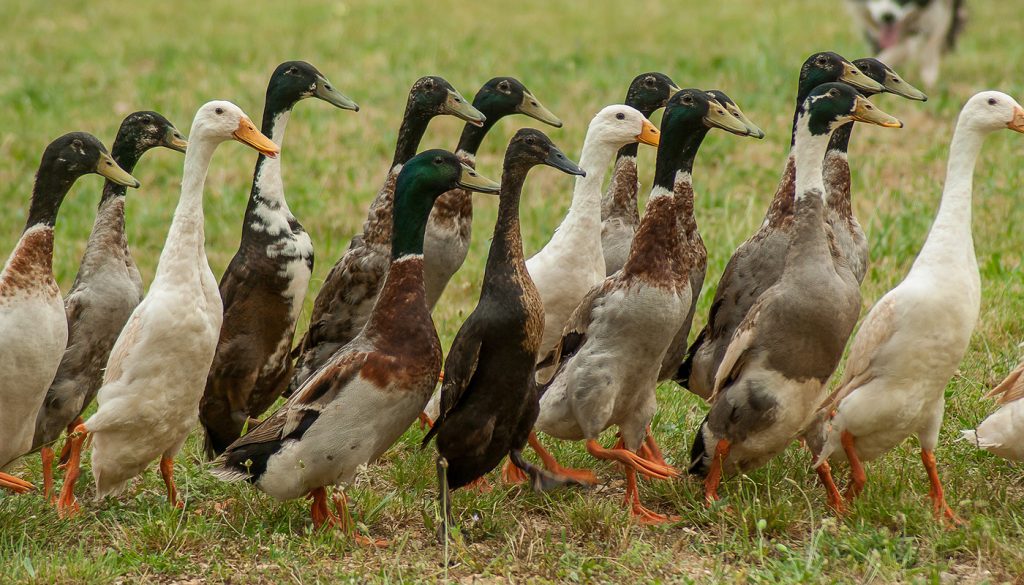 The Indian Runner duck has a very upright posture as such it looks quite tall. It has an elegant long neck and slim body. They are quite an ancient breed of duck with a long history as being a domestic utility breed.
Mainly kept these days for their exceptional egg laying abilities and their dynamic garden pest control. Although they can be a bit skittish they are actually quite a pleasant bird to have around.
They are also a breed that does not require as much water to splash about in like most other ducks. They are quite happy with a small splash pool they can dip their feather in.
GENERAL INFORMATION

Country of Origin:
Indonesia
American Poultry Association:
yes Recognized by the American Poultry Association
Duck Category:
Light
Duck Class:
–
Colors:
Fawn & White, Date of acceptance: 1898
Black, Date of acceptance: 1977
Buff, Date of acceptance: 1977
Cumberland Blue, Date of acceptance: 1977
Penciled, Date of acceptance: 1914
White, Date of acceptance: 1914
Gray, Date of acceptance: 1977
Chocolate, Date of acceptance: 1977
Other names known by:
Indian Runner, Bottle Necks or Penguin Ducks
Good starter duck?
Yes
You may Also Like:
TOP 10 GOOD STARTER DUCK BREEDS
Bantam Variety Available?
No
You may Also Like:
10 BEST BANTAM DUCK BREEDS
APPEARANCE / IDENTIFICATION
DUCK BITS
DESCRIPTION
COLOR
EYES⇒
Same for M & F
Dark Brown
BILL⇒
Same for M & F
Yellow

*

Black bean tipped
CRESTED?
No
LEGS⇒
Same for M & F
Short Length
Orange
FEET⇒
Same for M & F
Medium Sized
Orange
WINGS⇒
Same for M & F
Dependent on the color variety
FEATHERS⇒
Same for M & F
Dependent on the color variety
SKIN COLOR⇒
Same for M & F
White
AVERAGE WEIGHT⇒

Adult Female:
4.4 lbs.
Adult Male:
6.6 lbs.
Mature:

**

5 lbs. @ 10 weeks old

*

Bean: This is also called the nail. It is a small round bump found at the end of the duck's bill. It is used for defence and to catch insects. It is almost like a fingernail and is damaged can grow back. It can also get overgrown much like fingernails if they do not have something to grind it down on.

**

Note: This is an average weight for the male duck and not a guaranteed weight
USE/PURPOSE

Females/Hens

⇒

Show, Pet, Eggs and meat

Eggs⇒
Color:
Blue
Qty/Yr:
180
Size:
Medium
They will start to try hatch eggs from their first lay
Start to lay around 25 to 30 weeks old. They lay consistently through the year
You may Also Like:
10 BEST DUCK BREEDS FOR EGG PRODUCTION

| | | |
| --- | --- | --- |
| Broody: | Yes | They are not very broody hens. If breeding them, you may need to incubate or get a brood hen to cover the eggs |
| Mothers: | Yes | They can make great mothers even if they do not sit their eggs. They tend to take to their mothering responsibilities quite well. |
| Meat: | Yes | A nice tasty good quality meat |
| You may Also Like: | | 10 BEST DUCK BREEDS FOR MEAT PRODUCTION |
| Pets: | Yes | They can be a bit skittish but are very entertaining |
| Show: | Yes | They are beautiful show worthy ducks |
| Prime: | 7 yrs | They lay right up to between 8 to 9 years of age if they stay healthy |
Males/Drakes

⇒

Breeding, Meat, Pet and show bird

| | | |
| --- | --- | --- |
| Breed: | Yes | Should only start to breed them at 6 months old |
| Start: | – | Start to get fertile at around 3 – 4 months |
| No. Females | 5 | For every 1 drake in a flock |
| Aggressive | No | They are skittish and can be a bit snappy when spooked |
| Meat | Yes | A good quality tasty meat |
| You may Also Like: | | 10 BEST DUCK BREEDS FOR MEAT PRODUCTION |
| Pets: | Yes | They are quite good pets and are very entertaining |
| Show: | Yes | They are very beautiful show birds |
| Prime: | 4 yrs | It is best to mate the younger drakes of up to about 4 years old |
TEMPERAMENT

"Skittish and bit unpredictable"
Good with Kids?
I would not leave a child unattended around them
You may Also Like:
10 BEST DUCK BREEDS TO KEEP AS FAMILY PET
Flyers?
They are not the strongest flyers and usually do not attempt to fly
Noisy Birds?
They are not as noisy as other ducks
Interact with other ducks?
They will interact with most any other duck or bird
Best duck breeds to mix them with:
Any domesticated duck breed will be fine to mix with this breed .
Other animals?
They tend to shy away from other domestic animals. Watch your dogs or cats around your ducks.
IDEAL ENVIRONMENT

"Medium to large garden with place for them to waddle around and forage for slugs and snails"
Ideal Garden Size?
Medium to large
Can be Confined?
But they do not like to be and may get a bit grumpy
Free-Range
They love to be out and about
Penned Free-Ranging?
Just make sure there is enough space and fresh foraging ground
Foragers
They love to forage for various insects, grubs with their favorite food being a juicy slug or two
Endures heat well
Yes
Endures cold well
Yes
Special Requirements?
No
Ideal Duck House:
A nice cozy hutch that can be locked up tight to keep them safe and sound at night. Ensure the hutch has good ventilation and insulation. It must also be large enough to prevent overcrowding of the ducks
Ideal Duck Pond:
A nice little splash pool or pond that is not too deep for them to dip in
Flock/Paddling Size:
Try to keep the flock at a minimum of two. Ducks like to have a few duck friends about
You may Also Like:
22 Best DOMESTIC DUCK BREEDS
HISTORY
The Runner or Indian Runner duck's history can be traced back to over 2000 years ago where they existed in Indo China. There are carvings of this duck on the worlds of ancient Java Temples.
Ducks have been kept and herded in this area of the world for centuries. They would train flocks of ducks to stay in their herders' site. They would keep an eye on his long bamboo cane that the herder would carry with him. This pole had strips of cloth attached to the one end of it.
Using his herding pole, he would drive the ducks to the rice paddies during there day. There the ducks would keep the rice paddies insect free whilst gleaning the scattered seeds and weeding the paddy.
At night when it was time for the flock to go home the herder would herd them back to where they would be kept in either a protective clay or bamboo structure.
The duck eggs would be collected from the structure early the following morning before the ducks were herded off to the rice paddies again.
For centuries the ducks were chosen for the foraging abilities, they had to be good walkers and prolific egg layers.
As they adapt the breed to these specific standards it was of this quality that was exported to the United Kingdom in the 1850's. They fast became very popular in Britain due to their unique appearance, highly efficient foraging abilities and great egg laying.
It was not known as the runner duck back them but rather as the Penguin duck due to its waddle and a rather upright stance. This breed has many color varieties but only
Although the Runner duck comes in many colors and was first accepted into the American Standard of Perfection by the American Poultry Association in 1898.
It is mainly kept for its egg production these days, but it is a breed that has been used to create some of the modern breeds of duck.
Health
They have no known health issues. In general ducks are quite healthy with a lot fewer pests than other bird breeds.
Ducks need water to ensure they do not get "wet feather" disease. This is where the preening gland dries out. Water also stops them from getting pests such as mites, fleas, ticks, lice, etc.
Well, fed ducks should hardly have any health issues.
Any birds kept in a flock need to be dewormed. Although ducks are not as prone as other poultry they should still have a de-worming regime. Speak to a local vet or poultry experts for advice. Our article on Healthy Ducks has some great tips and advice on de-worming ducks.
Video
USEFUL LINKS