Duck hunting is not something I would normally do, and it is not something that is to everyone's taste or liking. The fact is, is that it happens and has been for centuries. In days past that is how man survived by hunting, gathering and foraging for food.
Today hunting is controlled and regulated a person has to get a permit/license to go hunting.
Wild duck is served as a gourmet meal in some restaurants and it is usually a seasonal dish. Which means that is can also sometimes fetch quite a hefty menu price.
This article outlines the best wild ducks for meat.
Top 10 Wild Ducks that are Good Meat Ducks
Mallard

The Mallard is one of the most popular hunting ducks. They are also a breed that is in abundance throughout the world.
Their meat is of a coarse texture and has a twinge of game taste to it.
They usually have a good amount of meat to bone ratio, but it will take quite a bit of preparation to cook it.
It usually needs to be soaked/marinated in either a saltwater brine for a day. Read More
Wood duck

This pretty bird is very tasty, and its meat has been compared to that of prime rib or top game meat.
Most people say that the meat is best prepared stuffed with something like cream cheese and or jalapenos. It can be cooked over a BBQ, spit or grilled either way they make an excellent meat bird their meat taste is a lot less gamey or wild than other wild breeds.Read More
Scaup

The Scaup is one that hunters tend to trick with decoy ducks and become an easy target.
They are, however, quite tasty depending on how they are prepared, and the preparation of this breed takes a lot of time and attention.
The meat should be soaked or marinated in salt-water brine for at least 3 to 4 days before cooking it.
Pintail

The Pintail is one of my favorite wild ducks. The coloring on the birds is like the feathers were painstakingly painted on it. It does have a bit of a wild taste about the meat, but it is quite tender and juicy. As with most wild duck meat, it does need to be marinated for at least a day before cooking it.
Green-winged Teal

These birds have the most deliciously delectable tasting meat with a fine quality texture.
Their meat has been compared to that of a fine fillet of beef and it has little to no wild taste about it at all.
This bird makes one of the finest duck meat meals.
Northern Shoveler

These birds tend to live off aquatic insects and small fish. So, they have a bit of a musty or fishy flavor. Although they have a nice tender lean meat that if dressed correctly and marinated for at least 2 days.
Canvasback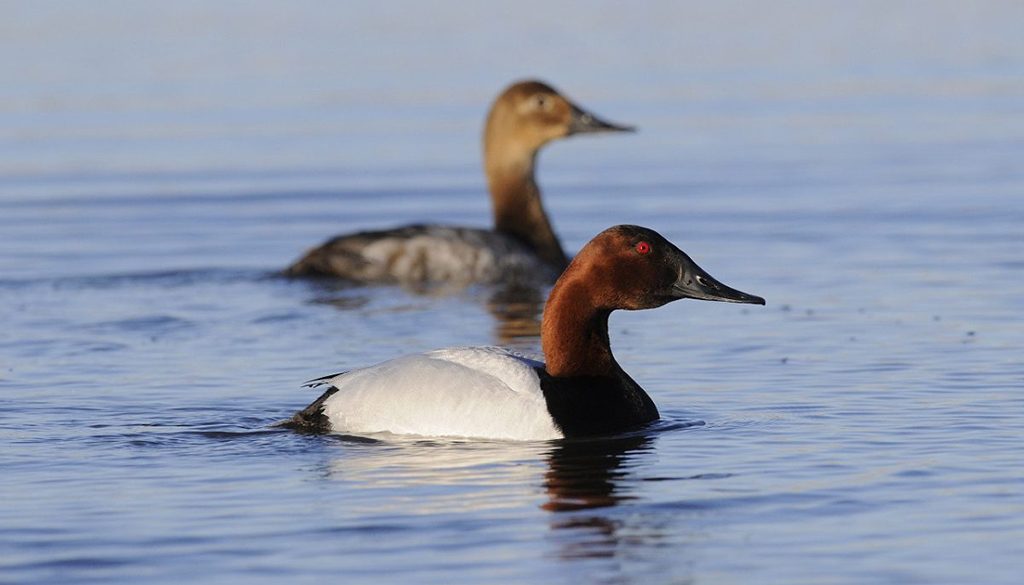 The Canvasback is a big duck that is much like the Scaup. Its meat can be quite gamey, but it makes for excellent gumbos or stews.
Its meat is a bit darker than most other ducks and can be coarse if it is not marinated in brine for 2 to 3 days before preparation for cooking.
Blue-winged Teal

They are much like their Green-winged counterparts, but their diets are slightly different. Their meat is really tender and wild, but it is like a venison type wild. Their diet of aquatic plants lessens the musty fish taste of the bird.
These are one of the most sought after hunting ducks, but they are rather nifty at escaping predators.Read More
Cinnamon Teal

Due to their non-aggressive nature and findings that these beautiful ducks do well in captivity. You can usually find them at poultry outlets such as Purely Poultry. In the wild, they will eat aquatic plants and small aquatic insects even some molluscs and small fish. This gives their flesh a rather pungent taste. But if they are kept in captivity, they would have to be either enclosed or have their wings clipped, fed on either game bird or waterfowl high-quality feed. They have the most superb tasting tender and lean meat.
Gadwall

These ducks are one of the best wild ducks for roasting. Their meat is flavorful, lean and tender.
They are also known as the Grey duck. They dress up and roast extremely well with the meat tasting only a bit on the wild side. If they are marinated for a day or two in a brine of some great wild duck marinade they will make a great gourmet wild duck meal.Read More