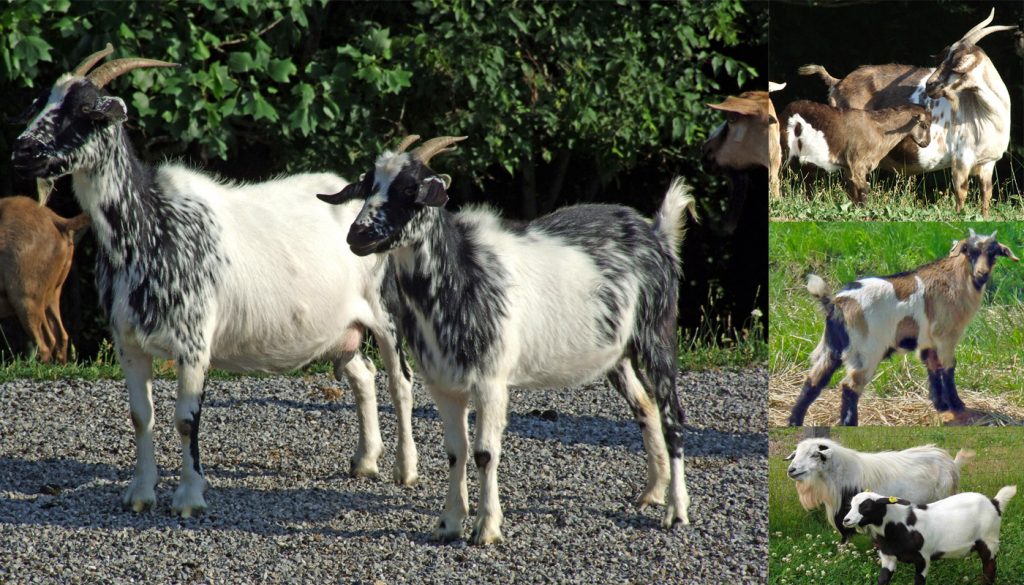 These goats are not as large as the normal meat goats, but their fainting condition causes them to have more muscle. This gives them more meat to bone ratio than fat. Their muscle condition called myotonia congenita causes their muscles to seize or spasm when they get a fright. This usually causes them to fall over or make them look like they are fainting.
They are quite rare these days and are listed by the Livestock Conservancy as they are worth more alive, they are very rarely used for meat. They are raised as pets or for observation of their muscle condition.
Fainting Goat Quick Profile Overview
The Fainting Goat is named as such as when it is startled its muscles spasm making it fall over like it is fainting
Country of Origin:
United States of America
Other Names:
Texas Wooden Leg, Tennessee Meat, Tennessee Fainting, Myotonic, Stiff Goat, Scare Goats or Nervous Goats
Breed Size:
Small
You may Also Like:
11 Smaller and Miniature Goat Breeds
Main Purpose:
Pets, ornamental, research and on occasion meat production
Can be used for
Breeding, Pets, Show
You may Also Like:
10 Most Popular Goat Breeds
You may Also Like:
10 Goat Breeds for Beginner Goat Keepers
Temperament:
They are sweet, friendly and are not at all difficult or stubborn
Good with Kids?
They can be a good breed to have around supervised children.
You may Also Like:
10 Best Goat Breeds to Keep as Pet
Ideal Environment:
They do not need as much space as the larger breeds but still require quite a bit of fresh green pasture and trees with low hanging branches.
Ideal Climate:
They are adaptable to all climates
Conservation Status:
Not Listed by the

*

ALC
Status Recovering. They are quite a rare breed these days.
Health Issues?
Other than their muscle seizures they are pretty hardy little creatures
Good Starter Goat?
Yes, they are easy to care for, groom and maintain.
Goat Associations:
American Fainting Goat Organization
Goat Clubs:
The Myotonic Goat Registry will have an updated list of all the registered clubs and breeders in and around your area.
Note:

*

ALC stands for American Livestock Conservancy
PHYSICAL CHARACTERISTICS
The Fainting Goat is a true character. They have sweet personalities and can be quite amusing. One of their most distinguishing characteristics is their protruding eyes which seem to almost stand out of their sockets. In the winter these medium sized goats produce a fair amount of cashmere and there are no angora strains of the Fainting Goat.
The doe is slightly smaller the buck and is very protective over her young. In fact, she has been known to hide the kids for the first few days. The buck is larger with more defined and masculine features than the doe.
Color(s):
The most common color in this breed is black and white although there are many other colors.
They share the same color traits and combinations
Goat⇒
Doe
buck
Breed Weight:
170 lbs.
200 lbs.
Breed Height:
43 cm at withers
63 cm at withers
Hair:
Short or long with a lot of cashmere in the colder months
Long and they can be spiral. They are also a lot thicker than that of the does
Ears:
They have erect ears that tend to stand to the side of their head or point more forward.
Fine and can be long or short. The buck also produces a lot of cashmere in the colder months
Horns:
She has quite prominent horns that stand almost straight up from her head. The tips of them tend to turn outwards
Straight and erect either to the sides of the head or pointing frontwards
Matures at age:
5 to 15 months
3 to 15 months
Puberty Age:
5 to 6 months
4 to 9 months
Breeding Age:
18 months
1 year
Breeding Traits:
Up to 2 Breeding cycles per year
Cover 20 to 30 does in 1 season
DOE BREEDING & MILKING INFORMATION
The Fainting goat has the ability to breed up to twice a year and they have a good quality milk that is more than able to feed their kids
Breeding Period/cycle:
Usually lasts 12 to 36 hours
Ave. 21 days/18 to 24 days
Gestation Period:
Usually around 148 to 155 day but most are 150 days
Kids:
They usually have twins or up to four kids at one time
Good Mothers?
They are an excellent and very protective mother
Lactation Period:
5 months
Milking From:
4 to 6 weeks after kidding
Milk Quality:
Good, they have a good quality milk/td>

Milking Level:
Medium, They are not really milking goats and it could trigger their fainting spell
You may Also Like:
Top 10 Best Dairy Goat Breeds
GOOD TO KNOW

Some things to know about the Fainting Goat
Where to buy them:
The Myotonic Goat Registry has an updated list of registered breeders throughout the USA. As they are listed in the American Livestock Conservancy they are quite rare and hard to come by.
Predators:
They are not very big so their kids and even an adult could get killed by even a fox. Especially when having an episode. Check with the animal shelters and animal control for the predators in your areas to take the necessary precautions.
Agility:
They are not as agile as other breeds because of their condition. They do not jump or climb as it usually triggers their fainting spell.
Interact with other animals:
They should be kept away from other animals due to their fainting condition. This could get them seriously hurt.
GENERAL INFORMATION:
They have a muscle condition called myotonia congenita. This is a gene mutation affecting the skeletal muscles. When the goat gets a fright or becomes nervous its muscle seizes or go into short-term spasm. This makes the goat fall over until the spasm passes allowing for it to get back up.
They do not need as high fencing as other goat breeds as the Fainting goat tends not to jump. This is thought to be a direct result of the myotonia congenita.
They are often kept as pets because of how easy they are to manage, their great temperament and their manageable size.
For a smallish goat they have a good meat to bone ratio and very tasty meat although they are not really bred for meat production. They were used to feed carnivorous animals at Zoo's
Their fiber is more cashmere than mohair, but they are not really bred for their fiber production
HISTORY
The exact origins in the USA for the Fainting goat are not really known. The Fainting Goat is one of the few American indigenous goat breeds.
In 1880 John Tinsley came from Nova Scotia bringing one buck and three goats to Marshall County in Tennessee! His goats were left in Tennessee and it is from these five goats that the Fainting goats in the United States have originated from. The goats he brought with him were noted to be strangely stiff but they had a high muscle value and the did not climb or jump like other goats.
They were soon prized for their easy care and meat as the interest in the breed grew. Some of these goats were taken to central Texas in the hill country. Here there were selectively used for their meat and the larger sized goats were selected. As they can breed twice a year and have a good meat to bone ratio this breed got a lot of attention during the 1980's.
The goats were selectively bred for two categories during this time with one group of breeders breeding them for their stiffness as a pet or novelty breed. The other group worked on emphasizing their meat production by selecting them for their growth rate and breeding efficiency.
VIDEO
USEFUL LINKS