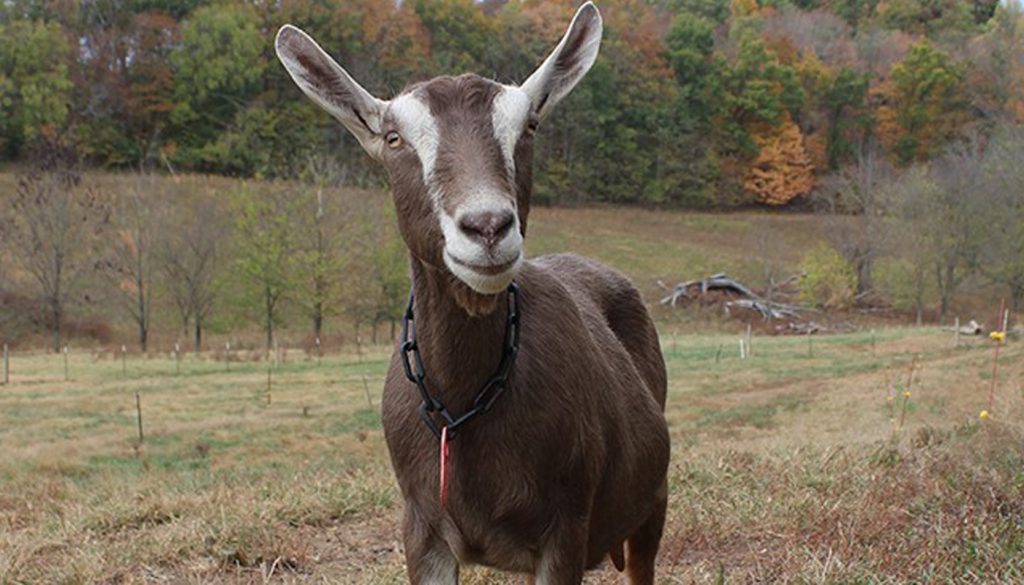 These gentle Swiss goats are one of the oldest known dairy goat breeds. Their gentle, calm and friendly nature make them quite a popular pet.
They are quite a rare breed to find these days with not a lot of breeding pairs left.
These vigorous, sturdy and curious goats make an excellent addition to any goat herd. They are also a great goat for a first-time goat owner.
Toggenburg Goat Quick Profile Overview
The Toggenburg is the oldest dairy breed of goat
Country of Origin:
Switzerland
Other Names:
Toggenburger, Chevre du Toggenbourg, Capris Del Toggenburg or Toggenburger Ziege
Breed Size:
Medium
You may Also Like:
Top 12 Large to Largest Goat Breeds
You may Also Like:
11 Smaller and Miniature Goat Breeds
Main Purpose:
Milk production
Can be used for
Breeding, Milk, Pets, Show, Skin
You may Also Like:
Top 10 Best Dairy Goat Breeds
You may Also Like:
10 Best Goat Breeds for Meat Production
Temperament:
They are calm and sturdy. They can be quiet but are very friendly and easy to keep
Good with Kids?
They are quite big, so children should be supervised around them
You may Also Like:
10 Best Goat Breeds to Keep as Pet
Ideal Environment:
They need quite a lot of space with a lot of fresh pastures.
Ideal Climate:
They are quite hardy
Conservation Status:
Not Listed by the

*

ALC
Status/ Rarity: They are quite common
Health Issues?
They do not have many known health issues
Good Starter Goat?
They do make a great starter goat as they are really easy to maintain
Goat Associations:
American Dairy Goat Association
Goat Clubs:
National Toggenburg Club
Note: *ALC stands for American Livestock Conservancy
PHYSICAL CHARACTERISTICS
These goats have lovely colored coats, their legs are not very long, and their bodies are fuller than most other breeds. They are sweet and as they are quiet can come across as a bit shy, but they are actually very friendly and inquisitive.
The does a little lighter and smaller than the bucks and do not usually have beards.
The buck is larger and bulkier than the doe. He has a beard and quite often has wattles
Color(s):
Dark Chocolate or a light fawn color
Both the doe and the buck exhibit the same color combinations
Goat⇒
Doe
buck
Breed Weight:
121 lbs.
165 lbs.
Breed Height:
75 cm at withers
85 cm at withers
Hair:
Short, soft and glossy. It can grow to a medium length in the colder months
Short, soft and glossy. It can grow to a medium length in the colder months
Ears:
Erect and the same color as their coat or white
Erect and the same color as their coat or white
Horns:
They are usually disbudded at 3 weeks
They are usually disbudded at 3 weeks
Matures at age:
5 to 15 months
3 to 15 months
Puberty Age:
4 to 10 months
4 to 9 months
Breeding Age:
18 months
1 year
Breeding Traits:
1 Breeding cycle
Cover 20 to 30 does in 1 season
DOE BREEDING & MILKING INFORMATION
They have a normal yearly breeding cycle.
Breeding Period/cycle:
Usually lasts 12 to 36 hours
Ave. 21 days/18 to 24 days
Gestation Period:
Their gestation period is 150 days
Kids:
Twins are the most common, but they can birth 1 to 4 in a litter
Good Mothers?
They make good mothers and will nurse their kid(s) to wean age
Lactation Period:
284 days
Milk Quality:
The milk is not very high in butterfat but is of good quality and taste. Their milk is the best at around 4 weeks after giving birth
Milking Level:
They are bred as a dairy goat and as such are not that hard to milk.
You may Also Like:
Top 10 Best Dairy Goat Breeds
GOOD TO KNOW

Some information about the Toggenburg Goat that is good to know
Where to buy them:
Poplar Hill Farm, The Redwood Hill Farm or check with the various associations and or clubs listed on this page to find up to date breeders information.
Agility:
They are really agile and do love to climb or escape to greener pastures.
Interact with other animals:
As social animals, they will get along with any livestock or domestic animal that does not pose a threat to them. Billy goats do love to fight and lock horns.
GENERAL INFORMATION:
The National Toggenburg Club is the oldest breed club in America.
The Toggenburg goat is an exceptional mother. She will stand still to let her kids nurse, she sniffs and nuzzles them which is like cuddling them.
She will even gather food for them when she gathers food for herself.
Another amazing fact about this mother is that she will let humans carry her babies right after birth without making a fuss or abandoning them.
As a dairy goat, they have to consume more than 5% of their body weight in food every day. They are one goat that is really easy to milk as they will stand still to be milked. This makes them an excellent goat for the novice goat milker.
They are not bred for their skin although most goats, especially those under a year have a fine quality leather
They are not bred as meat goats. But they have been known to be cross-bred with meat goats such as Boer goats in order to increase their maturation and meat quality.
HISTORY
The Toggenburg is one of the original domestic dairy goat breeds. It originates from the Werdenberg and Toggenburg regions of the Canton of St Gallen.
The Toggenburg Goat herd-book was started in 1890 and since there have been breed clubs and associations intent on preserving the breed and bring breeders together. This is to ensure the continuation of the breed.
In Switzerland, the breed was originally recognized as a breed in 1892 and they were one of the first imported goat breeds in the United Kingdom. They were first imported to England in 1884 where the breed underwent breeding programs to create the British Toggenburg which have an improved milk quality and tend to be heavier than the original Toggenburg goats.
The Toggenburg goats were also amongst the first purebred goats to be imported to the United States. They were first imported to the United States in 1893.
VIDEO
USEFUL LINKS