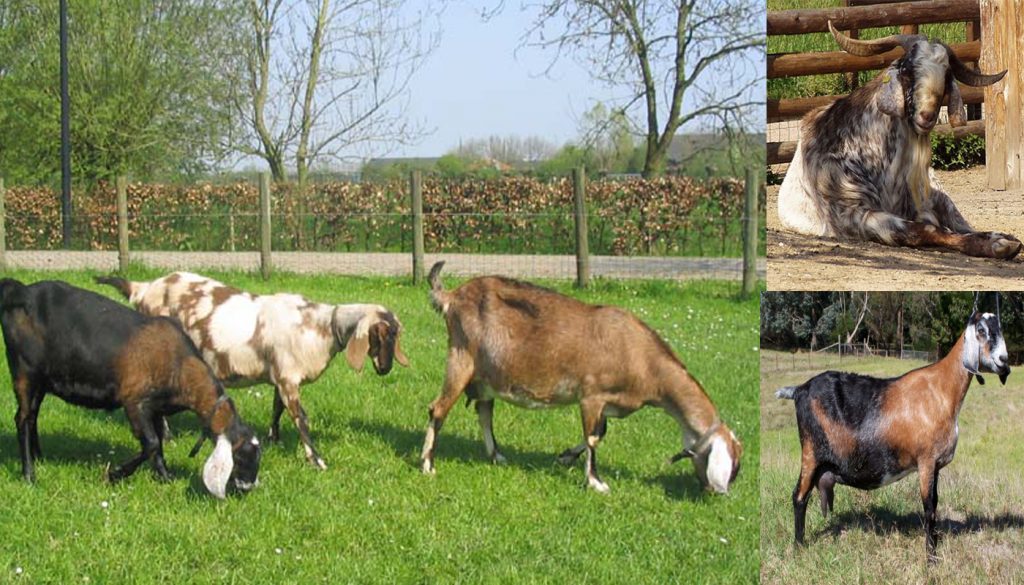 This beautiful fun, friendly and gentle goats make excellent pets. They love to play and are really inquisitive they will literally butt their noses in to see what is going on.
They are well known for their soft, shiny silky coats, good milk and meat production.
An all-around great goat breed that is low maintenance, hardy and very adaptable making them a great breed for the first-time goat owner.
Anglo-Nubian goat Quick Profile Overview
These Beautiful English goats have long floppy ears and strong compact bodies able to cope with many different environments and climates.
Country of Origin:
Great Britain
Other Names:
Nubian, Lop-eared goat or Greyhound goat
Breed Size:
Large
You may Also Like:
Top 12 Large to Largest Goat Breeds
Main Purpose:
Milk production
Can be used for
Breeding, Milk, Pets
You may Also Like:
Top 10 Best Dairy Goat Breeds
Temperament:
They are a very friendly, sociable and outgoing goat. They get quite attached to their humans and can learn to follow orders.
Good with Kids?
They make good pets and do well around supervised children.
You may Also Like:
10 Best Goat Breeds to Keep as Pet
Ideal Environment:/strong>
They are a large breed that will need quite a large grazing and roaming area. They also love trees with low hanging leaves. They have a great taste for shrubs!
Ideal Climate:
They can withstand quite arid temperatures and colder winter weather.
Conservation Status:
Not Listed by the

*

ALC
Common. They are quite readily available.
Health Issues?
Anglo-Nubians are on of the breeds that tend to be a lot healthier and hardier than most any other goat breed. They still require weekly health, parasite and hoof checks as well as maybe a hoof trim every 3 months.
Good Starter Goat?
Yes, for goat owners with space and housing room for them they are low maintenance.
Good to Know:
They produce one of the best goat milks for making goat cheese due to the high butterfat content of their milk.
Goat Associations:
FAMU, American Goat Federation, American Goat Society or the American Dairy Goat Association can help find breeders and clubs across the USA. There is also the Anglo Nubian Goat Society which has registered breeders worldwide.
Goat Clubs:
International Nubian Breeders Association, American Nubian Breeders
Note:

*

ALC stands for American Livestock Conservancy
PHYSICAL CHARACTERISTICS
These regal goats are gentle, inquisitive and friendly. Their long floppy ears, Roman noses and beautiful intelligent eyes make for an overall beautiful goat.
They have been said to look rather regal in their baring. The does coloring is much the same as the bucks. She is just a lot lighter and smaller than the buck with her facial feature being more refined. She has a sleek body with long graceful legs.
Color(s):
Tan, Black or Reddish-Brown are the most common colors amongst this breed.
But they come in many colors both solid and parti-colored.
There are no marking or colorings that distinguish the male from the female goat in the Anglo Nubian Goat breed
Goat⇒
Doe
buck
Breed Weight:
135 lbs.
175 lbs.
Breed Height:
76 cm at withers
89 cm at withers
Hair:
Short haired glossy goats
Short haired glossy goats
Ears:
Long pendulous ears that kind of resemble that of a basset or beagle. Her ears are usually the same color as his body and or head.
They had long droopy/pendulous ears that are held flat against its head and dip well below its chin. The ears are usually the same color/color combination as the body.
Horns:
They are usually dehorned at 3-month-old as is the case of most dairy goats.
Her horns stand erect from her head and point backwards towards her body.
Yes, Standards are for them to be disbudded at 3 weeks of age.
They have either brown or black thick horns that can grow to the length of around 2 to 3 feet long.
His horns turn outwards from his head.
Matures at age:
5 to 15 months
3 to 15 months
Puberty Age:
5 to 6 months
4 to 9 months
Breeding Age:
18 months
1 year
Breeding Traits:
1 Breeding cycle
Cover 20 to 30 does in 1 season
DOE BREEDING & MILKING INFORMATION
They breed better in the hotter climates and have a longer breeding period than most goat breeds.
She is pregnant for around 150 days
Will feed her kid(s) for 3 to 4 months
Her milk production will last for a month or two after the kids have stopped feeding
Breeding Period/cycle:
Usually lasts 12 to 36 hours
Ave. 21 days/18 to 24 days
Gestation Period:
Usually around 148 to 155 day but most are 150 days
Kids:
Up to 2 kids per litter
Good Mothers?
They tend to nurture and care for the kids until they can fend for themselves. The kids usually feed for up to 4 months
Lactation Period:
180 – 200 days
Milking From:
4 to 6 weeks after kidding
Milk Quality:
Medium,If you are new to milking it will take practice. If it is the goats first milking, they may be a bit jumpy at first.
Milking Level:
Excellent, It is high in butter-fat content making it ideal for cheese. Although they do not produce too much milk, they do produce enough to qualify them as good dairy goats.
You may Also Like:
Top 10 Best Dairy Goat Breeds
GOOD TO KNOW

Some more bits and bobs of information that could be quite useful to known about the Anglo-Nubian Goat breed
Where to buy them:
Prairie Fruits Farm, Scotchbriar Nubians and Bliss Berry Nubians are a few places a person can find on the internet. If they can not/do not supply your area they may be able to help you find local farms that do. You can also try to the America Goat Society and American Dairy Goat Association they will have an updated list of active breeders in or around your area.
Agility:
These goats are exceptionally good escape artists. They love to jump and can do so to about 5 foot. They love to climb and balance on small objects. If you give them a ball you may very well see them doing some rather well-accomplished ball balancing.
Interact with other animals:
They are very sociable animals and love to chat. As such and alongside their inquisitive nature they will basically mix with any animal. In fact, they have been known to get up too many shenanigans with other animals and human kids alike as they are also really playful
GENERAL INFORMATION:
They are very intelligent, playful and will follow their humans all over the place vying for their attention. They will also mostly eat anything including caps, shoe-laces and cardigans!
Their short hair and especially their plain colors make for quite good fiber collection as their hair is not to brittle either. But they are not specifically bred for fiber production!
Although they are not primarily bred for meat production, they do tend to hold quite a bit of meat on them. Their meat has also been said to be quite tasty and tender.
HISTORY
The Anglo-Nubian goat is a breed that was developed in England between the 1920's to 1930's.
Many refer to them as Nubian or Anglo-Nubian as they were bred from a cross between various Nubian goats and the Old English Milch goat.
The Nubian goat was a name that was given to any goat breed that originated in the Middle East, Northern Africa and India. These included the Jamunapari breed from India and the Zairaibi breed from Egypt.
It referred to any goat breed from these areas that exhibited long ears, was tall in stature and had a Roman type nose/snout.
The name Nubian was named after the area that is now Sudan but was originally Nubia. An ancient area in Northeast Africa which extended from the Nile River Valley to near the eastward shores of the Red Sea and the western region of the Libyan Desert.
The Anglo-Nubian was officially recognized as a breed in England in 1896. It was in the same year that the first Anglo-Nubian goats were imported to America.
The first breeder of this breed in America was from California and he imported 2 bucks and 3 does in 1896. These goats are the foundation stock for most of the Anglo-Nubian goats found in America today.
It was not until 1913 that the Anglo-Nubian goat breed was readily established in the USA. Somewhere between 1909 and 1918 the goat breed became known as the Nubian goat in America having the Anglo dropped from its name.
The Anglo-Nubian or rather a Nubian goat breed is recognized by the ADGA and will allow the registration of pure-bred Nubian goat if both parents of that off-spring were also pure-bred registered Nubian goat breeds.
VIDEO
USEFUL LINKS
References
https://en.wikipedia.org/wiki/Anglo-Nubian_goat
https://www.roysfarm.com/anglo-nubian-goat/
http://afs.okstate.edu/breeds/goats/anglonubian/index.html/
https://www.neprimateconservancy.org/goats-fun-facts.html