Goats come in many colors, sizes, shapes and are used for many different purposes such as meat, milk, skin, fiber and as pets.
Nearly all goats can also produce some form of fiber and the most preferred color coats for fiber is white. There are many different breeds to choose from so for someone who is wanting to buy their first goat it can get a bit confusing. Especially as there are some really beautiful breeds to chose from. But some of those breeds need a lot of space, prefer rugged mountainous terrain or are simply just not that suited for a newbie goat owner.
In this article, we will take a look at breeds that should suit a first-time goat keeper. Hopefully, it will break down the wide choice of breeds!
TOP 10 GOAT BREEDS FOR THE BEGINNER GOAT KEEPER
Fainting Goat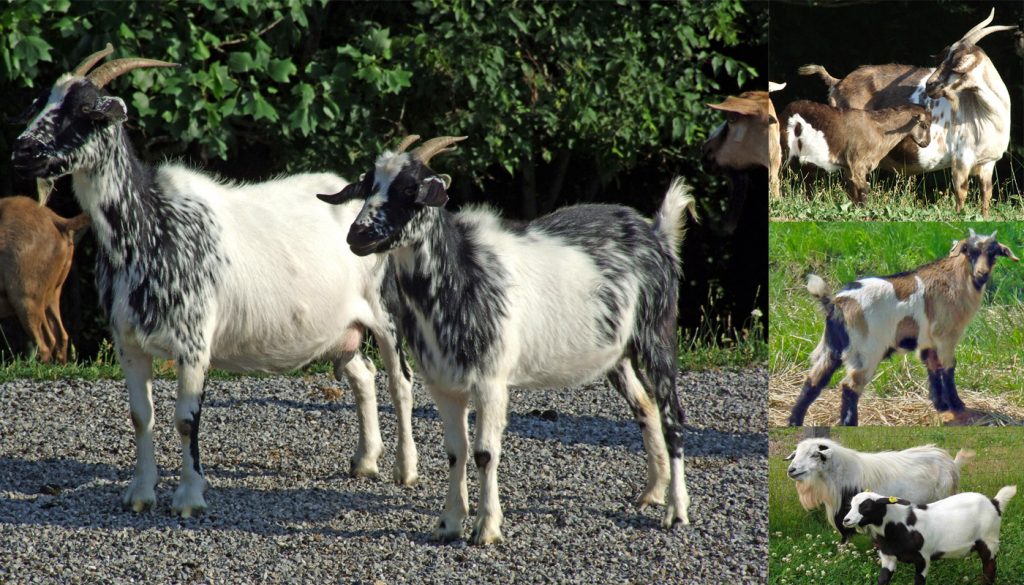 The Fainting Goat is also known as the Tennessee Fainting goat as it originates from Tennessee, USA. This delightful little goat is a small sized breed of which the does average around 43 cm at withers whilst the bucks are no more than 64 cm at withers.
They are quite friendly although they do have a tendency to fall over a lot, they are quite easy to handle and maintain.
They are used for ornamental and pet purposes although they do give a bit of creamy butterfat-rich milk.
These crazy little goats are wonderful, loyal and friendly.Continue Reading…
Saanen Goat
The Saanen goat is a dairy breed that originated in Switzerland these goats must either be pure white or a light cream in color or they are not Saanen Goats they are Sable goats. The Saanen and Sable, or Sable Saanen as they are known, look alike except for the coloring of their coats. They are now also classified as two different breeds of goats. The Sable Saanen has basically the same temperament as the Saanen Goat they just come in a whole lot of different colors except for pure white or light cream.
The Saanen is a medium sized goat with the does being around 76 to 80 cm at withers and the bucks around 80 cm at withers.
Their primary purpose is for the production of healthy goats' milk they are also easy to handle, calm and friendly.Continue Reading…
Alpine Goat
The Alpine goat is a very adaptable goat and has can navigate just about any precarious terrain with a skillful grace and elegance. They are known as either the American Alpine in the US, Alpine or Swiss Alpine in Switzerland and the British Alpine in Britain.
They are a medium to large sized goat and are very hardy they also come in quite a few different colors. Most of the color combinations for their coats are two-toned such as Cou Blanc which translates to "white-Neck" this goat has a white front and black across the rump and hind-quarters. Then there are the Cou Clair, Cou Noir, Sundgau, Pied and a few others. Check out the Alpine Goats full profile on our site.
Their main purpose is that of producing oodles of yummy healthy milk that can be used to drink or made into cheese, etc.
They are easy to handle and quite friendly too. The does are usually around 76 cm at withers whilst the buck can be up to 81 cm at withers.Continue Reading…
Kiko Goat
The Kiko Goat is a calm, docile and friendly goat that originates from New Zealand. They love to lazily graze in the pastures and can basically turn anything into food. They are easy to handle are low maintenance as they love to free-range.
They are primarily used in the production of meat or as pets although they are a large breed of goat, they are intelligent and can be trained.
They are a large sized goat with the does being around 71 cm at withers whilst the male is usually no more than 77.47 cm at withers.Continue Reading…
Nigerian Dwarf Goat
For the Urban homesteader, you cannot go wrong with one of these cuties. They are so full of fun, loving and lively there is no way a person can resist falling in love with them.
They are a small breed that do not take up a lot of space and are excellent family pets with the added bonus of producing a fair amount of butterfat milk that is ideal for the making of cheese.
The does are about 57 cm at withers and the males are about 60 cm at withers as they are a small sized breed.
Their primary purpose was meat, ornamental, show or for pets.Continue Reading…
LaMancha Goat
The LaMancha or American LaMancha as it is most commonly known as a dairy goat breed that was developed in the United States and it is an excellent milk breed. They are sturdy, hardy and basically adaptable to most climates and terrains.
They are primarily bred for their milk which is known to have a high butterfat content that is excellent for making goats milk cheeses.
They are a very unique looking breed as they have incredibly short ears that are classified into two categories. Namely the "elf ear" or the "gopher ear" for more information on their characteristics you should check out the LaMancha breed full profile on our website.
The LaMancha is a large sized breed with the does being about 71 cm at withers and the bucks about 76 cm at withers. They are docile, friendly, easy to handle and maintain.Continue Reading…
Nubian Goat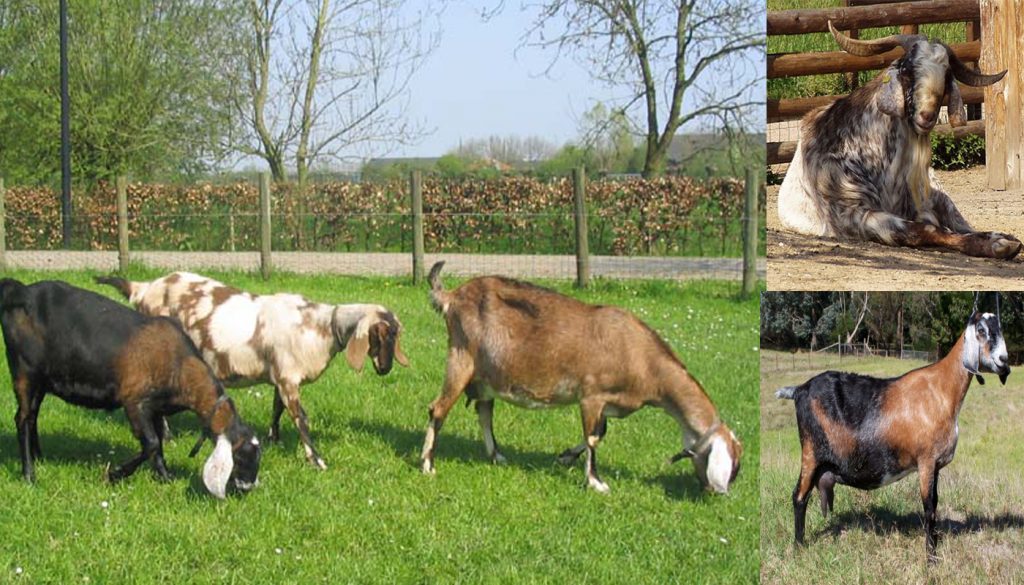 Commonly known as the Anglo Nubian, these beautiful goats have a very distinctive Roman nose profile and long flowing ears. They are strong, graceful, proud and quite regal in their bearing.
They also produce a very high-quality milk that is rich and high in butterfat content. They are originally from Great Britain and are a large sized breed with the female averaging around 76 cm at withers and buck 89 cm at withers. They come in different colors and patterns with the most common of colors being a beautiful deep rich mahogany red/brown. They are calm and friendly, easy to handle and maintain.
They are primarily bred for their milk production!
The Nubian goat comes in quite a few different coat colors but a Mahogany brown with rich red undertones is the most common color.Continue Reading…
Boer Goat
The Boer Goat originated in South Africa and is a tough rugged goat that can adapt to any condition or environment.
They may look tough, but they are surprisingly easy to maintain and are actually calm, gentle and docile.
These big goats are a large size breed that does need space to graze and roam but they do well in a free-range environment. The does are around 70 cm at withers and the males can get up to 78 cm at withers. But they are full-bodied and heave as a full-grown buck can weight up to 297 pounds.
They are primarily bred for their meat which is of the highest quality and taste.Continue Reading…
Pygora Goat
The little Pygora Goat is ideal for the first time Urban homesteader goat owner. They are cute, small, loveable and so full of fun antics it is like having a furry little child around the place.
They love to climb, jump and yes even tumble. If there is something to play on, they are going to play on it.
They are also excellent for fiber and give three different types of it too, such as a type of mohair, cashmere and a combination of the two known as cashgora.
They are after all crossed with the Pygmy goat which can produce cashmere and the Angora goat which are famous for the Mohair fiber production.
They are a small breed with the females reaching about 45 cm at withers and the males about 58 cm at withers. They are a really excellent family pet!Continue Reading…
Nigora Goat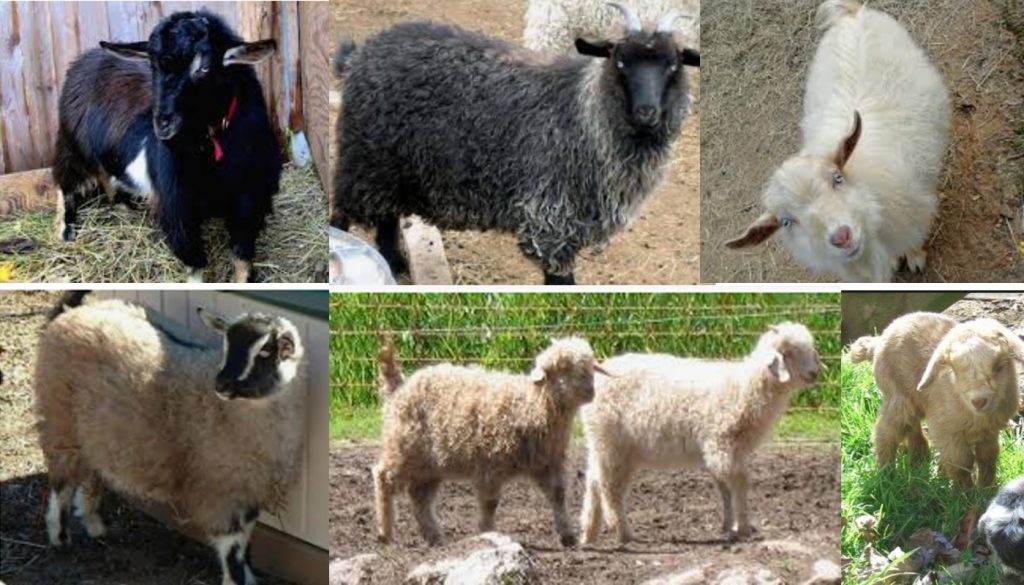 The Nigora Goat breed was bred in America by crossing a Nigerian Dwarf goat breed with an Angora Goat breed. When the Nigora was developing the developers were pleasantly surprised at this little goat robust characteristics, its excellent fiber quality and its milk production.
Getting the best features from its lineage of the Nigerian Dwarf and Angora goat.
They are also quite excellent little milkers like the Nigerian Dwarf goat and supply three different types of fiber. A mohair type fiber, cashmere type fiber and a combination of the two called cashgora. Their fibers, just like that of the Pygora goat breed, has three different fiber classifications. See both the Pygora and Nigora's full breed profile on our website for more details.
The Nigora is a small sized breed with the does average 40 to 70 cm at withers and the bucks around 74 cm at withers. Continue Reading…