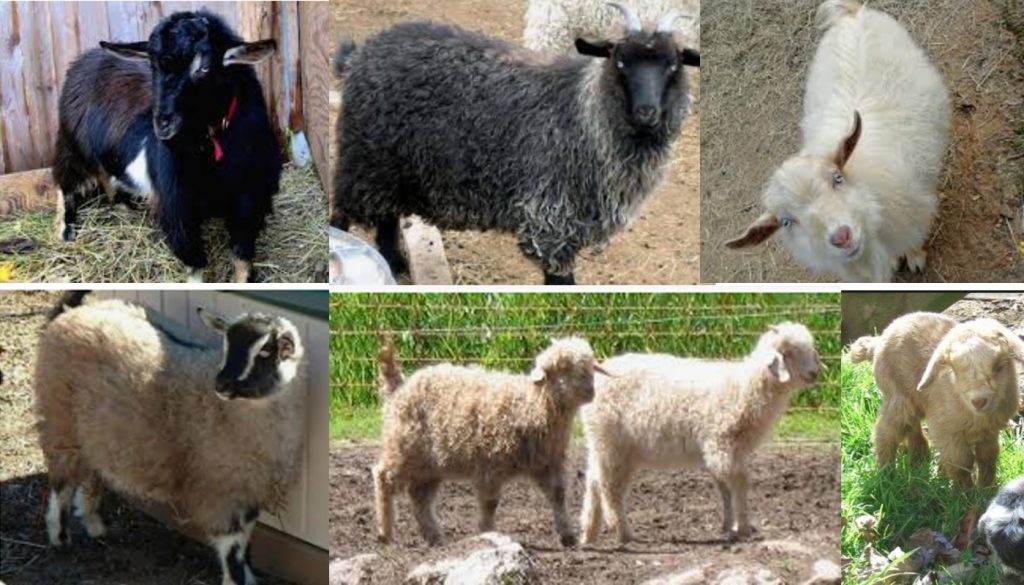 The Nigora goat is a breed of goat that was purposefully developed in the United States of America.
These adorable small to medium sized goats are fluffy, energetic, lovable with each having their very own distinct personalities.
They produce fiber and milk as well as make lively entertaining family pets that are loyal and very loving, although some can be rather stubborn and naughty just like any kid!
Nigora Goat Quick Profile Overview
American bred little goats that are full of life and vigor offering good fiber and milk production.
Country of Origin:
America
Other Names:
None
Breed Size:
Small to medium-sized goat breed
You may Also Like:
Top 12 Large to Largest Goat Breeds
You may Also Like:
11 Smaller and Miniature Goat Breeds
Main Purpose:
Milk and fiber
Can be used for
Breeding, Fiber, Milk, Pets
You may Also Like:
10 Best Goat Breeds for Fiber Production

You may Also Like:
Top 10 Best Dairy Goat Breeds
Temperament:
Energetic, lively, adorable and friendly. They have even been known to be quite loving and loyal.
Good with Kids?
They are good with children but as with most pets' children should always be supervised around animals.
You may Also Like:
10 Best Goat Breeds to Keep as Pet
Ideal Environment:
A medium to large sized penned pasture and a secure barn or stall to lock them up safe and tight at night. They like things to have around the pastures to play with and a lot of juicy greenery to graze on.
Ideal Climate:
All climates
Conservation Status:
Not Listed by the

*

ALC
Common
Health Issues?
No known health issues
Good Starter Goat?
They do make a great starter goat due to their size, hardiness and temperament.
Goat Associations:
American Nigora Goat Breeders Association and the Nigora Goat Breeders Society
Goat Clubs:
Please refer to the various Nigora goat breeders' associations and clubs (links above) for information on registered breeders.
Note:

*

ALC stands for American Livestock Conservancy
PHYSICAL CHARACTERISTICS
These pretty goats have golden eyes, have various colored coats, strong, sturdy compact bodies and a darling nature that make them outstanding goats to have around the homestead/farm.
Color(s):
There are various colors and color combinations
Both sexes have the same color variations with no differences in tone, pattern or hue between the doe or the buck
Goat⇒
Doe
buck
Breed Weight:
40 kg's
80 kg's
Breed Height:
From 48 to around 70 cm's
Usually 74 cm's
Hair:
Medium to long soft, glossy hair
Medium to long soft, glossy hair
Ears:
Medium tubular sized ears that stand erect from their head. The ears are the same color as their coats
Medium tubular sized ears that stand erect from their head. The ears are the same color as their coats
Horns:
They have small horns
They have small horns
Matures at age:
5 to 15 months
3 to 15 months
Puberty Age:
4 to 10 months
4 to 9 months
Breeding Age:
18 months
1 year
Breeding Traits:
1 Breeding cycle
Cover 20 to 30 does in 1 season
DOE BREEDING & MILKING INFORMATION
The Nigora goat breeds once a year and produce a good quality milk that can be used for drinking.
Breeding Period/cycle:
Usually lasts 12 to 36 hours
Ave. 21 days/18 to 24 days
Gestation Period:
Usually around 148 to 155 day but most are 150 days
Kids:
1 to 3 kids per liter most goats produce twins
Good Mothers?
They are great little mothers and can often be seen playing around with their kids
Lactation Period:
Usually around 250 to 284 days. Most common is 284 days
Milk Quality:
Their milk is rich and mostly enjoyed throughout the USA
Milking Level:
They are really easy to milk with well-positioned udders
You may Also Like:
Top 10 Best Dairy Goat Breeds
GOAT FIBER PRODUCTION INFORMATION
They are great fiber producing goats that produce three basic categories of fiber. They produce fiber once a year and usually, their fiber is harvested around the springtime them the goat starts to shed its winter coat. The best way, and it produces the best fiber, to get fiber from the goat is to brush the hairs from the goat two to three times a day until the molting period is over. It is more labor-intensive and time-consuming but produces the best quality fiber.
Fiber Production?
Excellent
Type of Fiber Produced:
Cashgora fiber
Their fiber is broken into three main categories of fiber:
Category A: Very close to a type of Mohair that the Angora goat produces. Lustrous and cool to the touch these fibers fall in long curly ringlets or locks with an average length of +- 6 inches.
Category B: Cashgora fiber that is very soft and usually warm to the touch that can or does not show a luster to it. It looks like fluffy ringlets of hair with an average length of 3 to 6 inches.
Category C: Cashmere fibers which are very soft, warm, suede-like to the touch and are fluffy with no lustre to them. The average length of these fibers is 3 to 4 inches. Fibers less than 1 inch are not accepted in this category.
There are three standard types of Nigoras:
Standard Nigora's: They usually have a Category B fiber
Light Nigora's: They have a Category C or Category C & B type fiber
Heavy Nigora's: These Nigora goats have more Category A or Category A & B type fibers.
Age they Produce from:
1 year or after their first shedding
Approx. Quantity:
This depends on the Nigora type but on average around 8 to 16 lbs.
You may Also Like:
10 Best Goat Breeds for Fiber Production
GOOD TO KNOW

Some more information on the Nigerian Dwarf Goat to read over
Where to buy them:
As information on where to buy these wonderful goats is not readily available, I would suggest contacting the various breeders' associations (links found above in the breeds profile overview table) or some of the American goat associations of which links to their sites can be found at the end of this article under "Useful Links"
Evelyn Acres Farm has also been known to supply these goats and may be able to help with breeders or sellers in or around an area near to your location.
Agility:
They are very quick, nimble and agile.
Interact with other animals:
They are lively and curious that do not mind socializing with other livestock or poultry that are no threat to them.
GENERAL INFORMATION:
Nigora goats a very easy to maintain and thrive in any type of climate including the heat. They are also cheaper to maintain than a lot of other goat breeds.
They have a very friendly and calm disposition making them an excellent family pet and they can live in smaller to medium sized homesteads. Ideal for the homesteader or smaller sized farms.
They have fewer occurrences of disease than most other goat breeds as they have a very good immune system and disease tolerance.
The Nigora goat is easy to train and love the attention given to them during training so they tend to try hard to please their humans.
They are not well documented for leather production and they are not meat production goats, so their skin is not used for leather production
As they are not used as a meat goat there is not much information on what type of meat they would produce.
HISTORY
Goats tend not to have much historical information available to them with the Nigora goat being no exception to that. But they are a new breed of goat and this is the bit of history I was able to find out about them.
The Nigora goat breed was developed in America in 1994 which makes them a very new breed of goat. Although they are not a registered breed as such there is talk that they will become so in the future.
The breed was developed by the crossing of white Angora goat does (Mohair producing goats) and Nigerian Dwarf goat bucks (Nigerian Dwarf goats are used for meat and the does for milk production). This cross led to the Nigora dual-purpose breed with a mixture of good fibers and a good milk production.
There are two major breeders' associations for the Nigora goat breed namely the American Nigora Goat Breeders Association formed in 1994 and the Nigora Goat Breeders Society formed in 2014.
VIDEO
USEFUL LINKS