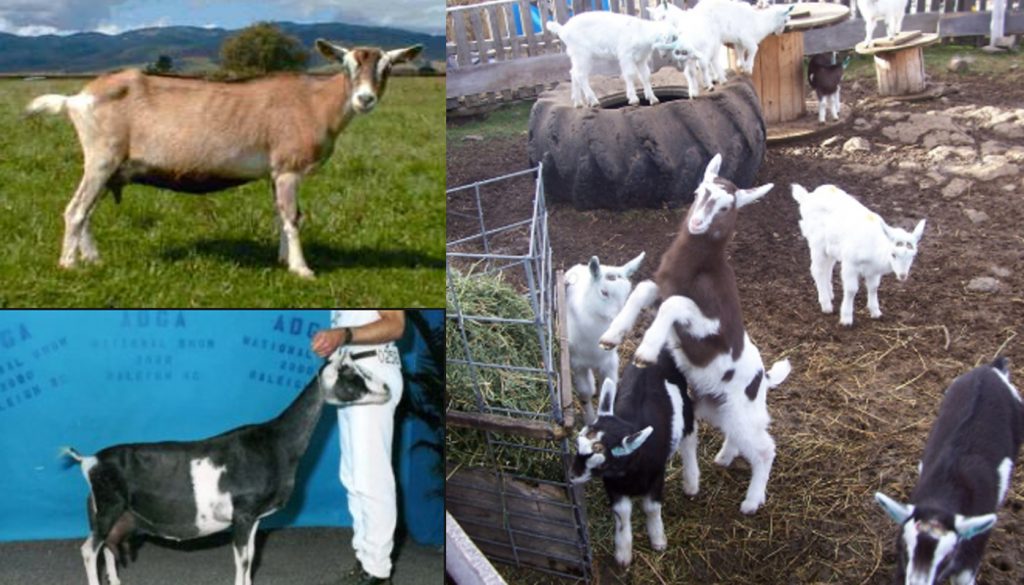 The Sable Saanen or just Sable is very much like its Saanen brother they are just a bit more colorful.
.
This delightful dairy goat breed is a wonderful goat that gives a lot of nutritious milk and is a wonderful pet and farm goat to have around.
Sable Saanen Goat Quick Profile Overview
These Swiss dairy goats have had quite a brutal history before they were recognized as a breed on their own.
Country of Origin:
Switzerland
Other Names:
None
Breed Size:
Medium to lard
You may Also Like:
Top 12 Large to Largest Goat Breeds
You may Also Like:
11 Smaller and Miniature Goat Breeds
Main Purpose:
Milk and fiber
Can be used for
Breeding, Milk, Pets
You may Also Like:
10 Best Goat Breeds for Meat Production
You may Also Like:
Top 10 Best Dairy Goat Breeds
Temperament:
They are calm, docile and friendly goats
Good with Kids?
Most leafy greed pastures with a lot to amuse them and keep them from trying to escape to greener pastures
You may Also Like:
10 Best Goat Breeds to Keep as Pet
Ideal Environment:
A medium to large sized penned pasture and a secure barn or stall to lock them up safe and tight at night. They like things to have around the pastures to play with and a lot of juicy greenery to graze on.
Ideal Climate:
All climates
Conservation Status:
Not Listed by the

*

ALC
Quite rare to come by
Health Issues?
No known health issues
Good Starter Goat?
They do make a great starter goat
Goat Associations:
International Sable Breeders Associations, American Dairy Goat Association
Goat Clubs:
No known breeders' clubs but the International Sable Breeders Associations should have a list of registered breeders.
Note:

*

ALC stands for American Livestock Conservancy
PHYSICAL CHARACTERISTICS
They have their own unique styles and qualities. They have the same shaped body and physique as the Saanens, but they are just more colorful than the pure white breed. They are also more able to take to hotter conditions than the Saanen can.
Color(s):
They come in many different colors both solid and patterned. They may have with markings, but they are now allowed to be completely white.
There are no different color variations that distinguish the male from the female goat
Goat⇒
Doe
buck
Breed Weight:
132 lbs.
187 lbs.
Breed Height:
80 cm at withers
90 cm at withers
Hair:
Short but can grow and become quite coarse
Short but can grow and become quite coarse
Ears:
They are the same color as her body and they stand erect from the side of her head
They are the same color as her body and they stand erect from the side of her head
Horns:
Her horns grow up and curl back from her head
If their horns are not disbudded as a kid, they will grow straight back from the head and curl toward their back of their bodies
Matures at age:
5 to 15 months
3 to 15 months
Puberty Age:
4 to 10 months
4 to 9 months
Breeding Age:
18 months
1 year
Breeding Traits:
1 Breeding cycle
Cover 20 to 30 does in 1 season
DOE BREEDING & MILKING INFORMATION
The Sable goat only breeds once a year and around the same time each year
Breeding Period/cycle:
Usually lasts 12 to 36 hours
Ave. 21 days/18 to 24 days
Gestation Period:
Usually around 148 to 155 day but most are 150 days
Kids:
1 to 3 kids per litter with a good chance of twins
Good Mothers?
They do make good mothers
Lactation Period:
Usually around 250 to 300 days.
Milk Quality:
They have a low butterfat making it almost like the low-fat cow's milk a person would find in the store.
Milking Level:
Well placed and sized udders make her easy to milk
You may Also Like:
Top 10 Best Dairy Goat Breeds
GOOD TO KNOW

Some more information on the Sable Saanen Goat to read over
Where to buy them:
The various Sable goat associations will have an up to date list of registered breeders as there is not too much readily available information on sellers of the Sable dairy goat. Or you can try Klisse's Dairy Goats they keep Sable Dairy goats and may be able to help with more breeders near your area.
Agility:
They are a really good escape artist and are very agile and nimble
Interact with other animals:
They are friendly and sociable and have no problem socializing and mingling with other farm animals.
GENERAL INFORMATION:
The Sable dairy goat is the result of the paring of two recessive genes in the Saanen breed. Thus, creating a Saanen that is not pure white of coat.
The first Sables were usually culled as they were seen to be defective Saanen goats that have to be white of coat.
New Zealand was the first country to recognize the breeds as a separate breed from the Saanen in about 1985.
The Sable goat is registered with an Open Herd book by the American Dairy Goat Association. This means that non-pedigree goats of the Sable goat breed can be bred up to eventually get pedigree registered status.
They do not get used for the production of fiber although it has been said that most goat breeders produce a fiber of some form or the other.
HISTORY
Since around 1904 the Saanen goat has been one of the most popular dairy breeds of goat used for goat milk in both farming and dairy environments.
Before the Sable Saanen become a registered breed or recognized as a breed on its own many a Sable Saanen were destroyed at birth due to what was seen as a defect. The Saanen to which the Sable Saanen first developed were only allowed to be an accepted in white. Any variation from this was seen as a defect and the goat would be destroyed. This was rather barbaric, and a lot of good Sable Saanens were lost due to this ignorance.
New Zealand was the first country to recognize the Sable Saanen as a breed of their own and so the first standard for this goat breed was set.
The American Dairy Goat Association soon followed suit and today the Sable has its own associations and breeders' clubs.
VIDEO
USEFUL LINKS