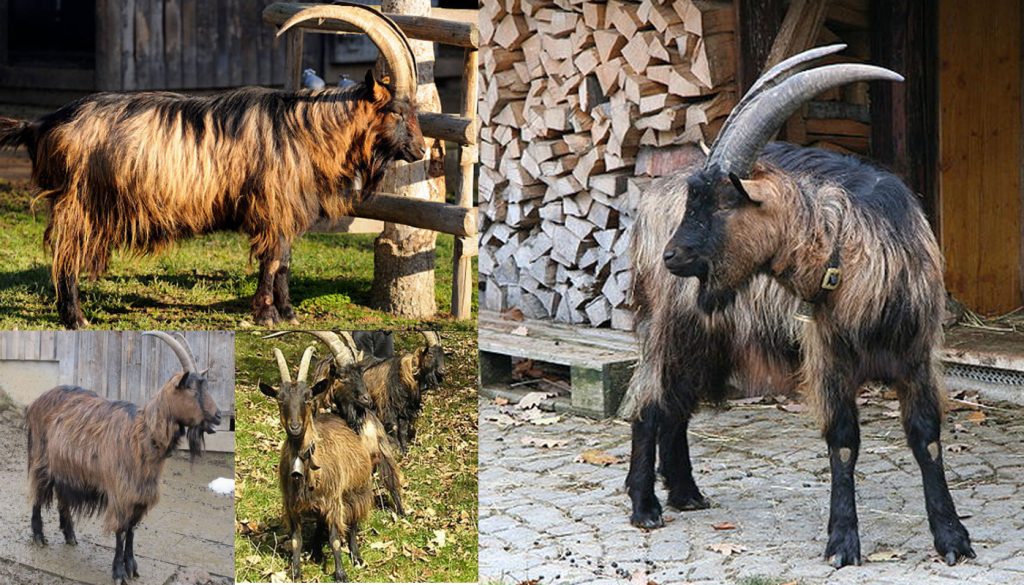 This goat is actually called the Stiefelgeiss goat but is referred to as the Booted goat in most English-speaking countries. It is also managed by the Booted Goat Breeders Club of Switzerland and its leg markings make it look like it is wearing little boots.
The goat is a goat that can thrive in almost any conditions and or environments from the rocky Swiss mountains to a large back garden with a barn.
They are spritely, friendly, inquisitive and a lot of fun.
Booted Goat Quick Profile Overview
This cute little Swiss goat is a lovely addition to a herd and adds a vibrancy to the farm.
Country of Origin:
Switzerland
Other Names:
Stiefelgeiss
Breed Size:
Medium
You may Also Like:
11 Smaller and Miniature Goat Breeds
You may Also Like:
Top 12 Large to Largest Goat Breeds
Main Purpose:
Meat and fiber
Can be used for
Breeding, Fiber, Meat, Pets, Show
You may Also Like:
10 Best Goat Breeds for Meat Production
You may Also Like:
10 Best Goat Breeds for Fiber Production
Temperament:
They are sweet, active, vivacious and extremely robust
Good with Kids?
They are a bit bigger than the normal medium sized goat and they have very long powerful horns. Although they have an even temperament, I would not have them around small children.
You may Also Like:
10 Best Goat Breeds to Keep as Pet
Ideal Environment:
They love to roam and like their environment to have various challenging landscapes to wander around in
Ideal Climate:
All Climates
Conservation Status:
Not Listed by the

*

ALC
Status Rare
Health Issues?
No known health issues
Good Starter Goat?
Intermediate goat owner level and up
Goat Associations:
There are no known American Association representing this breed.
Goat Clubs:
Booted Goat Breeders Club of Switzerland
Note:

*

ALC stands for American Livestock Conservancy
PHYSICAL CHARACTERISTICS
The goat has a thick beard, thick long hair and fluffy hindquarters with either smooth black or brown forelegs that make it look like it is wearing boots.
Color(s):
Dark-reddish-brown, some grey covering on its back with either black or brown colored boots.
Both the male and female share the exact same coloring.
The Does can also have a beard
Goat⇒
Doe
buck
Breed Weight:
About 165 lbs.
About 130 lbs.
Breed Height:
About 28 inches at withers
About 28 inches at withers
Hair:
Long and a little shaggy
The males coat is the same as the does just a bit heavier as he is thicker in stature than her
Ears:
Pert and stand up straight from the head. Same color as the goat's coat
They are the same as the does ears
Horns:
Long, thick and curve back from the head
Slightly longer and thicker than the does but are similar in shape to the does horns.
Matures at age:
5 to 15 months
3 to 15 months
Puberty Age:
5 to 6 months
4 to 9 months
Breeding Age:
18 months
1 year
Breeding Traits:
1 Breeding cycle
Cover 20 to 30 does in 1 season
DOE BREEDING & MILKING INFORMATION
They only breed once a year and usually around the same time each year
Breeding Period/cycle:
Usually lasts 12 to 36 hours
Ave. 21 days/18 to 24 days
Gestation Period:
Usually around 148 to 155 day but most are 150 days
Kids:
From 1 to 4 kids per litter.
Good Mothers?
Yes, they will wean their young
Lactation Period:
284 days
Milking From:
4 to 6 weeks after kidding
Milk Quality:
Good, Their milk is mainly used to feed their young/td>

Milking Level:
Normal, They are not too hard to milk
You may Also Like:
Top 10 Best Dairy Goat Breeds
GOAT FIBER PRODUCTION INFORMATION
Their coat makes for fine cashmere quality fiber production
Fiber Production?
They have an excellent cashmere wool quality
Type of Fiber Produced:
Cashmere
Age they Produce from:
From 1 year
You may Also Like:
10 Best Goat Breeds for Fiber Production
GOOD TO KNOW

Here is a little bit more information about the Booted Goat breed
Where to buy them:
There are not too many left in the world and as such, they are mainly found in Switzerland. With their population being strictly monitored by an organization.
In order to find out if or where they may be purchased or to participate in the breeding program you would have to get in touch with the Booted Goat Breeders Club of Switzerland. Or the American Cashmere Goat Association.
Agility:
They are very agile and nimble creatures that will take on any challenge that involves jumping or climbing.
Interact with other animals:
They are very curious about all other livestock breeds and have no trouble interacting with them.
GENERAL INFORMATION:
This goat is a very vivacious little goat and can be seen looking for something to get up. They are very robust and easily satisfied, they also enjoy living in a challenging topographical terrain.
As they were once a meat production goat it can be assumed that their pelts were used to produce various leather goods.
The Booted goat was once mostly used for its lean, nutritious and tasty meat. But with the decline of the breeds numbers it is now protected and mainly used for fiber and sometimes milk.
HISTORY
This goat was actively bred for its cashmere and meat up until the 1920's. But the active breeding in this goat dropped so much that by the 1980's the breed was nearly extinct.
The Pro Spicie Rara, a Swiss conservation group took an avid interest in the breed and a program was launched to save the species and increase its drastically depleted numbers.
The conservation effort for the Booted goat encourages farmers to keep and breed. They are provided for and helped in order to keep Booted goats for the agricultural uses. They can also bed used as mother nannies. As the does make excellent little mothers and foster mothers to other goats' kids.
They are still an endangered species and as such, they are no longer used for their meat or skin. Although they are still used on some farms for their beautiful cashmere which is seasonally sheered.
Due to the valiant effort of the Pro Spicie Rara group and the Booted Goat Breeders Club of Switzerland their numbers are slowly on the rise.
USEFUL LINKS