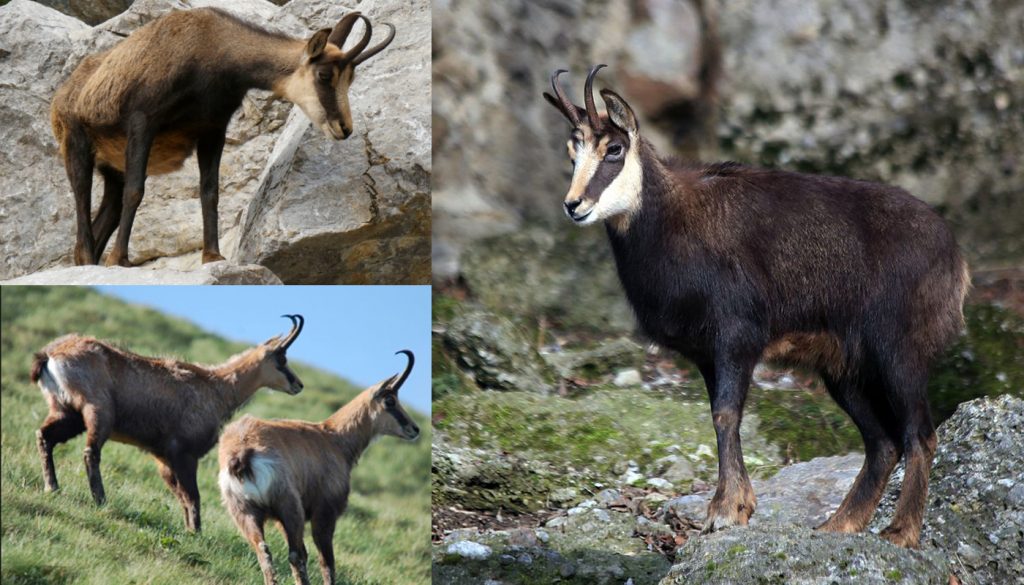 These beautiful goats have chamois-coloured coats and quite long powerful horns. There are also the polled variety of these goats that do a lot better around children.
They are prized for the tasty meat and milk production as well as their great foraging and easy adaptability to their environments.
They are known to make great pets that are quite easy to train if one has the patience to do so.
A great starter goat or for adding to an existing herd.
Chamois Quick Profile Overview
The beautiful Chamois goat is a dual purpose breed of goat originating from Switzerland and falls into the Mountain Goat variety of goat breeds
Country of Origin:
Switzerland
Other Names:
Camosciata delle Alpi (Italian), Chevre Chomisee (French) and Gamsfarbige Gebirgsziege (German)
Breed Size:
Medium
You may Also Like:
Top 12 Large to Largest Goat Breeds
You may Also Like:
11 Smaller and Miniature Goat Breeds
Main Purpose:
Meat and milk
Can be used for
Breeding,, Meat ,Milk
You may Also Like:
10 Best Goat Breeds for Meat Production
You may Also Like:
Top 10 Best Dairy Goat Breeds
Temperament:
Friendly, calm, gentle and a very well-mannered goat.
Good with Kids?
They are quite sweet around supervised children
You may Also Like:
10 Best Goat Breeds to Keep as Pet
Ideal Environment:
They do well in a free-range environment where they have space to roam and forage through green grass and leaves
Ideal Climate:
All climates
Conservation Status:
Not Listed by the

*

ALC
Status Common
Health Issues?
No known health issues
Good Starter Goat?
Yes, they do make a good starter goat as they are easy to milk, calm and patient. They also prefer to forage for most of their food, so they are also easy to feed and maintain.
Goat Associations:
Associazione Nazionale della Pastorizia
Goat Clubs:
No known breeders clubs
Note:

*

ALC stands for American Livestock Conservancy
PHYSICAL CHARACTERISTICS
These goats are referred to as antelope-goats and you can see why. They are beautifully graceful, long and lanky.
Color(s):
Chamois – They have black stripes on their faces, under their belly, back and legs.
Both sexes exhibit the same coat color and markings
Goat⇒
Doe
buck
Breed Weight:
121 lbs.
165 lbs.
Breed Height:
About 30 inches at withers
About 38 inches at withers
Hair:
Short and glossy
Short and glossy
Ears:
Tubular and upright
Tubular and upright
Horns:
Long and curved protruding up from the head
A bit longer and thicker than the does but they also protrude upwards from the head with a curve
Matures at age:
5 to 15 months
3 to 15 months
Puberty Age:
5 to 6 months
4 to 9 months
Breeding Age:
18 months
1 year
Breeding Traits:
1 Breeding cycle
Cover 20 to 30 does in 1 season
DOE BREEDING & MILKING INFORMATION
They do not have extended breeding periods and usually will only breed once a year
Breeding Period/cycle:
Usually lasts 12 to 36 hours
Ave. 21 days/18 to 24 days
Gestation Period:
145 to 150 days
Kids:
1 to 3 sometimes 4
Good Mothers?
Yes, they will wean their young
Lactation Period:
284 days
Milking From:
4 to 6 weeks after kidding
Milk Quality:
Good, Their milk can be used the same as cows milk can
Milking Level:
Normal, Their udders are well positioned for milking
You may Also Like:
Top 10 Best Dairy Goat Breeds
GOOD TO KNOW

Information that could possibly be useful or just interesting to know about the Chamois Goat breed from Switzerland
Where to buy them:
They are mainly available in Switzerland, Italy and Austria.
There is no information readily available on where one can purchase these beautiful goats. You would have to check with goat farmers or the various America goat associations for any details pertaining to acquiring this breed.
Agility:
They are a Swiss mountain goat used to the perilous terrain and steep slopes making them extremely agile and nimble with an incredible climbing ability
Interact with other animals:
They prefer to stick to their own species and tend to shy away from other animals.
GENERAL INFORMATION:
There two types of Chamois goats one has horns and the other is hornless. They are the same breed but from two different areas.
The Chamois is one of eight autochthonous goat breeds of Italy that is kept by the Associazione Nazionale della Pastorizia which is the Italian National Association of sheep and goat breeders. They keep a genealogical herd-book.
They have a very good dressing percentage and a very tasty nutritious meat
HISTORY
There is not too much information on the goat's history other than it is a goat-antelope that was originally native to various mountain ranges in Europe.
These mountain ranges included the Pyrenees, Carpathians, Tatra, Balkans, Caucasus, Apennines and the Alps.
Both the wild breed of this goat and the domesticated breed are protected by the European Habitats Directive.
Usually, the female Chamois and her young will live in herds that range in size from around 15 to 30 individuals. With the adult males going their own separate ways until mating season. These goats will dual it out for a female's attention and an impregnated female's gestation period can take anywhere to up to 170 days. In the wild, they will only give birth to 1 young and rarely twins. Domesticate does may give birth to up to three young. This breed will usually wean their kids at around 6 months of age.
These incredible goats are really fast and can reach lands speeds of up to 31 mph (50 km), they can jump 6.6 ft vertically into the air and clear a distance of over 20 ft.
They have been known to live up to 22 years of age with one of the most common causes of an early death due to avalanches.
They will stop and rest their foraging during mid-day to rest as if left in a free-range capacity they will forage at night especially if there is a full moon shining down.
VIDEO
USEFUL LINKS