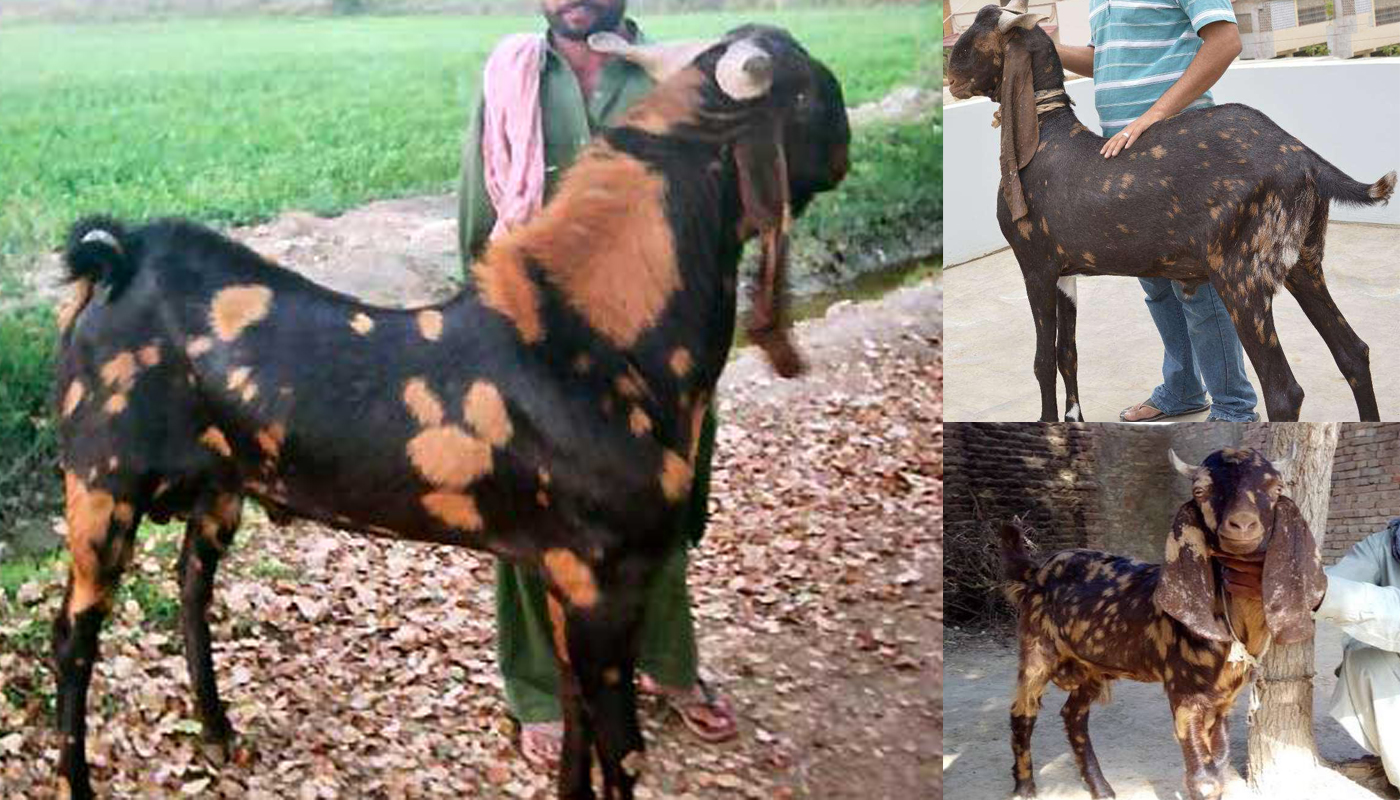 The Kamori goat are the most popular goat breed to be found in the Sindh province of Pakistan. The Kamori are a large goat breed that are quite unique and very valuable due to their coloring and body structure. They provide a good supply of milk and may also be used for their meat as they are large enough to produce a decent amount per goat.
Kamori Goat Quick Profile Overview
The Kamori goat can fetch very high prices for the pedigree goats
Country of Origin:
Pakistan
Other Names:
None
Breed Size:
Large
You may Also Like:
Top 12 Large to Largest Goat Breeds
You may Also Like:
11 Smaller and Miniature Goat Breeds
Main Purpose:
Milk
Can be used for
Breeding, Meat, Milk
You may Also Like:
10 Best Goat Breeds for Meat Production
You may Also Like:
Top 10 Best Dairy Goat Breeds
Temperament:
Calm and docile
Good with Kids?
They are not really bred to be around children
You may Also Like:
10 Best Goat Breeds to Keep as Pet
Ideal Environment:
They are ideal for a medium to large size farm or ranch
Ideal Climate:
All climates
Conservation Status:
Not Listed by the

*

ALC
Common
Health Issues?
No known health issues
Good Starter Goat?
Yes, they are very self-sufficient, adaptable and hardy
Goat Associations:
No known goat associations
Goat Clubs:
There are no known goat clubs
Note:

*

ALC stands for American Livestock Conservancy
PHYSICAL CHARACTERISTICS
They have a unique coloring that makes then stand out as a breed. They have a large body with distinctive marking usually coffee colored spots or splotches.
Color(s):
Dark brown with small coffee-colored dark or dark spots/splotches on their coats
There is no difference in color patterns or hue between the male and female
Goat⇒
Doe
buck
Breed Weight:
50 kg's
6 kg's
Breed Height:
About 60 cm at withers
About 70 cm at withers
Hair:
Short with fluffy bits beneath the tail on the back of the back legs
Short with fluffy bits beneath the tail on the back of the back legs
Ears:
Long pendulous ears that twist. They are usually the dominant color of the goat's coat
Long pendulous ears that twist. They are usually the dominant color of the goat's coat
Horns:
They can have horns
They can have horns
Matures at age:
5 to 15 months
3 to 15 months
Puberty Age:
4 to 10 months
4 to 9 months
Breeding Age:
18 months
1 year
Breeding Traits:
1 Breeding cycle
Cover 20 to 30 does in 1 season
DOE BREEDING & MILKING INFORMATION
They have one breeding cycle per year usually in the spring months. They do product either twin or triplets
Breeding Period/cycle:
Usually lasts 12 to 36 hours
Ave. 21 days/18 to 24 days
Gestation Period:
Usually around 148 to 155 day but most are 150 days
Kids:
2 to 3 kids per litter
Good Mothers?
They are very good mothers
Lactation Period:
Usually around 250 to 284 days. Most common is 284 days
Milk Quality:
They have good quality of milk and produce around 1.5 liters of milk per day
Milking Level:
They have long conical shaped teats that are ideally for easy milking
GOOD TO KNOW

Some information about the Kamori goat that may be interesting to know
Where to buy them:
They are a very rare breed and when they are found for sale usually fetch a very high price..
Agility:
They are as agile and nimble as any goat breed can be
Interact with other animals:
They do not mind sharing their space with other livestock although they do prefer to stick to their own species
GENERAL INFORMATION:
The Kamori goat is mostly found in the district of Dady, Larkana and Nawabshah in the Sindh province.
The Kamori is a popular breed because of its really beautiful appearance and good milk production. It is also useful for meat but as it is quite a rare breed these days it is no longer used for meat much.
They are very rare to find and can fetch a very hefty price to buy on the market.
There is a hybrid of this breed that has been crossed with Patairee goats. This is to produce a lot more affordable version of the pure bred Kamori goat breed.
Their meat is very tender and tasty, however they are quite rare and more valuable alive
Even with their unique coats they are not used for producing fiber
HISTORY
The Kamori goat breed originates from the Sindh province in Pakistan. There is not much written about the history of the breed.
But it has been a prized goat breed in Pakistan for generations.
VIDEO
USEFUL LINKS