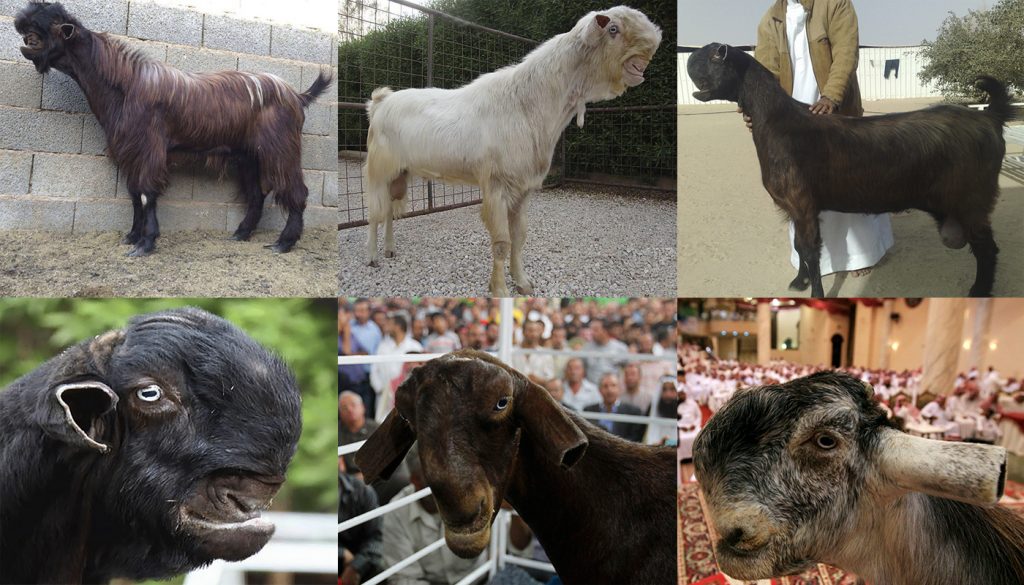 When the Damascus goat is born, they have really long ears that have an outward twist like they have flicked them out. They have fluffy coats are usually two-toned with various shades of a reddish brown and blond.
They have the saddest eyes though and make you want to give them a hug. Which with their loving, even temperaments they will probably enjoy as they do like getting attention! There is a strange twist to these goats though when they are fully grown, they go from being the cutest goat to what has been called "The Monster" goat.
They are spritely, friendly, inquisitive and a lot of fun.
Damascus Goat Quick Profile Overview
The Damascus goat is an even tempered goat that lover human attention making them great pets that deliver delicious milk
Country of Origin:
India
Other Names:
Shami, Baladi, Aleppo, Halep. Damascene or Chami
Breed Size:
Large
You may Also Like:
Top 12 Large to Largest Goat Breeds
Main Purpose:
Milk
Can be used for
Breeding, Meat, Milk, Pets
You may Also Like:
10 Best Goat Breeds for Fiber Production
You may Also Like:
Top 10 Best Dairy Goat Breeds
Temperament:
They are quite obedient, friendly and calm
Good with Kids?
They are good around supervised children if the goat has been raised since young
You may Also Like:
10 Best Goat Breeds to Keep as Pet
Ideal Environment:
They are quite happy in a medium to large sized pasture that has a lot of fresh grazing and leafy trees. Although they are not the best forages because of their undershot jaws.
Ideal Climate:
All Climates
Conservation Status:
Not Listed by the

*

ALC
Status Common
Health Issues?
No known health issues they are a very hardy breed of goat
Good Starter Goat?
Yes, they make a really good starter good
Goat Associations:
No known associations
Goat Clubs:
No known goat breeders' clubs
Note:

*

ALC stands for American Livestock Conservancy
PHYSICAL CHARACTERISTICS
When they are young, they are quite pretty little things but as they grow, they have a snub nose and an undershot jaw. They are known as the Bulldogs of the goat breeds because their jaws are quite similar in structure to that of the Bulldogs.
Color(s):
They are usually a reddish brown, but there are quite a few color variations including a silver-white, white, fawn and grey
Both sexes exhibit the same colors
Goat⇒
Doe
buck
Breed Weight:
132 lbs.
198 lbs.
Breed Height:
198 lbs.
About 80 cm at withers
Hair:
Medium to long hair
Medium to long hair
Ears:
They are very long and droop down from the head
The ears are the same length and style as the females. Although they are usually cropped on the show goats
Horns:
Long, thick and curve back from the head
Slightly longer and thicker than the does but are similar in shape to the does horns.
Matures at age:
5 to 10 months
3 to 10 months
Puberty Age:
5 to 10 months
5 to 10 months
Breeding Age:
18 months
1 year
Breeding Traits:
1 Breeding cycle
Cover 20 to 30 does in 1 season
DOE BREEDING & MILKING INFORMATION
They only breed once a year around the spring time
Breeding Period/cycle:
Up to 36 hours
Ave. 21 days/18 to 24 days
Gestation Period:
155 days
Kids:
3 to 4 kids
Good Mothers?
Yes they will wean their kids
Lactation Period:
240 days
Milking From:
4 to 6 weeks after kidding
Milk Quality:
Good, Their milk is highly prized for various gourmet cheeses/td>

Milking Level:
Normal, They are not hard to milk as their udders are well positioned
You may Also Like:
Top 10 Best Dairy Goat Breeds
GOAT FIBER PRODUCTION INFORMATION
They have been known to be used in fiber production
Fiber Production?
Good
Type of Fiber Produced:
Cashmere
Age they Produce from:
From 1 year
You may Also Like:
10 Best Goat Breeds for Fiber Production
GOOD TO KNOW

Some good to known information and comments about the Damascus Goat breed
Where to buy them:
They are not readily available in the USA.
Agility:
They are quite agile for their size
Interact with other animals:
They are social animals that will graze and mingle with other animals
GENERAL INFORMATION:
These goats have a conformation show called "The Most Beautiful Goat Contest" which is held in Amman, Jordon. There is not much information available about the show but the goal of it is to find the best goat with the characteristics of the breed. These mainly being the goat's undershot jaw and snub-nose.
There is Arabic literature that mentions these goats and celebrates their noble physical characteristics.
They are not really bred for leather production but if they are used for their meat, they may have at some time been used to produce various leather goods.
They do have an excellent quality of meat although this is not primarily what they are bred for
HISTORY
Not much is written about the Damascus goats' history but due to various old texts, it is assumed to have been around for hundreds of years bred as a milk and meat goat.
The British shipped some of these goats to Cyprus where they were bred used for their milk, fiber and meat.
Today they are quite valuable and have been reported to fetch prices of up to $67 000 USD. They got a lot of attention when in 2008 a goat won "The Most Beautiful Goat Competition" and then again when a YouTube video of the monster goat went viral.
In their homeland of Syria, they are known as beautifully divine goats and class them as the most beautiful goats in the world
They are so revered that there are even fairy tales, songs and myths about their lovely goats. They are such hardy adaptable goats with their superb milk attributes that they have been used in the breeding of other goat breeds to increase milk production and quality. Another feature of these goats is their ears that can reach lengths of up to 30 cm and droop down the sides of their head often in a twirl.
They have excellent maternal instincts and will protect their young quite vigorously if needed. They are either born polled or their horns are disbudded before they are three weeks old. The show goats often will have their ears cut to different length as this seems to intensify the goat's beauty for these shows.
VIDEO
USEFUL LINKS