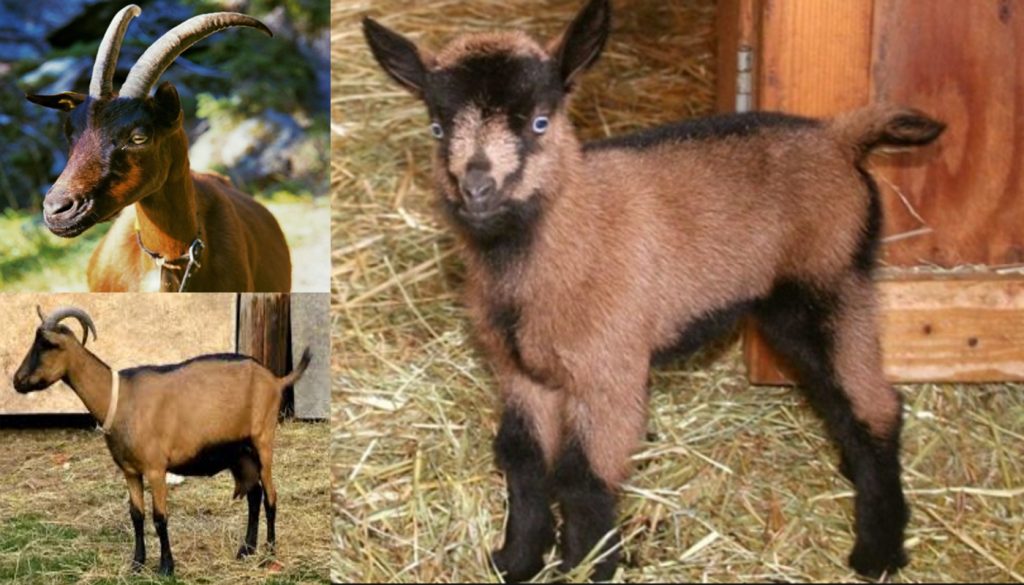 The Oberhasli goat is a sweet gentle natured goat. They are very weather hardy and really good climbers and jumpers.
They also make a really good starter goat as they are of medium size, take quite good care of themselves with their superior foraging and grazing skills. They also produce a good quantity of really good quality milk.
They are also known as good trail animals for ranchers as they do not fear many trail obstacles, nor do they fear getting wet or the water. This is one of their most outstanding characteristics as most goat breeds do not like getting wet.
Oberhasli Goat Goat Quick Profile Overview
The Oberhasli are well behaved, quiet and friendly goats that originate from the mountain of Switzerland
Country of Origin:
Switzerland
Other Names:
Swiss Alpine or the Oberhasli Brienzer
Breed Size:
Medium
You may Also Like:
Top 12 Large to Largest Goat Breeds
You may Also Like:
11 Smaller and Miniature Goat Breeds
Main Purpose:
Milk production
Can be used for
Breeding, Milk, Pets, Show
You may Also Like:
10 Best Goat Breeds for Meat Production
You may Also Like:
Top 10 Best Dairy Goat Breeds
Temperament:
They are quiet, docile, friendly and calm
Good with Kids?
It is best to have a wether buck and ensure the goats have been disbudded if they are going to be interacting with children.
You may Also Like:
10 Best Goat Breeds to Keep as Pet
Ideal Environment:
They are highly adaptive to any environment
Ideal Climate:
They are not really suited to damp climates so special attention is required during wet weather
Conservation Status:
Listed by the

*

ALC
They are listed as recovering
Health Issues?
They are susceptible to respiratory disease and parasite infestations in damp weather. Although some of the modern breeds have been developed to be a bit hardier it is always best to check with the breeder.
Good Starter Goat?
Yes, they are listed as being a goat that is easy to maintain even at the novice level.
Goat Associations:
Oberhasli Breeders of America
Goat Clubs:
Oberhasli Goat Club
Note:

*

ALC stands for American Livestock Conservancy
PHYSICAL CHARACTERISTICS
The Oberhasli is one of the most beautiful goat breeds. Their faces are almost shaped like that of a dog with their pert ears that point towards the front. Their soft, short glossy coats and good posturing them excellent exhibition goats.
The male Oberhasli is a pretty impressive looking boy. His head is squarer and more defined than the females. They also have a full beard and some even have wattles. His body is more block shaped than that of the females.
Color(s):
Chamois – with a black face and usually black stripes on their belly, legs and back.
But a complete black doe is an acceptable color.
Goat⇒
Doe
buck
Breed Weight:
120 lbs.
150 lbs.
Breed Height:
80 cm at withers
85 cm at withers
Hair:
Short, fine and glossy
Short, fine and glossy
Ears:
Straight and point forward
Straight and point forward
Horns:
Long and gently curved back
Long and gently curved back
Matures at age:
5 to 15 months
3 to 15 months
Puberty Age:
4 to 10 months
4 to 9 months
Breeding Age:
18 months
1 year
Breeding Traits:
1 Breeding cycle
Cover 20 to 30 does in 1 season
DOE BREEDING & MILKING INFORMATION
They on heat every 21 days until they become pregnant
Their gestation period is around 150 days
Breeding Period/cycle:
Usually lasts 12 to 36 hours
Ave. 21 days/18 to 24 days
Gestation Period:
Usually around 148 to 155 day but most are 150 days
Kids:
First time breeding may only produce 1 kid. But after that, she produces from 1 to 4 kids per litter
Good Mothers?
They do make good mothers
Lactation Period:
284 days
Milk Quality:
The Italians make ricotta and yogurt from their milk.
Milking Level:
As they are bred for milking, they are not that difficult to milk. They are also a good goat to learn to milk. As they do not frighten easily. They can produce up to 2000 liters per lactation period. With the best milk being 4 to 5 weeks after her kid(s) birthing.
GOOD TO KNOW

A bit more information about the Oberhasli Goat that may be useful
Where to buy them:
Andover Meadow Farm, Sheepy Hollow Farm, these are but a few farms that breed and sell the Oberhaslis goat. Before buying from any dealer it is best to check their credentials and goat listings with the various goat clubs and organizations.
Agility:
They are very agile and love to jump and climb. They do not mind water and have been known to cross it to get to the greenery on the other side.
Interact with other animals:
They are a docile breed that does not mind interacting with other livestock. They are not easily spooked but the bucks will stand their ground if challenged.
GENERAL INFORMATION:
It is believed that the Oberhasli goats' milk is the closest tasting to that of cow's milk. That most dairies make things like ice-cream, cheese, cream cheese, etc. for their milk as whatever you can make with cows' milk can be made with their milk.
They are not afraid of water and are in fact, good swimmers.
They are calm and docile enough to be great pack animals that can carry quite a load. Their agility means that they can easily navigate the most terrain. This makes them really great trail animals.
They have fine skin for leather production, but they are not bred for leather production
HISTORY
The Oberhasli were developed in Switzerland in the mountains of Bern, Glarus, Graubunden and Freiburg.
These beautiful alert goats were first imported into America in 1906 but they were not purebred Oberhasli with a result the first breed's bloodline was lost.
H. O. Pence imported the first pure-bred Oberhasli in 1936, they were 5 Chamois Colored Goats. These goats were imported from Switzerland and all the purebred Oberhasli that are registered in America today are descendants from this stock.
The Oberhasli were registered as Swill Alpines up until the 1970's when Esther Oman, a California Breeder founded them as the Oberhasli. A pure breed herd with records. The Oberhasli Breeders of America around 1977 and in 1979 the breed was accepted into the American Dairy Goat Association.
VIDEO
USEFUL LINKS