There are some really tall chicken breeds. They are really quite a sight to see and most of them make amazing pets. They have even been known to have a lot of dog-like qualities.
We look at 10 of the tallest chickens we could find.
10 of the Tallest Chicken Breeds
Saipan Jungle Fowl

The Saipan Jungle Fowl has a lofty upright appearance, which bears resemblance to the Malay, Shamo and Asil Gamefowl. Returning serviceman of WWII is thought to have introduced the birds to America upon their return at the end of the war. Due to its unique genetics and ancestor, the Saipan was bred to scavenge for seafood upon the shores of the island from where they originated, as such, they do not do well on the grain-based diet of regular fowls. They would require a fish-based meal and supplements to be included with their grain feed, in addition to availability to fresh fruit and vegetables. They lay cream colored eggs, they are not good layers and tend to lay mostly during spring to mid-fall in clutches of about a dozen at a time, some only have one clutch per season, it varies bird to bird. These fowls tend to be aggressive toward other poultry and any other beings that they do not recognize but are also easy to tame.
Shamo Chicken

The fowl of today was created through hundreds of years of selective breeding in Japan. The Shamo is amongst the tallest of all fowls, second only the Malay and carries itself in an upright posture. In the USA the bird is considered ornamental, although it is bred and used as a fighting bird in Japan where cockfighting is still legal. They lay medium sized, light brown colored eggs. Their egg production whilst better than most game fowl is still not very high.Read More
Malay Chicken

The Malay is considered the tallest of all fowls with some being recorded at 3 feet tall. The birds were selectively bred throughout the United Kingdom during the late 1800's from birds brought in from the Malay coast and other Indian ports. They are well muscled, upright instance and their faces appear very angry in appearance. In America, the birds are used mostly for show purposes. They are not particularly good layers. Their eggs are brown in color and medium in size. Hens will lay 70-100 eggs per year.Read More
Asil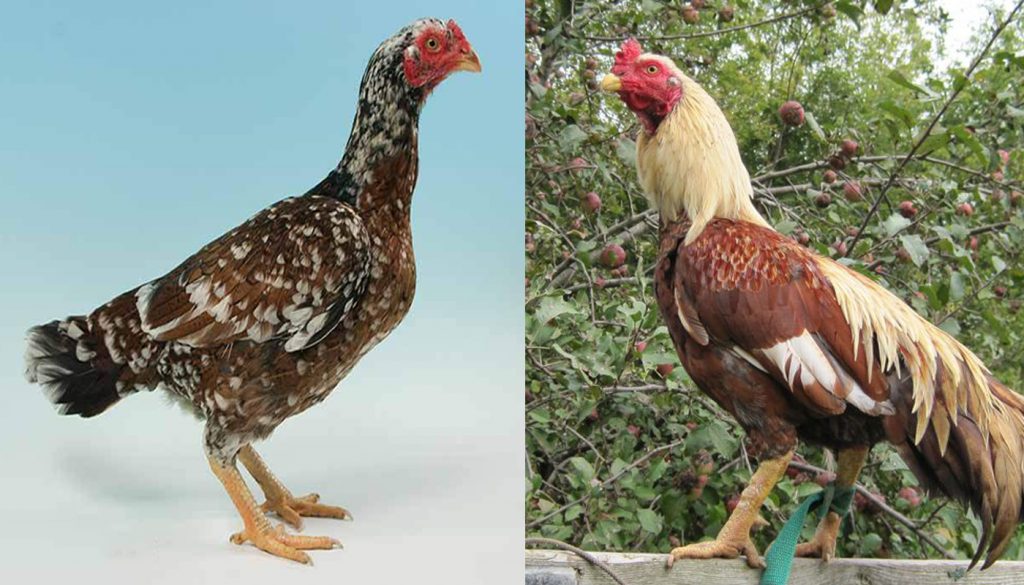 Originally used as fighter birds, today in America they are used for showing purposes. The Asil Chicken originates from Pakistan and India, where due to their aggressive natures were used in cockfighting. Today the birds are so rare that they have been placed on the Conservancy watch list in the USA. Whilst they are known to be aggressive to each other, they tend to bond well with humans and tame relatively easily. Being Game Fowl in origin they are not very good layers and will lay brown medium sized eggs. The hens lay about 40-50 eggs per year. Smaller birds can lay as little as 6 eggs per year.Read More
Langshan Chicken

The Langshan originated in China and were then crossbred through the selective process in the United Kingdom with various other breeds and types of Langshan to get the tall bird of today. Most often black in color, they do however several other color variants. There are several varieties of Langshan but the most common in America is the Croad Langshan, so named from one of the biggest advocates of the breed in the late 1800's, Major F.T. Croad. They are rated as a dual-purpose bird as they are decent layers and provide a fair amount of good quality meat. The eggs are a pinkish brown in color. A hen will yield between 200-220 eggs per year.Read More
Brahma Chicken

Whilst the origins of this bird are not well known, it is known that one of their recent ancestors were called The Shanghai, which was a cross breed of the Malay and Cochin bird. The Shanghai was developed during the height of "Chicken Fever" in the United Kingdom and the USA in the 1850's. The Shanghai was then crossed with the Grey Chittagong which is from India, this selective breeding happened over a fairly short period of about 50 years to give us the bird we know as The Brahma chicken. They are very docile birds often referred to as a "gentle giant". The Brahma is a dual-purpose bird, which produces excellent meat and good egg count. Their eggs large in size and brown in color. Hens will lay about 190 – 200 eggs per year.Read More
Jersey Giant

The Jersey Giants are one of the, if not the largest, breeds of chickens. They can stand up to 22 to 26 inches tall and are quite heavy too. These gentle giants were bred as a dual-purpose breed and have a good quality of meat and will lay quite a few big eggs for the table.
But the best thing about these feathery giants is their brilliant natures. They are sweet, gentle and so friendly they become quite attached to their human family. If you get to keep one or two of these wonderful birds, you will soon get really attached too. I adore my Jersey Giants!Read More
Belgian (Liege Fighter) Game Fowl

The Belgian or Liege Fighter as it is commonly known as a tall lean muscular breed. It is truly a sight to behold like that perfect racehorse! It was bred to be the perfect fighter, tall and muscular built to take out its opponent with ease. They even look the fierce part with a low overhung prominent brow, alert black eyes, hardly any comb or wattles and a perfectly formed beak.
Their sleek, glossy tight-knit feathers come in 10 different beautiful colors and patterns. They are a very large bird that can stand up to 30 inches tall with their body made up primarily of muscle. Their skin coloring is usually black as are their long clean black legs, hocks and four-toed large feet.
For all their fierce looks and calm alert attitude raised correctly these chickens make exceptionally good pets. There is no better guard bird to protect your garden than a Liege most hawks tend to leave them well alone too! If you are looking for a rare addition to your flock that will be the talk of the town. If you can find one of these breeds you will have to look no further!
Modern Game Fowl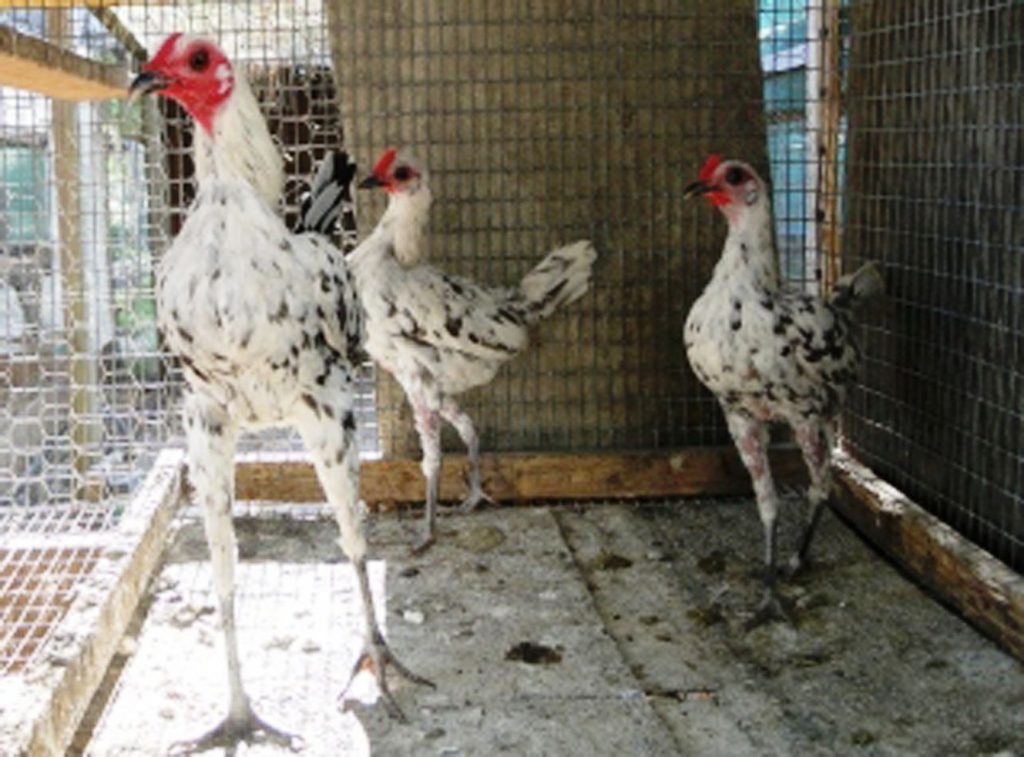 I always think of the Modern Game Fowl as the supermodels of the chicken world. Their posture, long slender legs and svelte build with an array of beautiful colored plumage. All add up to this beautiful graceful chicken that seems to glide everywhere it goes. It also does not scratch as much as other chicken breeds, so it will not destroy the garden. But do not expect too many eggs from the hens as they are not broody nor are they layers. Although not heavy birds with their compact bodies they can get to a pretty good 22 inches tall.
They are also quite rare and in need of breeders to help get their population numbers up.
Cochin

Cochins just big balls of feathery delight. They are such a friendly, calm laid back chicken that you want to hug them all the time. They have a very unique plumage style almost as if they are wearing different layers of feathers on their bodies. They have beautiful colors, patterns and markings are quite a heavy chicken but easy to handle and can get up to a good 20 inches in height. They may not be the best layers, but they will still lay a good number of large brown eggs for the table a week. Read More