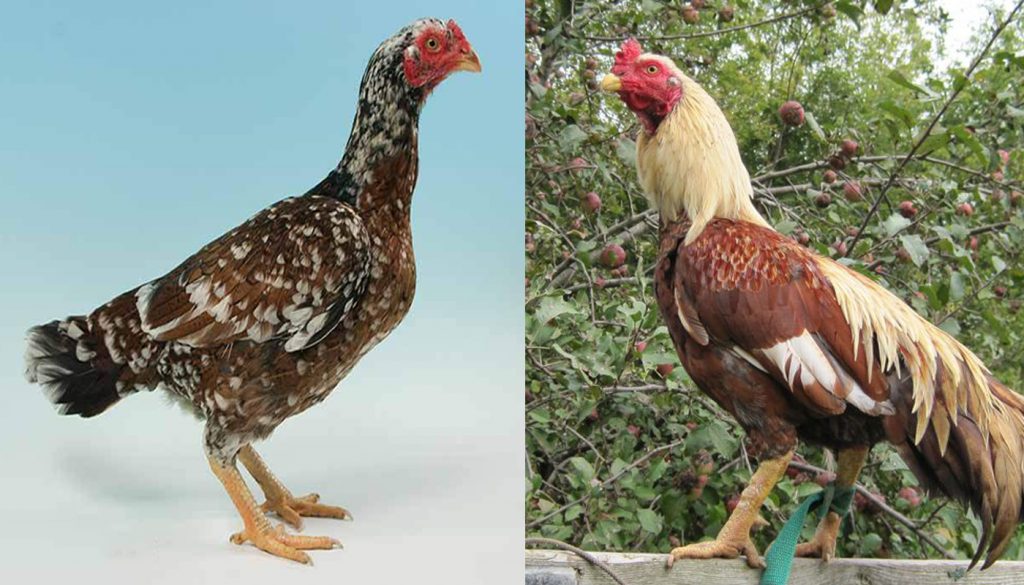 The Aseel or Asil come in many varieties and was generally bred for cockfighting.
The hens are really aggressive towards other hens and even the chicks will start fighting from a few weeks old.
Roosters need to be kept separated as they will fight to the death but to humans, they are tame, friendly, trusting and have been known to seek out their humans for the company or to get their help with opening doors, etc.
The hens are excellent egg sitters, but terrible egg layers the larger Aseel's may lay around 40 eggs a year whilst the smaller variety tend to only lay about 6 eggs a year.
This breed is found in abundance throughout India with large numbers in Tamil Nadu and Andrah Pradesh.
In India, the Aseel is broken down into two classifications, Naked-Heelers and Knife-fighters/Slashers.
The varieties of this bird are the Madras Aseel, Kilimookku Aseel, Reza Asil, Kulan Asil, Sindhi Aseel, Mianwali, Java Aseel, Amroha, Lansani Aseel and the Bantam Asil.
In America, the Aseel is a recognized breed by the American Poultry Association.
HISTORY
The Aseel is an ancient breed of chicken that originated in India. The name translates as "thoroughbred or pure" in Arabic or "original, pure, high caste or high born" in Hindi.
The name Aseel was given to the chickens as a sign of great respect for the birds.
They are an exotic bird that was developed in India for cockfighting purposes and have been around for thousands of years.
The Aseel was brought to America in 1887 and shown at the Indiana State Fair by Dr H.P. Clarke. More were imported in 1931 by Dr D.S. Newill.
They were accepted into the America Poultry Association as a standard breed in 1981.
Aseel hens although they do not lay well they make excellent brood hens and mothers. There have been reports of the hens fighting off snakes to protect their young.
These chickens have been used to crossbreed and were used to create the Cornish chicken and some other broilers. It is thought that they create great meaty broilers when crossbred.
 
CHARACTERISTICS

Country of Origin:
India
American Poultry Association:
Recognized as a breed of chicken in the United States
Chicken Category:
Standard Breed
Chicken Class:
Oriental
Bantam Variety Available?
Yes

IDENTIFICATION

⇒

Appearance: Aseel have compact, muscular, solid bodies and they are very upright, broad-shouldered with a drooping tail. They have little to no wattles and small combs.

Color(s): Dark, Black Breasted Red, Spangled, White and Black

Comb: They have a pea comb

Ave. Weight: Hens/Pullet 3 – 4 lbs.
Cockerel/Roosters 4.5 – 5.5 lbs.

Life Expectancy:
The average lifespan is 8-years if kept well and out of harms way from aggression and fights with other chickens.
Good Starter Chicken?
They are a rare breed on the conservation watch list in America and they tend to be very aggressive to other chickens. Thus, this may not be the right breed for a starter coop.

PURPOSE

⇒

Eggs: Hens are terrible layers.
They lay medium cream tinted eggs up to 40 per year
They start to lay eggs from around 6 months old.

Meat: They are meaty yellow skinned birds.

Breeding: The hens are great sitters and make the best foster moms.
These beautiful chickens are on the conservation list as critical in the USA. If there is an interest in breeding the Aseel is advisable to seek advice on this from registered Aseel breeders and or the livestock conservancy organization.
As they are fighters by nature they can be aggressive towards other chickens even the young chicks tend to fight to the death. This is defiantly not a breed for the first-time chicken breeder.

Foraging: The Aseel needs plenty of room to roam about and is definitely a free-range bird that delights in foraging about.

Show Bird: This breed makes a great show bird

Pets: As aggressive as they are to other chickens they are in fact rather tame and trusting to their humans. They make excellent intelligent pets and form a bond with their humans.

Other: As they are fiercely territorial and quite the tough bird one can rest assured that their gardens will be completely pest free as these birds have been known to attack snakes, mice and other threats to their flock.
They will give your organic garden a lot of nutritious fertilizer to ensure great blooms and tasty vegetables.

Health:
They have no known health issues except that they can become a bit sluggish in the heat.
You may Also Like:
HOW TO TELL IS A CHICKEN IS SICK
Temperament:
Intelligent, loyal and docile to humans but cocks are quite aggressive to other cocks and should be kept separate.
Flyers?
They are not very flighty birds but can and will fly if they need to.
Noisy Birds?
If they are out roaming about they are quiet and happy but if confined for too long will get rather loud.
Interaction with other chickens:
They are aggressive with other chickens especially other Aseels. As with any flock if you are introducing new birds it is best to slowly socialize them with the flock.
Good with kids?
If tamed correctly they will play and watch out for their human kids. The roosters will have to be socialized with the kids from very young. As with their flock, the Aseel's can be protective over their humans.
Socialize Behavior?
They do not mind other domestic animals.
You may Also Like:
HOW TO SOCIALIZING YOUR NEW CHICKENS
Known predators:
Most domestic animals leave them alone as they can be quite a fierce bird, but it is always best to keep an eye on dogs and cats.
If hawks and or foxes are in your area it is always best to take precautions.
Check with local animal shelters, zoos, vets, animal control and or pet stores about common predators in your area.
Conservation Status:
These birds conservation status is recorded as "threatened". It is best to check on any special license or instructions that may be set up for owning these birds. This can be checked with your local or national conservation centers.

IDEAL ENVIRONMENT

⇒

Garden Size: A large garden is the best environment for the Aseel as they are more a free-range chicken.

Ideal Climate: Although they are a very hardy chicken they do better in the cold than they do in the heat.

Ideal Coop:

The rule of thumb for any

coop

is 50 cm x 50 cm per hen/rooster in the

coop

.

Ensure there is a good space for the nesting boxes and nightly roosting rails at least 1.5 inches wide.

Good ventilation for air but not too drafty especially in winter.

It is always a good idea to

raise

the

coop

off the ground to give the birds a dry place to roost and lay especially in wet weather.

Ideal Coop Run: They can fly and do like to roost on branches thus the best idea would be to have the chicken run completely covered with chicken mesh or some similar materials.

Ideal Flock Size: They are quite an independent bird that prefers to wander around on their own, but they do like company for those roosting hours so ideally a male and female will be an ideal flock.

Special Instructions: Aseel's have to be watched as they can get aggressive towards each other. If a fight starts up it needs to be broken up immediately as they will fight each other to the death.

Accessories: The following accessories are ideal for your coop:
Nesting boxes
Straw for the boxes and roosting area
Roosting rails
Perches
Water troughs/bowls
Food bowls/feeders
Heating lamp(s)
Animal carrier for transport purposes

You may Also Like:
45 FREE DIY CHICKEN COOP PLANS, TUTORIALS AND DESIGNS
WHERE TO FIND THESE BIRDS TO ADD TO YOUR FLOCK
Aseel chickens can be found at reputable registered breeders as they are very rare in America.
They can still be found at most live poultry outlets and farms, but it is best to check with your local conservation centers, reputed Aseel poultry dealers as they are a registered breed. If you plan on breeding your chickens, you will want to make sure that they are from a good bloodline.
Check with your local animal welfare and or shelter for more information on how you can adopt a rescue, fighting birds. They will also be able to help with any special requirements, attention or care they may need.
CARING FOR THE BIRD(S)
Please click here for our full guide to "Taking care of chickens". This is a comprehensive guide to owning chickens. It covers where to start from choosing your ideal flock, the coop that would best suit your garden, your bird and you to buying and bringing your bird(s) home.
GENERAL
A very self-sufficient breed of chicken that will protect their environment and flock. They are a slow growing bird if bought from chicks. Have very meaty carcasses with short intestines and a heart that is much larger in comparison to other chickens. They have a very round skull and beaks that are much like that of hawks and long yellow featherless legs.
 
GROOMING
Depending on the Aseel variety or if they are show birds they do not require any special grooming. Some well-placed dust baths for their daily grooming routine and a weekly checkup for mites, lice and various other parasites is all that they will require. As they are chickens that love to be out and about roaming they will need to be de-wormed on a regular basis especially if they are around other domestic animals and or interacting with kids.
DIET AND NUTRITION
Aseel chickens love to indulge in table scraps and will eat most vegetable or fruit leftovers. These birds will forage all day so it is imperative that you start their day off with their regular feed such as chicken pellets, grains, chicken mash or grain mix from 8 weeks old and older.
For baby chickens, the best is always Chick Starter when they are under 8 weeks old.
Laying hens should get extra protein and calcium in their diets to ensure the quality of their eggs and to keep them in tip-top health.
Please see our comprehensive guide to "Feeding your chickens" for more information of the different types of chicken feed for chicks, hens, laying hens, roosters, etc. and where to buy the feed and approximate cost of the feed.
SOCIALIZING THE BIRD(S)
Aseel chickens are aggressive birds, baring in mind that they were primarily bred as fighting chickens. Introducing an Aseel(s) to a flock will require a lot of attention and patience. This is also true for introducing a new Aseel or another breed to your current Aseel flock. It is highly recommended for anyone who has had no dealing with this breed to seek help from registered and skilled Aseel breeders. The last thing anyone wants it a bloodbath in their flock as even the hens in this breed is aggressive towards other hens. It is also not advisable to have two roosters/cockerels if you are going to be keeping a male Aseel.
Always check on how well a breed will get on with your current flock before buying them as you do not want to upset your coop or stress your current flock.
As with any newcomer to the roost, you will have to quarantine the bird for 7 – 31 days to ensure it does not have any unwanted critters or disease that could spread to your current flock.
NOTES / SPECIAL INSTRUCTIONS
As they are registered as a "threatened" conservation status they may need an extra license to own or keep in your garden. For advice on what the bird's conservation status and orders are please check with your local conservation department.
For breeders, it is imperative that you always check your bird's bloodlines and ensure you are buying your birds from a reputed breeder/farm. In order to sell birds of such stature, they have to be recorded and documented, always check with local animal breeding organizations for these records.
These legitimate documents are also required should you wish to show your bird(s) in various poultry shows/competition showings.
For information and advice on adopting rescued animals, you can visit or contact your local animal welfare center.
Video
USEFUL LINKS
References
https://en.wikipedia.org
https://livestockconservancy.org
https://www.roysfarm.com
https://www.mypetchicken.com
https://www.backyardchickens.com
https://www.feathersite.com/