OVERVIEW
Chickens need good nutritious feed even if they are free-ranging chickens. There are many types of feed on the market.
Hatchlings/Chicks, Pullets/Cockerels and Adult chickens have different feeding requirements. In this article, I look at feeding your chickens to give them the optimum nutrition and some tasty snacks.
CHICKEN FEEDS
In days gone by people would throw would some chicken feed, grains, etc. in the garden for the chickens to peck at will. The rest of the time the chickens would have foraged around the garden or grounds picking up food from the ground and garden.
A lot of people who have space and are able to still let the chickens wander around and fend for themselves. But if you want your chickens to be healthy, hardy and lay nutritious eggs or have the best quality meat. They should be given a proper feed that will supplement them and keep them healthy.
THE DIFFERENT KINDS OF CHICKEN FEED:
Chick Starter Feed

This feed is a type of grain that is high in protein. Chicks need a high amount of protein to ensure optimum growth. It helps them to grow quickly and healthily.
Chick Starter Feed looks like grains of dirt or sea sand. It is made crumbly enough, so the little chicks are easily able to swallow it and peck it up.
This feed also comes in a medicated and non-medicated form.
The medicated form of the feed contains something the will help protect the chicks from coccidiosis. It is IMPORTANT to note that chicks have had the coccidiosis vaccine they SHOULD NOT be fed the medicated Chicken Feed but rather the normal one.
You can get this feed at most pet shops, supermarkets that sell pet care products and or farm suppliers.
Feeding your hatchlings/chicks with Chick Starter Feed:
Chick starter feed is given to chicks that are 3 to 4 days old.
When a chick first hatches it will not need to eat for around 72 hours as its little body will still be absorbing the yolk of the egg.
They will need fresh water and you many needs to gently dip their little beaks into ensuring they know where the water is. Be sure to be very, very gentle when you do this and try not to panic them. Just the little tips need to get wet.
Even though they may not eat it at first it is good to leave some Chick Starter Feed where they can get easy access to it. Like near their beds or on a paper towel close to it.
They will stay on Chick Starter Feed for about 4 to 6 weeks
Make sure they have fresh food and water every morning
Always check the feed pack for specific feed amounts and details. These can vary from the brand. On average though each chick should 40gm of Chicken Starter Feed per day.
Make sure you have the correct types of feeder specifically designed for chicks
Chicken Grower Feed

This is the next level of feed for growing chicks and is fed to chickens from around 6 weeks old. The feed has less protein in it than the Chick Starter Feed. But it still maintains quite a high amount of protein which is enough to properly support the chicken's growth. It is usually given to chickens until they hens have laid their first egg.
The Chicken Grower Feed comes in two forms one is a pellet form and the other is crumbly much like the Chicken Starter Feed.
How a person buys it is a matter of personal preference. Or your chicks may have a problem swallowing the pellets at first, so it may be best to give them both options to start with. Until they are managing with the pellets.
The pellets tend to be wasted a lot less than the crumble Chicken Layer feed.
You can get this feed at most pet shops, supermarkets that sell pet care products and or farm suppliers.
Feeding your 6-week-old chicks with Chicken Grower Feed:

Once the chicks are bigger and have reached 6 to 8 weeks old they can start to eat the Grower Feed.
Always check on the pack for feeding details. Each brand could have a different daily quantity per chicken. It all depends on what is in the feed.
But on average healthy chicks at this age usually, require around 80gm of Chicken Grower Feed per chicken per day.
Make sure they always have fresh water, this is best to check at least twice a day. Especially on hotter days.
You can break the feed down into two parts and feed them in the morning and night if preferred.
It is always best to feed chickens that forage/Free-Range their full feed for the day in the morning before they are let out to roam. This ensures the chicken is getting its required protein and nutrition from its feed.
Chicken Layer Feed
This is basically the Feed type that your chicken(s) will be eating for the rest of their natural life.
This is the feed that will keep your chickens healthy and filled with all their desired protein, calcium, vitamins and mineral.
Layer feed is NOT suited for chicks that have not yet laid an egg. It will not meet their dietary requirements. It is basically for chickens from the age of 20 weeks onwards.
Feeding your Laying Hens Chicken Layer Feed:

Chickens should get layer feed from the very first egg they lay.
Always check on the pack for feeding details. But chicks at this age usually require around 120gm to 130gm (depending on the size of the chicken) of Chicken Grower Feed per chicken per day.
Make sure they always have fresh water, this is best to check at least twice a day. Especially on hotter days.
You can break the feed down into two parts and feed them in the morning and night if preferred.
It is always best to feed chickens that forage/Free-Range their full feed for the day in the morning before they are let out to roam. This ensures the chicken is getting its required protein and nutrition from its feed.
Layer feed is not suited for all chickens though. Some chickens are not prolific layers of eggs and some do not lay at all. As Layer feed is high in calcium to support good egg production it can be quite harmful to a chicken's kidneys and liver functions.
Roosters, cockerels, chickens who have not yet laid eggs, young chicks, non-egg laying or hens that do not lay a lot of eggs. All should NOT get layer feed as it can be quite harmful to these chickens.
Chicken Broiler Feed
This is not recommended feed for a normal flock of chickens. This feed is used by commercial farmers or those raising chickens purely for meat.
Chicken Broiler feed has high protein content designed for one purpose and that is to get the chicken to the desired slaughter weight in 1 to 2 months.
Most broilers ideal weights by slaughter are around 4.4 lbs. (2kgs). Giving this type of feed to your normal chickens can be damaging to them.
Unless you are growing chickens for meat this is not the feed you want for your flock.
Feeding Broiler Chickens Broiler Feed:

Chicken Broiler Starter Mash – given to chicks from 3 days to 4 weeks old
Chicken Grower – given to chicks from 4 to 7 weeks old.
Chicken Finisher – given to chicks that are near ready to be slaughtered.
Always ensure chickens have enough fresh water at least twice a day and especially on very hot days
Check the pack of the food for feeding quantities and ensure you have the correct feeders to suit the size of your birds
Flock Raiser
This is a feed usually given to a mixed flock of chickens. It can be given to chicks, roosters and non-laying hens. It may also be given to laying hens too only it may impact on the quality of their eggs. As the feed is not as high in the calcium layer hens need. Giving them this feed may also seriously damage their bodies and systems.
This feed can be given to chickens of all ages and usually comes in different textures such as mash, crumble or pellets.
Feeding Flock Raiser Feed to a mixed flock or normal flock:

Can be given in mash or crumble form to chicks from 4 days old
Can be given in mash, crumble or pellet form to chicks from 6 to 8 weeks old
Can be given in mash, crumble or pellet form to adult chickens both the hens and roosters.
Read the feed packs for the recommended daily quantities per chicken. This will depend on the size and age of the chicken.
Fermented Feed

This is a process whereby regular feed has warm water added to it, then sealed in an airtight container where it is left to stand for around 2 to 5 days.
A fermentation process of the feed is triggered by the warmth changing the chemical compound of the feed. This gives the feed a higher nutrient value, improved vitamin and enzyme content. It neutralizes toxicity making the feed easier for the chickens to digest and they will feel fuller for longer. This may also cut down on the cost of feed as the chickens eat less of it and there are fewer chicken droppings.
It is almost like making a feed yoghurt for the chickens as the fermentation releases beneficial bacteria into the food.
It is fed to the chickens the same way you would give them Chicken Layer, Chicken Boiler or Chicken Flock feeder.
Different feed types
There are three main feed types that nearly all the different feeds such as Starter, Layer, Flock Raiser, etc. can come in.
Mash

Usually given to baby chicks as it is easy for them to peck up and eat. It looks and feels like fine soil. It is easier for the chicks and even adult chickens to digest.
Adult chickens can also eat mash varieties of their feed, but it can be quite wasteful.
Crumble

Is a lot like the mashed variety of the feed but it is a bit coarse. Almost like flaky oats. It is usually given as a gap feed between a chicks 8 to 20 week feeding period. It can be given to adult chickens and some chicken owners only feed their bird this way. It is not as wasteful as the mash.
Pellets

Pellets are the most common way to feed adult chickens. There are less mess and waste. They are easier to store and less likely to ruin than the mash and crumble.
Cracked Corn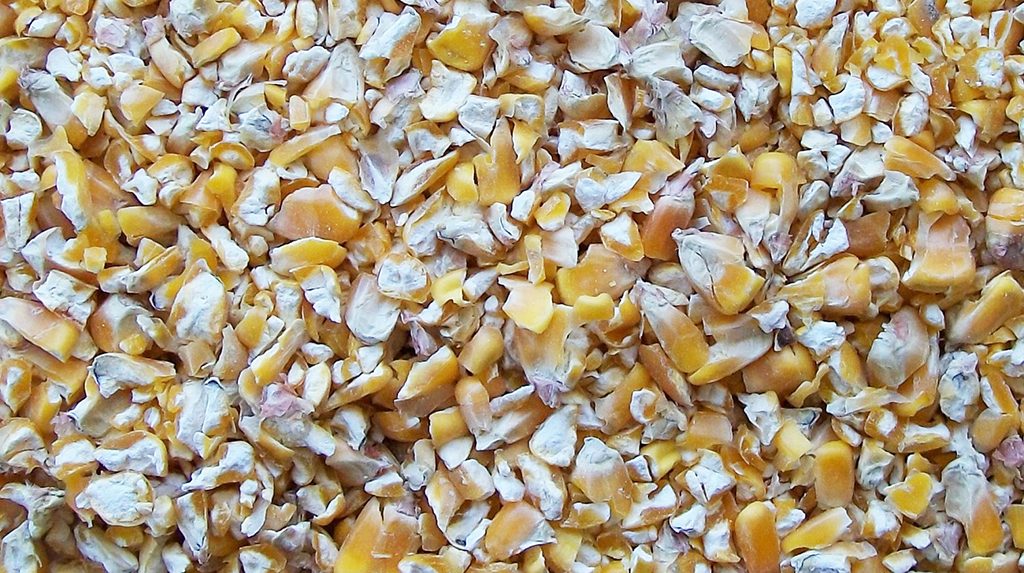 I thought I would mention this type of feed. It is a very cheap feed that usually does not have enough protein, calcium or vitamins in for the chicken.
It is, however, high in protein and fats. Although it is not recommended as an everyday feed for chickens no matter how cheap it may seem. It can be used as a treat or supplement in the winter/colder months where the chicken may require a bit more fat than usual.
Gamer Bird Feed

This is quite an expensive feed and in fact maybe some of the most expensive there is for chickens.
It is a feed that is high in protein and helps to add weight to a chicken. It also helps make their feather all beautiful full and shiny. It is usually used to show birds and fed to them when they need to look the best for shows.
It is also fed to ageing chickens that need the extra bit of help to maintain their feathers and weight.
Due to the cost of this feed, it is not recommended as an everyday feed for the entire flock.
CHICKEN SCRATCH
This should not be seen as a sort of chicken feed and rather more of a treat. Or even in some cases to supplement fat when the birds need a source of energy warmth.
Chicken Scratch is usually a mix of cracked corn and grains that give the chickens energy. But it is not as good a source of quality nutrition and can, in fact, lead to overweight chickens if fed too much of it.
It is a good treat though to be fed to the chickens as a delicious treat.
SHELL GRIT
Shell Grit is a very important part of feeding your flock. Chickens need this to help with two main things.
First, they store the Shell Grit in their gizzards and this helps them break down and digest their feed.
The second reason is that it is an excellent source of calcium especially for laying hens. It helps to ensure they lay normal nutritious eggs without depleting their bodies of calcium and damaging them.
Shell Grit should be put in a separate bowl for the chickens to eat when they require it. Chickens know how much calcium or grit help they need so you do not have to worry about them overeating their grits. They know when they have had enough or when to have more.
SNACKS
Every animal loves treats, and chickens are no different. In fact, chickens will eat pretty much anything you leave lying around that they may have access to.
They love fruit and very hot days will love to get their fruit or vegetable treats in ice-cube form. They will even love to peck at normal plain water ice cubes on these days. Chickens feathers naturally trap so a lot of shady spots with cool water and ice-cubed treats are greatly appreciated by them.
Chickens should not eat:
Chocolate or Candy
We all know that most chocolate is toxic for most animals as it contains Theobromine. And Candy is just not something you feed to animals as it is not healthy for anyone really.
Avocado
Avocado skin and pit contain a compound called person which has been known to be quite toxic for most birds. Although some chicken owners feed the Avocado flesh to their chickens without and adverse effect I rather not take that chance.
Rotten, Moldy food or overly ripe fruit
Rotten, moldy and stale foods are not good for a human then they are definitely not good for your chicken flock and should be disposed of.
Green Potato Skins
Regular cooked potatoes are fine to feed your chickens as a yummy snack. But raw green potato skins contain a substance called solanine which is highly toxic.
Dry Beans
Dry beans contain hemagglutinin which is not at all good for chickens. Cooked beans are fine though.
Any form of Junk food
By junk food, I am talking about the highly processed foods on the market today. It is not only bad for us humans but it no good for chickens
Citrus
Most citrus fruits are said to give eggs a weird flavor, slow down egg production or can cause diarrhea. Some chicken owners report that they give their chickens orange peels with not reportable problems. I always tend to err on the side of caution.
Good snacks for your chickens can include:
Cottage Cheese
Water Melon
Peeled Banana's
Apple slices with not pips in them (the pips contain cyanide)
Cucumber
Corn
Oatmeal
Pumpkin and Pumpkin pips
Sunflower seeds
Mealworms
Ginger (this is a superfood for chickens)
Pasta/Noodles
Grapes (seedless)
Cherries
Crickets (can buy them live from most pet stores)
Pears
Peaches
Lettuce/Kale (chickens go nuts for this)
You can give your chickens snacks and treats once a day. But make sure they are in moderation and enough for all the chickens to enjoy.
Make sure they have had their normal chicken feed for the day so that they will not stuff themselves with the treats and forgo the valuable nutrition their feed gives them.
Giving your flock treats after their regular weekly check-up is a great idea too.
SOME RULES OF THUMB FOR FEEDING YOUR CHICKENS
Make sure you have the correct feeders to suit the needs of your flock
Make sure you have enough feeders to comfortable feed your flock
Have the correct waterers to suit the requirements of your flock
Have enough of these waterers and some extra in the run or dotted around the garden for free-rangers. This is to ensure that they do not have to drink dirty water from the ground that could be contaminated with worms or some other bug.
ALWAYS read the feed package to ensure you are giving your chickens the correct amount of feed
It is best to feed the chickens first thing in the morning before they go out for the day. This ensures they are getting their required calcium, minerals, vitamins and other nutrients.
Give them clean food every day or even twice a day
Make sure they have fresh clean water every single day or twice a day. Top up waterers on excessively hot days.
Do not overfeed chickens on snacks and stick to the Snack guide in this article for the correct snacks to give them.
Clean water bowls and feed bowls regularly or preferable every time you top them up.
Check that there are no leaks in the waterers and replace those that have or have been damaged
Check that feeders have not been overused, are still able to be cleaned and are not cracked in any way. Replace those that need replacing as soon as possible or preferable as soon as they are found to no longer be working correctly.
Buy feed from reputable dealers and brands that are well known
Seek advice before topping the chicken's feed with nutritional supplements
Seek advice before adding various medications or forms thereof such as de-worming medication to the chickens feed.
END OF THE FEEDING CHICKENS ARTICLE
It is always best to shop around for the best prices of feed. There are also high-quality replacements for the main market feed brands. As we all know brand names can be more expensive. If you find a good quality feed that is half the price. I would first find out all I can about it. You are bound to find a write up on the internet and some reviews.
You do not have to break your bank to feed your chickens.
Another way to cut down on feeding costs is to free-range the chickens. This gives them access to bugs, grubs and various creatures they love to eat. Some cases its cuts the feeding costs down by half.
Be sure to check out our other very informative and useful articles on keeping chickens if you have not done so already.