In Part 13 of our Health and Well Being of the Chicken Flock, we looked at internal parasites – worms!
In Part 14 we look at external parasites, how to detect them, prevent them and get rid of them.
If you are a first-time flock owner, looking to become one or even a seasoned one have a read at some of our articles. There is something of benefit for everyone on our site.
SIGNS AND SYMPTOMS OF EXTERNAL PARASITES ON A CHICKEN
Just like internal parasites chickens are susceptible to external ones. Like mites, lice, ticks and fleas.
Usually, a good dust bath would shake them off! But sometimes it is not enough, and the parasites soon get to gather forces and can even become harmful to the chicken.
Signs of external parasites could include:
Discomfort and blood loss
Decrease egg production
Continuous scratching
Irritability
General malaise
Restlessness
See feathers deteriorate in patches and have raw skin spots
Some infestations can cause blindness and even death
HOW TO CHECK FOR EXTERNAL PARASITES ON A CHICKEN
Have a good regime for checking your chickens for malaise and pests.
Do this at least once a week and make sure it is a thorough check.
Checking a chicken for pests
Start at the head and move down towards the legs
There are different types of mites some you will see during the day others at night.
So, check them in the broad daylight – if you shine a flashlight on them they will move as they do not like bright light.
Chicken mites do not live on the chicken but feast on them in their nest at night so best to check out all the cracks and crevices of the coop.
Check the chicken's skin for raised bumps.
Lice will lay their eggs at the base of the feathers, so you may see the feathers of the chicken look a bit clumpy and flaky.
Remember to do this thoroughly before molting season. During molting season make extra sure there are not chicken mites as they can be detrimental to the pin feathers
HOW TO TREAT EXTERNAL PARASITES
You can use pesticides from the drug store or vet clinic. They should also carry more natural products to treat them.
Or you can discuss treatments with your local vet or animal care provider.
Treating chickens with parasites
Make sure any chickens that have open wounds are treated
If necessary, a trip to the vet
If there have wounds they must be separated from the flock until the wounds are healed
Only treat them under a vet supervision if you are unsure
Treat the chickens with the pesticide or you can dust them with a Sulphur and rotenone type treatment. It is not harmful to the chicken but will kill the pest. Especially mites.
Make sure you clean out the coop and thoroughly disinfect and anti-pest the coop with the solution you have chosen.
Change all the bedding, floor cover and if there are cracks in the floorboards or walls. Clean these out completely. The best is to cover them in as cracks are a great place for chicken mites and lots of other unsavory critters to live.
When the coop is dry and clean sprinkle some natural pesticides on the floor before putting back the accessories.
Try a natural remedy such as:
There are garlic sprays available or a person can make their own by:
Crushing 3 x whole cloves of garlic in 2 cups of water
You can also add a teaspoon of lavender, spearmint, thyme, bay or cinnamon oil to the mix.
Spray you chickens, coop, run and various places around the coop.
You can even add crushed garlic to their water or dry feed.
TYPES OF EXTERNAL PARASITES
Most pests arrive in the coop from wild birds that pass through the garden.
As vigilant as we maybe we cannot stop wild birds from swooping in.
It is better to ensure you treat your chickens a few times a month with anti-critter sprays, etc. Because as hard as we can try we cannot stop the wild birds from coming to visit.
Types of External Parasites
Mites

These creepy little red critters are distantly related to non-other than the spider.
They come in three varieties too:
Northern Fowl Mite – they love to live in the vent region of the coop but are quite happy to live on the chicken as well.
Red Mite – these are the peskiest of the mites and once there is an infestation are really difficult to get rid of. You may even need to get in a professional pest control to get rid of them. They love to live in the nesting boxes and other nooks and crannies of the coop. They will feed on the chicken's blood during the night.
Scaly-leg Mite – these horrid little critters live in the scaly parts of the chicken's leg. This can make the bird go lame if not treated in time. They will make the chicken's leg become thick, rough and inflamed.
Lice

These pesky critters will chew on the chicken's feathers and skin flakes. They are highly annoying to the chicken and lay their eggs at the base of the feathers. Some cases are so severe the bird is unable to preen the eggs of them.
There are around 50 different species of lice that can be found on chickens. Ask your local poultry adviser for more in-depth information on these.
Fleas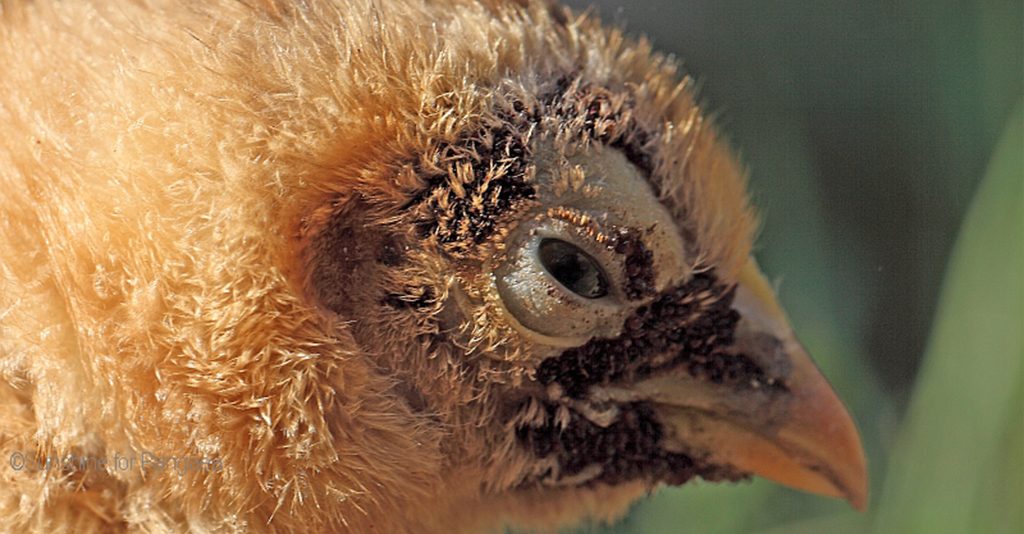 Most chicken fleas that you can see only represent about 5% of what is actually on the animal. The other 95% or the flea population exists on the bird in either larvae or egg form.
Fleas can survive in the long grass for a short period of time but need to have a host to survive. They live on the bird and tend to breed rather rapidly once they are being fed well.
Try sprinkling FGDE on the coop floor, nesting boxes, roosting areas and it can also be dusted on your flock (always check instructions before applying).
Although garlic is excellent as a general deterrent for most pests and worms there is a possibility it could Heinz Anemia. This is because garlic is part of the onion family. Onion is not a recommended food source for your birds.
Apple Cider Vinegar sprayed lightly on your flock feathers as well as certain herbs such as mint will keep them away.
Ticks

Poultry ticks are sneaky critters that you may not find on the bird itself. That is because they hide out in the coop during the day to feed on their host at night.
These ticks are actually carried by wild birds and are very common in nests such as vultures, buzzard, egrets, etc.
They live in the dark crevices between the wood slats of the coop or in cracks in the wood.
They love the heat, damp and moist weather. Although the very cold weather will kill them it is best to keep your coop tick free no matter the season.
The scary thing about Poultry ticks is that they can survive without feeding of up to 4 years.
Effect on the flock
There are many severe diseases that these critters can cause including and ascending paralysis of the leg, wing and raspatory system. They can cause the bird severe anaemia, depression and weight loss.
Signs and symptoms of poultry ticks:
Agitated birds at night time
They may pace and not want to into the coop
They may become aggressive
General malaise in the bird(s)
Reduced egg production
Treatment:
There are over the counter remedies one can get at your local animal clinic or live poultry supplier.
If your local animal shelter keeps chickens, they will be able to help you with the remedy.
As ticks can have some nasty side effects if you have had a Poultry tick outbreak it is best to get your flock/bird(s) looked over by the vet.
De-tick the coop
Remove all the birds from the coop.
It may be best practice to set them up a clean temporary home for a day or two.
Remove all the nesting boxes, water, food bowls and if you can their roosting posts.
Use the solution you have bought and scrub out the coop, nesting boxes and roosting posts with it.
Use a high-pressure hose to blast out the coop, nesting boxes and clean down the roosting posts.
If there are gaps between your boards it may be best to close these up using caulk once the coop has dried out.
If your nesting boxes are also made from wood boards that do have joins, caulk them too.
These ticks like to live and breed between boards, knots in the wood and tiny crack or crevice they can find.
Once the coop has been cleaned, your birds have been treated you can let them back in the coop.
Once you have had one infestation it is best to always check for them every time you clean out your coop.
Overcrowding of a chicken coop is one of the fastest ways disease and critters can spread through a flock. It is really important that chickens have breathing room, enough space and that their coops are cleaned on a regular basis.
END OF PART 14
This is the end of Part 14 of our "Health and Wellbeing of the chicken Flock" series.
Part 15 – Vaccinations and why they are important to the wellbeing of the chicken flock is the final article in this series.