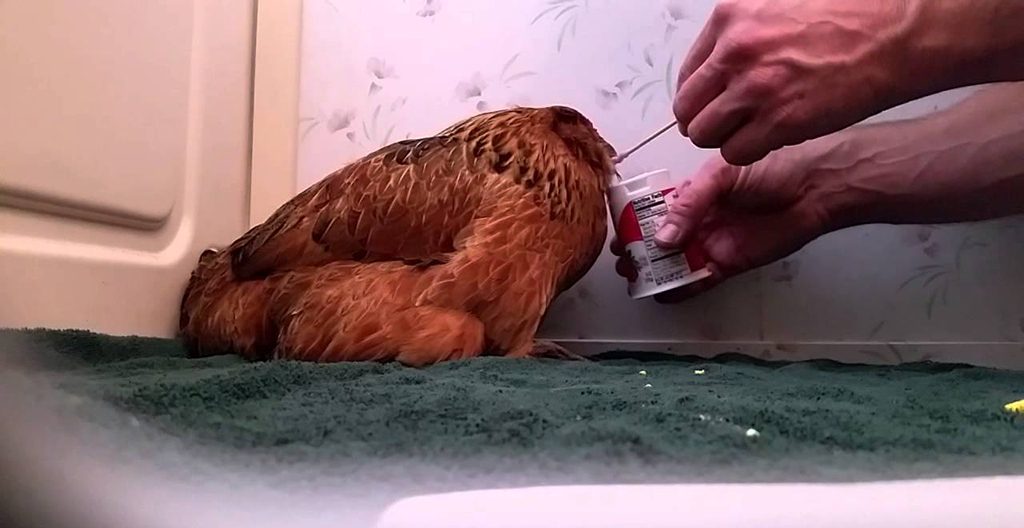 When a chicken is sick it tries to hide it as a sick chicken is picked on by the rest of the flock.
In this series of health and well being of the chicken flock we look at:
Part -1 HOW TO TELL IF A CHICKEN IS SICK (your are already on this page)
How to tell if a chicken is sick, what to do and how to take preventative measures.
If you are a first-time flock owner, looking to become one or even a seasoned one have a read at some of our articles. There is something of benefit for everyone on our site.
THE IMPORTANCE OF REGULAR CHICKEN CHECKS
It is very important to check your chickens at least once a week to ensure they are in good health and pest/parasite free.
In fact, if you have the time it is even better to give them a quick over every other day and then a full one weekly.
Chickens can be brutal especially if they smell blood, see an open wound or detect a sick chicken. They will peck at open wounds on another chicken, bully them if they detect any weakness and can inflict sometimes fatal wounds on the one that is ill.
EXAMINING THE CHICKEN AND WHAT TO LOOK FOR:
Wattle
The wattle should be bright red in color (except obviously for completely black chicken breeds).
If the wattle is duller than normal and it has been very cold out it could be a sign of frostbite.
Make sure there are no cuts, swelling or sensitive regions around the wattle.
Wattles are what helps to regulate the chicken's body temperature. They should be plumpish, bright and seem like they are sort of waxy.
If the wattle is dull it could be a sign of bad circulation.
Comb
The comb, like the wattle, should be bright red in color (except obviously for completely black chicken breeds).
If the comb is duller than normal as per the wattle it could be a sign of frostbite or some other disease.
A blue or purple-tinged comb can be a sign of some circulatory disease.
A black comb can mean frostbite or some other disease.
A dry comb that looks a bit shriveled and flaky could mean there are some health issues.
Make sure there are no cuts, swelling or sensitive regions around the comb. When a fight breaks out in the coop the first thing that is usually attacked is comb. It also tends to bleed a lot and can get infected quite easily.
If the chicken has nodules on the comb it could be a sign of fowl pox.
The Comb can also become infected with fungal conditions this usually shows up as white/grey spots on the comb.
Combs can also determine if a hen is laying or not. All combs should be glossy, plumpish and bright.
Sometimes in hens, a paler comb could just simply mean she is off laying.
Eyes
A chicken's eyes should be bright, shiny and wide open with no residue around it.
If a chicken has thick or murky liquid around it or oozing from it, the bird has some form of eye infection. Chickens can get conjunctivitis.
A sick chickens' eyes will be half open, oval, cloudy or just completely closed!
Ears
Chickens can get ear infections in anyone of their ear chambers.
Their ears are made up of three chambers the inner, middle and outer ear chambers.
The outer and middle ear chambers are separated by air pockets. The inner portion of the ear is separated from the other chambers by the eardrum.
If a chicken continuously tilts its head, does not have good balance or exhibits wry neck it is usually because of damage of an ear infection.
Any part of the chicken's ear can get an infection.
If a chicken tries to scratch his ear, shakes its head continuously or has a loss of balance it may have an ear infection.
Ear infections no matter where they are in the ear are tricky to diagnose and even trickier to treat. It is best to get them checked out by a trained professional.
Beak
The chicken beak should be perfectly formed with no parts split of missing
Sometimes a layer's beak will have been trimmed
Their beaks should normally be closed unless they are clucking or eating
If their mouths are open it could be a sign of parasites, stress and or a temperature
The beak should feel firm, not soft
Nostrils
Chickens nostrils should be clear and open.
If there is a crust or fluid this could be a sign of infection
There should be no swelling in the sinuses (the place between the eye and beak)
Neck
The chicken neck should be strong and straight
It should not be floppy or have the head hang forward
It should not be twisted or at a weird angle
Throat/Crop
Check inside the chicken's mouth it should be clear.
There should be no small cheesy modules
Make sure the chicken is breathing properly and not gasping for air, sneezing or wheezing
Check the chicken crop which is located just below its beak area in the front of the body. It should not feel hard or too soft.
Feathers
Go through the feather from the head downwards
Unless they are molting there should be no rough patches where they have been pecking
No flaky build up at the base of the feathers
No ticks, fleas, mites, etc.
If they are molting it may be best to leave them for a while as the pin feather can be rather painful or get damaged if touched
Vent/Tail Feathers
The vent should be clear and clean with no filmy build up or blockage
There should be no swelling or protruding lumps
The feathers around the vent and tail should be clean and clear matted or clumped with faeces
Legs
Check the chicken's legs they should be smooth and normal coloring
The leg should not be over scaly
There should be no swelling around the hock
There walk should be normal with no limping
If they are lying down with one leg back it may be a sign the chicken is ill
Feet
Ensure the scales on the feet are smooth and normal
There should be no black scale under their toes
Feathered leg and feet variety their feathers should be smooth and clean
Check their claws for any defects and or injury
Behavior
Watch the chickens are they walk/lay around during the day
If they are exhibiting any abnormal behavior it is best to get them checked out
If they are lying alone and all puffed out they may be sick
Check their excrement for signs of worms and or blood
They should not be limping or having trouble walking
Prevention is better than cure especially in a chicken as if you catch the problem early it can save an infection from spreading throughout the flock. It can also save the life of the chicken that has the problem. The thing is if a chicken is already exhibiting signs of weakness it probably means they have been feeling sick for a while. Chickens will hide their sickness as much as they can and try not to exhibit any weakness for fear of being picked and pecked at by the flock.
END OF PART 1
This is the end of the first part of our "Health and Wellbeing of the chicken Flock" series.
Part 2 of the series will discuss some common causes of health issues, preventative measures and conditions that affect chickens.