If you are looking for hens that lay a good amount of white eggs for your breakfast table, we have compiled a list of the top ten.
Most of the time you can tell what color egg a hen will lay by looking at her ear-lobe color. White ear-lobes are supposed to produce white eggs and red-brown. But this is not always the case as there are chickens with red ear-lobes that produce white eggs and some blue. The best way to find out what color egg the breed lays is to look up lists like the ones we have compiled on the subject.
If you want a broad overview of the top laying hens why not read our "Top Chicken Breeds for egg laying" article. Or we have a selection of guides on hens that lay brown, dark brown, blue, cream, tinted and other color eggs.
The Top 10 White Egg Laying Chicken Breeds
California White Chickens

he California White Chicken breed is a very successful commercial hybrid chicken that lays a lot of large white eggs. It is a cross between a White Leghorn rooster and the rare California Gray chicken breeds. Although the California Grey is also a prolific egg layer they were not popular with commercial egg producers because of their large size. They were too big for the battery cages. The California Whites are a little less buxom than the Greys
Approximate amount of eggs per year: 300 or more
Egg color: White
Egg size: Large
Start Laying from: 15 weeks (3 months old)
Broody? No/very rarely
Temperament: If handled from young they are quite tame otherwise they can be a bit flighty and wary of humans.
Size Bird: Pullet: 5.00 lbs. / Hens: 5.50 lbs.

Both the White and Brown Leghorn lay white color eggs. The White Leghorn is the one that lays the most eggs per year through. Although the Brown Leghorn is not a bad egg layer either.
Approximate amount of eggs per year: 250 to 280
Egg color: White
Egg size: Large to X-Large
Start Laying from: 16 weeks (Just over 3 months old)
Broody? No/very rarely
Temperament: Skittish, flighty and can be aggressive
Size Bird: Pullet: 5.00 lbs. / Hens: 5.50 lbs.
Read More

The Ancona is a beautiful bird with unique coloring and quite a good layer of white eggs.
They are not great on human contact and will run away from being handled. So they do not make the best pets and are not recommended to be around children.
Approximate amount of eggs per year: 240 to 260
Egg color: White
Egg size: Large
Start Laying from: 20 weeks (5 months old)
Broody? No
Temperament: Avoid human contact, flighty and very active
Size Bird: Pullet: 4.00 lbs. / Hens: 5.00 lbs.
Read More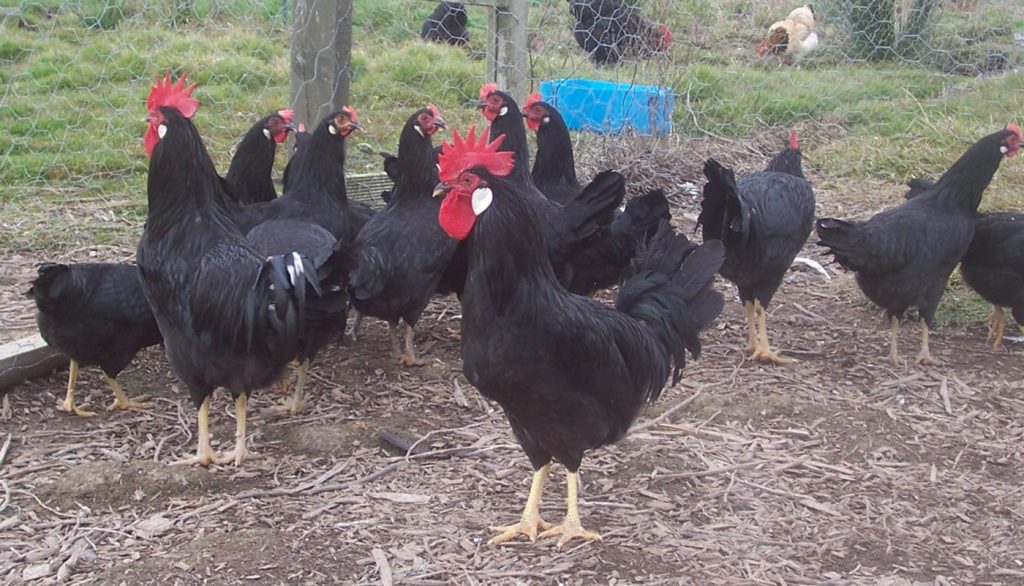 Minorca's are also known as the "Red Faced Black chicken". They have large floppy combs that flop to the one side of the chicken's head to show off their white ear-lobes. They are also the biggest and heaviest of all the Mediterranean breeds.
Approximate amount of eggs per year: 200 or more
Egg color: White
Egg size: X-Large
Start Laying from: 16 to 18 weeks old (from just over 3 months old)
Broody? No
Temperament: They take to human contact if handled correctly from a young age. But they can be a bit flighty and skittish.
Size Bird: Pullet: 3.00 lbs. / Hens: 5.00 lbs.
Read More

The Hamburg chicken is sure to perk up your flock with its very cheerfully nature and pretty plumage.
Approximate amount of eggs per year: 180 or more
Egg color: White
Egg size: Small
Start Laying from: 22 to 24 weeks old (Just over 5 to 6 months old)
Broody? No
Temperament: Talkative, inquisitive, active and flighty
Size Bird: Pullet: 3.50 lbs. / Hens: 4.00 lbs.
Read More

The Andalusian is a beautiful ancient chicken breed of Spanish origin.
Approximate amount of eggs per year: 160
Egg color: White
Egg size: Large
Start Laying from: 22 weeks (Just over 5 months old)
Broody? No
Temperament: Gentle but active
Size Bird: Pullet: 4.50 lbs. / Hens: 5.50 lbs.
Read More

The Campine or Golden Campine originated in Belgium and have been through to have existed since the reign of Julius Caesar.
Approximate amount of eggs per year: 150 or more
Egg color: White
Egg size: Medium
Start Laying from: 20 to 22 weeks old (from around 5 months old)
Broody? No
Temperament: Alert and shy of human contact
Size Bird: Pullet: 3.50 lbs. / Hens: 4.00 lbs.
Read More

The Lakenvelder is a very beautiful lady with her unique patterned plumage. Some have reported their eggs to be cream, but they are mostly reported as white.
Approximate amount of eggs per year: 130 or more
Egg color: White
Egg size: Medium
Start Laying from: 20 to 22 weeks old (from around 5 months old)
Broody? No
Temperament: Not aggressive but shy of humans
Size Bird: Pullet: 3.50 lbs. / Hens: 4.50 lbs.
Read More

The Sicilian Buttercup is considered to be really rare these days. They have the most amazing buttercup type comb.
Approximate amount of eggs per year: 120 or more
Egg color: White
Egg size: Small
Start Laying from: 24 weeks old (6 months old)
Broody? No
Temperament: Flighty, easily spooked and can be a bit wild
Size Bird: Pullet: 4.00 lbs. / Hens: 5.00 lbs.
Read More

The Sumatra chicken comes if a few different color varieties but they all lay white eggs. These are one of the rarest and beautiful chicken breeds. They can be quite aggressive and wild. They are not recommended around children.
Approximate amount of eggs per year: 100 to 150
Egg color: White
Egg size: Medium
Start Laying from: 24 weeks old (6 months old)
Broody? No
Temperament: Wild and quite aggressive
Size Bird: Pullet: 3.50 lbs. / Hens: 4.00 lbs.
Read More