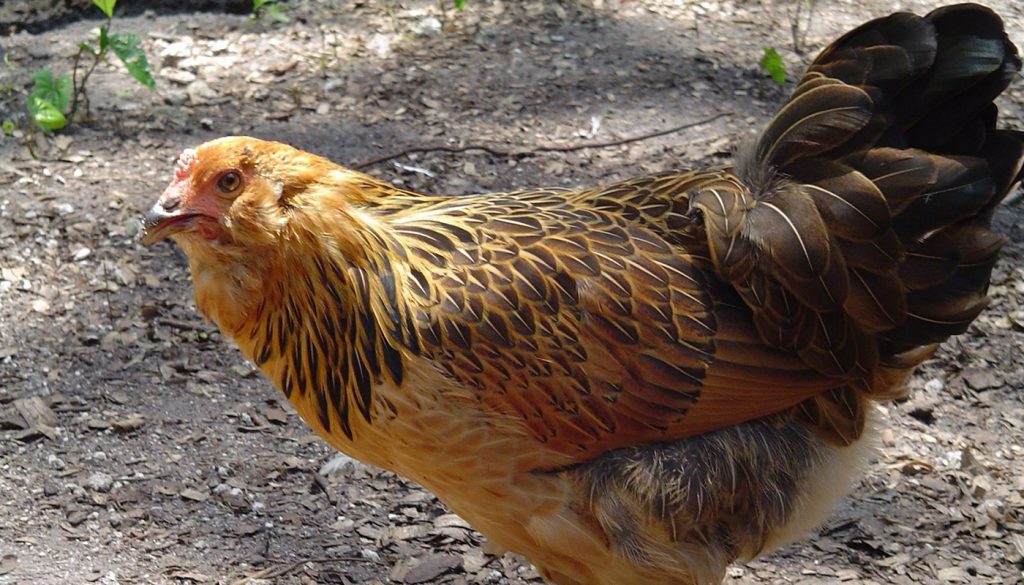 The Easter Egger is not actually a breed but a hybrid bird that does not conform to any of the American Poultry Associations standards. It has, however, been bred to be and exceptionally good egg layer. This beautifully unique bird lays eggs of different colors, hence its name Easter Egger. Their eggs are green, blue, pink, aqua and olive. As they have been bred from the Ameraucanas and or the Araucana's and are sometimes mistakenly identified as such by some hatcheries. The Easter Egger is a delightfully intelligent, gentle and kind bird that is exceptionally friendly to humans. This bird makes a great addition to any family flock, are excellent pets that will happily wander around with you in the garden. Your table will be kept full of delightfully colored medium to large eggs all year round. Not a bird recommended for breeding or showing as they are not recognized by the American Poultry Association.
HISTORY
The Easter Egger is not a recognized breed but rather any chicken that does not meet any poultry breed standard that has been defined by the American Poultry Association but has the "blue-egg" gene.
Easter Egger is a name that comes from the colorful eggs these birds lay. Due to a pigment deposit on the surface of the eggshell called oocyanin it gives the eggs a green-blue tint. These birds are usually a cross of various Ameraucanas, Araucanas and Marans. In fact, and Easter Egger crossed with a Maran that lays dark brown eggs will result in the eggs being an olive green. They have even been known to lay pink, blue and green eggs.
 
CHARACTERISTICS

Country of Origin:
America
American Poultry Association:
Not recognized as a breed in America as they are a hybrid cross.
Chicken Category:
Light medium-sized birds only
Chicken Class:
Hybrid
Bantam Variety Available?
No
Related
TOP 10 BANTAM CHICKEN BREEDS FOR BEGINNERS

IDENTIFICATION

⇒

Appearance: They are a light medium-sized bird that tends to have muff around their necks, beards and greenish-grey feet.

Color(s): Hens come in many different colors & patterns Roosters come in many different colors & patterns.

Comb: They have a small pea comb

Ave. Weight: Hen/Pullet 4.5 lbs. Cockerel 5 lbs.

Life Expectancy:
5 – 8 years some have lived up to 10 years of age.
Good Starter Chicken?
They are a low maintenance bird and will suit both the first-time chicken owner.
Related
10 BEST STARTER CHICKENS FOR THE FIRST TIME POULTRY KEEPER

PURPOSE

⇒

Eggs: They are excellent layers. They lay medium to large light brown, blue, green and sometimes pink eggs of around 200 – 280 per year per hen. They start to lay eggs at 7 months old which is a bit later in life than most other hen breeds.

Meat: Easter Eggers make good table birds at around 5 months between 4.5 lbs. to 5 lbs. The meat has been said to taste a bit like quail and is a white meat.

Breeding: They can be bred it is best to breed them with either Marans, Americaunas and Araucana's especially if looking to keep their colorful eggs. The hens are NOT very broody at all, so they do not tend to their eggs very well. If you are looking to breed them you may need to incubate them with the correct lamps and equipment.

Foraging: They are great forages and love to scratch about in the garden. Especially with their humans, they will help you weed and get rid of garden pests.

Show Bird: Easter Eggers are not showing birds as they are not a recognized breed.

Pets: They make exceptionally wonderful pets and have been known to run and greet their owners

Other: They are great for the garden and love to garden with you.

Health:
They have very few health issues due to the way they have been bred. The one common issues amongst them is a genetic trait that is not lethal but more of a deformity called Cross beak. It can worsen as they get older forcing them to scoop up their food and having to have more mashed-up type food and a bit of extra care.
You may Also Like:
HOW TO TELL IS A CHICKEN IS SICK
Temperament:
They are very friendly birds that have been known to be very inquisitive and quite comical. They will run to greet their humans and enjoy their company. These chickens will follow you all over the place chattering to you quietly as they go. As they are incredibly inquisitive do not be surprised to find them in the most unusual of places. Watch the roosters as some of them can be a bit aggressive
Flyers?
They are not very flighty birds, but they can and will fly if necessary. They tend to like to stick to the comfort of their flock so if the first of the pecking order flies the fence the Easter Egger may just follow them over.
Noisy Birds?
They can be quite loud and screechy so not the best birds for a quieter neighborhood.
Interaction with other chickens:
They tend to fit in with any flock but as with any newcomer to your brood it is always best to socialize the bird(s) into the flock slowly.
Good with kids?
They make an excellent pet and will get very attached to the little ones, they will even try and mother them.
Related
10 ROOSTER BREEDS THAT DO NOT MIND CHILDREN
Socialize Behavior?
They socialize well with other domestic animals. They are very lovable and like to get lots of attention from Their humans and are not afraid to voice their displeasure at being ignored.
You may Also Like:
HOW TO SOCIALIZING YOUR NEW CHICKENS
Known predators:
Most domestic animals leave them alone but it is always best to keep an eye on dogs and cats. If hawks and or foxes are in your area it is always best to take precautions. Check with local animal shelters, zoos, vets, animal control and or pet stores about common predators in your area.
Conservation Status:
They are not at risk and are not too hard to find in America. They are, however, usually mistaken or mislabeled as an Ameraucana.

IDEAL ENVIRONMENT

⇒

Garden Size: Easter does well in all sized gardens and does not mind more confined spaces. They tend to stick closely to their coop/run if out foraging or stick close to their humans if they are in the garden.

Ideal Climate: They do not mind the cold and as they are a hardy bird do well in any climate.

Ideal Coop: The rule of thumb for any coop is 50 cm x 50 cm per hen/rooster in the coop. Ensure there is a good space for the nesting boxes and nightly roosting rails at least 1.5 inches wide. Good ventilation for air but not too drafty especially in winter. It is always a good idea to raise the coop off the ground to give the birds a dry place to roost and lay especially in wet weather.

Ideal Coop Run: As they can fly it is best to have a fully covered wired run.

Ideal Flock Size: Easter Eggers are more comfortable in a flock, so they definitely need at least 3 birds in their flock.

Special Instructions: They are hardy birds that do not need much maintenance, but it is best to have them checked for pests on a regular basis.

Accessories: The following accessories are ideal for your coop:
Nesting boxes
Straw for the boxes and roosting area
Roosting rails
Perches
Water troughs/bowls
Food bowls/feeders
Heating lamp(s)
Animal carrier for transport purposes

You may Also Like:
45 FREE DIY CHICKEN COOP PLANS, TUTORIALS AND DESIGNS
WHERE TO FIND THESE BIRDS TO ADD TO YOUR FLOCK
Although Easter Eggers are quite a common chicken it is best to check with local poultry retailers/wholesalers to find where you can get these birds from.
Check with your local animal shelters, animal control and local vets/animal hospitals as it is always best to get a rescue bird first.
The local classified and gumtree are also a great source to find birds on but always get them checked out first before buying them when you buy them privately.
CARING FOR THE BIRD(S)
Please click here our full guide to "Taking care of chickens". This is a comprehensive guide to owning chickens. It covers where to start from choosing your ideal flock, the coop that would best suit your garden, your bird to buying and bringing your bird(s) home.
GENERAL
The Easter Egger is a hardy bird that does not need a lot of maintenance or special instructions as they are pretty easy to manage bird.
They adapt to almost any environment and climate and are not much bothered by the cold. But in the evening during the colder months, it is always advisable to ensure the coop is nice and cosy for them.
 
GROOMING
They have been known to love a dip in the odd pond, dogs water ball or fountain but mainly they adore taking their dust baths. So, ensure there is a lot of loose dirt around that they can tend to their plumage in.
They will require a regular de-worming and the occasional pest repellent to ensure they remain lice, mite and pest free. In order to minimize pests in the nesting areas, it is best to include absorbent bedding like hemp. A trip to the vet once or twice a year for a check is always advisable.
DIET AND NUTRITION
Extra calcium and protein are always advisable for chickens that tend to lay a lot of eggs. In order to keep their plumage and health in top-notch condition adding a treat of mealworms and live culture yoghurt to their diet two to three times, a week is a sure way to ensure healthy Easter Eggers in your flock with glossy feathers.
As with most other chickens, Easter Eggers love table scraps and will eat most vegetable or fruit leftovers. Watch scraps with meat or meat products in as these are not advisable for any chicken.
They tend to love grains and oats too but always check with your vet before feeding this to your chooks to avoid them becoming ill. Most chickens will, however, scratch around and pick out only the foods they like to eat and leave the rest as they tend to instinctively know what is not good for them.
For baby chickens, the best is always Chick Starter up to 8 weeks old. Thereafter they love chicken pellets, grain, mash or a grain mix.
Please see our comprehensive guide to "Feeding your chickens" for more information of the different types of chicken feed for chicks, hens, laying hens, roosters, etc. and where to buy the feed and approximate cost of the feed.
SOCIALIZING THE BIRD(S)
Even though Easter Eggers get along with most any other birds other birds may have a problem with them. It is still advisable to slowly socialize the Easter Eggers into the flock or any newer birds to your Easter Egger flock.
Socializing new birds can take anywhere from 7 days to over 30 days in some cases. It depends on the pecking order and the nature of the birds. Once you have owned chickens you will come to realize just how unique and individual each one of these ladies and or gents really can be.
Follow our "Guide to socializing your chickens" for the best methods to add new birds to your flock in order to avoid unnecessary stress and injuries to your birds.
Always ensure that any new birds are quarantined for at least 7 days to ensure they are not carrying any parasites or disease that could infect your current flock.
If you are unsure it is a good idea to have the birds checked out by your local animal hospital or vet. This will cut down on quarantine time and if there is anything wrong with the bird(s) you will be able to get it treated.
NOTES / SPECIAL INSTRUCTIONS
For information and advice on adopting rescued animals you can visit or contact your local animal welfare center.
Video
USEFUL LINKS
References
https://en.wikipedia.org
https://livestockconservancy.org
https://www.roysfarm.com
https://www.mypetchicken.com
https://www.backyardchickens.com
https://www.feathersite.com/