Kids love chickens, in fact, I do not know many that do not get pure delight from feeding them or collecting their eggs. Whilst we know that most hens will tolerate kids and adults the roosters are a lot more aggressive! Very young kids should NEVER be around any pet unsupervised and that is the same for both hens and roosters. It does not matter how a person has raised them there are certain times that all chickens get a bit touchy. For the roosters is when they are breeding, protecting their flock and or chicks. But if you are going to get roosters and you have kids they will need to learn when to avoid the rooster. Kids should also be taught how to protect themselves from a rooster attack. A general rule of thumb never leaves kids unsupervised around any animal I cannot stress that enough!
Our Top Roster Breeds that are Friendlier than most
Jersey Giant

I do like to start with the Jersey Giants but with very good reason. These lovely chickens amble along calmly demanding the respect they deserve from their flock with little to no aggression at all. They also mingle well with all other breeds of chickens and other domestic animals. I really love my Giants as my rooster Gary is often seen lingering in the shade with our dog Chocolate. He also follows my son around the garden and gets really upset if he is left in the yard when my son leaves. Read More
Easter Egger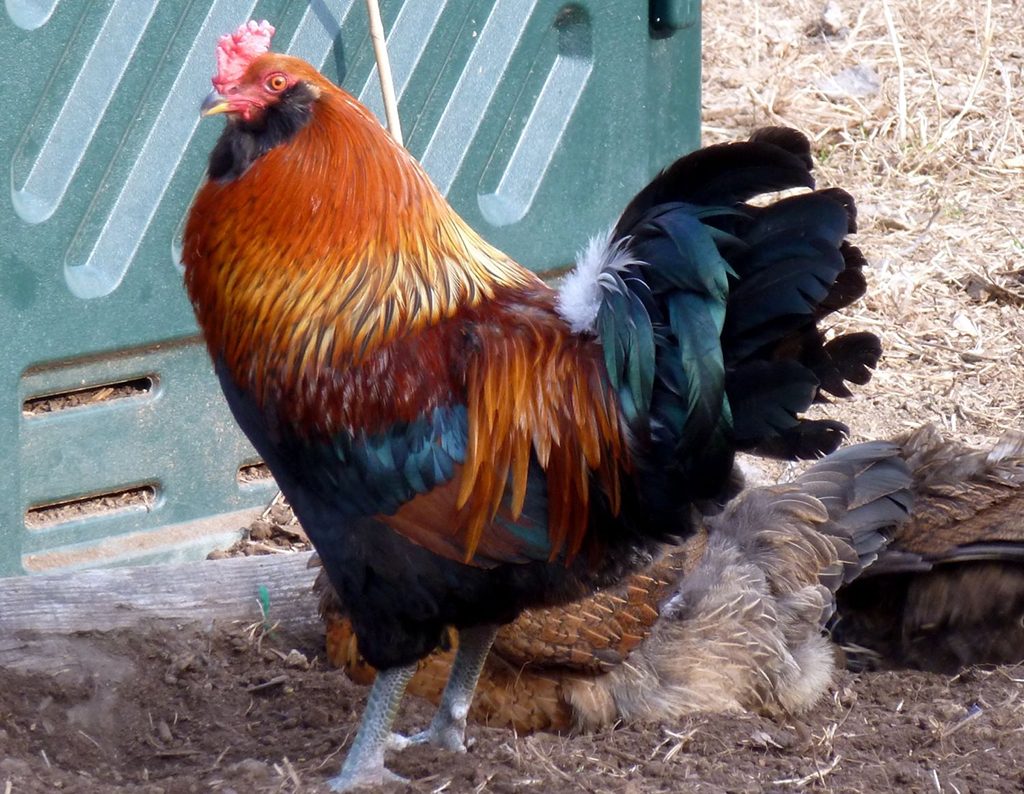 The Easter Egger is another breed that does not get too excited or is easily spooked. These roosters have been known to get quite attached to their human kids. The roosters are rather comical guys and love to get into trouble right alongside the kids.Read More
Orpington
Orpingtons roosters, like the hens, get really attached to their humans. Both the hens and roosters are like the golden Labradors of the chicken breed. The roosters like to follow their humans around the garden and can become quite attached to and protective of their human kids.
But it is good to note that when the Orpington hens go broody it is best to keep even supervised kids away from the coop for a while. These docile loving creatures can become quite possessive and protective during this time. This applies to both the males and females of the flock.Read More
Barred Plymouth Rock

The Barred Plymouth Rock is friendly and docile. Just like the hen of the breed they love to live in peace with their fellow flock and humans. They do not mind being handled although it is best not to allow the kids to handle the rooster unsupervised. They love to be out of the pen roaming around with their flock or their humans. Their inquisitive nature will have them helping the kids dig up the garden or find creepy crawlies.Read More
 
Brahma

The Brahma rooster is another giant-sized boy that is almost as big as the Jersey Giant. They rarely get aggressive and are quite laid back. They can get to almost 3 feet in Hight, so they are not the best for smaller children not because of their nature but because they are clumsy. Like the Jersey Giant the hens sometimes accidentally break their eggs, etc. But in general, the Brahma rooster is a soft-hearted boy that may even become the child's best friend.Read More
Cochins

Cochins I always compare to big soft old teddy bears. They are a big sized chicken that wonders around the garden with his fluffy feathered legs and body. He is a gentle soul with generally great personalities. They are also quite alert and do not like predators especially if they are threatening the Cochins flock or humans.Read More
Silkies

Silkies are not like other Bantam breeds. I find most of the Bantams to be rather cheeky and flight. But the Silkies well they are just sweet, friendly little mischievous makers with big hearts. Just like the hens, the roosters are friendly and easily get along with most other breeds. But they may get picked on in a flock of larger breeds due to their size. This beautiful little rooster will get quite attached to heir human kids and have a penchant for jumping onto laps for a snooze.Read More
Polish

Polish roosters tend to have a topknot crest of feathers that look wilder or poofed than the hen's crest. It is kind to gently pull their crests back off their face with a band. This makes them able to see better and although they do not spook that easily they can still do so. Who can blame them really that crest of theirs blocks their vision? This is a breed that does love a bit of cuddle and to perch on their humans' shoulder. They are also quite the little characters with all their weird antics. Your kid will never be bored around this silly rooster.Read More
Faverolles

Faverolles roosters are the dignified gentlemen of the chicken breeds. They are very calm and friendly. They are also quite submissive in that they tend to rather back down than have a fight. They do not mind being handled and love to roam about the garden with their humans.Read More
Australorp
Australorp roosters are calm and friendly. They do not mind being handled or having some human attention. They love to scratch about in the garden with the kids and are also not as noisy as most roosters.
While most of these roosters are quite tame and friendly there is always that one that will defy the rests personality. Like a dog, you have to be careful with chickens and raise them correctly. If you get them from hatchlings you are more likely to figure out their temperaments and quirks right from the get-go.Read More