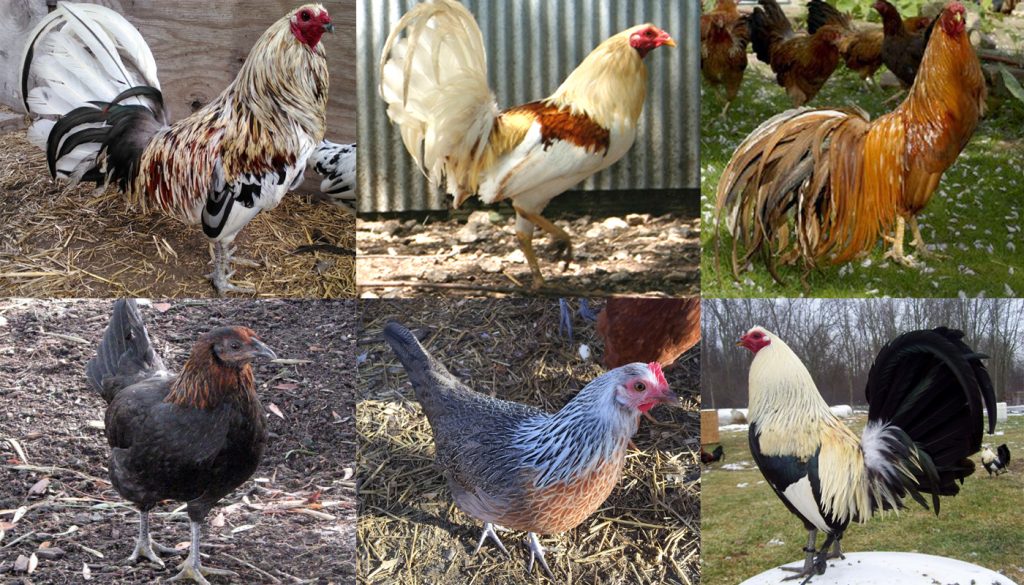 The American Game Fowl is not a chicken for the faint of heart. They are wilder than other chickens and if you have a rooster it is best to keep him separate from your flock or any other male bird. They are extremely territorial and will fight any other bird to the death probably sustaining a lot of damage to themselves as they do so. For their own safety and that of other birds, these are stags that need to be independent of the flock. They are also prone to frostbite as they have large wattles and combs. American Game Fowl hens are not great egg layers and tend to go broody on their eggs. They make great brood mothers if you are breeding chickens that tend to get as broody.
As cockfighting is now banned these birds are now more for ornamental and show bird purposes with their beautiful plumage and proud demeanor.
HISTORY
These gorgeous birds were primarily bred for cockfighting. The birds are the prime examples of what chickens may have been like before they were domesticated. Natural survivalists that are territorial, fierce and a completely self-sufficient bird that has no problem taking care of itself.
They are extremely strong flyers and unbeatable at foraging about. The full-size chicken is not recognized by the American Poultry Association as a pure breed, but the bantam size is.
The American Game Fowl bantam is recognized by the Association in ten different colors in 2009.
The bird has been repurposed as more of a show bird and for ornamental or brooding use these days.
The Bantam was bred in the 1940's by Frank Gray when he cross-bred fighting bantams (pit game bantams) with the wild Red Jungle Fowl. In 1950 the American Game Bantam was listed in the American Bantam Association yearbook.
CHARACTERISTICS

Country of Origin:
America
American Poultry Association:
Not recognized as a breed of chicken in the United States
Chicken Category:
Large Breed
Chicken Class:
United States of American
Bantam Variety Available?
Yes (This version is recognized by the APA)

IDENTIFICATION

⇒

Appearance: They are a proud muscular bird that holds themselves tall. They have large wattles, combs and earlobes. For exhibition and sometimes to avoid frostbite the combs, wattles and earlobes are cut off.

Color(s): The hens and roosters come in ten different color variations Red Pyle, Silver duckwing, white, golden duckwing, black-breasted red, blue, blue red, brown red, birchen and black. The males have long sickle feathers and are one of the most beautiful chickens.

Comb: They have a single comb, some have pea

Ave. Weight: Hens/Pullet 2.5 lbs.
Cockerel 3.5 lbs.

Life Expectancy:
The average lifespan is 8 – 15 years but could live longer depending on their environment.
Good Starter Chicken?
Although these chickens would do well in any backyard garden they tend to be a little wild so may not be the best birds for those starting out with a chicken coop flock.

PURPOSE

⇒

Eggs: They are not good layers and only lay during the warmer months.
They lay medium sized white eggs up to 80 per year
They start to lay eggs from around 6 months old. The will brood their eggs and can be fiercely protective of them.

Meat: They have been known to be table birds but are not the best for this.

Breeding: The hens get extremely broody, so they make excellent mothers. These are quite an easy bird to breed with the correct stock.
If you are breeding the American Game Fowl for show choosing the correct hens and rooster bloodline is crucial.
The hens are great mothers and will brood/protect any egg/chicken that they end up mothering. They even brood other hen's eggs really well and are good to keep for the breeds that do not brood their eggs well that a person may want to breed.
For advice on breeding please check our guide to breeding poultry.
If you are a first-time breeder it is best to get professional advice from your local animal shelters, poultry farmers or vet.

Foraging: These chickens are one of the best forages you will find.

Show Bird:American Game Fowl are beautiful proud majestic chickens and will do their owners proud at a show.

Pets: They do not make the best pets as they tend to be quite wild.

Other: Your garden will be completely pest and vermin free with these birds. They like to protect their territory from any animal. Even the hens can be quite aggressive. This is especially true if they have chicks.
They will give your organic garden a lot of nutritious fertilizer to ensure great blooms and tasty vegetables.

Health:
They are very hardy birds with little health issues except being prone to frostbite. Show birds usually get their wattles, earlobes and combs cut off which helps reduce the chance of frostbite
Temperament:
American Game Fowl are very aggressive birds that are territorial. You cannot keep more than one rooster in your flock or if you do you have to keep them apart. They will fight until the death for their territorial rights. Even the hens can be aggressive with other hens especially new additions to your flock.
Flyers?
They are excellent strong flyers, so precaution must be taken, especially if your neighbors have chickens and roosters.
Noisy Birds?
These are very noisy birds.
Interaction with other chickens:
Not really team players, especially the cocks and can be rather disruptive in a flock.
Good with kids?
Although they are quite easy to handle they are not recommended for children.
Socialize Behavior?
These birds have not been known to get along with other animals. It takes a certain skill to socialize these chickens.
Known predators:
Most domestic animals leave them alone as they are extremely aggressive creatures. It is always best to keep an eye on dogs and cats. Especially as the roosters tend to pick fights where they can to prove they rule the roost.
If hawks and or foxes are in your area it is always best to take precautions.
Check with local animal shelters, zoos, vets, animal control and or pet stores about common predators in your area.
Conservation Status:
These birds conservation status is recorded as "study". It is best to check on any special license or instructions that may be set up for owning these birds. This can be checked with your local or national conservation centers.

IDEAL ENVIRONMENT

⇒

Garden Size: Although they will take to confinement they tend to get even noisier if confined. They do best with a lot of space to roam thus they need a medium to larger garden size to free range.

Ideal Climate: They are very weather hardy birds but do need to have their wattles and combs checked in the winter months for frostbite (if they are not cut off).

Ideal Coop:

The rule of thumb for any

coop

is 50 cm x 50 cm per hen/rooster in the coop.

Ensure there is a good space for the nesting boxes and nightly roosting rails at least 1.5 inches wide.

Good ventilation for air but not too drafty especially in winter.

It is always a good idea to raise the

coop

off the ground to give the birds a dry place to roost and lay especially in wet weather.

Ideal Coop Run:

They love to fly and will try to escape the

coop

/run as often as they can, so it is best to completely cover the run with chicken wire.

Ideal Flock Size: If socialized early with other birds they do well in a flock. Only keep one rooster if it is going to be an American Game Fowl.

Special Instructions: If you live in extremely cold climates it may be advisable to have their wattles, earlobes and comb cut so they do not get frostbite. They are otherwise really hardy self-sufficient birds that do not need to be coddled.

Accessories: The following accessories are ideal for your coop:
Nesting boxes
Straw for the boxes and roosting area
Roosting rails
Perches
Water troughs/bowls
Food bowls/feeders
Heating lamp(s)
Animal carrier for transport purposes

You may Also Like:
45 FREE DIY CHICKEN COOP PLANS, TUTORIALS AND DESIGNS
WHERE TO FIND THESE BIRDS TO ADD TO YOUR FLOCK
They are not a very common bird and tend to be found at the more specialized breeders.
They can still be found at most live poultry outlets and farms, but it is best to check with your local conservation centers, reputed poultry dealers for these chickens. If you plan on breeding your chickens, you will want to make sure that they are from a good bloodline.
CARING FOR THE BIRD(S)
Please click here for our full guide to "Taking care of chickens". This is a comprehensive guide to owning chickens. It covers where to start from choosing your ideal flock, the coop that would best suit your garden, your bird and you to buying and bringing your bird(s) home.
GENERAL
One of the hardiest, tough and most self-sufficient chicken breeds. It is also one of the most aggressive it is advisable to ensure these birds are well socialized with any other chickens you may have to avoid a bloodbath.
GROOMING
It is advisable to have their wings clipped especially in a suburban neighborhood. If you live in extremely cold climates you may want to look into having their wattles, earlobes and comb cut to cut down the risk of the bird getting frostbite. As with any domestic pet, it is always advisable to get them de-wormed regularly and constantly checked for pests like mites, lice and various other parasites.
DIET AND NUTRITION
American Game Fowl may be self-reliant and a bit independent, but they are still rather partial to indulging in table scraps and will eat most vegetable or fruit leftovers. Being excellent foragers, they will clean your garden of pests and weeds leaving it freshly organically fertilized along the way.
As with other chickens, they will eat chicken pellets, grains, chicken mash or grain mix from 8 weeks old and older.
For baby chickens, the best is always Chick Starter when they are under 8 weeks old.
Laying hens should get extra protein and calcium in their diets to ensure the quality of their eggs and to keep them in tip-top health.
Please see our comprehensive guide to "Feeding your chickens" for more information of the different types of chicken feed for chicks, hens, laying hens, roosters, etc. and where to buy the feed and approximate cost of the feed.
SOCIALIZING THE BIRD(S)
American Game Fowls do not really play nicely with other birds and tend to fight for the top rung in the pecking order. If you are going to either add them to your flock or add other chickens to a flock, they are already established in it is advisable to get some help from registered breeders that will best advise on how to go about socializing them.
Always check on how well a breed will get on with your current flock before buying them as you do not want to upset your coop or stress your current flock.
See our guide "Socializing your Chickens" for a more comprehensive look at what chickens socialize better with other breeds.
As with any newcomer to the roost, you will have to quarantine the bird for 7 – 31 days to ensure it does not have any unwanted critters or disease that could spread to your current flock.
Even though they are friendly sociable birds, even they have a pecking order, so it is advisable to socialize them slowly and determine when it is right to allow them to become a permanent part of the flock.
 
NOTES / SPECIAL INSTRUCTIONS
As American Game Fowls are registered as "study" conservation status they may need an extra license to own or keep in your garden. For advice on what the bird's conservation status and orders are please check with your local conservation department.
For breeders, it is imperative that you always check your bird's bloodlines and ensure you are buying your birds from a reputed breeder/farm. In order to sell birds of such stature, they have to be recorded and documented, always check with local animal breeding organizations for these records.
These legitimate documents are also required should you wish to show your bird(s) in various poultry shows/competition showings.
For information and advice on adopting rescued animals, you can visit or contact your local animal welfare center.
Video
USEFUL LINKS
References
https://en.wikipedia.org
https://livestockconservancy.org
https://www.roysfarm.com
https://www.mypetchicken.com
https://www.backyardchickens.com
https://www.feathersite.com/