The UK may seem like a small country but when it comes to sheep the country can boast it has the most breeds (including cross-breeds) of any other country. The country has over 30-million sheep spread across it making up a third of the sheep population in Europe. Through the ages, Britain has become one of the top breeding countries with their superior breeding systems and have some of the oldest sheep breed bloodlines to build on. We have listed twenty of the top British Breeds in this Article.
Top 20 Best Native British Sheep Breeds
Bluefaced Leicester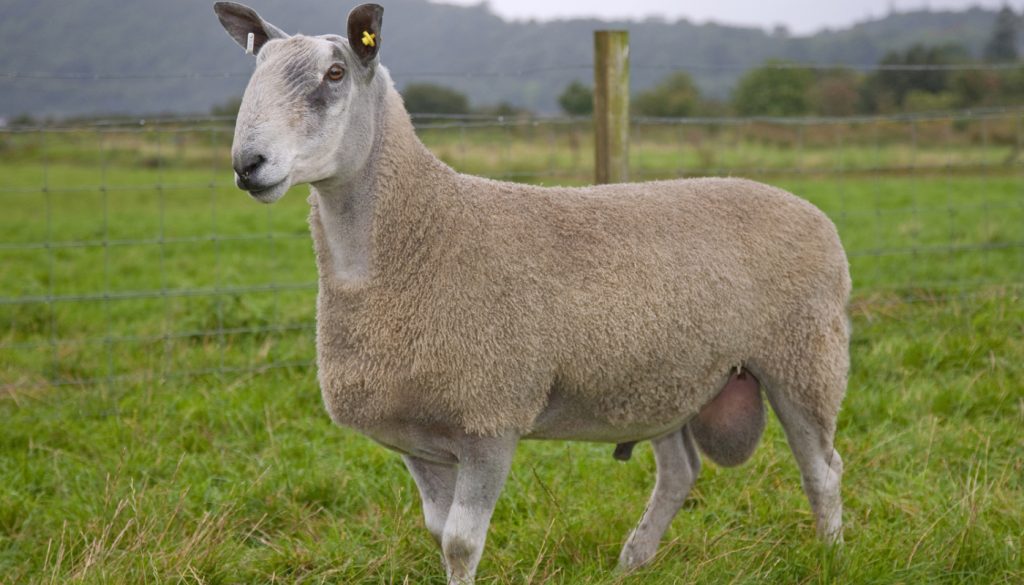 These sheep are known for the extremely soft lustrous wool and were developed in the 18th century in Dishley, Leicestershire by Robert Bakewell. They are a large breed and fall into the category of a longwool sheep. Their wool is mostly tight small curls but is much the same as the Wensleydales in texture, pattern, and shape. Their faces are free of hair and their skin is dark blue and is where they get their name from. They are known for the moist, tender and flavorful meat. The males can get to around 90 cm at withers and weigh up to 110 kg when fully grown. Whilst the females average at around 89 kg's and 85 cm at withers in height when mature.
British Milk Sheep

These large robust sheep are one of the most prolific sheep in Britain and are most superior in their breeding, milking and excellent quality carcass. Their meat is known to be one of the most tender with a higher killing-out percentage than that of sheep breeds such as the Mutton Merino Rams, Suffolk, and even the Ile de France breeds. They produce good wool with a spinning count of 50 and a staple length of 12 to 18 cm. The males give an average of 6 kg of wool per season and the females up to 4 kgs. The Ewe's have been known to produce around 250 to 400 liters in a 210-day lactation period.

These sheep are a medium sized breed and are bred for the milk, meat, and wool. They have a pretty brown face that is not covered in wool, which is tightly curled, soft and springy to the touch. Their wool is medium length and ideal for hand spinning as it is free of unwanted black fibers and kemp. They have become very popular for both commercial and hobby farming use as they are tough, hardy, alert and are prolific breeders. Their meat is tender, lean and full flavored with a good killing-out percentage. They have one of the highest percentages of butterfat in their milk making it desirable for cheeses and as such, they are often crossed with dairy sheep to influence the quality of the milk. Read more…

The Cotswold is a relatively rare breed of sheep these days and as such has been listed with the Rare Breed Survival Trust. It is a long-wool breed that was mainly raised as a dual-purpose sheep. They are an old breed of sheep that have a golden hue to their fleece which gave them the nickname of the "Golden Fleece Breed". They were largely found in the areas of Camden and Drayton in England around the 16th to 17th centuries. They are prone to a disease called pulpy kidney disease which is aggravated by the feeding of too much grain in their diet. But they are extremely hardy otherwise and thrive in areas that most other long-wool sheep would not. As the meat has the most tender tasty mild-flavor it is one of the most sought after. The ewes also produce an abundance of milk and they tend to produce a lot of twins. Their wool has a staple length of 8 to 12 inches and is soft but very strong and has been known as "poor man's mohair". Read more…
Dalesbred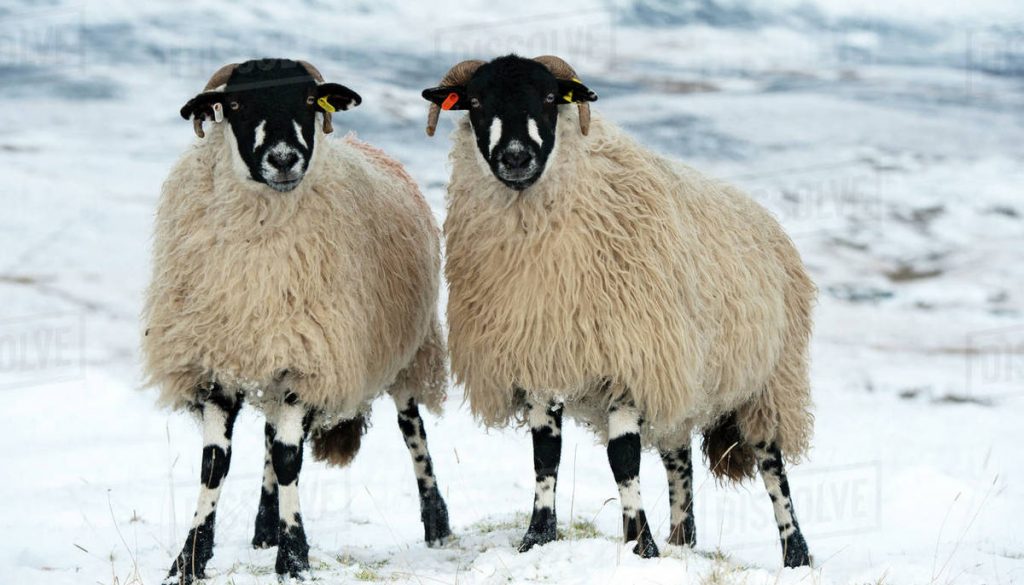 This domestic sheep breed was developed from the cross breeding of the Scottish Blackface breeds to the Swaledale breed. The sheep bare similar characteristics to both parent breeds and very distinctive horns along with their white carpet quality fleece. They are easy to spot with their distinctive white mark on either side of the clean black faces. Their legs are also clean of any wool and have a black and white mottled appearance. They are used for their wool and tender succulent meat. They are a very hardy breed that can survive very harsh climates such as those of upland terrain. Their wool is used a lot in the carpet making industry and they can produce between 1.5 to 3 kgs of wool per lamb in a single season.

The Dorset Down sheep was developed in the early 19th century from the cross-breeding of Southdown rams to local Hampshire, Wiltshire and Berkshire ewes. It is not to be confused with the Dorset (Dorset Horn) sheep. Once this breed was a very popular terminal sire but today it is listed as a threatened breed by the Rare Breeds Survival Trust. They are known for producing fast-growing grass-fed lambs that can reach up to 18 kg's in their twelfth week. Their meat is of good quality and full-grown sheep can produce between 2 to 3 kgs of wool per season. Their wool has a staple length of 5 to 8 cm with a 56 s to 58 s quality. Read more…
Exmoor Horn

This breed is named after the town in which it was developed in the 19th century, Exmoor, Devon. They are believed to be the descendants of an ancient breed of sheep that had roamed the moors for centuries. They are a medium to large breed of sheep that were primarily raised for their good quality meat. Their meat has an excellent flavor and texture being renown as the finest mutton by the London restaurant trade. Its wool is also quite sought after for spinning and hand knitting with Bradford count of 54s to 48s and 28 to 32 microns. They are also a very hardy breed of sheep that are quite capable of taking care of themselves.

These extremely hardy sheep are mainly found in the Lake District and as they are rather territorial tend not to stray away from their home. They have also been known to survive for days under a blanket of snow as their thick bristle type fibers form a protective coat layer. This breed dates back to around the 12th century and their name comes from the Norse word "herdvyck". It means "sheep pasture" and their ancestors are thought to have been introduced to England by the early Norse settlers. They are also a breed that was made known because they were a pet project of the much-loved Beatrix Potter who chaired as president of the breeds association where she herself won many an award for her prized Herdwick sheep. They are kept mainly for the strongly flavored meat and coarse grey wool. Read more…
Jacob Sheep

The Jacob sheep breed is rather a unique breed in that it is piebald (pattern of pigmented spots on white hair) and is usually multi-horned (polycerate). This small unusual breed of sheep was at first bred as an ornamental sheep that would be found grazing on the widespread lawns of rich mansions throughout the mid-eighteenth century. Today their numbers are not that many, but they are mainly bred for the meat and sheepskins. The breeds flock book was established in 1972 and the Jacob Sheep Society was started by Mary Cavendish who was the Dowager Duchess of Devonshire in 1969. They have a medium to coarse wool fleece with a fiber diameter of 32 to 24 microns, a Bradford count of 48s to 56s and a staple length of 8 to 15cms. They are shawn once a year and can produce up to 2 to 2.5 kgs of wool per season. The Black wool on the Jacob sheep has a tendency to grow a bit longer than the white wool and is called quilted fleece.
Leicester Longwool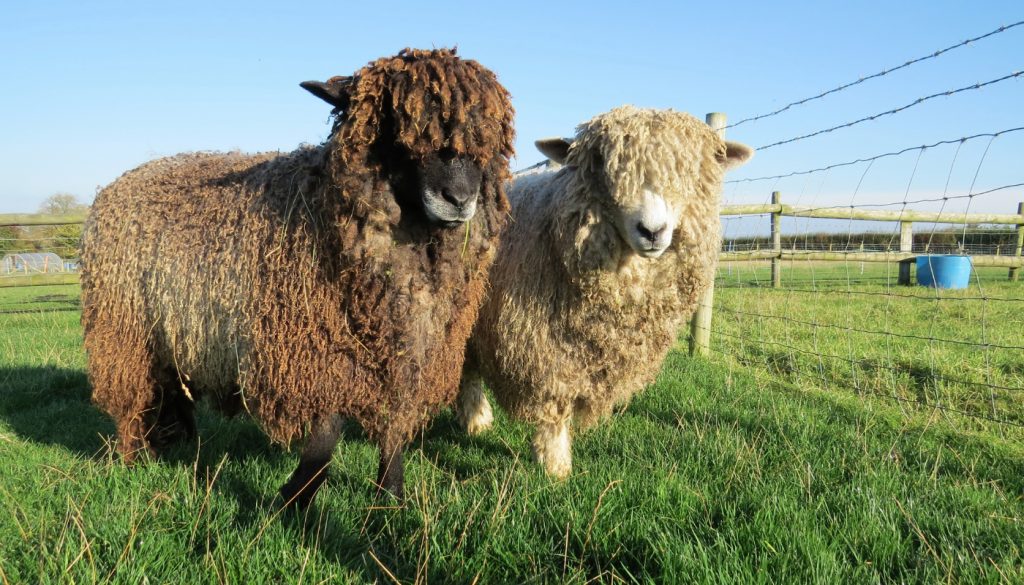 The Leicester Longwool is considered to be one of Britain's rarest sheep breeds and is categorized by the Rare Breeds Survival Trust as "endangered". As there are not many registered female sheep of breeding age left in the UK and the figures show this number to be less than 500. They were developed by a well-known sheep breeder in the 18th century, Robert Bakewell who started the breeding program in the 1700s. They have coarse bones and meaty carcasses as such they have been used to improve quite a few other sheep breeds throughout their history. They do not have horns and their fleece is dense, white, with a well-defined crimp from root to tip which is lustrous and springy. Their fleece usually has a micron count of 32 to 38.

The Lincoln sheep breed is the largest of sheep breeds from the UK and boasts the longest, most lustrous and heaviest of wool coats. These sheep have been exported to many countries as a sire breed used to improve the wool quality of other sheep breeds. Their wool has a staple length of 8 to 18 inches with a count of 36s to 46s / 41 to 33.5 microns. It has the longest and coarsest wool of any other breed and their fleece can weigh from between 5.4 to 9.1 kgs. Although their fleece is coarse it is lustrous and shiny hanging in long right ringlets that cover its entire body including obscuring their eyes. They are registered with the Rare Breed Survival Trust as there are only 1500 registered breeding females left in the UK. Read more…

These sheep have incredible horns and are known as Blackface Norfolk Horned, Old Norfolk or Old Norfolk Horned sheep. They are lightly built with a clean face and legs; their fleece is quite springy and they are mainly raised for their meat. They are not the friendliest of sheep breeds and are known to be quite a flighty bunch. Their ability to gracefully scale fences and escape is likened to that of a goat. They have had quite a history of almost going extinct before they were revived by the Rare Breeds Survival Trust when there was only one flock left in 1919. They are still registered on the RBST watchlist as at risk, but their numbers have improved over the years. They are a really beautiful breed with the incredible horns, black faces, and long black legs. Read more…
Oxford Down

This pretty smaller breed of sheep was developed in the 1830s and is bred mainly for its flavorful succulent meat. They are well known for producing large meaty carcasses with an excellent dressing out percentage. They have the heaviest fleece of all the Down breeds producing around 3.6 to 5.4 kgs of wool per season. Their wool has a staple length of 7 to 12 cm, a fiber diameter of 30 to 34 microns and Bradford count of 46 to 50. They are usually polled with black ears, a black face and short black legs that are half covered with their springy wool. They are the result of a cross between South Down breeds, Hampshire and Cotswold breeds of sheep.
Portland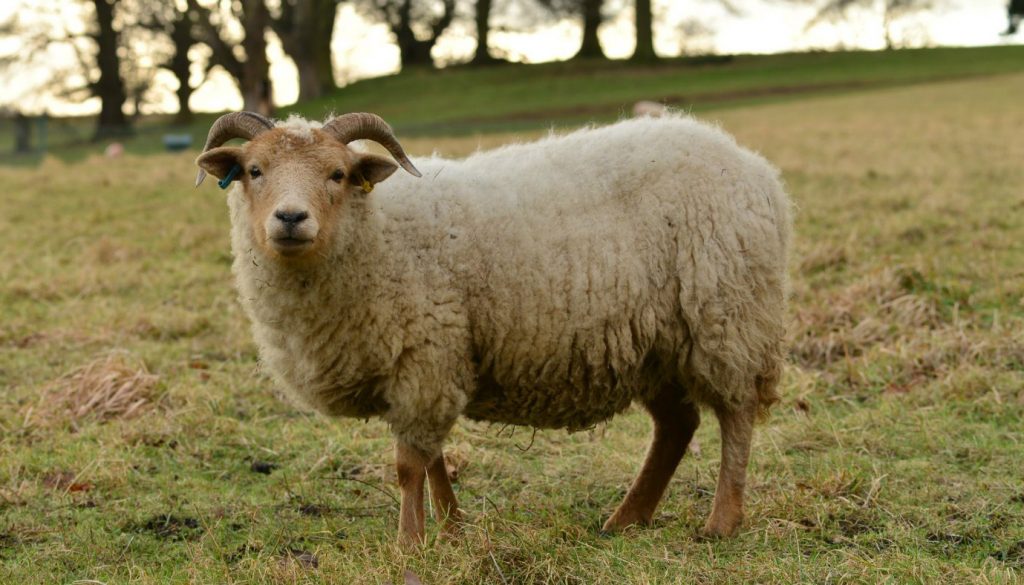 This beautiful little sheep that have the rams displaying elaborate horns nearly became extinct in the 1970s and is still at risk. It is one of the oldest tan-faced breeds that come from the heathlands and are one of the parental figures of the Dorset sheep breed. This breed of sheep was once in abundance and found all over Dorset is a small cream-colored breed. When the lambs are born their coats are a fox-red color and change to a creamy white upon reaching their third month of age. Their meat has a unique flavor which has made it prized meat which was highly sought after since the reign of George III. Their soft down quality fleece is used for hand knitting and hosiery with a Bradford count of 50s to 60s. The wool has a staple length of 6 to 9 cm and they produce 2 to 3 kgs per sheep per season.

The Romney sheep became recognized as a breed in 1800 but is thought to have evolved from medieval longwool sheep breeds. The breeds fleece quality and meat have been much improved upon since 1800 with the first ever export of them being shipped to New Zealand in 1856. They play an important role in the sheepmeat and wool industry. They have a clean face and their thick longwool grows over the rest of their body including covering their legs. They are polled and a mature ram can produce 10 kgs or more wool per season. Their wool is long and has a fiber diameter of 35.4 microns/Bradford count of 44s to 50s. Read more…

This small dual-purpose breed was developed by John Ellman who lived in Glynde, East Sussex in the early 1800s. They have exported to a few countries throughout the world but are registered by the Rare Breed Survival Trust as a native breed that is popular with the smaller farmers. This is because it is a small, easy to maintain and manage breed that gives a good wool and meat yield. Their fleece weights between 2.5 to 3.6 kgs with a fiber diameter of 23.5 to 29 microns. It usually has a staple length of 4 to 6 cm and a Bradford count of 54 to 60. Read more…

The Suffolk sheep breed a well known for the succulent full-flavored tender meat. They are quite fast to mature, polled and have clean black faces and legs with a white woolen stocky body. They have been in England since the 1800s and have a good meaty carcass with a pleasant dressing out yield. They have a medium length fleece that is a staple length of 51 to 89 mm, it is soft and springy to the touch with a spinning count of 48 to 58 and fiber diameter of 25.5 to 33 microns. Their blocky muscular physique ensures their meat is tender and lean. Read more…

Since World War II the Teeswater breed has been recovering after being declared a rare breed by the RBST in the 1920s. They have been bred in Teesdale, England for over two hundred years primarily for their meat and long lustrous locks. Which are long, with a high luster and each lock hang freely making it not prone to felting. Their wool contains no dark fibers, is kemp free and is of uniform texture across the entire body of the sheep. They have a thicker, meatier and more finely grained carcass than the Lincolnshire sheep of which they are said to resemble. Their body has wool covering them from hanging over their eyes to being draped down their legs. Read more…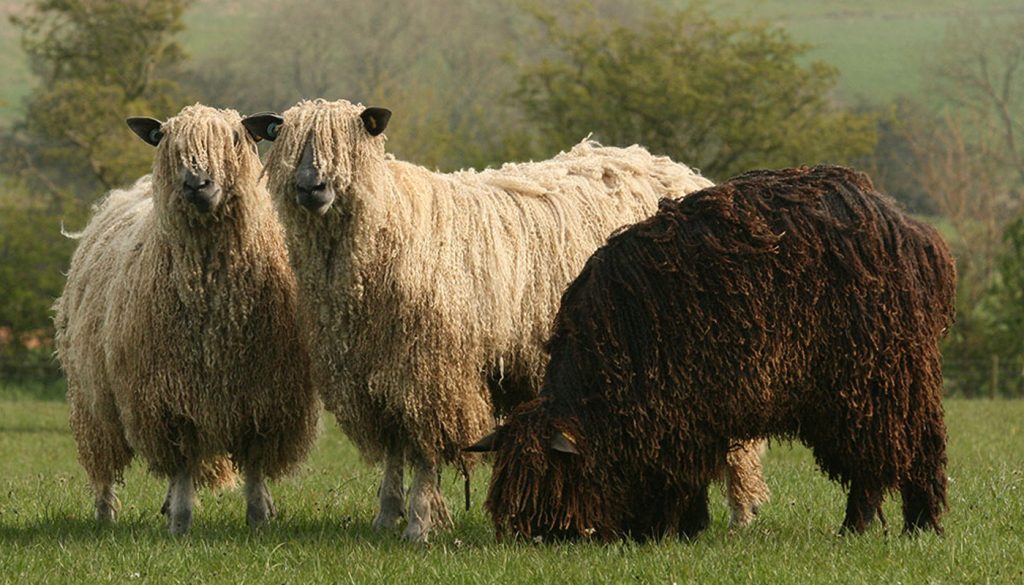 The Wensleydale sheep breed was developed in England in the 19th century from the cross-breeding of Teeswater sheep to that of the English Leicester breed. The breed has a clean blue-grey face and long ringlet lock of wool that hangs thickly over its body. They are one of the larger sheep breeds from the UK and are considered to be quite rare by the Rare Breeds Survival Trust with fewer than 1500 registered breeding ewes in the UK. It is documented to have the finest long luster wool of all the sheep breeds in the world. The wool is completely kemp free and purls out at its ringleted tips. The lambs can reach up to 160 lbs. at 21 weeks with an excellent dressing out percentage. Their wool has a staple length of 8 to 12 inches, weighing anywhere from 13 to 20 pounds and 33 to 35-micron fiber diameter. Read more…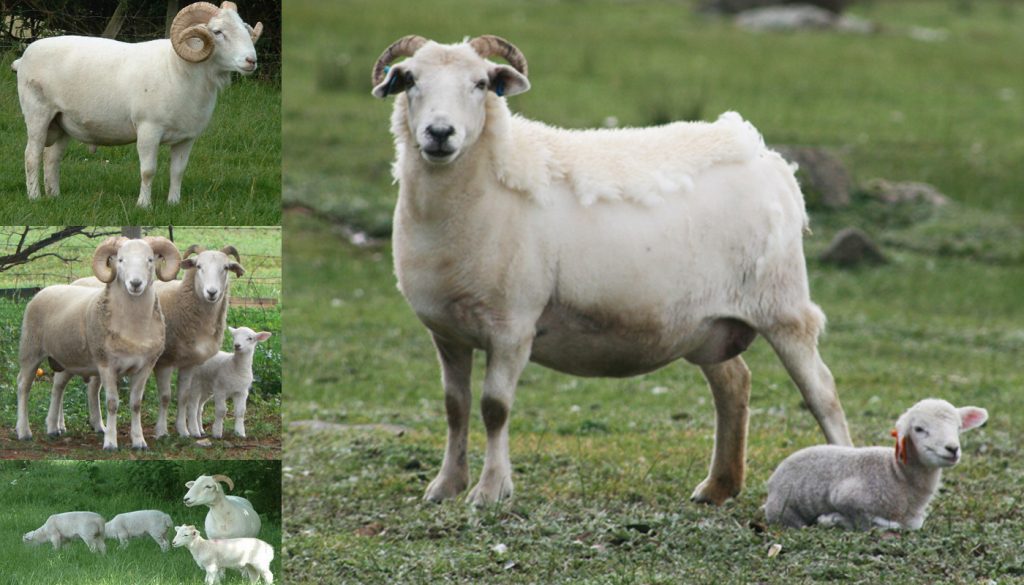 The Wiltshire horn is a breed of sheep that is found in Wiltshire, Southern England and is unique in that it sheds (molts) its hair and wool once a year. It is a short haired breed that is popular amongst the smaller farms due to the fact that it does not need to be shawn once a year. They have a high fertility rate, do not suffer from most common diseases sheep do and the lambs are fast growing reaching a suitable slaughter weight within 16 weeks. Until the 20th century they were very popular but nearly died out in the 1900s but was saved in 1923 when the Wiltshire Horn Sheep Breed Society was formed and by 2009 the breed had its own Flock book. They are a hair breed that is used mainly for their meat and fiber. Read more…