Whether you are a novice or a pro choosing chickens for your coop can sometimes be a challenge. Even for the pro it is the sheer number of chicken breeds there are to choose from that can be quite daunting.
Each breed has their own unique quality, different needs and requirements. To make it a bit easier we have put together a list of the top 10 backyard chicken favorites among chicken keepers.
Why we Love these Top 10 Backyard Chickens
ISA Brown
Not really a chicken for novice breeders as they are a hybrid bird that will not breed true, but these lovely birds have so much more to offer.


ISA Brown chickens are calm, gentle, lovable birds that are really inquisitive and love to find out what you are up to in the garden. They love attention and are not easily spooked so they are also a really good chicken if you have children. These lovely birds will lay a lot of large brown eggs for your table. They are also usually readily available as a rescue bird as they are a popular commercial egg layer.Read More
Naked Neck

Don't let this chicken's appearance put you off or confuse you.
Despite popular myth they are one hundred percent chicken and have absolutely no turkey in them.
The Naked Neck has a gene that makes it have a lot less feathers than other chickens. But there is absolutely nothing wrong with them and they are the most wonderful birds.
They make great pets, lay a decent amount of light brown eggs and make great table birds.
Read More
Barnevelder
These beautiful docile birds love to wonder around the garden with you. They make great pets, lay a good amount of medium to large dark brown eggs and make a very tasty table bird.
If you are looking for a bird to add to your flock the Barnevelderis a bird that has been known to get along with almost any breed. Even though they are docile it does not mean they will let other chickens push them around. Other breeds tend to have a remarkable amount of respect for these friendly active birds.
Read More
Easter Egger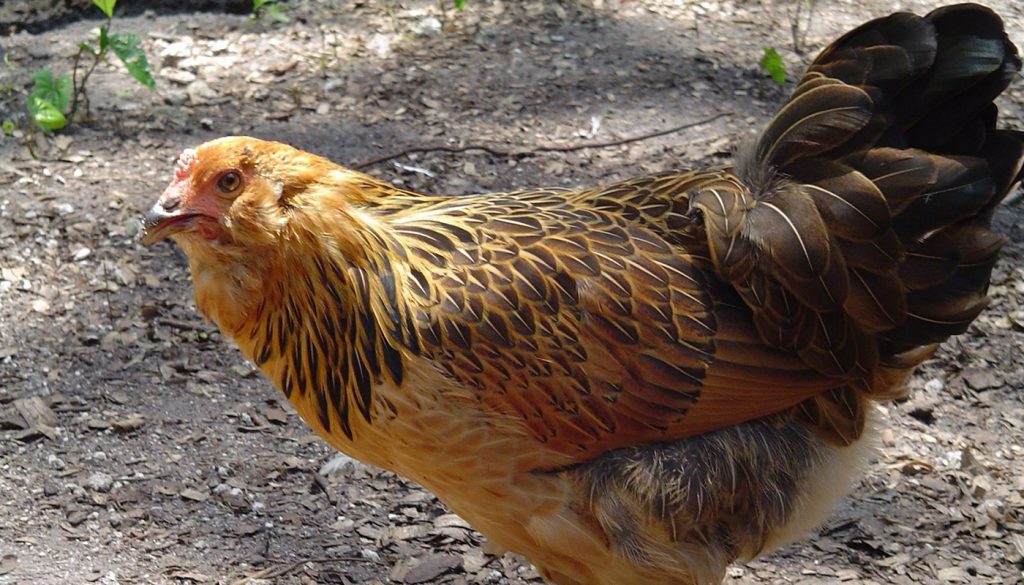 Like the ISA Browns the Easter Egger is not classed as a breed as it is a hybrid. Used mainly as a commercial egg layer and is also used as a table bird said to taste a bit like quail.
They are really excellent layers of colorful eggs, hence the name Easter Egger. You can expect brown, blue, green and even at times pink eggs.
If you are looking for a loyal pet that will coming running to greet you and has been known to be quite comical look no further.
As a commercial breed they are also readily available as rescue birds.
Read More
New Hampshire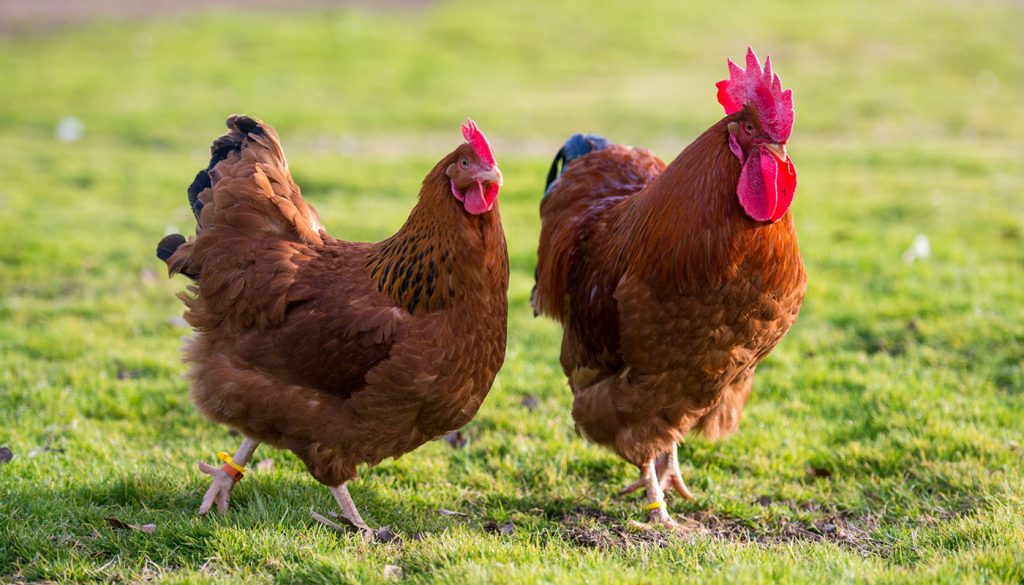 The New Hampshire or New Hampshire Red as they are sometimes known are very gentle and well mannered. They are not only beautiful to look at they also have a very sweet nature, are inquisitive and will lay a lot of large brown eggs for you. They were developed as a dual-purpose chicken, so their meat is good quality.
A low maintenance chicken that loves to forage and as such tend to take a lot less feed than most other chicken breeds.
Read More
Rhode Island Red

Rhode Island Reds are like the celebrity of chicken as they are one of the best-known chickens throughout the world. Their beauty and grace are always a joy to see at any poultry show.
They are loved for their beautiful glossy red plumage, good amounts of large light brown eggs and calm friendly nature which also makes them excellent pets.
These birds were initially bred as a dual-purpose bird that are said to make an excellent table bird too.
Read More
Australorp

Australorp chickens are quite intelligent, gentle and calm birds. They tend to get along with most other breeds but as they are non-confrontational they can be bullied by more aggressive breeds. But these sweet birds will follow you around keeping you company in the garden. They will also give you lots of fresh medium sized light brown eggs for you table. If you are looking for a good table bird the Australorp has sweet tasty white meat.
Read More
Sussex

The Sussex which originates from England is also one of the oldest of the English breeds. It has been known to have the most tender, tasty meat of the high quality. The Sussex is also quite a prolific layer of nice large light brown eggs. These calm, friendly birds are very easy to handle and are a great bird for supervised children.
Read More
Plymouth Rock

These beautiful birds are the basis for many other popular and modern breeds. They are great mothers and are great foster moms too.
Plymouth Rock are a great all-round bird that will give you many fresh large brown eggs, make a great pet and have a good quality meat as a table bird.
Read More
Wyandotte

Not only do they have a really great name to try and pronounce but the Wyandotte is a very friendly bird that loves to mingle with their humans. They are also a very hardy bird that lay a very good amount of large brown eggs and have a very meaty carcass making it a great table bird.
These birds carry themselves with a grace and bearing making them seem like super models.
And as one would expect they make excellent show birds!
Any of the above birds would either make a great starter chicken or addition to an already established flock. Their wonderful natures make them great family friendly pets that will lay lots of fresh organic eggs for you.
Read More