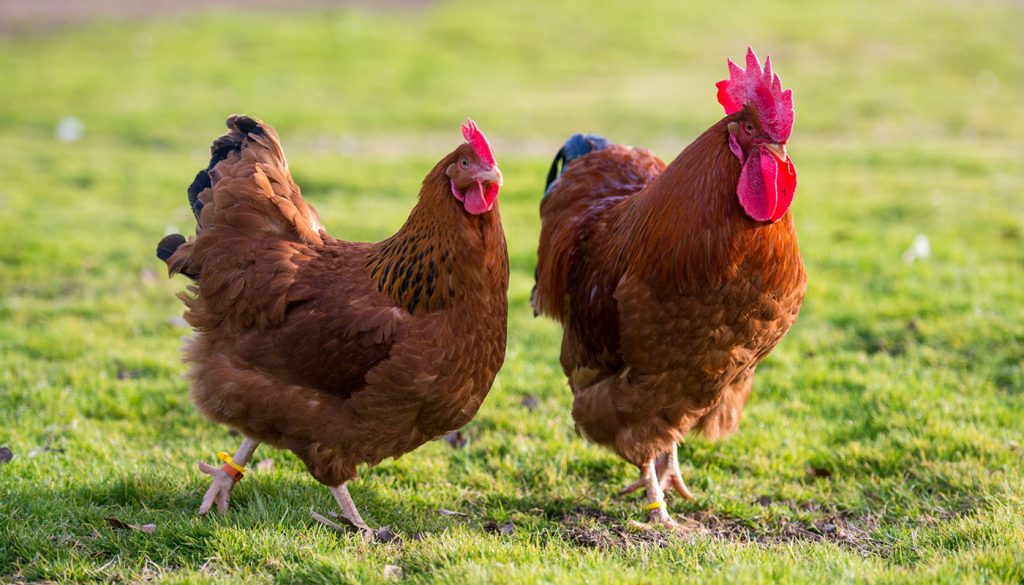 The New Hampshire chickens are a relatively new breed were developed to be a dual-purpose bird.
These lovely chickens are a delightful addition to any backyard flock and will give you loads of fresh nutritious eggs for your table.
They are a very gently well-mannered breed that makes really good starter chickens as they are also a low maintenance chicken. They are excellent foragers that are more than happy to eat their fair share of the fresh foraged bounty they have pecked up during the day whilst enjoying free ranging around the garden.
They also make excellent brood hens and mothers that have no objection to raising other breeds chicks.
This gentle breed is easy to handle and has no objection to being cuddled or made a fuss of. They are a good breed to have around supervised children and have even been known to participate in some fun games.
They are also excellent birds for the colder climates as they will go out to free-range on the chilliest of days as long as they have a warm coop to return to when they have had enough.
CHARACTERISTICS

Country of Origin:
America
American Poultry Association:
Yes – They are recognized as a breed of chicken in the United States
They were admitted to the Standard of Perfection by the American Poultry Association in 1935
Chicken Category:
Large Breed
Chicken Class:
American
Bantam Variety Available?
Yes – Single Comb Clean Legged Bantam Classification

IDENTIFICATION

⇒

Appearance: These rich red colored birds have a lovely heavy soft feathering that grows quickly. They are a medium to large sized chicken with yellow legs that usually have a pinkish glow and 4 toes.
Their comb, wattles and earlobes are bright red, and they have pretty dark eyes. Their beaks are yellow.

Color(s): Red

Comb:They have a single comb

Ave. Weight: Pullet: 5.5 lbs.
Hens: 6.5 lbs.
Cockerel: 7.5 lbs.
Rooster: 8.5 lbs.

Life Expectancy:
The average lifespan is 7 – 12 years
Good Starter Chicken?
Yes, they are a very good starter chicken with a gentle nature and are a low maintenance robust breed.

PURPOSE

⇒

Eggs: They are very good egg layers.
They lay large brown eggs
They lay 200 – 280 eggs per year
They will lay throughout the year being more prolific during the colder months
They start to lay eggs from around 20 – 22 weeks old.

Meat: They have yellow skin
Their make for excellent table birds with good quality meat

Breeding: They are not too difficult to breed
The hens get broody frequently
They make good brood hens
They will sit on their eggs
They will raise their chicks and make very good mothers
They have been known to foster other chickens/breeds chicks

Show Bird: They are a very beautiful and calm show bird

Pets: They make friendly loyal pets

Other: A true gem for any flock adding a splash of color, serenity and a basket load of eggs for the table.

Health:
They are quite a hardy breed and have not been known to have many health issues
You may Also Like:
HOW TO TELL IS A CHICKEN IS SICK
Temperament:
Calm, friendly, docile and easy to handle with their sweet nature
Flyers?
They can fly
Noisy Birds?
They are quiet birds
Interaction with other chickens:
They get on well with most breeds as they will not cause trouble but do not stand for other breeds making trouble with them.
Good with kids?
They are a good chicken around supervised children.
Socialize Behavior?
They will mingle with other domestic animals that do not pose a threat to them
You may Also Like:
HOW TO SOCIALIZING YOUR NEW CHICKENS
Known predators:
Always keep an eye on domestic pets such as dogs and cats.
If hawks and or foxes are in your area it is always best to take precautions.
Check with local animal shelters, zoos, vets, animal control and or pet stores about common predators in your area.
Conservation Status:
These birds conservation status is recorded as "watch"

IDEAL ENVIRONMENT

⇒

Garden Size: They take to confinement well. But as with any other chicken, they do like to roam and forage.

Ideal Climate: They are climate hardy but endure the cold better than they do the heat. Special precautions should be taken in the summer for them. The will need a lot of cool water and shady places to rest in.

Ideal Coop: The rule of thumb for any coop is 50 cm x 50 cm per hen/rooster in the coop.
Ensure there is a good space for the nesting boxes and nightly roosting rails at least 1.5 inches wide.
Good ventilation for air but not too drafty especially in winter.
It is always a good idea to raise the coop off the ground to give the birds a dry place to roost and lay especially in wet weather.

Ideal Coop Run: They can fly and will fly. It is best in order to keep your chickens in their coop and for their safety to completely cover the coop run.

Ideal Flock Size: They are as happy with one friend as they are with ten, so they are happy in any size flock.

Special Instructions: These lovely chickens are a bit hungrier than most and they do tend to overeat so much be watched.

Accessories: The following accessories are ideal for your coop:
Nesting boxes
Straw for the boxes and roosting area
Roosting rails
Perches
Water troughs/bowls
Food bowls/feeders
Heating lamp(s)
Animal carrier for transport purposes

You may Also Like:
45 FREE DIY CHICKEN COOP PLANS, TUTORIALS AND DESIGNS
WHERE TO BUY THEM

Live Poultry Outlets:
New Hampshire chickens can be found at most live poultry outlets and or farms.
Internet Poultry Websites:
There are numerous internet sites that sell the New Hampshire chicken. Three well-known sites are Cackle Hatchery, Purely Poultry and Omelet US. If you do a search on the internet you are bound to find a few. Before buying your birds from any internet or live poultry outlet it is always best to check on the quality and breed authentication of the birds./td>

Organizations:
If you are looking to breed them and or show them the American Poultry Association should have some very valuable information as well as a list of registered breeders and or clubs for New Hampshire chicken enthusiasts. You can also try the
American Livestock Conservancy as they are currently listed as "watch" by the Conservancy and as such usually keep up to date information on the registered breeders.
Breeders Clubs:
If you are looking for The New Hampshire Breeders Club of America Feather Site has a list of breeders/clubs in America and Europe.
HISTORY
New Hampshire chickens were bred from a very selective bloodline of Rhode Island Reds and some other breeds known for their fast feathering, rapid growth rate and that matured at an early age.
They were primarily designed to be an excellent table bird.
They were developed in the early 1900's by Poultry farmers in New Hampshire in the United States of America.
Developing their fast maturing, rapid feather growth and hardiness from generations of selective breeding.
The New Hampshire turned out to not only be an excellent meat bird but laid a good number of large brown eggs as well.
Initially used in the Chicken of Tomorrow Contest they were the foundation for today's modern boiler breeds. They were also used to develop breeds such as the Delaware chicken.
The breed was exported to Europe after World War II and used by commercial farmers for quite a number of years until it was replaced by the new hybrid breeds that are used in today commercial poultry farming.
Their numbers started to decline rapidly to near extinction but were saved by devoted chicken breeders intent on maintaining poultry heritage breeds.
More breeders are needed to keep the number for these beautiful chickens up and increase awareness of their worth.
NOTES / SPECIAL INSTRUCTIONS
As they are registered as a "watch" conservation status they may need an extra license to own or keep in your garden. For advice on what the bird's conservation status and orders are please check with your local conservation department.
For breeders, it is imperative that you always check your bird's bloodlines and ensure you are buying your birds from a reputed breeder/farm. In order to sell birds of such stature, they have to be recorded and documented, always check with local animal breeding organizations for these records.
These legitimate documents are also required should you wish to show your bird(s) in various poultry shows/competition showings.
For information and advice on adopting rescued animals, you can visit or contact your local animal welfare center.
Video
USEFUL LINKS
References
https://en.wikipedia.org
https://livestockconservancy.org
https://www.roysfarm.com
https://www.mypetchicken.com
https://www.backyardchickens.com
https://www.feathersite.com/