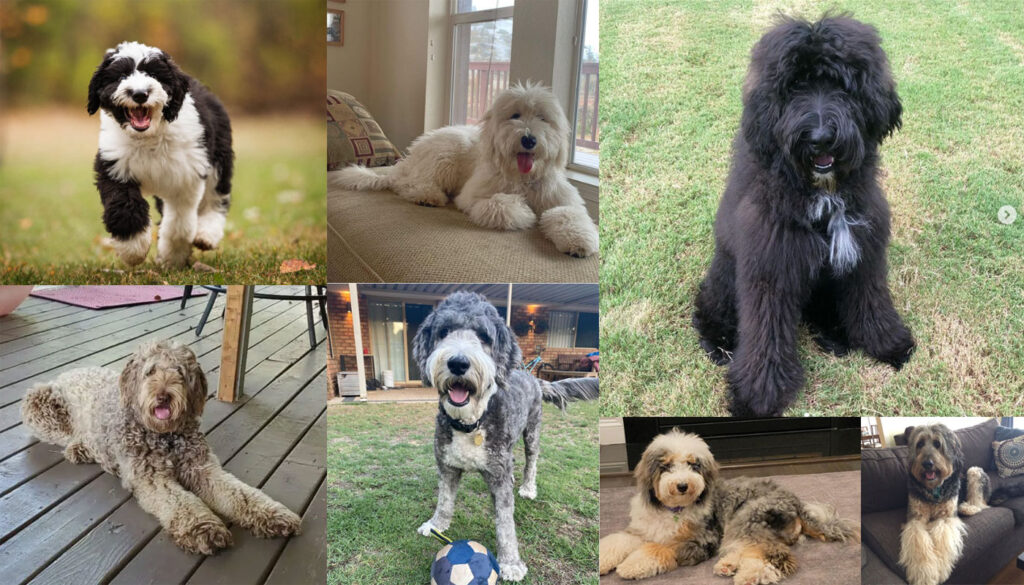 In the world of mixed-breed dogs, the Shepadoodle, a delightful blend of the German Shepherd and Poodle, stands out as a whimsical and charming canine companion. Combining the intelligence of the German Shepherd with the playful nature of the Poodle, the Shepadoodle brings a unique blend of traits that make them a truly exceptional and engaging family pet.
A Smart and Quick Learner:
The Shepadoodle, a delightful mix of the German Shepherd and Poodle breeds, boasts an impressive intellect that sets them apart as a smart and quick learner among canine companions. This intelligent blend of traits makes training the Shepadoodle an enjoyable and rewarding experience for both the dog and their human family.
Inheriting the Best of Both Breeds: The Shepadoodle's intelligence is a result of combining the remarkable smarts of both the German Shepherd and Poodle breeds. German Shepherds are renowned for their high trainability and working abilities, while Poodles are considered one of the most intelligent dog breeds globally. This unique fusion creates a dog with an exceptional cognitive capacity.
Eager-to-Please Attitude: The Shepadoodle's eagerness to please their human family fuels their desire to learn and perform well during training sessions. They find joy in receiving praise and rewards, which reinforces positive behaviors and makes training all the more successful.
Quick Grasping of Commands: Thanks to their keen intellect, the Shepadoodle is quick to grasp commands and respond to cues. They are excellent at understanding verbal commands and hand signals, making communication between them and their owners seamless.
Problem-Solving Abilities: The Shepadoodle's intelligence goes beyond simple obedience training. They possess impressive problem-solving abilities, which allow them to figure out solutions to challenges or puzzles. This cognitive prowess keeps them engaged and stimulated mentally.
Versatility in Learning Tasks: The Shepadoodle's intelligence makes them versatile learners, excelling in various types of training. Whether it's basic obedience, agility, scent work, or even advanced tricks, they take on each task with enthusiasm and excel in their execution.
Focus and Concentration: Their sharp minds enable the Shepadoodle to maintain focus and concentration during training sessions. They can stay attentive for extended periods, which makes complex training exercises possible.
Continuous Learning: The Shepadoodle's love for learning is not limited to puppyhood or early training. They are lifelong learners, always eager to tackle new challenges and refine their skills.
Mental Stimulation: The Shepadoodle's intelligence necessitates regular mental stimulation to prevent boredom. Engaging them in interactive games, puzzle toys, and training exercises keeps their minds sharp and prevents undesirable behaviors stemming from under-stimulation.
Bonding through Training: Training sessions create a strong bond between the Shepadoodle and their human family. The collaborative learning experience fosters trust, respect, and mutual understanding, solidifying the foundation of their relationship.
An Active and Energetic Playmate:
The Shepadoodle, a delightful fusion of the German Shepherd and Poodle, is not only an intelligent companion but also an active and energetic playmate that brings boundless joy and energy to any household. Their playful nature and enthusiastic demeanor make them the perfect partner for various physical activities and interactive games.
Playful Spirit: The Shepadoodle's playful spirit is infectious. They approach playtime with enthusiasm and excitement, and their lively presence fills the home with a sense of joy and fun.
Endless Energy: Thanks to the combination of the Poodle's high energy levels and the German Shepherd's athleticism, the Shepadoodle seems to have an endless supply of energy. They are always ready to go on adventures and engage in play, making them a fantastic choice for active individuals and families.
Outdoor Adventures: The Shepadoodle loves outdoor adventures and exploration. Whether it's going for a hike in the woods, playing fetch at the park, or simply running around the backyard, they revel in every opportunity to be outside and active.
Fetch and Retrieval Games: Their natural retrieving instincts inherited from both parent breeds make fetch games an absolute favorite for the Shepadoodle. They will eagerly chase after a ball or frisbee and bring it back, ready for another round of play.
Agility and Obstacle Courses: With their agility and intelligence, the Shepadoodle excels in agility training and obstacle courses. They enjoy navigating through tunnels, weaving through poles, and jumping over hurdles, showcasing their athleticism and mental acuity.
Water Fun: Many Shepadoodles adore water and enjoy splashing around in pools, ponds, or at the beach. Swimming provides them with a refreshing and enjoyable way to stay active.
Interactive Puzzle Toys: To keep their minds and bodies engaged, the Shepadoodle thrives on interactive puzzle toys. These toys challenge their problem-solving skills while rewarding them with treats, making playtime both mentally stimulating and rewarding.
Playtime with Other Pets: The Shepadoodle's social nature extends to playtime with other pets in the household. They often get along well with other dogs and enjoy romping and playing with their furry companions.
Running and Jogging Partner: Their high energy levels and stamina make the Shepadoodle an excellent running or jogging partner. They will happily accompany their owners on outdoor exercises, making workouts more enjoyable and fulfilling.
Bonding through Play: Playtime with the Shepadoodle creates opportunities for bonding and strengthening the relationship between the dog and their human family. Sharing in the joy of play deepens the connection and creates lasting memories.
A Versatile Family Dog:
The Shepadoodle, a delightful mix of the German Shepherd and Poodle breeds, is a versatile family dog that effortlessly adapts to various family dynamics and lifestyles. Their intelligent, affectionate, and sociable nature makes them an exceptional addition to any household, bringing joy, love, and companionship to everyone they encounter.
Kid-Friendly Companion: The Shepadoodle's gentle and playful temperament makes them excellent companions for children. They are patient and tolerant, making them well-suited for families with young kids. Their affectionate nature ensures that they form strong bonds with children, becoming cherished playmates and trusted protectors.
Loving and Devoted: The Shepadoodle's loyalty and devotion to their human family knows no bounds. They thrive on the love and attention they receive from their family members, and in return, they shower their loved ones with unwavering affection and companionship.
Companion for Seniors: For seniors or individuals looking for a devoted companion, the Shepadoodle fits the bill perfectly. Their gentle and caring demeanor provides comfort and emotional support, while their playfulness brings joy and a sense of purpose to their owners' lives.
Single-Person Household: The Shepadoodle's adaptability makes them an excellent choice for single-person households. They form strong bonds with their owners, offering unwavering loyalty and companionship, making them an ideal companion for those seeking a loving and devoted furry friend.
Therapy and Emotional Support: With their empathetic nature and gentle disposition, some Shepadoodles make exceptional therapy dogs or emotional support animals. Their presence can provide comfort and emotional solace to those in need, making them invaluable partners in various therapeutic settings.
Canine Social Butterfly: The Shepadoodle is typically sociable with other dogs, making them a great choice for multi-pet households. Their friendly and outgoing nature enables them to get along well with other canine companions, fostering harmonious relationships within the family pack.
Active Lifestyle Companion: For families or individuals with an active lifestyle, the Shepadoodle proves to be an ideal companion. Their energy and enthusiasm for outdoor activities, exercise, and play make them fantastic partners for those who enjoy staying active.
Ease of Training: Their intelligence and eagerness to please make the Shepadoodle easy to train. They respond well to positive reinforcement methods and excel in obedience training, making them an obedient and well-mannered member of the family.
Adaptable Living Spaces: The Shepadoodle's size and adaptability allow them to thrive in various living spaces, from houses with yards to apartments. As long as they receive sufficient exercise and mental stimulation, they can adapt to different environments with ease.
A Whimsical Appearance:
The Shepadoodle, a charming and delightful mix of the German Shepherd and Poodle, possesses a whimsical appearance that captures the hearts of all who encounter them. Their unique blend of physical traits from both parent breeds creates a visually captivating and endearing canine companion.
Varied Coat Textures: One of the most distinctive features of the Shepadoodle's whimsical appearance is their coat. Depending on the inheritance from their parent breeds, their coat can vary in texture, ranging from the Poodle's curly, hypoallergenic coat to the German Shepherd's straight, dense double coat.
A Kaleidoscope of Colors: The Shepadoodle's coat colors are as diverse and enchanting as their appearance. They can inherit various colors and patterns from both the German Shepherd and Poodle breeds, such as black, brown, cream, apricot, sable, and more, creating a beautiful and ever-changing coat color palette.
Size Variability: The Shepadoodle's size can also vary, as they can be a mix of different-sized Poodles and German Shepherds. This size variability adds to their whimsical charm, making each Shepadoodle unique in their appearance and personality.
Expressive Eyes: The Shepadoodle often has expressive and soulful eyes, inherited from both parent breeds. Their eyes can come in various shades and shapes, showcasing a wide range of emotions and capturing the attention of everyone they meet.
Elegant and Athletic Build: With a blend of the German Shepherd's elegant and athletic build and the Poodle's graceful gait, the Shepadoodle boasts a harmonious and captivating physique that exudes both strength and agility.
Floppy Ears and Tails: Many Shepadoodles have floppy ears that may inherit from the Poodle or the German Shepherd. Their tails can also vary, ranging from a Poodle's curly tail to the German Shepherd's bushy and expressive tail.
Playful and Charming Demeanor: The Shepadoodle's whimsical appearance complements their playful and charming demeanor. Their joyful and mischievous expressions add to their endearing appeal, making them irresistible to anyone who encounters them.
Teddy Bear-Like Features: Some Shepadoodles inherit Poodle-like teddy bear features, such as a fluffy and rounded face, which, when combined with the German Shepherd's noble bearing, creates a unique and adorable appearance.
The "Doodle" Craze: As part of the popular "Doodle" craze, the Shepadoodle holds a special place in the hearts of dog enthusiasts who appreciate the charm and allure of mixed-breed dogs.
Allergy-Friendly Qualities:
For individuals or families with allergies, the Shepadoodle brings a ray of hope as a potential allergy-friendly companion. Thanks to the combination of the Poodle's hypoallergenic coat and the German Shepherd's minimal shedding tendencies, some Shepadoodles may have allergy-friendly qualities, making them a more suitable choice for allergy sufferers.
Hypoallergenic Coat: The Poodle is renowned for its hypoallergenic coat, which means it produces fewer allergens compared to other dog breeds. This hypoallergenic trait is often passed down to the Shepadoodle, making them a better option for people with allergies.
Reduced Dander: Dander, the tiny particles of skin shed by animals, is a common allergen trigger. The Shepadoodle's hypoallergenic coat tends to produce less dander, which can minimize allergic reactions in sensitive individuals.
Minimal Shedding: The German Shepherd's dense double coat is designed to protect them from various weather conditions. While Shepadoodles may inherit some aspects of this coat, they generally experience minimal shedding compared to breeds with single coats.
Grooming Maintenance: Regular grooming is essential for the Shepadoodle to keep their coat clean and healthy. Frequent brushing helps remove loose hairs and dander, further reducing allergen exposure for allergy-prone individuals.
Allergy Testing and Compatibility: It's crucial to remember that individual responses to allergens can vary. Before bringing a Shepadoodle or any dog breed into a home with allergy concerns, it's recommended for allergy sufferers to spend time with the specific dog and consider allergy testing to ensure compatibility.
Allergy Management: Even with hypoallergenic qualities, it's essential to manage allergies effectively. Regular cleaning, maintaining a pet-free bedroom, and using air purifiers can help reduce allergens in the living environment.
Consulting with a Veterinarian: For families considering a Shepadoodle as an allergy-friendly option, consulting with a veterinarian can provide valuable insights and advice. A veterinarian can offer personalized recommendations based on the specific needs and concerns of the allergy-prone individual.
Regular Health Checks: Regular veterinary check-ups are essential for any dog, including the Shepadoodle. Ensuring the dog is in good health and maintaining preventive care can contribute to a positive and comfortable living environment for allergy sufferers.
Adopting from Shelters or Rescues: Consider adopting a Shepadoodle from a shelter or rescue organization. This not only provides a loving home to a deserving dog but also gives allergy sufferers the opportunity to spend time with the dog and assess their compatibility before making a commitment.
Fostering a Shepadoodle: Fostering a Shepadoodle, even temporarily, can be a valuable experience for allergy sufferers. It allows them to assess their allergic reactions and compatibility with the dog before making a permanent adoption decision.
A Social and Affectionate Nature:
The Shepadoodle, a delightful blend of the German Shepherd and Poodle breeds, possesses a social and affectionate nature that makes them an instant hit with everyone they meet. Their friendly demeanor, love for human interaction, and warm-hearted affection create a truly endearing and cherished companion.
Friendly and Outgoing: The Shepadoodle is known for their friendly and outgoing nature. They are social butterflies, always eager to meet new people and make friends with both familiar faces and strangers alike.
Gentle with Children: Their affectionate and patient disposition makes the Shepadoodle an excellent choice for families with children. They are gentle with kids and enjoy playing and spending time with them, becoming devoted playmates and protectors.
Bonding with the Family: The Shepadoodle forms strong bonds with their human family members. They thrive on being part of the family dynamic and enjoy participating in activities together, whether it's a family hike, a day at the park, or simply lounging around at home.
Loving and Devoted: The Shepadoodle's affection knows no bounds. They shower their human family with love, offering comfort, support, and unwavering loyalty. Their devotion to their loved ones is a testament to their loving and compassionate nature.
Social with Other Pets: The Shepadoodle's friendly and sociable nature extends to other pets in the household. They typically get along well with other dogs and can develop close friendships with furry siblings, making for a harmonious and loving pet pack.
Tail Wagging and Smiles: The Shepadoodle's excitement and happiness are evident through their enthusiastic tail wagging and joyful smiles. Their expressive nature makes it easy to see just how much they enjoy human interaction and companionship.
Cuddle Buddies: With their affectionate nature, Shepadoodles are wonderful cuddle buddies. They enjoy spending quiet moments snuggled up with their human family, providing warmth and comfort during relaxation time.
Socialization Benefits: The Shepadoodle's social and affectionate nature makes them excellent candidates for socialization. Early and positive socialization experiences with different people, places, and animals contribute to a well-rounded and well-behaved adult dog.
Eager for Attention: The Shepadoodle loves attention and is always eager to be a part of the action. Whether it's participating in family gatherings or accompanying their owner on errands, they relish every moment of engagement and attention.
Vigilant and Protective:
The Shepadoodle, a unique mix of the German Shepherd and Poodle breeds, possesses a vigilant and protective nature that makes them an exceptional guardian for their human family. With the German Shepherd's natural protective instincts and the Poodle's watchful disposition, the Shepadoodle is ever vigilant, ready to safeguard their loved ones from potential threats.
Instinctual Watchfulness: The Shepadoodle's watchful nature is instinctual, inherited from both parent breeds. They have a keen sense of awareness and are always attuned to their surroundings, making them excellent watchdogs.
Protectiveness towards Family: The Shepadoodle forms deep bonds with their human family, and this devotion extends to a protective instinct. They are fiercely loyal and will go to great lengths to keep their loved ones safe.
Alert and Responsive: The Shepadoodle's vigilance is evident in their quick responses to potential threats. They have a keen ability to detect changes in their environment and will alert their family to anything they perceive as unusual or suspicious.
Calm and Confident Demeanor: Despite their protective instincts, the Shepadoodle typically maintains a calm and confident demeanor. This poise allows them to assess situations and respond appropriately without unnecessary aggression.
Trustworthy Guard Dogs: Shepadoodles can be reliable guard dogs when properly trained and socialized. They have a natural protective streak combined with their intelligence, making them capable and effective protectors.
Protective of Children: Their watchful and protective nature extends to children in the family. Shepadoodles often exhibit gentle and caring behavior towards kids, taking on a nurturing and guardian-like role.
Defending the Home: The Shepadoodle's protective instincts make them dedicated defenders of their home territory. They are likely to bark or show alert behavior at the presence of strangers, signaling to their family that someone unfamiliar is approaching.
Respecting Boundaries: A well-trained Shepadoodle understands boundaries and knows when to be protective versus accepting of friendly visitors. Early socialization helps them differentiate between perceived threats and non-threatening situations.
Obedience and Training: Proper obedience training is essential for a vigilant and protective dog like the Shepadoodle. Training helps establish trust, control, and clear communication between the dog and their owner.
Mental Stimulation:
Mental stimulation is crucial for the Shepadoodle, a highly intelligent and active mix of the German Shepherd and Poodle breeds. Engaging their minds through various mental exercises and activities is essential to keep them mentally sharp, content, and prevent boredom-related behaviors.
Puzzle Toys: Puzzle toys are excellent mental stimulators for the Shepadoodle. These toys challenge their problem-solving skills as they figure out how to obtain treats or rewards hidden within the toy.
Interactive Feeding: Instead of feeding the Shepadoodle from a regular bowl, use interactive feeding methods like food-dispensing toys or slow-feeders. This encourages them to work for their food, stimulating their minds while also slowing down their eating pace.
Training and Obedience Exercises: The Shepadoodle's intelligence makes them perfect candidates for training and obedience exercises. Regular training sessions not only reinforce good behavior but also provide mental challenges that keep them engaged.
Nose Work and Scent Games: Nose work activities tap into the Shepadoodle's natural scenting abilities. Hide treats or toys around the house or play scent games to provide a mentally stimulating and satisfying experience for them.
Agility Training: Agility training exercises both the body and the mind of the Shepadoodle. Setting up agility courses with tunnels, hurdles, and weave poles challenges their problem-solving skills and coordination.
Canine Enrichment Activities: Enrichment activities involve creating opportunities for the Shepadoodle to engage their senses and curiosity. This can include providing new toys, introducing different textures, or setting up sensory exploration stations.
Interactive Playtime: Engage in interactive playtime with the Shepadoodle using toys like tug ropes or flirt poles. These activities encourage mental focus and physical exercise, providing a well-rounded mental stimulation experience.
Learning New Tricks: Teaching the Shepadoodle new tricks and commands keeps their minds active and engaged. They take pride in learning and performing tricks, reinforcing their bond with their human family.
Brain Games and Puzzles: Introduce brain games and puzzles specifically designed for dogs. These games challenge their problem-solving abilities, providing mental workouts that are both entertaining and rewarding.
Rotating Toys and Activities: To avoid monotony, rotate the Shepadoodle's toys and activities regularly. Introducing new challenges and experiences keeps them curious and mentally stimulated.
Grooming and Care:
Grooming and care are essential aspects of maintaining the well-being and appearance of the Shepadoodle, a mix of the German Shepherd and Poodle breeds. Regular grooming and proper care help keep their coat healthy, prevent matting, and ensure they remain comfortable and happy.
Brushing: Regular brushing is crucial for the Shepadoodle, especially if they have inherited the Poodle's curly coat. Brushing helps prevent tangles, mats, and removes loose hair, reducing shedding and keeping the coat clean.
Bathing: Bathe the Shepadoodle as needed or when they get dirty. Use a dog-specific shampoo that is gentle on their skin and coat. Avoid over-bathing, as it can strip their coat of natural oils.
Coat Trimming: Some Shepadoodles may require coat trimming, particularly if they have a mix of the Poodle's curly coat and the German Shepherd's dense fur. Trimming can help manage the length and keep their coat looking neat.
Ear Cleaning: Regularly clean the Shepadoodle's ears to prevent wax buildup and avoid ear infections. Use a gentle ear cleaning solution recommended by a veterinarian.
Dental Care: Maintaining good dental hygiene is crucial for the Shepadoodle's overall health. Brush their teeth regularly and provide dental treats or toys to promote healthy gums and prevent dental issues.
Nail Trimming: Trim the Shepadoodle's nails regularly to prevent overgrowth, which can cause discomfort and potential issues with mobility. Be cautious not to cut too close to the quick, as it contains blood vessels.
Eye Care: Keep an eye on the Shepadoodle's eyes and ensure they are clean and free from discharge. Wipe away any dirt or debris gently using a damp cloth.
Preventative Health Care: Stay up-to-date with the Shepadoodle's preventative health care, including vaccinations, flea and tick prevention, and regular check-ups with a veterinarian.
Proper Nutrition: Provide the Shepadoodle with a balanced and nutritious diet to support their overall health and maintain a healthy coat.
Regular Exercise: Regular exercise is essential for the Shepadoodle's physical and mental well-being. Engage them in daily activities that stimulate their mind and keep them physically active.
Conclusion:
In conclusion, the Shepadoodle's enchanting blend of intelligence and playfulness makes them a delightful and engaging family pet. Embrace the Shepadoodle's smart and lively nature, and you'll welcome a whimsical and affectionate friend into your life, always ready to fill your days with joy and laughter. The Shepadoodle's presence enriches the household, bringing a loving and vibrant spirit that reminds us of the unique and beautiful bond shared between humans and their canine companions.