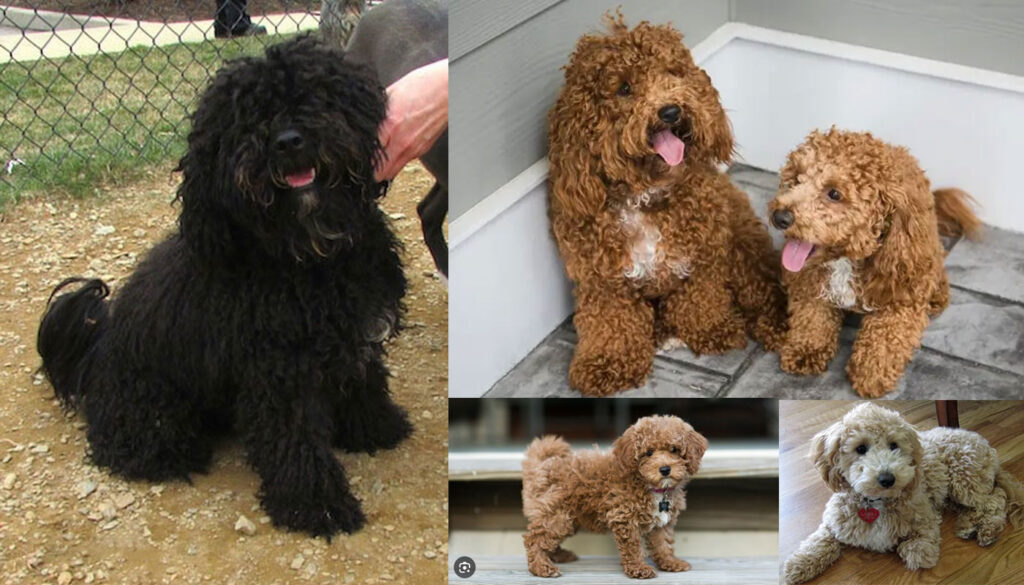 When it comes to designer dogs, the Bichon Poo, a cross between the Poodle and Bichon Frise, is undoubtedly one of the most charming and beloved choices. This adorable hybrid breed inherits the best qualities from its parent breeds, resulting in a lovable companion with a host of endearing characteristics. If you're considering adding a Bichon Poo to your family, it's essential to understand what makes them special. In this article, we'll explore the distinctive characteristics that make the Bichon Poo a delightful addition to any household.
Playful and Energetic:
The Bichon Poo is a breed brimming with life and exuberance, renowned for its infectious playfulness and boundless energy. These qualities make them exceptional companions for families and individuals seeking an active, engaging, and joyful addition to their lives. To truly appreciate the lively nature of the Bichon Poo, it's important to explore their spirited characteristics and the significance of regular exercise and playtime in their lives.
Lively and Playful by Nature: One of the defining characteristics of the Bichon Poo is its playfulness. These dogs exude a zest for life that is both endearing and captivating. Their playfulness knows no bounds, and they approach each day with a contagious enthusiasm that can uplift the spirits of everyone around them. This innate joyfulness is an integral part of their personality and is expressed through their wagging tails, animated bounces, and gleeful expressions.
A Love for Interaction: Bichon Poos are not content to be passive observers of life; they actively seek out interaction with their human companions. They thrive on bonding moments and relish any opportunity for play and engagement. Whether it's a spirited game of fetch, a romp in the yard, or simply cuddling on the couch, Bichon Poos are happiest when they are sharing quality time with their loved ones. Their desire for interaction makes them superb family pets, as they enjoy being involved in all aspects of family life.
Infectious Joy: One of the remarkable things about the Bichon Poo's playful disposition is its ability to spread joy. Their contagious enthusiasm can lighten the mood and brighten even the gloomiest of days. Their playful antics and constant source of entertainment make them a beloved member of the family, bringing smiles and laughter to everyone they encounter.
The Importance of Exercise and Playtime: To maintain the physical and mental well-being of a Bichon Poo, regular exercise and playtime are essential. Their high energy levels require an outlet, and engaging in physical activities not only keeps them fit but also prevents boredom, which can lead to destructive behaviors. Daily walks, play sessions, and opportunities to explore are vital to their happiness and overall health.
Interactive toys, puzzle feeders, and obedience training can also provide mental stimulation, satisfying their intelligent and curious nature. These activities ensure that their boundless energy is channeled constructively, and they remain content and well-adjusted companions.
Social and Affectionate:
One of the most endearing aspects of the Bichon Poo breed is its profoundly social and affectionate personality. These dogs possess a remarkable ability to form deep connections with their human companions, making them exceptional family pets and beloved companions. To truly appreciate their social and affectionate qualities, it's essential to explore their remarkable capacity for bonding and their suitability for family life.
Innate Social Butterflies: Bichon Poos are natural social butterflies. They thrive on human companionship and are genuinely happiest when surrounded by their loved ones. This innate sociability is evident from a young age, as they eagerly seek out opportunities to interact with family members, friends, and even strangers. Their social nature makes them highly adaptable to various social settings and allows them to fit seamlessly into the dynamics of a household.
Affectionate to the Core: Affection is at the heart of the Bichon Poo's personality. They are known for their unconditional love and affection towards their owners. These dogs have an uncanny ability to sense when their humans need comfort, often offering snuggles, licks, and warm companionship during times of distress. Their affectionate nature is not limited to mere physical contact; it also shines through in their attentive and loyal behavior.
Part of the Family: Bichon Poos firmly believe that they are integral members of their human families, and they take this role seriously. They have a strong desire to be involved in family activities, whether it's playing with children, accompanying their owners on outings, or simply lounging together in the living room. This sense of belonging makes them feel cherished and appreciated, which, in turn, strengthens the bonds they form with their human companions.
Child-Friendly Companions: One of the remarkable qualities of Bichon Poos is their suitability for families with children. These dogs have a gentle and patient demeanor that makes them well-suited for interaction with kids of all ages. They often become protective older siblings, watching over and engaging in playful activities with children. Their friendly and tolerant nature means that they can be trusted in family settings, further solidifying their reputation as excellent family pets.
Popular Choice for Sociable Families: The Bichon Poo's friendly and social disposition has made it a popular choice for families seeking a sociable and loving pet. Their ability to form strong bonds, their love for companionship, and their gentle temperament make them an ideal fit for households where social interaction and affection are highly valued.
Intelligent and Trainable:
The Bichon Poo, a delightful crossbreed of Bichon Frise and Poodle, boasts a remarkable trait that is highly sought after in canine companions: intelligence. This breed's intellectual prowess, inherited from its Poodle lineage, sets the stage for a rewarding training experience and enriching interaction with its human family. To truly appreciate the Bichon Poo's intelligence and trainability, it's crucial to delve into the depths of their cognitive abilities and their eagerness to learn and please.
The Gift of Poodle Intelligence: The Poodle, known for its exceptional intelligence, contributes significantly to the Bichon Poo's cognitive capabilities. Poodles consistently rank among the most intelligent dog breeds globally, showcasing problem-solving skills, memory, and adaptability. This genetic legacy bestows the Bichon Poo with a keen intellect and a natural aptitude for learning.
Quick Learners: Bichon Poos are quick learners, which is a testament to their intelligence. They readily absorb new information and commands, often surprising their owners with how rapidly they catch on. This innate ability to grasp concepts swiftly simplifies the training process and allows for a more efficient and rewarding training experience.
Enjoyment of Mental Stimulation: These dogs thrive on mental stimulation. They have a curious and inquisitive nature that drives them to explore their environment and engage in mentally challenging activities. Mental stimulation is just as important as physical exercise for a Bichon Poo's well-being. Puzzle toys, interactive games, and training sessions not only keep their minds sharp but also prevent boredom, which can lead to destructive behaviors in less mentally engaged dogs.
Eagerness to Please: One of the most endearing traits of Bichon Poos is their eagerness to please their human companions. They have a strong desire to make their owners happy, which can be harnessed effectively during training. This willingness to please translates into a strong motivation to excel in training sessions, making them cooperative and responsive learners.
Positive Reinforcement-Based Training: Bichon Poos respond exceptionally well to positive reinforcement-based training methods. Rewarding desired behaviors with treats, praise, and affection reinforces their good conduct and encourages them to repeat these behaviors. This positive approach fosters a strong bond between owner and dog while creating a cooperative and well-behaved pet.
From Basics to Brilliance: Whether you're teaching basic obedience commands or advanced tricks, your Bichon Poo is likely to excel in training. The combination of intelligence, eagerness to please, and a strong affinity for mental stimulation makes them versatile learners. This breed's adaptability means that they can thrive in various training environments, from formal obedience classes to informal home-based sessions.
Compact Size:
The Bichon Poo, with its delightful blend of Bichon Frise and Poodle genes, boasts not only a charming personality but also a conveniently compact size. This breed's manageable stature is a significant asset, making it an ideal choice for a wide range of living situations, from cozy apartments to spacious houses. To truly appreciate the benefits of the Bichon Poo's compact size, let's explore how it enhances their adaptability, portability, and suitability as an all-around companion.
Adaptability in Small Spaces: One of the standout features of Bichon Poos is their ability to thrive in limited living spaces. Their small to medium-sized frame means that they don't require a sprawling backyard to be content. This adaptability is especially advantageous for individuals and families residing in apartments or homes with confined outdoor areas. Bichon Poos are experts at making the most of their surroundings, effortlessly adapting to their environment and embracing their indoor living quarters.
Ease of Handling: The compact size of Bichon Poos also translates into ease of handling. These dogs are conveniently sized for individuals of all ages, from children to seniors. Their manageable weight and stature make them comfortable to pick up, carry, or assist when necessary. This trait is particularly beneficial for families with young children or elderly members who may appreciate a dog that is not too large or unwieldy.
Portability for Adventures: Bichon Poos are often considered a portable companion for various adventures or errands. Their size allows them to accompany their owners on outings, from leisurely strolls in the park to road trips or visits to pet-friendly establishments. This portability fosters a strong bond between the dog and its owner, as it can actively participate in numerous activities and share in the joys of everyday life.
Travel-Friendly Companions: For individuals who love to travel, Bichon Poos are an excellent choice. Their compact size makes them an ideal travel companion, whether you're embarking on a weekend getaway or a more extended vacation. Many Bichon Poo owners appreciate the ease with which they can transport their furry friend, whether by car or airplane, ensuring that their pet is a part of their adventures.
Less Space, More Love: While Bichon Poos may be small in size, they are certainly not lacking in love and affection. Their compact stature in no way diminishes their capacity to shower their human companions with boundless affection, loyalty, and companionship. In fact, their size often allows them to be even closer to their owners, cuddling on laps and snuggling in bed.
Low Maintenance Grooming:
The Bichon Poo, a delightful hybrid breed of Bichon Frise and Poodle, may sport a luxurious-looking coat, but their grooming needs are surprisingly low-maintenance. Despite their fluffy and charming appearance, these dogs offer a grooming experience that is both manageable and hassle-free. To truly appreciate the advantages of their low-maintenance grooming, let's delve into the details of their coat care and the benefits it brings to both dog and owner.
Regular Brushing for Lustrous Locks: To keep their coat in tip-top condition, Bichon Poos do require regular brushing. This is essential to prevent matting and tangling of their fur. Fortunately, their coat is relatively easy to work with, and a gentle brushing session a few times a week is usually sufficient to maintain their signature fluffy appearance. This grooming routine not only keeps them looking their best but also contributes to their overall comfort and well-being.
Bid Farewell to Excessive Shedding: One of the standout features of Bichon Poos is their non-shedding coat. Unlike many other dog breeds that leave a trail of hair wherever they go, Bichon Poos do not shed excessively. This characteristic is a blessing for owners who are allergic to pet dander or simply prefer a cleaner home. With a Bichon Poo, you can enjoy the companionship of a dog without the worry of finding fur on your furniture, clothes, or floors.
Professional Grooming for the Fluffiest Look: While Bichon Poos are low-maintenance in terms of shedding, many owners opt for professional grooming to maintain their dog's fluffy and polished appearance. Professional groomers have the expertise to trim and shape the coat to perfection, creating the quintessential Bichon Poo look that is both adorable and elegant. Grooming appointments may include not only fur trimming but also nail clipping, ear cleaning, and dental care, ensuring that your pet is not only stylish but also in excellent health.
A Grooming Bond: The grooming process provides an excellent opportunity for bonding between owner and Bichon Poo. Regular grooming sessions can be a relaxing and enjoyable experience for both parties, strengthening the emotional connection between the dog and its owner. Many Bichon Poo owners relish these moments of pampering, as they provide quality time to nurture their relationship.
Hypoallergenic Coat:
When considering the many qualities that make the Bichon Poo a beloved and sought-after breed, its hypoallergenic coat stands out as a true gem. This remarkable trait, which sets it apart from many other dog breeds, is a gift to allergy sufferers and families seeking a low-shedding pet. To understand why the Bichon Poo's coat is such a standout feature, it's important to delve deeper into its origins and characteristics.
A Blend of Allergen-Friendly Lineage: The Bichon Poo is a crossbreed that inherits its hypoallergenic coat from both of its parent breeds—the Bichon Frise and the Poodle. This unique combination of genetics plays a pivotal role in producing a coat that is notably less likely to trigger allergies compared to the fur of non-hypoallergenic breeds.
The Poodle Influence: The Poodle, one of the Bichon Poo's parent breeds, is renowned for its hypoallergenic fur. This reputation stems from the fact that Poodles shed very little hair and dander, the primary culprits responsible for triggering allergies in many individuals. Poodle fur is different from that of most other dogs because it grows continuously instead of following the traditional shedding cycle. This continuous growth results in less hair and dander being released into the environment, making Poodles an excellent choice for people with allergies.
A Double Dose of Hypoallergenic Charm: What makes the Bichon Poo particularly exceptional is that it inherits this hypoallergenic advantage from both sides of its family tree—the Bichon Frise and the Poodle. This dual influence further reduces the likelihood of allergens being present in the Bichon Poo's coat, making it a top choice for individuals and families dealing with allergies.
Curly and Wavy Appeal: Apart from their allergy-friendly properties, the Bichon Poo's coat also boasts a distinctive aesthetic appeal. It is typically curly or wavy, adding to the breed's overall charm. These curls and waves not only make the Bichon Poo a visually captivating breed but also serve a practical purpose. The curly and wavy nature of their coat helps to minimize shedding. This means that not only are they less likely to trigger allergies, but they also require less maintenance when it comes to cleaning up stray hairs around the home.
Long Lifespan:
One of the most heartening aspects of the Bichon Poo breed is its remarkable longevity. These small, lovable dogs tend to live considerably longer than many other breeds of their size. With the right care and attention, a Bichon Poo can grace your life with companionship, love, and joy for a remarkable 12 to 15 years or even more. This extended lifespan is a gift that enriches the lives of families and individuals fortunate enough to share their days with a Bichon Poo.
Proper Care: The Key to Longevity: The secret to the Bichon Poo's extended lifespan lies in the diligent care and responsible ownership provided by their human companions. Proper care encompasses a well-balanced diet, regular exercise, routine veterinary check-ups, vaccinations, dental hygiene, and a safe and nurturing environment. By attending to these essential aspects of their well-being, you can ensure that your Bichon Poo enjoys a fulfilling and healthy life.
The Role of Genetics: The Bichon Poo's longevity can also be attributed to the combination of genetics from its parent breeds, the Bichon Frise and the Poodle. Both of these breeds tend to have longer lifespans compared to many other dog breeds, and this genetic inheritance passes down to their hybrid offspring. These genetics, combined with responsible breeding practices, contribute to the Bichon Poo's potential for a lengthy and healthy life.
Companionship and Love Over the Years: The extended lifespan of Bichon Poos allows families and individuals to forge enduring bonds with their furry companions. Over the course of 12 to 15 years or more, you'll have the privilege of witnessing your Bichon Poo grow, mature, and become an integral part of your life. The love and companionship they offer remain constant, evolving and deepening as the years go by. They become not just pets but cherished family members, sharing in the joys and challenges of life.
A Lifetime of Memories: The longevity of Bichon Poos enables families to create a lifetime of cherished memories. From playful puppyhood to their golden years, each stage of their life brings unique experiences and moments of joy. Whether it's celebrating birthdays, embarking on adventures, or simply enjoying quiet moments together, the enduring presence of a Bichon Poo enriches the lives of their owners, providing comfort and companionship throughout the years.
Conclusion:
In conclusion, the Bichon Poo is a delightful and endearing hybrid breed that combines the best traits of the Bichon Frise and Poodle. Their hypoallergenic coat, playful nature, social disposition, intelligence, manageable size, low grooming needs, and long lifespan make them a top choice for families and individuals alike. If you're looking for a loving, intelligent, and charming companion, the Bichon Poo may be the perfect addition to your household. Just be prepared to shower them with the love and attention they crave, and you'll have a loyal and affectionate friend for years to come.