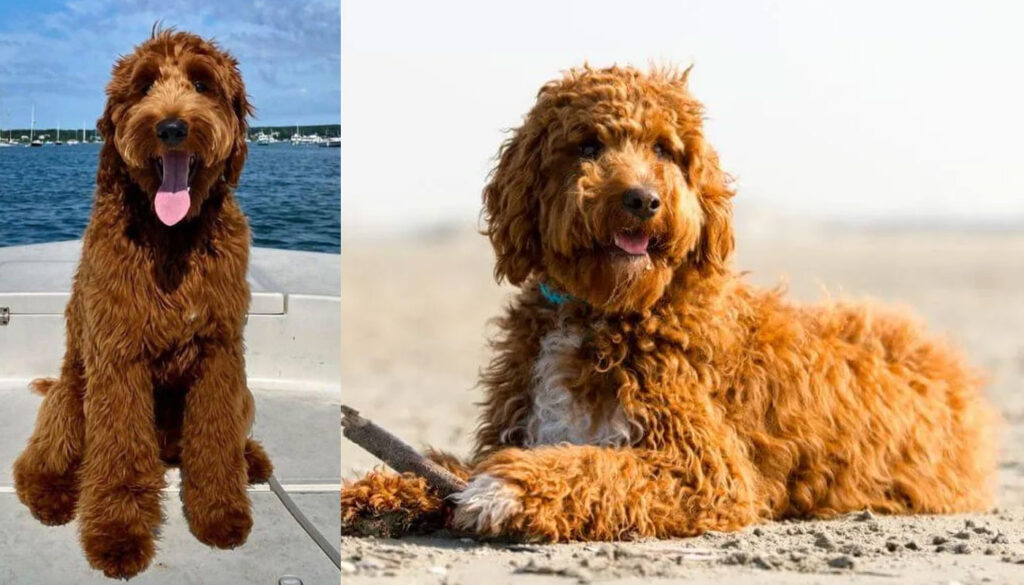 The Irish Doodle, a delightful mix of the Poodle and the Irish Setter, is a breed that exemplifies the best of both worlds. This crossbreed brings together the intelligence and hypoallergenic qualities of the Poodle with the grace and warmth of the Irish Setter. If you're considering adding a furry friend to your family, read on to discover the charming characteristics of the Irish Doodle.
Hypoallergenic Coats:
For individuals and families dealing with allergies, finding a canine companion can be a challenging endeavor. However, the Irish Doodle, a captivating crossbreed of the Poodle and the Irish Setter, brings a breath of fresh air to this predicament with its remarkable hypoallergenic coat.
The Poodle's Influence: At the heart of the Irish Doodle's hypoallergenic nature lies the significant influence of the Poodle, a breed renowned for its low allergenic qualities. Unlike dogs with fur, Poodles and their offspring, including Irish Doodles, possess hair. This distinction may seem subtle, but it has a profound impact on allergenicity.
Fewer Allergens: The key advantage of having hair, as opposed to fur, is that it produces fewer allergens. Allergens, such as dander and proteins found in saliva and urine, are the culprits behind allergic reactions in sensitive individuals. Dogs with hair, like the Irish Doodle, tend to trap these allergens close to their bodies, preventing them from becoming airborne. This containment significantly reduces the likelihood of allergic reactions, making the Irish Doodle a top choice for allergy sufferers.
Minimal Shedding: Another remarkable trait of Irish Doodles is their minimal shedding. While shedding is a common source of allergens in many dog breeds, Irish Doodles buck the trend. Their coats are more likely to trap loose hair, which can then be easily removed through regular grooming and brushing. This means that not only are there fewer allergens in the environment, but there's also less hair to contend with on your furniture and clothing.
A Suitable Companion: For those who adore the companionship of dogs but have been deterred by allergies, the Irish Doodle offers a solution. Their hypoallergenic coats make them a suitable choice for individuals and families who would otherwise struggle with pet-related allergies. This breed allows people with sensitivities to experience the joy of having a furry friend without the constant worry of allergic reactions.
Intelligent and Trainable:
When it comes to the world of canine intelligence, the Irish Doodle stands as a shining example of brilliance. This breed inherits its cognitive prowess from two highly intelligent parent breeds, the Poodle and the Irish Setter, resulting in a dog that not only possesses keen intellect but also a strong desire to please its owner.
The Poodle and Irish Setter Influence: The foundation of the Irish Doodle's intelligence lies in its lineage. Both the Poodle and the Irish Setter have earned their stripes as intelligent breeds. The Poodle is widely regarded as one of the most intelligent dog breeds globally, consistently ranking high in canine IQ tests. On the other hand, the Irish Setter is known for its cleverness and problem-solving abilities. When these two impressive gene pools combine, it creates a canine prodigy—the Irish Doodle.
Quick Learners: Irish Doodles are remarkably quick learners. They have an innate ability to grasp new concepts and commands with astonishing speed. This attribute not only makes the training process smoother but also more enjoyable for both owner and pet. Whether it's basic obedience commands like "sit" and "stay" or more advanced tricks like "roll over" or "fetch the newspaper," Irish Doodles rise to the occasion with enthusiasm and precision.
Eager to Please: One of the standout characteristics of the Irish Doodle is its eagerness to please its owner. This eagerness is deeply rooted in their desire for approval and affection. These dogs thrive on positive reinforcement and are highly motivated to perform well in training sessions. This mutual desire for success creates a strong bond between the owner and the pet and makes the training experience particularly rewarding.
Excelling in Training: Irish Doodles are versatile learners, excelling in various aspects of training. They thrive in obedience training, which is essential for their safety and well-being. Their intelligence also allows them to pick up on more complex tricks and tasks, making them a hit in dog sports and agility training. Their adaptability and willingness to learn open doors to a wide range of training opportunities, keeping both owner and pet engaged and mentally stimulated.
Affectionate and Loyal:
The Irish Doodle is not just a breed known for its intelligence and hypoallergenic coats; it also boasts a heartwarming and affectionate disposition. These dogs are masters of forging deep emotional connections with their families, making them exceptional companions for individuals, couples, or families with children.
Inherent Affection: From their very core, Irish Doodles are naturally affectionate beings. They possess an innate ability to shower their owners with love and devotion. This characteristic sets the stage for the development of strong and heartwarming bonds between the dog and its human family members.
Thrive on Human Interaction: Irish Doodles thrive on human interaction. They are not the type of dogs that are content with being left alone for extended periods. Instead, they yearn for companionship and eagerly seek out opportunities for interaction with their owners. Whether it's a joyful game of fetch, a cozy cuddle session on the couch, or a leisurely stroll in the park, Irish Doodles are always ready to partake in the joys of human company.
Excellent Companions: Their affectionate nature makes Irish Doodles excellent companions. They are versatile enough to adapt to various living arrangements, whether you're a single individual seeking a loyal friend, a couple looking to add warmth to your household, or a family with children in need of a furry playmate. These dogs effortlessly integrate into different lifestyles, bringing joy and love to all members of the household.
Unwavering Loyalty: Loyalty is a cornerstone of the Irish Doodle's character. Once they form a bond with their owner, it is unbreakable. Their loyalty is not only unwavering but also deeply protective. Irish Doodles have a strong instinct to look after their loved ones, which makes them not just faithful companions but also reliable protectors.
Guardians of Love: Irish Doodles often take on the role of guardians of love within their families. While they may not be the most aggressive guard dogs, their watchful nature ensures they keep an eye out for any potential threats. Their protective instincts are particularly evident when it comes to children, as they tend to be gentle and caring around younger family members.
Active and Energetic:
The Irish Doodle, a harmonious blend of the Poodle's intellect and the Irish Setter's grace, carries within its genes a vivacious and energetic spirit. These dogs inherit their high energy levels primarily from their Irish Setter parent, setting them apart as an active breed that thrives on physical activity and outdoor adventures.
The Irish Setter Influence: The Irish Setter, a breed renowned for its agility and athleticism, imparts an abundance of energy to the Irish Doodle lineage. This energetic heritage defines the Irish Doodle's temperament and serves as a foundation for its active lifestyle.
A Love for Physical Activity: Irish Doodles revel in physical activity. Their boundless energy knows no bounds, making them an ideal choice for individuals or families who enjoy an active lifestyle. These dogs are always eager to embark on outdoor adventures, whether it's a brisk morning jog, a long hike in the mountains, or a lively game of fetch in the backyard. Their enthusiasm for exercise is infectious and encourages their owners to lead a more active life.
Regular Exercise: Regular exercise is not just a preference for Irish Doodles; it's a necessity for their physical and mental well-being. Daily walks, playtime, and opportunities to run in a secure area are essential for this breed. Without adequate exercise, Irish Doodles can become restless and may exhibit undesirable behaviors such as excessive barking or digging. Therefore, owners should be prepared to incorporate physical activities into their daily routine to keep their furry friend content.
Exercise Buddies: If you're an active individual or family seeking a four-legged exercise buddy, the Irish Doodle fits the bill perfectly. These dogs thrive on outdoor adventures and are always up for a game of fetch or a romp at the dog park. They not only help you stay physically active but also serve as a source of motivation and companionship during your fitness endeavors.
Mental Stimulation: In addition to physical exercise, Irish Doodles also benefit from mental stimulation. Puzzle toys, obedience training, and interactive games can help keep their agile minds engaged. A mentally stimulated Irish Doodle is a happy and well-behaved one.
Social Butterflies:
Irish Doodles, the charming blend of the intelligent Poodle and the affable Irish Setter, are celebrated for their sociable and friendly disposition. These dogs are true social butterflies, delighting in interactions with both humans and other animals. Their innate friendliness makes them ideal companions for various social settings, but early socialization is essential to ensure they develop good manners and harmonious relationships with fellow dogs and pets.
Natural Sociability: From an early age, Irish Doodles exhibit a natural inclination toward sociability. Their friendly and open-hearted nature shines through in their interactions with people and animals alike. This inherent sociability makes them a joy to have around and allows them to adapt well to various social scenarios.
Great Companions at Dog Parks: Irish Doodles thrive in environments like dog parks. These social dogs revel in the opportunity to meet and play with other four-legged friends. Their playful and amiable nature often draws the attention of other dog owners and park-goers, making them a hit in these communal spaces. They can engage in games of chase, wrestle with new pals, and share in the camaraderie that dog parks offer.
Admirable Social Etiquette: While Irish Doodles are naturally social, early socialization is crucial to ensure they develop good manners and positive interactions. Exposing them to various situations, people, and animals during their formative months helps them become well-adjusted adults. Proper socialization lays the foundation for polite behavior and ensures that they get along harmoniously with other dogs and pets.
Well-Mannered and Respectful: With the right upbringing and early training, Irish Doodles grow into well-mannered and respectful companions. They learn to greet other dogs and people with a wagging tail rather than aggressive behavior. Their social upbringing helps them adapt easily to new environments and form positive relationships with other animals, fostering a peaceful coexistence.
Family-Friendly Social Creatures: Irish Doodles' sociable nature extends to their interactions with family members, including children. Their gentle demeanor and love for human companionship make them wonderful additions to households with kids. They often become playmates and confidants for children, enriching the family dynamic.
Gorgeous Appearance:
The Irish Doodle, a captivating crossbreed born of the regal Irish Setter and the charming Poodle, is renowned not only for its intelligence and affable nature but also for its exquisite appearance. This breed is a true visual delight, showcasing a harmonious fusion of elegant features from its parent breeds that come together to create a stunning and heartwarming appearance.
A Perfect Blend: The Irish Doodle's remarkable appearance is the result of blending the elegant features of the Irish Setter with the distinctive curly or wavy coat of the Poodle. This combination results in a dog that exudes grace and charm from every angle. Each Irish Doodle is a unique work of art, with a captivating presence that never fails to capture attention.
Luxurious Coat Variety: One of the standout features of Irish Doodles is their coat diversity. They typically boast a medium to long coat that is both soft to the touch and visually striking. This luxurious fur comes in a palette of colors that range from fiery reds and rich apricots to sophisticated blacks. The variety in coat colors allows prospective owners to choose the shade that best resonates with their personal preferences.
Curly or Wavy Coats: The Irish Doodle's coat is a sight to behold, characterized by its curly or wavy texture. This coat type not only contributes to their stunning appearance but also adds to their hypoallergenic qualities. The curls and waves in their fur often trap loose hair, reducing shedding and allergen dispersion. This makes them a popular choice for those who appreciate a clean home but still want a furry companion.
Expressive Eyes and Floppy Ears: Beyond their luxurious coats, Irish Doodles are adorned with expressive features. Their eyes are often soulful and warm, radiating affection and intelligence. Combined with their floppy ears, these dogs have an endearing and friendly appearance that melts hearts. Their expressive eyes and ears enhance their ability to communicate their emotions and needs, strengthening the bond between them and their owners.
Distinctive Beauty: Irish Doodles are not just beautiful; they are distinctive in their beauty. Their unique blend of elegant traits, coat variety, and expressive facial features sets them apart as a breed that embodies both grace and charm. Whether they are trotting alongside their owners on a leisurely stroll or simply sitting by the fireplace, Irish Doodles never fail to leave a lasting impression.
Low Shedding:
For those seeking a canine companion that harmoniously blends elegance with low-maintenance care, the Irish Doodle offers the best of both worlds. These enchanting dogs, born from the lineage of the Poodle, come equipped with a coat that blesses their owners with minimal to no shedding, making them a top choice for those who desire a tidy and hair-free home.
The Poodle Lineage Advantage: The Poodle's influence on the Irish Doodle's coat is the secret behind their low shedding. Unlike many other breeds with traditional fur, Poodles and their descendants, including Irish Doodles, possess hair. This distinction is much more than a mere cosmetic difference; it's a game-changer for those who prefer a pristine living space.
Minimizing Allergens and Cleanup: The minimal shedding characteristic of Irish Doodles goes beyond just aesthetics. It is a boon for individuals and families with allergies. Shedding is a primary source of allergens in many dogs, and less shedding means fewer allergens in the environment. This makes Irish Doodles a suitable choice for those who adore dogs but are sensitive to allergens, allowing them to enjoy the companionship of a furry friend without constant worry about allergic reactions.
Moreover, low shedding translates into a cleaner home. Owners of Irish Doodles often find themselves spending less time vacuuming and sweeping, as there is significantly less dog hair to contend with. This not only saves time but also contributes to a cleaner and more hygienic living environment.
The Importance of Regular Grooming: While Irish Doodles may shed minimally, they do require regular grooming and maintenance to keep their coats in top condition. Grooming involves brushing their hair to prevent matting, tangling, and to remove loose hair. Regular grooming sessions also provide an opportunity to check for any skin issues or abnormalities, promoting the overall health and well-being of the dog.
Grooming can be a bonding experience between owner and pet and is essential to maintain the Irish Doodle's beautiful appearance. The frequency of grooming sessions may vary depending on the specific coat type, but owners should be prepared to invest time in this essential aspect of caring for their beloved Irish Doodle.
Size Variability:
Irish Doodles, the enchanting blend of Irish Setter elegance and Poodle charm, are known for their captivating appearance and delightful personalities. Yet, one aspect that adds to their appeal is their size variability. This breed comes in various sizes, ranging from small to large, allowing them to adapt seamlessly to a wide range of living environments.
The Influence of Poodle Size: The size of an Irish Doodle is closely linked to the size of the Poodle parent used in the breeding process. Poodles come in three primary size categories: standard, miniature, and toy. The choice of Poodle size, in combination with the Irish Setter, determines the size of the resulting Irish Doodle.
Standard Poodle: If an Irish Doodle is bred from a standard Poodle, it tends to be on the larger side of the size spectrum. Standard Poodles are known for their graceful stature, and this influence contributes to the Irish Doodle's size.
Miniature Poodle: When paired with a miniature Poodle, the Irish Doodle typically falls into the medium-size category. Miniature Poodles are smaller than their standard counterparts but still maintain a certain level of sturdiness and robustness.
Toy Poodle: Breeding with a toy Poodle results in a smaller-sized Irish Doodle. Toy Poodles are the smallest of the Poodle sizes and bring a compact and petite element to the mix.
Adaptability to Living Environments:
The size variability of Irish Doodles makes them incredibly adaptable to different living environments. This versatility is a significant advantage for prospective dog owners, as it means that Irish Doodles can thrive in various settings, from cozy apartments to spacious homes with yards.
Apartments: Irish Doodles bred from miniature or toy Poodles are well-suited for apartment living. Their smaller size means they don't require as much space to move around, making them a great choice for individuals or families living in urban or confined environments.
Houses with Yards: On the other hand, Irish Doodles with standard Poodle ancestry are better suited for larger homes with yards. Their larger size allows them to enjoy the extra space and run around freely, making them excellent companions for families with ample outdoor areas.
Personality and Temperament:
While size influences their physical requirements, it's important to note that the size of an Irish Doodle does not significantly impact their personality and temperament. Regardless of their size, Irish Doodles are known for their intelligence, friendliness, and sociable nature.
The size variability of Irish Doodles adds an extra layer of versatility to this beloved breed. Their adaptability to different living environments, coupled with their delightful personalities, makes them a fantastic choice for a wide range of dog lovers, ensuring that there's an Irish Doodle that's just the right fit for your lifestyle and preferences.
Conclusion:
In conclusion, the Irish Doodle is a wonderful blend of intelligence, affection, and elegance. This breed's hypoallergenic coat, trainability, and loving nature make it an excellent choice for individuals and families alike. However, prospective owners should be prepared to meet their energy and exercise needs. With proper care, training, and affection, the Irish Doodle can be a loyal and charming companion for many years to come.