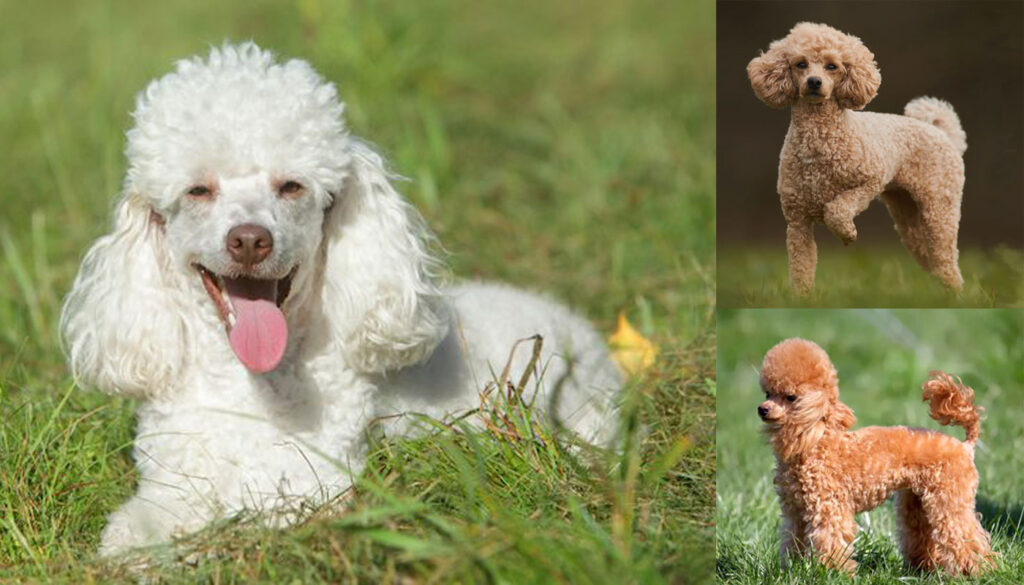 When it comes to the world of dog breeds, the Miniature Poodle stands out as a true gem. With its striking appearance, exceptional intelligence, and charming personality, this breed has captured the hearts of dog enthusiasts and families around the world. From its history to its unique characteristics, let's dive into what makes the Miniature Poodle such a remarkable canine companion.
A Brief History
The history of the Miniature Poodle is a captivating journey that begins in the picturesque landscapes of Germany. This breed, with its distinct elegance and remarkable abilities, has roots deeply intertwined with its role as a water retriever and a symbol of refined companionship.
Origins and Water Retrieval Expertise
The ancestral origins of the Poodle trace back to the early 16th century, where it emerged as a breed of exceptional aquatic prowess. Bred for a specific purpose, the Poodle's initial task was that of a water retriever, assisting hunters in retrieving waterfowl from lakes and rivers. It was in this role that the breed's exceptional swimming abilities were first recognized and harnessed.
The very name "Poodle" speaks to this aquatic heritage. Derived from the German word "pudeln," which translates to "to splash in water," the name encapsulates the breed's original purpose and its affinity for water-related activities. The Poodle's dense, water-resistant coat was not just a feature of aesthetic appeal; it served to protect the dog from the cold waters during its retrieval tasks.
Evolution into Different Sizes and Roles
As time progressed, the Poodle's utility expanded beyond the hunting grounds. Its innate intelligence and versatility caught the attention of breeders and enthusiasts, leading to its adaptation into various sizes to suit different roles and lifestyles. This diversification gave rise to the Standard, Miniature, and Toy Poodle variations, each possessing the same core traits but catering to distinct needs.
The Miniature Poodle, in particular, emerged as a result of meticulous breeding practices. Breeders recognized the potential of retaining the breed's remarkable intelligence, trainable nature, and striking appearance while creating a smaller version that could seamlessly transition into urban and domestic settings. Thus, the Miniature Poodle was born, a harmonious blend of its heritage and the evolving preferences of society.
The Miniature Poodle's Distinct Attributes
Selective breeding played a pivotal role in the development of the Miniature Poodle. By carefully choosing parent dogs that exhibited the desired traits, breeders successfully maintained the breed's innate characteristics in a smaller package. This downsizing did not compromise the breed's intelligence, athleticism, or sociability; instead, it enhanced its adaptability to a wider range of living environments.
Today, the Miniature Poodle stands as a testament to the artistry of breeding, showcasing how a breed's essence can be preserved while accommodating modern lifestyles. From its water-fetching ancestry to its role as a beloved family companion, the Miniature Poodle's history encapsulates a legacy of purposeful evolution and a dedication to preserving the breed's remarkable qualities. As we admire these elegant and intelligent dogs today, we honor their heritage as skilled water dogs while embracing their present role as cherished companions.
Appearance
The Miniature Poodle stands as a true epitome of grace and charm in the world of dog breeds, captivating all who encounter it with its refined appearance and compact stature. From its meticulously cultivated size to its signature coat, the Miniature Poodle's physical attributes tell a story of both practicality and aesthetics.
Aesthetic Dimensions
The Miniature Poodle's physical proportions are a marvel of intentional breeding that has led to a dog that is both visually striking and conveniently sized. Typically measuring between 10 to 15 inches (25 to 38 cm) in height at the shoulder, these dogs embody a harmonious blend of elegance and functionality. Their stature allows them to seamlessly fit into a variety of living spaces, from cozy apartments to more spacious homes, making them ideal companions for individuals and families alike.
In addition to their height, the Miniature Poodle's weight, ranging between 10 to 15 pounds (4.5 to 6.8 kg), adds to their dainty yet sturdy presence. This compact size doesn't hinder their enthusiasm or energy levels; rather, it enhances their agility and ability to engage in various activities, from playful romps in the park to indoor games that bring joy to their owners.
The Splendor of the Coat
Perhaps one of the most distinctive and captivating features of the Miniature Poodle is its luxurious coat. Comprising tight, dense curls that exude a touch of sophistication, this coat comes in a delightful array of solid colors that span the spectrum of visual appeal. From classic black and pristine white to warm apricot and refined gray, the coat's variety reflects the breed's adaptability and charm.
Beyond its aesthetic allure, the Miniature Poodle's coat has practical benefits that further elevate its desirability. The coat's hypoallergenic nature sets it apart from many other breeds, making it a favored choice for individuals prone to allergies. Its minimal shedding is a blessing for those who value a clean and tidy living environment. Regular grooming routines, which include diligent brushing and occasional professional trimming, are essential to ensure the coat's health and to prevent the formation of uncomfortable mats.
A Conclusion of Elegance and Practicality
In the realm of dog aesthetics, the Miniature Poodle reigns supreme as an embodiment of elegance and functionality. Its carefully honed size, combined with its sumptuous and hypoallergenic coat, makes it a sought-after companion for both urban and suburban dwellers. Beyond the superficial, the Miniature Poodle's appearance is a testament to the art of selective breeding, resulting in a canine companion that not only enchants with its refined looks but also seamlessly integrates into the lives and homes of those who welcome it with open arms.
Intelligence and Trainability
In the constellation of canine intelligence, the Miniature Poodle shines as a true star, known for its exceptional cognitive abilities and eagerness to learn. This breed's intellect, coupled with its unwavering desire to please its human companions, positions it as a prime candidate for a wide range of training activities, proving that intelligence knows no bounds in the dog kingdom.
A Breed Apart in Intelligence
Within the realm of dog breeds, the Miniature Poodle stands out as a shining example of cognitive prowess. Its intellectual acumen has earned it a well-deserved reputation as one of the most intelligent breeds, a distinction that is rooted in both nature and nurture. Bred from a lineage of dogs renowned for their problem-solving abilities, the Miniature Poodle inherits a genetic predisposition for quick thinking and adaptability.
A Canvas for Training Excellence
What truly sets the Miniature Poodle apart is not just its innate intelligence but its eagerness to cooperate and please its human companions. This breed thrives on positive interactions and the challenge of learning new skills. From mastering basic obedience commands to conquering intricate tasks, Miniature Poodles exhibit an astonishing aptitude for absorbing and retaining information.
Their mental agility is not confined to traditional training exercises alone. Miniature Poodles enthusiastically embrace a variety of canine activities and sports that engage both mind and body. Whether it's navigating agility courses with finesse, participating in obedience trials with precision, or even showcasing their agility in events like dock diving, these dogs are in their element when presented with opportunities to showcase their talents.
The Key to Unleashing Potential: Early Socialization and Training
To fully unlock the potential of the Miniature Poodle's intelligence and trainability, early socialization and positive reinforcement training are paramount. Exposing these dogs to diverse environments, people, and other animals during their formative weeks helps shape their well-rounded personalities and reduces the likelihood of behavior issues later in life. Positive reinforcement techniques, such as rewards and praise, serve as effective motivators during training sessions, fostering a strong bond of trust and cooperation between the dog and its owner.
Versatility Beyond Companionship
The Miniature Poodle's capacity to quickly grasp new concepts and execute complex tasks has not gone unnoticed by various service industries. Their intelligence and trainability have propelled them into roles as service dogs, therapy dogs, and assistance dogs for individuals with disabilities. Whether it's guiding the visually impaired, providing emotional support, or assisting in tasks that improve the quality of life for those in need, Miniature Poodles continue to amaze with their adaptability and compassion.
In conclusion, the Miniature Poodle's intelligence and trainability are not just attributes but defining characteristics that enrich the lives of both the dogs and their human companions. Their enthusiasm for learning, combined with their innate smarts, opens doors to a world of shared accomplishments, deepening the bond between these remarkable dogs and the people fortunate enough to have them as part of their lives.
Personality and Temperament
The Miniature Poodle, often admired for its refined appearance, boasts a personality that is equally enchanting and multi-faceted. Behind the elegant exterior lies a heart full of affection and a disposition that seamlessly blends playfulness with watchful alertness, forming a unique blend that endears them to families and individuals alike.
A Heart of Gold: Affection and Connection
At the core of the Miniature Poodle's personality is a profound capacity for love and connection. These dogs have an innate ability to form strong, unbreakable bonds with their human families. Their desire for companionship is palpable, and they thrive in the company of their loved ones. Whether it's cuddling on the couch, accompanying on outdoor adventures, or simply being a warm presence, Miniature Poodles are committed to enhancing the lives of those around them.
Friendliness and Playfulness
Friendliness is a hallmark of the Miniature Poodle's temperament. Their sociable nature makes them remarkably open to interactions with people and other animals, especially when they have been introduced to a variety of social situations during their early developmental stages. This congenial disposition renders them wonderful companions for households with children and other pets, as they often exhibit patience and a gentle demeanor.
The inherent playfulness of the Miniature Poodle adds to their charm. Their energy and zest for life make them ideal partners for activities that engage both their minds and bodies. Be it a spirited game of fetch or a romp in the park, these dogs relish in moments that allow them to demonstrate their agility and enthusiasm.
Confident Vigilance and Watchfulness
The Miniature Poodle's personality holds a fascinating duality: while they are loving and joyful, they also harbor a confident and watchful side. Despite their smaller size, Miniature Poodles carry themselves with an air of confidence that belies their stature. This self-assured demeanor is reflected in their alertness, making them keen observers of their surroundings.
This watchfulness lends them the potential to serve as effective watchdogs. Their ability to detect changes and unfamiliar presences in their environment makes them apt at alerting their families to potential threats. However, it's important to note that this vigilance can occasionally translate into barking. Fortunately, with consistent training and proper socialization, this behavior can be managed, allowing their protective instincts to flourish without becoming a nuisance.
A Wholesome Harmony
The Miniature Poodle's personality is a beautifully intricate tapestry of qualities that harmoniously blend affection, sociability, confidence, and vigilance. Their capacity for deep connection, cheerful playfulness, and watchful alertness makes them not only beloved companions but also versatile members of a family dynamic. As these dogs continue to weave their way into the hearts of those who share their lives, their personality remains a testament to their endearing charm and the unique facets that make them a cherished addition to countless households.
Health and Care
The vitality and longevity of Miniature Poodles are a testament to their robustness, provided they are enveloped in an environment of attentive care and diligent health management. From genetic predispositions to the essentials of exercise and regular veterinary care, the well-being of these graceful companions demands a conscientious approach.
The Gift of Longevity
Miniature Poodles are known to traverse a long journey through life, often gracing their families with their presence for 12 to 15 years. However, the key to unlocking this remarkable lifespan lies in the hands of responsible owners who prioritize the welfare of their four-legged companions.
Navigating Health Challenges
Like all living creatures, Miniature Poodles can encounter certain health challenges. Among these, hip dysplasia, a condition where the hip joint doesn't develop properly, stands as a concern. Additionally, eye issues and skin problems can occasionally surface. To navigate these potential obstacles, it is crucial to collaborate with reputable breeders who adhere to responsible breeding practices, striving to minimize the risk of hereditary health issues.
Regular visits to the veterinarian, akin to compass checks on a journey, play an indispensable role in maintaining the health and happiness of Miniature Poodles. These check-ups offer opportunities for preventive measures, early detection of ailments, and the implementation of personalized care plans.
Balancing Act: Exercise and Mental Stimulation
The well-being of Miniature Poodles is more than just physical; it encompasses their mental and emotional states as well. Regular exercise stands as a cornerstone of their overall vitality. Engaging these dogs in daily walks, play sessions, and interactive games is paramount. Not only does this physical activity contribute to their physical fitness, but it also safeguards against boredom, a state that can lead to behavioral issues in any breed.
Moreover, mental stimulation is vital to the contentment of these intelligent dogs. Puzzles, training sessions, and novel experiences enrich their lives, nurturing their cognitive faculties and fulfilling their innate need for engagement.
In Conclusion
The journey to ensuring the health and well-being of Miniature Poodles demands a blend of dedication, knowledge, and partnership with veterinary professionals. Through responsible breeding, proactive health management, and an array of stimulating experiences, owners can gift their Miniature Poodles with the promise of a long and thriving life. Just as these dogs generously bestow love and companionship, it is the privilege of their caregivers to reciprocate by safeguarding their health and nurturing their happiness through each phase of their remarkable journey.
Conclusion
The Miniature Poodle is a captivating blend of elegance, intelligence, and affection. With their distinctive appearance and remarkable abilities, they have carved out a special place in the hearts of dog lovers worldwide. Whether as a devoted family companion or a standout performer in various canine sports, the Miniature Poodle continues to prove that greatness comes in all sizes.