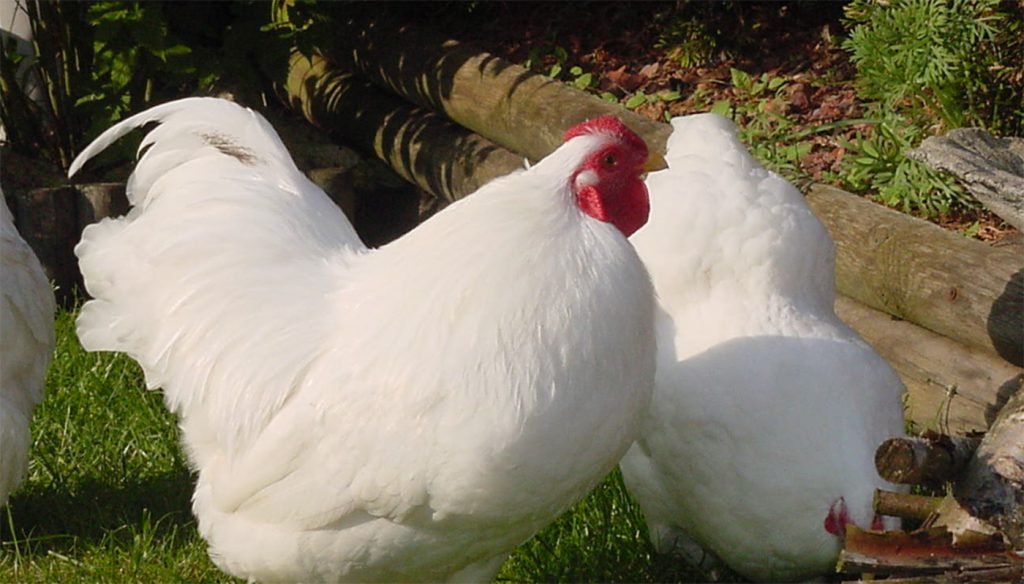 The Chantecler boasts a lovely tight knit white or partridge plumage that is able to withstand the harsh Canadian winters.
This breed was specifically bred as a hardy dual-purpose breed and is one of the only poultry breeds to come from Canada.
Chantecler
Canada
American Poultry Association:
Recognized as a breed of chicken in the United States
Chicken Category:
Large Breed
Chicken Class:
American
Bantam Variety Available?
Yes – All Other Comb Clean Legged Bantam Classification
Good Starter Chicken?
A hardy bird with a friendly disposition that makes for a great started chicken. They are quite hard to come by as they are on the Livestock Conservancy list.

PURPOSE

⇒

Eggs: They are very good egg layers
They lay large light brown/pinkish tinted eggs up to 220 per year
They will lay consistently throughout winter and summer
They start to lay eggs from around 20 weeks old.

Meat: They have succulent yellow meat and make great table birds.

Breeding: They can be bred the older hens get broody and they make good mothers

Foraging: They love to scratch about and are excellent foragers.

Show Bird: They are a friendly, bird that is quiet and well mannered.

Pets: They make good pets

Other: These ladies will idly follow your around the garden giving a soft cluck every now and then.

Flyers?
They are heavy birds, so flying is not that easy for them.
Noisy Birds?
They are quiet birds.
Interaction with other chickens:
These soft ladies get along well with other chicken breeds and love to mingle with the flock.
Good with kids?
They are good with supervised children as they can get a bit temperamental at times. Especially if they have been confined for too long.
HISTORY
The Chantecler was developed in the early 20th century in Oka, Quebec. A Doctor of Agronomy who was also a Trappist monk from the Abbey of Notre-Dame du Lac noted that the poultry in Canada was of American and European decent. There were none of Canadian decent and so Brother Wilfrid Chatelain set out to create a chicken that was a good egg layer and meat bird that was tough enough to with stand the Canadian winters.
In 1907 he combined Rhode Island Reds, White Plymouth Rocks, White Wyandotte's, White Leghorns and Dark Cornish chickens. This cross breeding created the White Chantecler that was admitted to the Standards of Perfection by the American Poultry Association in 1921.
The breed had been introduced to the public in 1918 making it one of only two poultry breeds to come from Canada.
It was first only ever the intention to have the whiter Chantecler variety as in the West the white birds are the preferred birds for commercial meat production. This is so because white birds are said to produce a much cleaner looking carcass.
The Partridge Chantecelor made an appearance in the 1930's and was created by the cross breeding of Partridge Wyandotte's, Dark Cornishes, Brown Leghorns (the rose comb variety) and Partridge Cochins. The Partridge Chantecelor was also more adapted to free ranging and this variant got admitted to the American Poultry Association in 1935.
There has since been a Buff variant that was developed in the USA, but this variant is not recognized by the American Poultry Association.
The Chantecelor is listed by the American Livestock Breeds Conservancy as critically endangered as there are only a few lefts that are maintained by local farmers and hatcheries. In fact, in 1979 the conservancy listed this breed as extinct when it was thought that the last rooster had died at the University of Saskatchewan's Department of Animal and Poultry Science.
It was thanks to these few farmers and hatcheries that the breed has managed to survive but still needs a lot of help to put it on the recovering list.
CHARACTERISTICS

IDENTIFICATION

⇒

Appearance/Body: Chantecler have long thick clean yellow legs, tight-knit fluffy feathers that are held close to their large bodies. Their beaks are yellow with a very small cushion comb and wattles which are red.

Color(s) White and Partridge

Comb: They have a very small cushion comb

Ave. Weight: Pullet/Hen 6.5 – 7.5 lbs.
Cockerel/Rooster 8 – 9 lbs.

Life Expectancy:
The average lifespan is 8 – 10 years
Health:
They have no known health issues but are not very good in exceptional heat being bred for the bitter cold.
You may Also Like:
HOW TO TELL IS A CHICKEN IS SICK
Temperament:
A friendly, good natured bird with exceptional manners
Socialize Behavior?
They love to quietly socialize with other chickens and will happily wander about the garden with the flock.
You may Also Like:
HOW TO SOCIALIZING YOUR NEW CHICKENS
Known predators:
Most domestic animals leave them alone, as they are not small, but it is always best to keep an eye on dogs and cats.
If hawks and or foxes are in your area it is always best to take precautions. Although they are not an easy target for most feathery predators.
Check with local animal shelters, zoos, vets, animal control and or pet stores about common predators in your area.
Conservation Status:
These birds conservation status is recorded as "critical/watch". It is best to check on any special license or instructions that may be set up for owning these birds. This can be checked with your local or national conservation centers.
IDEAL ENVIRONMENT

Garden Size:
They are happy in most garden sized and will adapt as long as they are not confined and can free range about.
Ideal Climate:
They are very hardy birds that handle that can with stand very cold harsh winters. Not too happy in extreme heat.
Ideal Coop:
The rule of thumb for any coop is 50 cm x 50 cm per hen/rooster in the coop.
Ensure there is a good space for the nesting boxes and nightly roosting rails at least 1.5 inches wide.
Good ventilation for air but not too drafty especially in winter.
It is always a good idea to raise the coop off the ground to give the birds a dry place to roost and lay especially in wet weather.
Ideal Coop Run:
They are heavy, so flying is difficult, but they can fly so it is better to completely cover the coop run with chicken mesh to ensure the bird's safety.
Ideal Flock Size:
They are quite happy foraging and roaming about the garden as part of a small to medium flock.
Special Instructions:
They are a low maintenance bird but as they are on the conservation list there may have some special requirements. It is best to check with the Livestock conservancy.
Accessories:
The following accessories are ideal for your coop:
Nesting boxes
Straw for the boxes and roosting area
Roosting rails
Perches
Water troughs/bowls
Food bowls/feeders
Heating lamp(s)
Animal carrier for transport purposes
You may Also Like:
45 FREE DIY CHICKEN COOP PLANS, TUTORIALS AND DESIGNS
WHERE TO FIND THESE BIRDS TO ADD TO YOUR FLOCK
The Chantecler, or at least the APA recognized varieties are not very common and cannot usually be found at poultry outlets and farms. However, on the Chantecler Fanciers International Organization website there is information on hatcheries/breeders throughout North America. They may also be able to help with any special instructions, requirements or care the breed may need. You can also check with local conservation centers for information on registered breeds in or around your area in the USA. If you plan on breeding your chickens, you will want to make sure that they are from a good bloodline. This may be a bit limited in the USA due to the small number of Chantecler chickens currently registered in North America.
CARING FOR THE BIRD(S)
Please click here for our full guide to "Taking care of chickens". This is a comprehensive guide to owning chickens. It covers where to start from choosing your ideal flock, the coop that would best suit your garden, your bird and you to buying and bringing your bird(s) home.
GENERAL
Chantecler chickens are the greatest foragers and can take care of themselves. They are friendly birds that do not take to confinement well and enjoy being free to roam about exploring the gardens with their flock.
GROOMING
Keeping their feathers pest and excess oil free requires a good dust bath, setting one up in a nice shady spot for these ladies will be much appreciated by them. These lovely chickens should be checked for mites, lice and various other parasites at least once a week. Always get your birds de-wormed on a regular basis especially if they are around other animals or interacting with kids.
DIET AND NUTRITION
As this breed love to forage and cannot wait to be let out to do so it is imperative that they are fed their balanced diet of chicken pellets, grains, chicken mash or grain mix first thing in the morning before being let out. They need the nutrients that their regular food provides them with what they peck up during the day may not be balanced enough to keep them healthy.
For baby chickens, the best is always Chick Starter when they are under 8 weeks old.
Laying hens should get extra protein and calcium in their diets to ensure the quality of their eggs and to keep them in tip-top health.
These chickens do love the table scraps in the form of vegetables and fruit. They find these scraps even better if they are served as ice-cubes on very hot days.
Feeding your chickens correctly will give your organic garden a lot of nutritious fertilizer to make your vegetables or flowers grow.
Please see our comprehensive guide to "Feeding your chickens" for more information of the different types of chicken feed for chicks, hens, laying hens, roosters, etc. and where to buy the feed and approximate cost of the feed.
SOCIALIZING THE BIRD(S)
These sociable chickens get along with all breeds of chickens.
Always check on how well a breed will get on with your current flock before buying them as you do not want to upset your coop or stress your current flock.
If you want to introduce another breed with your Chantecler, try a breed that has a gentle, yet curious and active nature that will compliment theirs.
As with any newcomer to the roost, you will have to quarantine the bird for 7 – 31 days to ensure it does not have any unwanted critters or disease that could spread to your current flock.
All chickens in an established flock will have a pecking order, so it is advisable to socialize newcomers slowly and determine when it is right to allow them to become a permanent part of the flock.
NOTES / SPECIAL INSTRUCTIONS
As they are registered as a "critical/watch" conservation status they may need an extra license to own or keep in your garden. For advice on what the bird's conservation status and orders are please check with your local conservation department.
For breeders, it is imperative that you always check your bird's bloodlines and ensure you are buying your birds from a reputed breeder/farm. In order to sell birds of such stature, they have to be recorded and documented, always check with local animal breeding organizations for these records.
These legitimate documents are also required should you wish to show your bird(s) in various poultry shows/competition showings.
For information and advice on adopting rescued animals, you can visit or contact your local animal welfare center.
Video
USEFUL LINKS
References
https://en.wikipedia.org
https://livestockconservancy.org
https://www.roysfarm.com
https://www.mypetchicken.com
https://www.backyardchickens.com
https://www.feathersite.com/