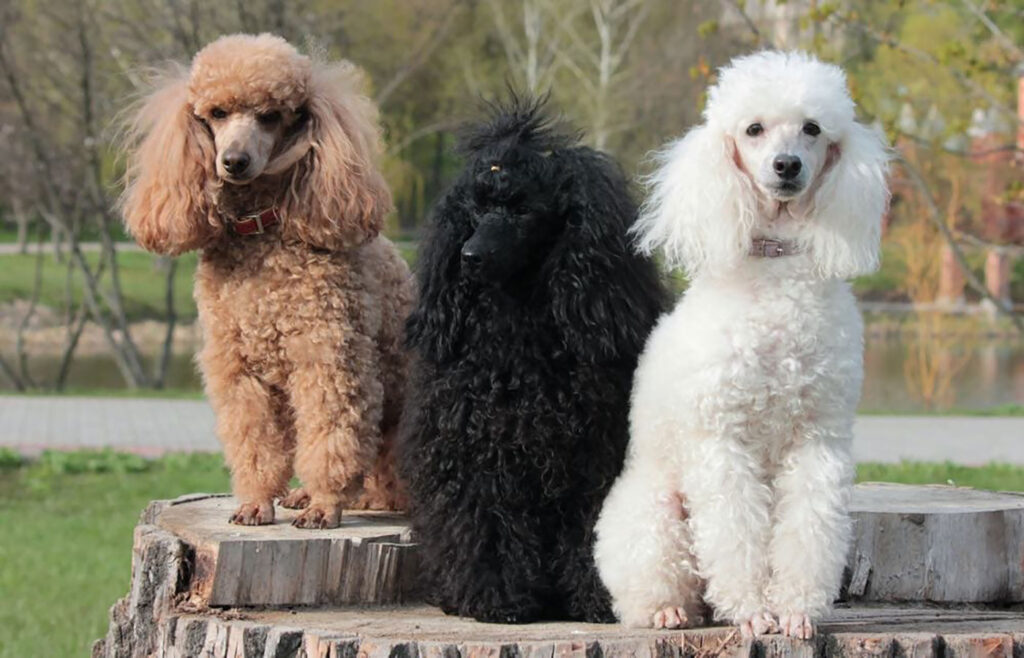 If you're looking for a furry friend that's both adorable and intelligent, the Poodle dog might be just the one for you. Known for their distinctive looks and sharp minds, Poodles have captured the hearts of dog lovers around the world.
A Playful Appearance:
Poodles, those charming and clever dogs, come in three different sizes that add to their delightful variety: standard, miniature, and toy. Each size has its own distinctive characteristics, but what's fascinating is that regardless of their size, all Poodles share a special appearance that makes them easily recognizable.
One of the standout features of Poodles is their curly coat, which isn't just stylish, but also serves a practical purpose. This coat is known for being hypoallergenic, which means it's less likely to trigger allergies in people who are sensitive to pet dander. This unique trait makes Poodles an excellent choice for individuals and families seeking a furry companion without the worry of excessive shedding.
Imagine having a dog that doesn't leave a trail of fur all over the house! This low-shedding quality can be a relief for many, as it helps keep homes cleaner and reduces the need for constant vacuuming. It's especially helpful for those who love dogs but have allergies or simply prefer a tidier living environment.
Additionally, the Poodle's coat comes in a wide array of colors, offering potential owners a palette of choices to suit their preferences. From the classic white and the elegant black to the warm brown, lovely apricot, and sophisticated gray, Poodles come in an assortment of hues that can match different tastes and lifestyles. This diversity allows individuals and families to find a Poodle that not only fits their personality but also blends harmoniously into their home.
Smart Cookies:
Beyond their adorable looks, Poodles boast impressive intelligence that sets them apart in the world of dogs. These furry companions aren't just pretty faces – they're brainy and resourceful, making them a standout breed when it comes to cognitive abilities.
Poodles consistently rank among the top of the canine intelligence charts, often securing a spot as one of the most intelligent dog breeds. This isn't just a label; their smarts are evident in their behavior and how they interact with their environment. Poodles possess a remarkable capacity for learning and problem-solving, which can leave their owners both amazed and proud.
Their quick-witted nature and eagerness to please make Poodles excellent candidates for various activities that tap into their intellect. Obedience training, for instance, becomes a joyous experience with Poodles, as they eagerly grasp commands and behaviors, often executing them with finesse. Their love for learning isn't just about doing tricks – it's about the mental engagement they receive from mastering new tasks.
But it doesn't stop there. Poodles are naturals when it comes to agility competitions, where their intelligence is showcased through their ability to navigate complex obstacle courses with speed and precision. Their sharp minds enable them to quickly process the course layout and make split-second decisions, making them formidable competitors in these events.
Beyond sports, Poodles' intelligence makes them ideal candidates for therapy work. Their ability to understand and connect with people can bring comfort to those in need, whether in hospitals, nursing homes, or other therapeutic settings. Their presence can be a source of solace and support, enhancing the well-being of those they interact with.
Poodles thrive on mental stimulation, which means they require more than just physical exercise to be happy. Puzzle toys and interactive games become more than just playtime – they become opportunities for Poodles to engage their minds, solve problems, and stay entertained. These activities not only prevent boredom but also contribute to their overall mental well-being.
Family-Focused:
Poodles, beyond their striking appearance and sharp intellect, have a heartwarming reputation for being family-focused dogs. Their inherently friendly and affectionate nature makes them cherished members of households around the world. They effortlessly form deep bonds with their human families, creating lasting connections that bring joy and companionship.
One of the remarkable qualities of Poodles is their innate ability to interact harmoniously with various members of the family, including children and other pets. Their patient and gentle demeanor often makes them great playmates for kids, and their playful energy can match the enthusiasm of even the most energetic youngsters. Poodles tend to understand the delicate dynamics of family life, adapting their behavior to ensure everyone feels included and valued.
However, like any breed, early socialization and training play crucial roles in shaping a Poodle's behavior. Exposing them to a range of experiences, people, and situations from a young age helps them develop confidence and adaptability. Proper training reinforces positive behaviors, allowing them to understand boundaries and expectations within the family unit. A well-socialized and well-trained Poodle becomes a well-adjusted and well-behaved member of the family, contributing to a harmonious home environment.
While Poodles tend to be affectionate with their families, they can sometimes exhibit a reserved demeanor around strangers. This reservedness isn't a sign of unfriendliness; rather, it's a testament to their loyalty and protectiveness. Poodles often perceive their human families as their "pack," and their innate instinct to protect and care for their pack members shines through in their interactions with unfamiliar individuals. This characteristic adds a layer of security and comfort to the household, as Poodles stand ready to safeguard their loved ones.
Grooming Galore:
Owning a Poodle comes with its own set of responsibilities, and one significant aspect that potential Poodle owners should be prepared for is the grooming routine. Poodles are renowned for their stunning curly coats, which not only contribute to their distinctive appearance but also require dedicated care to ensure their health and beauty.
The most important rule of Poodle grooming is regularity. Their luxurious coats have a tendency to mat if not properly maintained, which can lead to discomfort for the dog and increased effort for the owner. To prevent this, regular brushing is essential. Brushing your Poodle's coat a few times a week helps prevent tangles and mats from forming. This not only keeps your pup looking fabulous but also minimizes the risk of skin issues that can arise from trapped moisture or debris within the coat.
Many Poodle owners choose to enlist the help of professional groomers to maintain their pets' coats. Professional grooming involves not just a trim but also the expert handling of their specific coat type. Groomers are trained to ensure that the coat is properly cleaned, trimmed, and styled, while also checking for any skin issues or health concerns. Regular grooming sessions also help in maintaining the coat's texture and appearance, ensuring that your Poodle looks like the elegant breed they are known to be.
In addition to coat care, Poodles require attention to other grooming needs. Regular ear cleaning is important, as their floppy ears can trap moisture and debris, leading to ear infections. Similarly, teeth brushing should be a part of their routine to maintain good oral health, preventing dental issues that can cause discomfort. Nail trimming is also crucial, as overgrown nails can be painful and affect your Poodle's gait and overall comfort.
While Poodle grooming demands time and effort, it's a rewarding part of pet ownership that ensures your dog's well-being and showcases their beauty. The bond formed during grooming sessions can strengthen the relationship between you and your Poodle, and the pride of having a well-groomed pup is undoubtedly gratifying.
History and Heritage:
While Poodles are often associated with elegance and sophistication today, their history is far from what might be expected. These remarkable dogs have a heritage that is rooted in practicality and purpose, tracing back to their origins as water retrievers.
The story of Poodles dates back centuries to their beginnings as working dogs in Germany and France. Originally bred for a specific task, they were skilled water retrievers, aiding hunters in retrieving waterfowl from lakes and rivers. This original purpose explains many of their distinctive traits, such as their strong swimming ability, their keen intelligence, and their enthusiasm for water.
One of the most iconic aspects of Poodles, their unique haircut, also has its roots in their history as water retrievers. Their coats were trimmed in specific ways to enhance their efficiency in the water. Shaved areas were strategically placed to facilitate movement while swimming, leaving tufts of hair on the body to provide warmth and buoyancy. This practical haircut not only served a functional purpose but also set the Poodle apart visually.
Interestingly, the very name "Poodle" has a historical significance. The name is derived from the German word "pudel," which means "to splash." This moniker is a direct nod to the breed's water-loving nature and its skill in retrieving game from the water. The name encapsulates the very essence of the Poodle's original purpose and talents.
As time went on, Poodles transitioned from their role as working dogs to becoming popular companions in aristocratic and royal circles. Their intelligence, versatile abilities, and distinctive appearance captured the attention of the elite, propelling them into a different sphere of influence. This shift in status eventually contributed to the perception of Poodles as fancy and sophisticated dogs.
Health Matters:
While Poodles are known for their intelligence, charm, and companionship, like all living creatures, they aren't exempt from health concerns. Understanding the potential health issues that can affect Poodles is essential for responsible pet ownership, ensuring that your furry friend lives a happy and healthy life.
One of the primary health concerns that can affect Poodles is hip dysplasia. This is a condition where the hip joint doesn't develop properly, leading to discomfort, pain, and reduced mobility. While genetics can play a role, factors such as diet, exercise, and weight management also contribute to the development of this condition. Regular exercise, maintaining a healthy weight, and providing joint-supporting supplements can help mitigate the risk of hip dysplasia.
Eye problems are another consideration for Poodle owners. Some Poodles may be predisposed to conditions such as cataracts, progressive retinal atrophy (PRA), and other genetic eye disorders. Regular eye check-ups with a veterinarian can help catch any issues early, ensuring prompt treatment if necessary.
Certain skin conditions can also impact Poodles. Their dense and curly coats, while stunning, can sometimes create an environment conducive to skin problems, such as dermatitis or allergies. Proper grooming practices, including regular bathing, brushing, and maintaining their coat's cleanliness, can go a long way in preventing these issues. If skin problems do arise, consulting a veterinarian is crucial for accurate diagnosis and treatment.
The key to ensuring the health and well-being of your Poodle lies in responsible breeding practices. Reputable breeders prioritize the health of their dogs, conducting health screenings on breeding pairs to minimize the risk of passing on genetic conditions. When looking to bring a Poodle puppy into your home, choosing a breeder who is committed to the breed's health and follows ethical breeding practices is vital. Responsible breeders will provide you with health clearances and information about the puppy's lineage, helping you make an informed decision.
Additionally, ongoing veterinary care is essential for maintaining your Poodle's health. Regular check-ups, vaccinations, and preventive measures, such as heartworm and flea prevention, contribute to their overall well-being.
Conclusion:
The Poodle dog is much more than its elegant appearance – it's a loyal, intelligent, and loving companion. Whether you're looking for a standard, miniature, or toy Poodle, you'll be bringing home a playful and affectionate friend that's always ready for a new adventure. Just be ready to invest time in grooming and training to ensure your Poodle is as happy and healthy as can be.