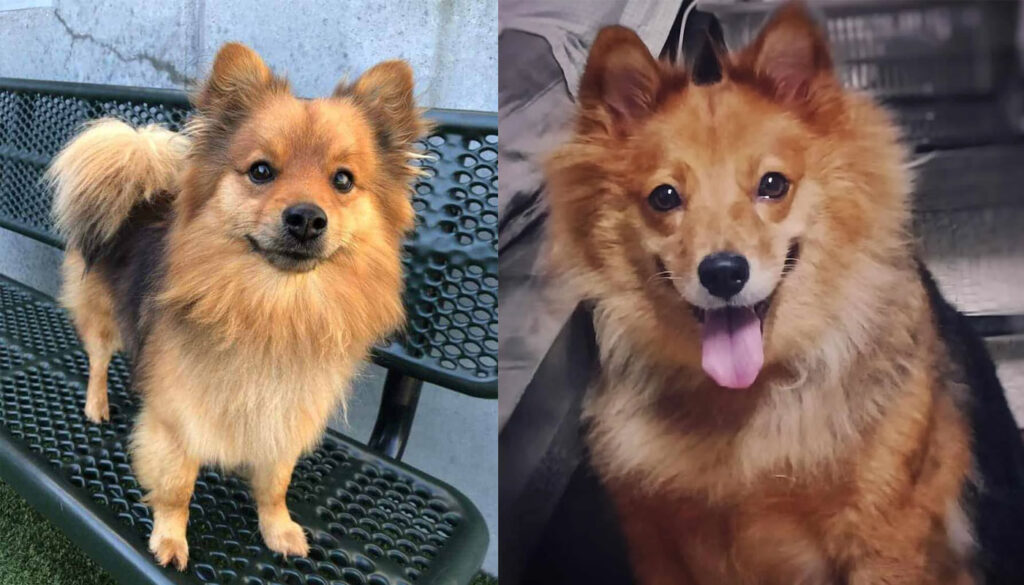 In a world where dog breeds are as diverse as the stars in the sky, there's one captivating mix that has captured the hearts of dog enthusiasts around the globe – the Pomeranian Shepherd. This adorable canine hybrid, a delightful combination of the majestic German Shepherd and the tiny but spirited Pomeranian, boasts a unique blend of characteristics that make it an ideal companion for families and individuals alike. So, let's embark on a journey to discover the captivating world of the Pomeranian Shepherd and what makes it stand out among the rest.
A Tale of Two Breeds
Before we delve into the delightful traits of the Pomeranian Shepherd, it's essential to understand the two breeds that contribute to its intriguing DNA. On one paw, we have the German Shepherd, a majestic and intelligent working dog, renowned for its exceptional loyalty, courage, and versatility. Bred for herding and protection, the German Shepherd has been a favorite choice for police, military, and service work worldwide.
On the other paw, we have the Pomeranian, a small, fluffy toy breed brimming with charm and vivacity. With its luxurious coat and bright personality, the Pomeranian has stolen the hearts of royalty and commoners alike. Though pint-sized, this breed packs a whole lot of spirit and can light up any room with its bubbly energy.
The Perfect Blend
When you merge the German Shepherd's noble characteristics with the Pomeranian's endearing charm, the result is the Pomeranian Shepherd – a delightful mix that exemplifies the best of both worlds. Size-wise, the Pomeranian Shepherd falls somewhere in between its parent breeds, boasting a medium-sized frame that is both sturdy and adorable.
A Loving and Devoted Companion
Imagine coming home after a long and exhausting day, feeling drained and worn out. But as soon as you step through that front door, you're greeted by a wagging tail, sparkling eyes, and a bundle of pure joy. This is the magic of having a Pomeranian Shepherd as your loving and devoted companion.
From the moment you welcome a Pomeranian Shepherd into your life, you'll experience a bond like no other. These affectionate hybrids have an uncanny ability to sense your emotions, and they'll always be there to provide comfort and support. Their loyalty knows no bounds, and they'll stick by your side through thick and thin, no matter the circumstances.
The genuine love and attachment that a Pomeranian Shepherd shows towards its human family are heartwarming. You'll find them following you around the house, always seeking your attention, and eager to join you in any activity you undertake. Whether it's a simple walk in the park or a lazy afternoon on the couch, they relish every moment spent with you.
These furballs are not just pets; they become an integral part of your life. They seem to understand you on a deeper level, and you might find yourself sharing your secrets and troubles with them, knowing they won't judge you. Their presence alone can bring a sense of calmness and happiness, making your home feel warmer and more inviting.
And let's not forget their incredible ability to read your emotions. They can sense when you're feeling down and will cuddle up beside you, offering their silent support. When you're excited or happy, they'll bounce around, matching your enthusiasm. Their intuition is simply awe-inspiring, and it's almost as if they can speak to you through their expressive eyes and gentle nudges.
One of the most beautiful aspects of having a Pomeranian Shepherd as your companion is the unconditional love they shower upon you. They don't care about your imperfections or the challenges you face; they see you as the center of their universe, and their love for you is boundless. They'll be your constant cheerleader, celebrating your victories and providing comfort during your defeats.
Their devotion also extends to the entire family, as they are incredibly kid-friendly and get along well with other pets. They are gentle and patient with children, making them fantastic playmates and guardians.
In return, all they ask for is your love, care, and attention. They thrive on positive reinforcement and will respond eagerly to your affectionate gestures and praises during training sessions. Building a strong bond with your Pomeranian Shepherd is a delightful experience, and the rewards are immeasurable.
If you ever feel lonely or overwhelmed, having a Pomeranian Shepherd as your devoted companion can brighten even the darkest of days. Their love is a powerful force that can uplift your spirits and remind you that you're never alone. They are not just pets; they are family members who will love you fiercely and unconditionally, bringing immeasurable joy to your life each and every day. So, open your heart to a Pomeranian Shepherd, and be prepared to embark on a journey of love, loyalty, and companionship that will warm your heart for years to come.
Intelligence That Shines
When it comes to intelligence, the Pomeranian Shepherd shines like a dazzling star in the canine constellation. This remarkable hybrid inherited the best of both its parent breeds, the German Shepherd and the Pomeranian, resulting in a dog that is not only adorable but also exceptionally smart and trainable.
From the moment you begin training a Pomeranian Shepherd, you'll notice its eagerness to learn and its ability to pick up commands with surprising speed. This breed thrives on mental stimulation and craves opportunities to challenge its intellect. As a result, training sessions become an enjoyable and rewarding experience for both the dog and its owner.
The German Shepherd lineage contributes its renowned intelligence to the Pomeranian Shepherd's genetic makeup. German Shepherds have long been favored as working dogs for their ability to learn complex tasks and follow instructions accurately. This legacy is carried forward by the Pomeranian Shepherd, making it adept at various activities and tasks.
Due to their quick-witted nature, Pomeranian Shepherds excel in obedience training. They can master basic commands like sit, stay, come, and heel in no time. But their intelligence doesn't stop there. They are always eager to learn new tricks and challenges, making them the stars of dog training classes and competitions.
Socialization is key to nurturing a well-rounded and confident Pomeranian Shepherd. When introduced to various environments, people, and animals from a young age, their intelligence helps them adapt quickly and comfortably to new situations. This blend of intelligence and social skills ensures that they grow into well-mannered and friendly adult dogs.
Not only are they quick learners, but Pomeranian Shepherds also possess an impressive memory. Once they learn something, it's etched in their minds. This enables them to recall commands and behaviors even after a considerable period, making reinforcement and refinement of their training much more manageable.
Their ability to problem-solve and think critically sets them apart from other breeds. You may be amazed to witness them analyzing situations and devising solutions to challenges they encounter. This level of intelligence makes them valuable companions in search and rescue missions or other specialized tasks that require cognitive prowess.
To keep their sharp minds engaged and prevent boredom, mental enrichment is essential for Pomeranian Shepherds. Engaging them in interactive games, puzzle toys, or canine sports like agility and obedience trials will not only provide physical exercise but also satisfy their intellectual cravings.
However, as an owner, it's essential to provide consistent and positive reinforcement during training. Pomeranian Shepherds can be sensitive to harsh corrections, and a gentle, patient approach is more effective in nurturing their intelligence.
A Guardian Angel
If you're looking for a loyal and devoted protector, the Pomeranian Shepherd is the ultimate guardian angel you need by your side. This remarkable hybrid, a blend of the noble German Shepherd and the spirited Pomeranian, has inherited the best protective instincts from both its parent breeds, making it an exceptional watchdog and a fierce defender of its human family.
The Pomeranian Shepherd's German Shepherd lineage contributes a strong sense of fearlessness and heightened alertness. With their sharp senses and keen awareness of their surroundings, they are quick to detect any potential threats or unfamiliar activities in their territory. Their instinctive protective nature means they will be vigilant and ready to defend their loved ones at a moment's notice.
Loyalty is ingrained in the very DNA of the Pomeranian Shepherd. Once they form a bond with their human family, they become fiercely devoted, willing to put themselves between you and any perceived danger. Their loyalty extends beyond just one person; they consider the entire family as their pack and will protect each member with equal dedication.
Pomeranian Shepherds are known for their gentle and patient demeanor with children. They seem to have a special affinity for kids, taking on a protective role as if they were their little charges. You can rest assured that your Pomeranian Shepherd will watch over and safeguard your children as they play, creating a strong and loving bond with the whole family.
The Pomeranian Shepherd's imposing appearance, with a blend of both its parent breeds' physical characteristics, alone can serve as a deterrent to potential intruders. Their imposing stance, strong build, and commanding presence can make anyone think twice before attempting any mischief.
Pomeranian Shepherds are not only protectors of the home but also defenders of their pack in any situation. Whether you're out for a walk in the park or traveling on vacation, they will remain watchful and ready to shield you from harm. Their loyalty knows no boundaries, making them the perfect travel companion and guardian on any adventure.
However, it's crucial to note that while their protective nature is a valuable asset, early and proper socialization is essential to ensure they remain friendly and approachable around other dogs and people. Early exposure to different environments, situations, and individuals will help them understand when to be protective and when to be relaxed and sociable.
To make the most of their protective instincts, obedience training is vital. Teaching them proper commands for guarding and recall will ensure they respond appropriately in different scenarios. Positive reinforcement-based training methods work exceptionally well with this breed, as they respond well to praise and rewards.
A Burst of Playful Energy
If you're ready for a burst of joy and exuberance in your life, look no further than the Pomeranian Shepherd! This delightful hybrid, a mix of the lively Pomeranian and the spirited German Shepherd, is a non-stop source of playful energy that will keep you on your toes and put a smile on your face every day.
The Pomeranian Shepherd has an inherent love for playtime and is always up for a game. Whether it's a game of fetch, tug-of-war, or a spirited chase around the yard, they approach play with infectious enthusiasm. Their boundless energy ensures that playtime never gets dull, and they can keep going long after you're ready to take a break!
Thanks to their Pomeranian lineage, these hybrids possess a surprising level of agility and nimbleness. You'll be amazed to see them effortlessly navigate obstacles, jump over hurdles, and perform playful acrobatics that are sure to amuse and entertain you.
Pomeranian Shepherds are not just playful with their human family; they are also incredibly sociable with other dogs and pets. They love to interact and engage in canine playdates, making them the life of the party at the dog park. Their friendly and outgoing nature ensures they make new friends wherever they go.
Their gentle and patient disposition with children makes them fantastic playmates for kids. They have a knack for matching a child's energy and are always up for a game of tag or a playful romp in the backyard. Their playful antics and affectionate nature create a strong bond with children, making them wonderful additions to families with kids.
Pomeranian Shepherds' playfulness isn't just about fun and games; it also serves as a vital outlet for their abundant energy. Engaging in play and interactive games not only keeps them physically fit but also provides valuable mental stimulation, preventing boredom and potential behavioral issues.
Whether you're an active individual seeking a jogging partner or a family looking for a dog that can keep up with kids' high energy levels, the Pomeranian Shepherd fits the bill perfectly. They are adaptable and versatile, eager to join in any family activity and spreading their zest for life to everyone around them.
However, it's essential to ensure that their playtime is balanced with proper rest and relaxation. Like any dog, they need sufficient downtime to recuperate and recharge. Providing them with cozy spots to rest and unwind after play sessions will help keep them healthy and content.
As an owner, embracing their playful nature and actively participating in their games will strengthen your bond and create unforgettable memories. Their cheerful spirit is contagious, and you'll find yourself laughing and enjoying life more with them by your side.
Conclusion
In the heartwarming presence of a Pomeranian Shepherd, it's easy to see why this delightful hybrid has captured the admiration of dog lovers worldwide. From its loyal and loving nature to its playful energy and sharp intelligence, the Pomeranian Shepherd brings the best of both parent breeds into one adorable package.
As with any dog breed, responsible ownership is vital, and potential owners should invest time and effort in training, socialization, and providing a loving home for this charming and devoted companion. If you're looking for a furry friend that embodies loyalty, charm, and a dash of playfulness, the Pomeranian Shepherd might just be your perfect match!