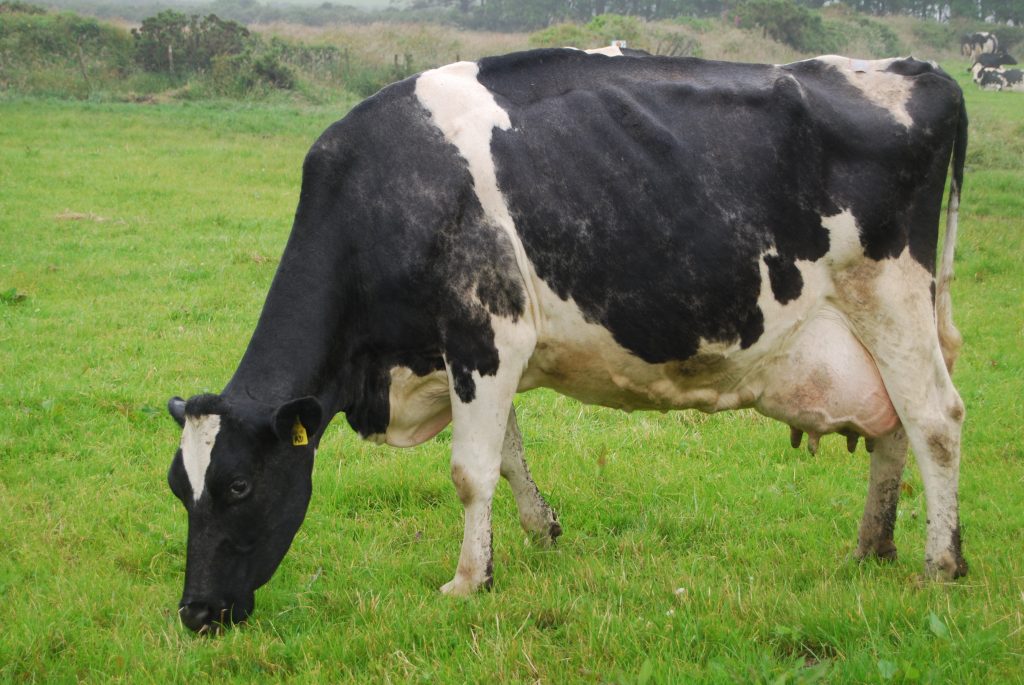 When we think of dairy cow usually a large black and white cow that usually has some patchwork of spots of white color marking breaking the black comes to mind. That is because one of the most iconic dairy cow breeds around is the Holstein dairy cow. They produce large amounts of health milk rich in both butterfat and protein content. They can also be used for their tender succulent and juicy meat.
HOLSTEIN BREED OF CATTLE QUICK PROFILE OVERVIEW


The black and white patches dairy that cow that is synonymous with the words "dairy cow"
Country of Origin:
Netherlands, Germany, and Denmark
Other Names:
Holstein Friesian
Main Purpose:
Dairy
You may Also Like:
35 Best Cattle Breeds for Milk – Dairy Cattle
You may Also Like:
47 Best Cattle Breeds for Meat – Beef Cattle
Can be used for
Breed, Meat, Milk
Ideal Climate:
Heat, Cold, Most Climates
Conservation Status:
Not listed by the

*

ALC
Status/Rarity: Not at risk
Health Issues?
No known health issues
Good Starter Cattle?
Novice to intermediate Cattle farmer/keeper level
Cattle Associations:
Holstein Association USA, Holstein UK, and Holstein in UK
Cattle Clubs:
Please refer to the Holstein Association USA, Holstein UK, and Holstein in UK for more information on the Holstein cattle breed
Where to buy them?
Please refer to the Holstein Association USA, Holstein UK, and Holstein in UK for more information on the Holstein cattle breed
Child Friendly?
Livestock should not be left unattended around unsupervised children
General Information:
The Holstein cattle breed are very easy to identify with their very distinctive black and white coloring.
94% of the 9 million dairy cows registered in the United States of America are Holstein dairy cows or of Holstein descent.
The world record for the most milk produced from one cow was set by a Holstein cow, Selz-Pralle Aftershock 3918. She was a cow from Wisconsin and produced 78170 pounds of milk in 2017.
At the World Dairy Expo held in Madison, Wisconsin Black and White Holstein cows have claimed the Supreme Championship honors which is the highest award for elite phenotype characteristics. They have claimed the award 35 times in the last 51 years.
Note:

*

ALC stands for American Livestock Conservancy
PHYSICAL CHARACTERISTICS

Holstein cattle are a breed that has a medium to large frame and a very distinctive color pattern on their skin. They are known as the world best dairy cows and produce large amounts of nutritious milk. They have the usual blockish cow figure, soft rectangular faces that end in a slightly uptilted nose and medium-sized fuzzy black ears. They have medium to long sturdy legs and either a small tight dewlap of none at all.
Size:
Medium to large

| | | |
| --- | --- | --- |
| CATTLE ⇒ | COW | BULL |
| Breed Color: | Black and white | Black and white |
| Breed Weight: | 680 to 770 kgs | 680 to 900 kgs |
| Breed Height: | 145 to 165 cm | 165 to 170 cm |
| Horns: | No horns | No horns |
| Temperament: | They are calm, docile and do not mind being around humans making them easy to handle | They are generally calm and docile but bulls are known to become aggressive for various different reasons and should always be handled with extreme care |
| Matures at age: | 6 to 8 months or 9 + months | 6 to 8 months or 9 + months |
| Puberty Age: | 6 to 15 months | 9 to 1o months |
| Breeding Age: | 13 to 15 months | 1 year |
| Breeding Traits: | See Cow breeding & Milking Info | Cover 25 to 30 Cows in 1 season |
COW BREEDING & MILKING INFORMATION

Most Cattle produce milk but not all of them are used in the dairy Cattle capacity for their milk. Cows only calve once a year and should have 12 to 14-month inter-calving cycle. The Holstein cow is the worlds best dairy cow and the breed holds the world record for the amount of milk produced by one cow in a year. They are also very good mothers with excellent maternal instincts and are quite fertile. They have easy births with little to no birthing problems and produce mainly healthy, robust and vigorous calves.
Breeding Period/cycle:
Usually lasts 6 to 24 hours
Most ave. 12 to 16 hours
Cows usually come on heat every 21 days.
Estrous cycle:
Ave. 17 days to 24 days
Heifer – usually ave. 20 days
Cows – usually ave. 21 days
Gestation Period:
Usually, around 279 to 287 days but most gestation is 283 days. Cows that are carrying bull calf's their gestation period is usually a little longer than cows that are carrying heifer calves.
No. Calves/Litter:
1 calf at a time. Cows rarely have twins or triplets, but it can happen
Lactation Period:
Cows lactation period can last for up to about 10 months (305) days.
Milking From:
1 to 6 weeks after Calving
Drying off Period:
The cow should have a 12 to 14-month inter-calving cycle. Drying off period for around 60 days before she can calve again.
Milk Quality:
Excellent, Butterfat = 3.7%, Protein = 3.19%
Quantity: 7330 liters Per: Lactation period
Milk Ideal for:
Calves, milk, butter, cheese, and various other dairy products
You may Also Like:
35 Best Cattle Breeds for Milk – Dairy Cattle
CATTLE MEAT PRODUCTION INFORMATION

Although not specifically bred for meat production the Holstein cows are known to produce male calves that can be fattened. The British Friesian is a little bit smaller than most Holstein breed, but they tend to hold more flesh than the other Holstein breeds. They have quite a lean mean with good meat to bone ratios.
Meat Production?
No, Quality: Good

| | | |
| --- | --- | --- |
| CATTLE ⇒ | VEAL | BEEF |
| Ave. Maturity Age: | 6 to 8 months | 9 months up to 4 years |

You may Also Like:
47 Best Cattle Breeds for Meat – Beef Cattle
CATTLE SKIN PRODUCTION INFORMATION

Most meat Cattle will have a skin by-product, and these are usually used in some form or just as a hide. They are not bred for the production of leather although if they are used for meat their skin could possibly be a by-product for the leather trad.
Skin Production?
N/A
Skin is used to Produce:
Calf/cow skin leather products such as shoes, car seats, fine leather coats, gloves, handbags, belts, furniture, rugs, etc.

| | | |
| --- | --- | --- |
| CATTLE ⇒ | CALF | ADULT |
| Age they Produce from: | 6 to 8 months for Calf skin | 1 to 2 years old for Normal leather |
HISTORY
The ancestry of the Holstein cattle is believed to have started as far back as almost 2000 years ago. Migrant European tribes that settled in the Netherlands wanted animals that would produce high volumes of milk living of limited feed resources. The animals would have to make the use of the land that was available to the settlers. The animals were culled and bred through a selection process for the feed to milk producing efficiency.
Animals that did not conform to these conditions were culled and not bred. The breed genetically evolved over time into what we know as the Holstein or Holstein-Friesian which is the worlds number one milk producing cattle breed.
Settlements in the New World (or as we know it today America) had a need for dairy and as such markets opened up for dairy in America. Breeders of the time turned to Holland in order to get dairy cattle.
In 1852 a Dutch sailing master landed cargo at Boston where Winthrop Chenery, a Massachusetts breed, purchased a Holland cow from the sailor. The cow had been brought on board for the voyage to give the crew fresh milk for the journey. Winthrop Chenery was so impressed with the cows milking production and quality that he imported more Holstein to the United States of America in 1857, 1859 and again in 1861. Soon a whole lot of breeders joined him in the plight to establish Holstein cows in America.
America had imported close on about 8800 heads of Holstein cattle when a cattle disease spread through Europe. A ban was put on any cattle importations.
By the late 1800s there were enough Holstein cattle and breeders in the United States of America to start recording pedigrees and thus an association for the keeping of these records and promoting the breed was established it was called Holstein-Friesian Association of America and was established in 1885. The name was changed to Holstein Association USA, Inc. in 1994.
Holstein cattle have won awards for their milk and many of the dairy products associated with the milk.
Video
USEFUL LINKS