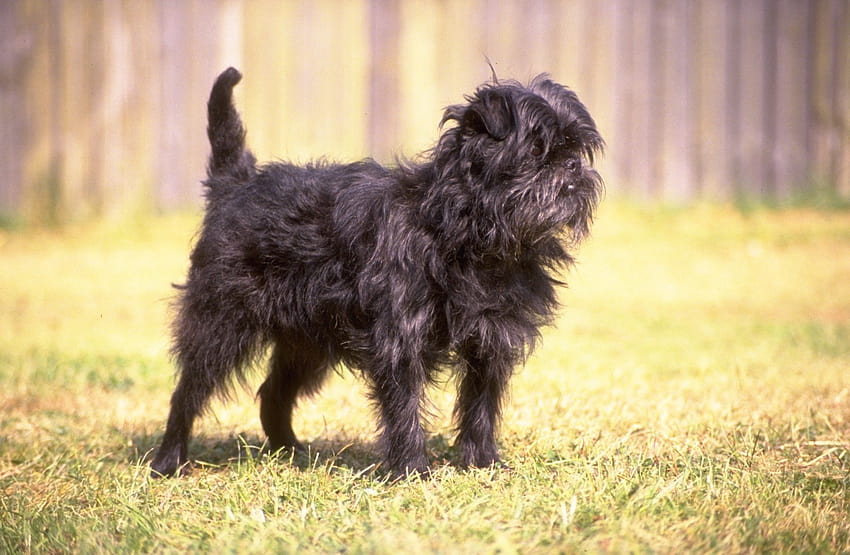 Are you ready to delve into the captivating world of the Affenpoo? If you're searching for a four-legged companion that boasts the elegance of a Poodle and the playful spirit of a mischievous monkey, look no further! The Affenpoo is a delightful hybrid breed that has been charming dog enthusiasts with its unique appearance and endearing personality. Let's swing through the branches of knowledge and explore this captivating canine creation.
The Enigmatic Origins:
In the realm of canine curiosities, the enigmatic origins of the Affenpoo breed beguile and intrigue dog lovers around the world. To unravel this captivating mystery, we must travel back to a time when two distinct breeds, the Affenpinscher and the Poodle, converged in an unconventional union, creating a charming hybrid that defies conventional categorization.
The Affenpinscher, affectionately known as the "Monkey Dog," boasts a rich history dating back to 17th-century Germany. These tiny, wiry-haired canines were originally bred to hunt rodents and vermin, earning their keep as vigilant and courageous ratters. With their expressive faces, almost human-like, and mischievous spirit, Affenpinschers quickly endeared themselves to their human companions, and thus their journey into the world of domestic pets began.
On the other side of the Affenpoo equation lies the illustrious Poodle, celebrated for its elegance, intelligence, and distinctive curly coat. Contrary to popular belief, Poodles did not originate as mere circus performers but were bred as skilled water retrievers in Germany. Their coat's unique texture, which prevents water from reaching their skin, made them ideal for fetching game from the water. Over time, the Poodle's grace and intellect elevated it to the status of a sought-after companion in the aristocratic circles of Europe.
But how did these seemingly divergent breeds find themselves entwined in a mesmerizing dance of genetics, creating the lovable enigma that is the Affenpoo?
Enter the world of designer dog breeds, a phenomenon that gained momentum in the late 20th century. The crossing of purebred dogs aimed to combine desirable traits, temperaments, and appearances into a new, enchanting amalgamation. And thus, the Affenpoo was born – a fusion of the Affenpinscher's captivating charm and the Poodle's unparalleled intelligence.
As a result, the Affenpoo inherited the best of both worlds: the quirky and monkey-like facial expressions of the Affenpinscher, coupled with the Poodle's curly coat, wit, and ability to excel in various training activities. This serendipitous blend imbued the Affenpoo with an irresistible allure, attracting the attention and admiration of dog enthusiasts globally.
Today, the Affenpoo stands as a testament to the magic of hybridization, where chance encounters between breeds birth new companions that delight and captivate. The enigmatic origins of the Affenpoo serve as a reminder that in the world of dogs, as in life, the most remarkable treasures often emerge from the unlikeliest of unions.
A Closer Look at the Affenpoo's Aesthetics:
Prepare to be entranced as we take a closer look at the mesmerizing aesthetics of the Affenpoo, a canine creation that exudes charm, elegance, and a hint of whimsy. From its adorable furry features to its soulful eyes, this hybrid breed boasts a visual appeal that is nothing short of enchanting.
Curly-Coated Cuteness: At the heart of the Affenpoo's visual allure lies its magnificent coat – a delightful medley of curls and fluff that demands attention and affection. The texture of their coat is soft and plush, reminiscent of hugging a living teddy bear. Whether their fur is tight and coiled like corkscrews or gently undulating with waves, it exudes an air of sophistication and playfulness all at once.
The Kaleidoscope of Colors: Nature's paintbrush has bestowed upon the Affenpoo a vast palette of colors to suit every taste. From the classic and timeless black, brown, and gray to the radiant and eye-catching apricots, creams, and silvers, this breed's coat colors offer a spectrum of choices that make each Affenpoo a unique work of art.
The Irresistible Monkey Grin: The Affenpinscher's legacy shines brightly through the Affenpoo's face, as if it were plucked straight from the world of curious primates. With their slightly pushed-in noses, expressive eyes, and a grin that hints at mischief, they effortlessly charm their way into your heart. Those soulful eyes speak volumes, revealing intelligence and an emotional depth that forges an unbreakable bond with their human companions.
Petite Yet Perfectly Proportioned: While small to medium in size, the Affenpoo possesses a well-balanced and harmonious physique. Their compact stature adds to their charm, making them ideal companions for various living situations. Whether it's apartment living or a spacious family home, the Affenpoo adapts with grace and ease.
Elegance Meets Playfulness: Beyond their appearance, the Affenpoo's aesthetics beautifully reflect the duality of their nature. Their curly and sophisticated coat mirrors the elegance of the Poodle lineage, while their playful expressions echo the endearing mischievousness of the Affenpinscher. This unique combination creates a captivating contrast that is both heartwarming and delightful.
A Living Teddy Bear: When you look into the eyes of an Affenpoo, it's like gazing into the eyes of a living teddy bear – an irresistible, cuddly companion that emanates warmth and joy. Their visuals alone are enough to evoke feelings of happiness and create an instant connection with dog enthusiasts of all ages.
An Intellectual Enigma:
The Affenpoo stands as a captivating intellectual enigma among the canine world. Behind those soulful eyes and charming grin lies a brilliant mind, a canine conundrum that continues to astound and impress dog enthusiasts. Let us delve into the intriguing depths of the Affenpoo's intelligence, unraveling the secrets of their cognitive prowess.
A Poodle's Intellectual Pedigree: The Affenpoo's intellect draws heavily from its Poodle ancestry. Poodles are renowned for their exceptional intelligence, often ranking among the top breeds in canine intelligence tests. This intellectual heritage brings a keen problem-solving ability and an eagerness to learn, making the Affenpoo a remarkably trainable and responsive companion.
Intuition and Adaptability: Beyond formal training, the Affenpoo boasts an innate intuition and adaptability that seems almost supernatural. They possess an uncanny ability to read human emotions and respond with empathy and understanding. This unique skill makes them not just loyal companions, but also intuitive support animals for those in need of emotional comfort.
A Trickster's Repertoire: With a mind that absorbs knowledge like a sponge, the Affenpoo rapidly masters a myriad of tricks and commands, leaving audiences astonished by their capabilities. Their quick-wittedness allows them to perform with flair and creativity, adding a touch of showmanship to their playful nature.
Problem-Solving Prodigy: When faced with challenges or puzzles, the Affenpoo showcases an exceptional problem-solving acumen. They analyze situations with remarkable efficiency and employ clever strategies to overcome obstacles. Whether it's figuring out how to access a treat or finding the shortest path during playtime, their intellectual prowess consistently shines through.
Mental Stimulation and Beyond: To satisfy their voracious appetite for mental stimulation, the Affenpoo requires regular engagement and interactive play. Their love for mental challenges extends beyond tricks and commands; they thrive on interactive toys, puzzles, and even agility courses. Engaging their minds is not just a source of amusement for them; it is a fundamental aspect of their well-being.
A Heart of Brilliance and Love: While the Affenpoo's intellectual brilliance is undeniably impressive, it is their capacity for love and devotion that makes them true enigmas. Their intelligence is not solely for the purpose of performing tricks but also to forge deep emotional bonds with their human companions. Their ability to understand and respond to human emotions with empathy is a testament to their emotional intelligence, making them not just intellectual prodigies but also heartfelt confidants.
Monkey Business and Playful Shenanigans:
Prepare to be delighted by the exuberant monkey business and playful shenanigans of the Affenpoo! This charming hybrid breed, with its lineage traced back to the mischievous Affenpinscher and the playful Poodle, brings an abundance of joy and laughter into the lives of its lucky human companions.
A Natural Born Prankster: If laughter is the best medicine, the Affenpoo is the ultimate cure. Their mischievous spirit inherited from the Affenpinscher parent ensures that there is never a dull moment when they're around. From sneakily stealing socks to playful hide-and-seek with toys, they're experts at keeping you entertained with their antics.
The Joy of Playtime: For the Affenpoo, playtime is a sacred affair. Whether indoors or outdoors, they relish every moment of frolic and fun. Fetch becomes an exhilarating expedition, tug-of-war transforms into a heated battle of strength, and a simple game of chase turns into a hilarious sprint that leaves everyone in stitches.
Curious Minds at Work: Curiosity is the driving force behind the Affenpoo's playful explorations. Their inquisitive nature leads them to investigate every nook and cranny, and they're always ready to embark on a new adventure. Be prepared for the occasional "investigation" of your belongings – they simply can't resist discovering what lies beyond closed doors or under the sofa.
The Art of Clowning Around: The Affenpoo is a natural-born entertainer with a flair for clowning around. Their expressive faces and animated body language make them the center of attention wherever they go. Get ready to witness their repertoire of hilarious expressions and comical gestures that are guaranteed to bring smiles to everyone's faces.
Playmates for All Ages: Children and adults alike are drawn to the playful charm of the Affenpoo. Their gentle and affectionate nature makes them ideal playmates for kids, and they have a unique ability to bond with people of all ages. Their infectious energy and joyful antics create a joyful atmosphere that lifts spirits and brightens even the dullest days.
Laughter Therapy at Its Finest: In a world filled with responsibilities and stress, the Affenpoo is a reminder to embrace the joy of living in the present moment. They remind us that sometimes, letting go of our worries and engaging in playful shenanigans is the best form of therapy. A single look into their gleaming eyes is enough to make worries melt away.
Loyal Companionship:
Loyal companionship is at the very heart of the Affenpoo's endearing nature. Once you welcome this delightful hybrid into your life, you'll experience a level of devotion and affection that will leave an indelible mark on your heart.
A Bond Beyond Words: From the moment you meet your Affenpoo, you'll feel an unspoken connection that transcends words. Their expressive eyes, filled with love and trust, reflect the deep emotional bond they form with their human family. They have an uncanny ability to sense your moods and emotions, providing comfort and companionship during both joyful and challenging times.
A Forever Friend: The Affenpoo is not just a pet; they become an integral part of the family. Their loyalty knows no bounds, and they will stand by your side through thick and thin. Their unwavering devotion is a testament to the depth of their love, making them a true forever friend.
Always Eager to Please: The Affenpoo's intelligence and eagerness to please their human companions make them exceptional learners. Whether it's learning new tricks, following commands, or simply being the best possible companion, they will go above and beyond to make you proud. Their desire to please you is a reflection of their loyalty and dedication.
Family Matters: For the Affenpoo, family comes first. They thrive in the warmth of a loving home, forming strong bonds not only with their primary caregiver but with every family member. They have a special affinity for children and become gentle playmates, nurturing a lasting friendship that children cherish.
Guardian Angels: Despite their small size, the Affenpoo possesses a big heart and a protective instinct. They take their role as a guardian of the family seriously, barking to alert you of any potential threats or intruders. Their loyalty extends to ensuring your safety and well-being, making them your ever-watchful guardian angels.
Emotional Support and Unconditional Love: The Affenpoo's loyalty extends to providing emotional support when you need it most. They intuitively sense your feelings and offer comfort through cuddles and affectionate gestures. In their presence, you'll experience a level of unconditional love that has the power to brighten even the darkest of days.
Conclusion:
In conclusion, the Affenpoo is a captivating canine enigma, combining the charisma of the Affenpinscher with the intelligence of the Poodle to create a one-of-a-kind companion. From its enchanting appearance, with a curly and fluffy coat, monkey-like facial expressions, and expressive eyes, to its remarkable intelligence and problem-solving abilities, the Affenpoo never fails to leave a lasting impression on all who meet it.
This playful and mischievous breed brings joy and laughter into the lives of its human family through its entertaining antics and clever tricks. They are not just dogs; they are companions, entertainers, and emotional supporters, forming deep emotional bonds with their human counterparts.
Beyond their playful nature, the Affenpoo is an epitome of loyalty, devotion, and unconditional love. Their presence brings a sense of security and comfort, making them not just pets but cherished members of the family.
As you embrace the enigmatic charm of the Affenpoo, you'll discover a lifelong friendship filled with laughter, love, and unwavering loyalty. So, open your heart to this delightful companion, and let the Affenpoo's intelligence, playfulness, and loyal companionship enrich your life in ways you never thought possible.
In a world where the ordinary often blends into the background, the Affenpoo stands as a living testament to the beauty of uniqueness and the wonders of hybridization. Embrace this delightful enigma, and let the Affenpoo be your constant source of joy and inspiration, reminding you to celebrate life with playful shenanigans, heartfelt loyalty, and an everlasting sense of wonderment.